Forza Motorsport 5 has been confirmed as a launch title for the Xbox One console. The news was part of the Xbox One reveal event, which featured a short trailer of the game. Here's what we know from that glimpse.
Forza Motorsport 5 will be available as a launch title. No date has been revealed. Or prices of either the console of the game.
The trailer featured a street racing circuit. It didn't look like Rally di Positano from Forza Motorsport 4, but did feature the same cobbled street surface.
Two supercars were featured.
Some race commentary was featured in the trailer, which may just be to add excitement to the video. Hopefully it's not recorded in-game commentary. If there is a commentary feature, we can only hope it's part of an ability to commentate on live streamed racing.
Other non-racing news included the fact that Xbox 360 currently runs on around 15,000 servers, but the Xbox One platform is scheduled to have 300,000 servers available – there's no indication of how many of these will be dedicated to gaming rather than the endless parade of TV and sports tie-ins which were being publicised.
Obviously there's likely to be much more news on the actual games over the coming weeks, particularly during and after the E3 event, so we'll keep you posted.
Adding to its short but well-considered list of titles that last paused at Game Stock Car, Reiza Studio's latest is now available to all after a brief period of a few weeks of being open to those that ordered before this final release, Version 1.01.
Fórmula Truck is actually the officially licensed game of the Brazilian racing series that's barely known outside the South American continent and goes by the same name.
According to Reiza's blurb, this new sim was developed with the co-operation of teams and drivers from the series in their effort to transfer the flavour of those mighty cabs to our screens.
Speaking of the trucks, they're BIG… and powerful!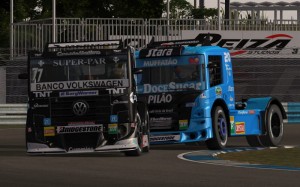 Like the equivalent British Truck Racing Association and FIA European Truck Racing championships highlighted with the participation and success in the 80s and 90s of former championship-winning motorbike racer and current BBC MotoGP presenter-commentator, Steve 'Stavros' Parrish (https://twitter.com/Stavros6), these vast machines are more than you might expect if you find that 'racing' means cars.  Akin to car-based championships around the World like the British BTCC, America's NASCAR, Germany's DTM series or the V8 Supercars of Australia, the trucks go far beyond the basic bodywork template that we see at first glance.  Their connection to the beasts of burden hauling trailers everywhere we look basically ends there.  After the wheels, cab and presence of a driver, these are serious bits of kit – immense vehicles of at least 5-tonnes with 1200 horses under the hood that rapidly accelerate and are restricted to a top speed of 100MPH (160km/h).  Let's say that again.  Twelve-HUNDRED horsepower!  Mix that acceleration, speed, sticky and screeching tyres, close racing, bumping, bashing and clouds of steam from the water-cooled brakes and you have one spectacular event!
For a sign of the pedigree of both Reiza Studios and its old and newer creations, everything so far has used rFactor as its framework.  Beginning with 2010′s respected Fórmula Armaroli add-on, Reiza moved to creating standalone software that continued to use ISI's renowned base.  To anyone that's been around the modding scene over the years, Reiza's international development team is something of a who's who – a set of highly-experienced individuals with talent at every turn.  This is a serious group that gets the most out of everything they use.  "Incredible!" comes to mind every time that I look at Fórmula Trucks again and remember what it is built upon too.  For all of the flexibility in ISI's software (lawnmower racing, anyone?!), this form of racing still comes as nothing less than a surprise.  That it can look, feel and sound so good despite not having the advantages of a newer code base is a stunning achievement and we at ORD can only recommend that whether you're a racer or merely want to sample something different, you give Fórmula Trucks a run – and have a look at Reiza's other projects too.
With meagre hardware requirements, the low cost of entry and many tracks that the majority of gamers won't be familiar with away from those used for Formula One and the World Touring Cars championships, Reiza Studios' entire set of simulators should be on the 'To Do' lists of one and all.  There's more to come too as we eagerly await what has so far been known only as The Ayrton Senna Game, a project that will extend to including world-wide tracks and as part of its partnership with the Ayrton Senna Institute that was founded in 1994, will contribute part of its income to the Brazilian educational programs supported by the Senna organisation.
Reiza offer a trial version for download that will run for sixty minutes.  It's unfortunate that it's so tightly time-restricted but should it convince you, Truck rolls in at a reasonable $24.90 USD – approximately £21 GBP and €25 Euros at the time of writing.
If you've been wanting more since Euro Truck Simulator 2 and would like to pick up the pace, GO RACING!
Erick Nagy's video from behind his racing seat, looking at the projected game with an inset from Fórmula Truck's TV camera.  This is undoubtedly the best footage out there…
The 1000 Clubs Expansion is out now for Forza Horizon, with two new cars, and more than 1000 challenges to potentially complete with extra achievements. Best of all, it's a free download to encourage you to spend more time with the game.
Each car now has a set number of challenges associated with it – so far it appears to be five for each vehicle. They include speed challenges, achieving certain positions in specific races, or performing skills such as J-turns, 180 turns, or knocking down a set number of objects.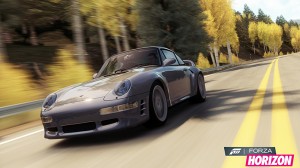 Included in the expansion are 250 Achievement Points linked directly to the new challenges. The Achievements are:
My First Challenge: You earned your first Medal: 10 Points
Ferrari Fan: Earn a Medal in 14 different Ferraris: 20 Points
It's Just Money: Earn a Medal in 14 different cars worth at least 1 million Cr. 20 Points
Snake Chamer: Earn a Medal in 3 different Shelbys. 20 Points
Lamborghini Lover: Earn a Medal in 8 different Lamborghinis. 20 Points
Nissan Ninja: Earn a Medal in 7 different Nissans: 20 Points
Well Engineered: Earn a Medal in 10 different BMWs. 20 Points
Sir Challenge-a-Lot: Earn a Medal in 20 different British Cars. 20 Points
Ford Champion: Earn a Medal in 13 different Fords: 20 Points.
Forza Legend: Earn a Medal in 146 different cars! 80 Points
In addition, there are specific Leaderboards for the 1000 Clubs challenge, including friend's totals to encourage competition between everyone.
The astute amongst you may have noticed that in order to complete all the achievements, you'll need to invest in at least some of the Forza Horizon Car Packs. You can see our complete list of cars in Forza Horizon to try and figure it out, but with free downloads available with each car pack, and the fact the challenge content is free, it's not too painful to have to buy a couple of car packs to finish it all.
We're just updating the full car list to figure out if you can save money with just a couple of packs.
The base game includes:
8 BMWs (10 needed)
14 Ferraris (14 needed)
1 Shelby (3 needed)
5 Nissans (7 needed)
9 Fords (13 needed)
Free downloads so far include the Nissan R390, and now two more cars with the 1000 Clubs expansion.
The new cars are the 1995 RUF CTR2, which features a 215mph+ speed thanks to a 520hp 3.6 litre twin turbo flat six. Fun, but not helpful, whereas the more modest 1956 Ford F100 pick-up truck helps towards the Ford achievement with a 167hp V8 built for heavy loads.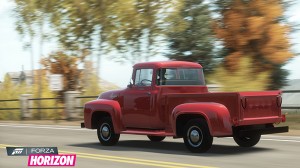 As a free download, the 1000 Clubs expansion is definitely worth downloading. It's given us an excuse to fire the game back up and spend some time exploring various cars which we hadn't found a reason to drive yet. The challenges aren't necessarily difficult, but there's an element of the Pokemon collecting bug to try and get them all, along with the new achievements.
Just watch out for the F100 tipping over on tight corners….
Having recently been looking around again for hardware options made on the European side of the Atlantic for something obtainable closer to home, I spent some time browsing through the catalogue of SimRacingHardware.com, a company best known in our sim circle of late for its button boxes and Monsta display.
What I'd missed during my initial perusing was a single image of SRH's new 'Dashboard System' that will be made to fit Fanatec's ClubSport Wheel (or CSW).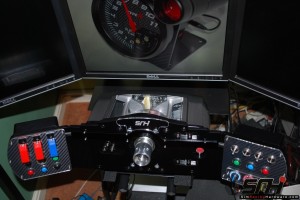 With the clean look of carbon-fibre that's en vogue at this time, the CSW Dashboard as it's also being called, is a sturdy-looking piece of kit that retro-fits to the ClubSport body as a long bracket that with the wheel temporarily removed, will attach to the body fascia via four included stainless steel bolts. Attach a USB cable, slap a wheel back on and you're all set!
A first good impression that's a particularly welcome reaction after a comment I made on the Derek Speare Designs ClubSport Panel is that the left and right button areas are angled towards the driver. A small point of note would be that like the DSD panel, Sim Racing Hardware's dash has the USB socket mounted at the left-hand side of the hardware rather than at the rear where it would help with cable routing and look tidier as well as reduce the risk of catching it on entering or leaving the cockpit area. Right-angled A-B USB cables and extensions do exist to somewhat improve this mainly cosmetic situation and a socket leaving the rear of the dashboard would probably have slightly complicated its internal design, but it would nonetheless have been nice to see the cleaner aesthetic. It is a really minor point though!
Getting to the all-important specifications, SRH state that the switch box top-panel sections are of a laser-cut 10mm acrylic construction. These sections are fully-boxed and self-contained panels, so there's no loose wires, parts to find or sections to mount to. This is a genuine 'mount, plug and play' option for anyone after that next step in control methods beyond their wheel's buttons and a cumbersome keyboard.
With a small question mark over the number of flip covers included, here's the current configuration for the CSW Dashboard:
Seven toggle switches (three on the left section, the remaining four on the right)
Eight momentary buttons
One starter button
Three rotary encoders
A very nice detail with the encoders is that roundels are fitted. Besides adding a professional and 'real car' look, they are engraved – with LASERs again! – to give an indication of how the encoders are being used. That gives a quick reference point for brake bias (yellow, marked 'BRAKE BIAS' with F and R directions), a + or – dial (blue, marked as 'BOOST') and a range of 1-16 on the red encoder.
Like the four mounting bolts mentioned earlier, the dashboard uses stainless steel fixings everywhere.
It will be fully assembled, with only the mounting to be done. As we described earlier, remove the wheel and four bolts, add the dashboard, screw in the new bolts, plug in a USB cable and GO, GO, GO!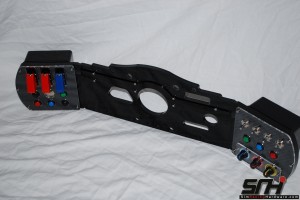 So how much does it cost and when can you get one?!
Though not yet in permanent stock due to high demand, the good news is that the CSW Dash is already being made and the pre-release ordering price is still available. Until SRH can balance production with demand and build stock levels, that means a continuing early offer price of £235 GBP plus shipping – or approximately €275 (Euros) and $360 (USD) plus delivery as this goes to press. After final release, the price will be £250 GBP plus shipping (€293 and $383 plus freight costs, respectively). Order arrangements can be made by contacting SRH via e-mail from the Web page given below. For the CSW Dashboard, a £30 deposit is required and is to be paid via PayPal.
Due to the demand that we've referred to, there's currently a delay of a few weeks between order and dispatch of the dash – but we reckon that discount offsets the wait nicely. Call it more time to build your anticipation! With earlier orders still being cleared, Brian at SRH has told us that three to four weeks between the order being placed and sent would be about right for the CSW Dash at the moment. When looking at the custom, hand-built nature of equipment like that of Sim Racing Hardware and other small producers, that looks fair to us even were it a typical wait (which Brian has said can often be as little as a couple of days for standard catalogue items). We all know of the long delays experienced elsewhere recently and over the years, and even the huge mass-market companies (who make nothing like this, incidentally) can have long delays in production and shipping.
Even with their present wide-spanning range, there is more to come from Sim Racing Hardware and sim racers with a Thrustmaster T500 or Fanatec CSR Elite just might want to keep their eyes peeled…
On a final note away from the CSW Dashboard that we're covering here, we'd like to add that SRH also sell parts for anyone that wants to take the fully custom approach with their cockpit and controllers. There are USB controllers, hand-made steering wheels, LCD and LED displays and even wheel and pedal modifications that include adaptors for Logitech and Fanatec hardware. Certain items can be purchased in kit form at a considerable discount and if your requirements aren't listed, bespoke parts can be made to order either as a one-off instance or for a small production run.
Shelf stock of the dash will be built in time, so why not go ahead and order with the discount now? Have a see what else tempts you and do give our OnlineRaceDriver team a mention too!
For further enquiries or to arrange an order, you can contact Sim Racing Hardware here.
After the extended €4.99 offer closed on last month, anybody sitting on the 'Should I, shouldn't I?' fence or simply missed the long-running price reduction might be interested and happy to read that Kunos Simulazioni have made an unconditional price drop to a mere €6.99 for netKar PRO 1.3 Final. As over the course of the earlier offer and for anyone that has already bought netKar PRO at any time, access to the Assetto Corsa Technical Preview is also given through use of the netKar authorisation code ('paycode') received after purchase.
Despite its age and lack of visual gloss compared to software of the current hardware generation, we at ORD are firmly in the camp of saying that netKar PRO continues to hold its own in 2013 and with that, especially merits the attention of anyone for whom simulators hold the most appeal. That's particularly true where such appeal leans toward titles that demand a lot of the driver. To make newcomers aware of netKar's design, this isn't a sim replete with pages of driving assistance options. If it doesn't feature on the real car, it won't be here either! To balance that potentially scary thought, Kunos Simulazioni's physics have such a natural feel that the bewilderment of other sims and racing games simply isn't there. Unless you're a 'FULL POWERRRRR!' lead-foot with no patience, you'll quickly discover that there's nothing to get in the way of your requests to the car and tyres. As someone for whom 'assistance' has merely been a frustrating brick wall for the last few years, netKar proved to be a welcome refreshment after a long run of successful, good but somehow lacking offerings across the consoles and the PC.
Still not sure?!
Try it, then! The netKar PRO installation runs as a limited demo that lets the player try a single car, one circuit and the on-line mode. After purchase of the license, the fully enabled and otherwise stock netKar PRO installation gives nine cars that are a mix of single-seaters, modern and 'vintage' road-based sports cars and the specialist Italian Osella PA-21S – one choice that holds quite the challenge in its 2-litre, 247 brake-horsepower, rear-wheel drive and 605-kilogramme form over the course of a 17-kilometre run of Trento-Bondone! Try doing that in the rain!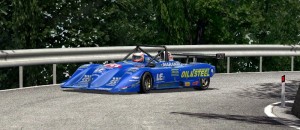 Need more? Is even a modest €6.99 price not enough? How about the fact that netKar PRO is open to editing – that you can add or build your own car decals and extend the number of tracks?
Then there's Kunos' first taster for the upcoming, can't-come-soon-enough Assetto Corsa. Even from this Technical Preview featuring a Lotus Elise SC, we can see that AC is building on the best of netKar whilst adding accessibility into the package. As ORD has covered before, Assetto Corsa will have the same open nature as netKar when it comes to cars and tracks. Teams of talented people are already working on that side of things and it's open systems like this that have given good lifespans and added an enormous fun factor to earlier sims.
For more information, take a little trip to Kunos' sites for netKar PRO and Assetto Corsa.
Having included the latest announcement of last month's GP Bikes update, it would be remiss of us not to better highlight its car-featuring stable-mate, World Racing Series. Included as part of GP Bikes' dual license and also in the development stage, WRS currently sits at Beta 3 – an update released immediately ahead of the one for GP Bikes.
In the same fashion as its two-wheeled sibling, World Racing Series exists in a restricted demo form that will unlock to its full-featured state once the sim is licensed. With payment accepted via PayPal, the World Racing Series and GP Bikes two-license cost is €20 (20 Euros). The software key will be sent to the address registered to the PayPal account and should take no more than a few minutes to arrive.
As with the other sims in PiBoSo's portfolio, World Racing Series features an open system that allows the separately downloaded painting and track utilities to be used in creating more content. Driver and car templates are also available on the WRS Downloads page.
World Racing Series Beta 3 comes as an unusually compact 231MB file and once again has a list of modest hardware demands. PiBoSo lists the minimum specifications requirements as follows:
Any version of Windows – 32 or 64-bit – from Windows 98 through to Windows 8!
2.0 GHz processor
1 GB RAM
256 MB OpenGL 1.2.1-compliant graphics card
DirectX 8.1 or newer libraries
The usual recommendation is made that users ensure their system's graphics card drivers are updated to the latest official version.
Most control types should be supported and though a feedback wheel would be the ideal first choice wherever possible, WRS has been made with keyboard, joystick and even pads also in mind. Indeed, as an alternative to a later trial run with a wheel, we found that the Xbox 360 controller worked well (albeit still in need of further attention to get the vibration feedback to work).
To first correct misconceptions ORD has noted in comments left elsewhere, like GP Bikes, World Racing series isn't based on other software. It is independently created from scratch, rather than being a modification of another body of work.
PiBoSo describes World Racing Series as having an "automotive industry-standard tyre model". The features list includes a description of a dynamic track surface that includes a developing 'groove', wet and drying track simulation and the generation of marbles over the surface. Looking at the tyres again, the model includes the grip-affecting adhesion to the tyres of marbles, grass and dirt (which looks good too, incidentally).
User-selectable driver gestures is an interesting and novel option! Can we foresee shades of one David Coulthard versus Michael Schumacher tête-à-tête at Magny Cours in 2000, perhaps…?!
Within a week of the first race of Gen-6 NASCAR Spring Cup Series cars, iRacing released the Chevy SS and Ford Fusion. In fact, within 2 weeks, Jason Karlavige had claimed the first victory for the virtual Chevy SS at Las Vegas Motor Speedway.
The virtual models were developed on the fly, to the point that, says iRacing artist Brian Simpson '"NASCAR and the teams tried to be helpful, but on numerous occasions they told us 'Sure, you can see this (part), but by next week it'll be changed."
"We spent a lot of time watching practice at Daytona," Simpson recalls. "The cars at the track were running a different rear end (aero treatment) for restrictor plate races than we had been given data for . . . and we just about fell out of our chairs. We had no idea they were going to do that, so it had us scrambling.  Let's say we spent a lot of time poring over the DVRs of practice!"
Likewise, iRacing vehicle dynamicist Eric Hudec – a former race engineer for Petty Racing – was developing the physics of the virtual Gen-6 car in real time.
"There weren't a lot of details on the Gen-6 car's physics available," he says. "So I talked with my friends on some of the teams and with Kevin Bayless (GM Racing oval track chassis/aero program manager), especially with regard to the aerodynamics.  We did some guessing and then as teams began testing, we collected information in real time and made the car incrementally better with each step."
"Getting the Gen-6 fixed setup ready for Bristol, I saw we were banging on the rev limiter chip," Hudec says.  "I called my friends at Penske to check that we were using the right gear ratios and to see if they'd seen same thing on their data simulations.  When they said no, I chalked it up to our car having a little too much tire grip.  But then the teams got to Bristol and guess what?  In practice, they were all over the rev limiter."
Check out the Chevy SS and Ford Fusion in action below:
In the latest video for his excellent Sim Racing Review YouTube channel, Doug Meyer demonstrates the latest addition to Derek Speare's stunning sim hardware catalogue, the DSD Side Panels for Fanatec's Clubsport and Forza Motorsport CSR Elite wheels.
With an incredible three layout options available, the panels are also produced in left and right-handed versions – and what's more, two can be fitted for all-round control!  Simply choose a left or right side option and pick the button form factor to build a combination that'll move your cockpit another step closer to ultimate driving comfort  – creating an 'office' that fits to you.
Listing the three panel styles produced, DSD give the button configurations as follows:
Style A: 5 two-way momentary toggles, 6 push buttons, 5 two-way rotary encoders
Style B: 2 covered toggles (think Top Gun!), 4 two-way momentary toggles, 4 push buttons, 3 encoders, 1 large lit "FVS" button
Style C: 2 covered toggles, 4 two-way momentary toggles, 4 push buttons, 5 rotary encoders

As Doug shows, the panels are of a high quality, practical and good-looking form familiar to everyone that's taken even a casual glance at the output of Derek Speare Designs.  Perhaps most surprising is the fact that this complex addition to Fanatec's wheel arrives with a genuinely simple mounting.  There's much to appeal in that feature alone!  The stock Clubsport or CSR Elite bolts are replaced by an included longer set that accommodate the wheel body and the extra depth borne of adding the panel.
A future variant that I'd like to see – and one that I imagine would be at least a bit more of a technical challenge to create in forming the joint area – would be a panel angled towards the driver.  Though it may not be true for everyone, even with my long reach, I'd find it more comfortable to use the outside half of a button group when sat back during a race.
In his summary, Doug does somewhat pause over the price tag of $127.75 USD but even as someone that would have to import gear like this, I have to say that Derek Speare pricing has always seemed reasonable – especially when comparing it to the products of other companies, where I include the quality, functionality and permutations of Speare-created controls and the fact that comparable options either don't exist or to put it succinctly, are not even made by the much larger producers of racing hardware.  Particularly obvious with the button and switch peripherals, there's a sense of refinement in the DSD products that stands out when contrasted with the alternatives from similar small-scale producers.  Not to knock other options, but Derek Speare parts really do look good too.  Quite the feat considering those unwieldy switches!  If anything can and should be said, it's that examples such as these Clubsport/CSR Elite panels are boutique products without the haute couture price.  The 'worst' thing could only be the awful feeling of having to wait when all you want to do is get this cockpit goodness into your hands and connected to a USB port!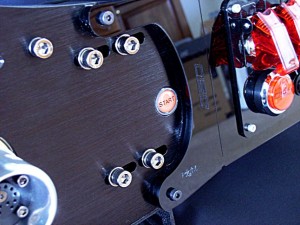 On that note and to underline the sense of fair pricing and value still further, in line with some other DSD products, the cost of shipping is currently included in the above price.  That's WORLD-WIDE!  The one extra that's unconnected to the product or purchase terms would be that of potential local sales or import taxes.  Even with those added, as it is for the rest of the control panel, gear shifter and modified parts range, this is still a fantastic price!
Doug's concluding words say it all.
Too cool, indeed!
In an out-of-the-blue and most pleasant of surprises for us (we're big bike fans at ORD too!), PiBoSo has released the next stage of the motorcycle simulator, GP Bikes.
Taking on the tricky task of reflecting the two-wheeled racing machines that few sadly dare to touch, this work of a lone person is for bikes what the best of the detailed PC racing sims are to the more mass-market 'Arcade' fare.
After moving from the notional alpha to a beta state in 2012, GP Bikes Beta 2 arrives with new features as well as a long line of bug fixes. In addition to its modest hardware requirements, GP Bikes is yet more accessible by working as a demo that gives players the chance to try a 125cc MSM bike at GPB's familiar-looking Victoria Circuit. Quick note: don't let the small bike fool ya – or make a fool of ya! A full licence costs €20 and will open the complete bundle of standard bikes that includes a second single-cylinder 125, a 500cc V4 and the rocket that is the 900cc V5 Murasama RC990, with the further addition of enabling the on-line mode for competitive racing.
That's not all, though!
That €20 also pays for a licence for one of PiBoSo's other racing projects, World Racing Series! Likewise in Beta 2 status with a Beta 3 work-in-progress, WRS includes the same sort of features as GP Bikes, such as an on-line mode, lap statistics (including records), Microsoft's Kinect for Windows face-tracking, custom painting and the ability to use new tracks created by the small but dedicated community.
One important part of these titles to note is that there is no AI competition. At this time, they are strictly dedicated to practice laps and network or on-line racing via an integrated server.
Here is a partial list of the new features and changes, followed by hardware requirements, the direct download link and videos of GP Bikes:
Fixed
Calibration crash, calibration lost when a controller is disconnected, input dead-zone;
Race classification, pit status, restore tyre wear state after a reconnection;
Possibility to set client port, master server disconnection.
New additions
Live timing, results end race, xml export;
Track animations, fixed cockpit view, rain occluders;
Pause / resume dedicated server event;
Kinect face-tracking, input plugins support;
Direct-steer option.
Minimum hardware requirements
Any 32 or 64-bit version of Windows following and including Windows 98.
1.5 GHz processor
512 MB memory
64 MB OpenGL 1.2.1-compliant graphics card
DirectX 8.1 or newer
PiBoSo also has a forum.  There are lots of tips for configuring GP Bikes and World Racing Series, including some extra configuration changes if you have a thing for .ini files! A trip to the forum will show good sections on getting the most out of your PiBoSo-produced games, where you'll also be able to find links to track and bike files for GP Bikes.
Visit www.gp-bikes.com to find out more or buy the combined GP Bikes Beta 2/World Racing Series license. Despite this recent release, GP Bikes Beta 3 is already a work-in-progress!
We'll close today's GP Bikes coverage with a cool sign of how the sim can look with a little effort made to install tracks, rider and bike textures. In this first example, the Murasama RC990 pushing through Misano is decorated as Marco Simoncelli's Gresini Honda, with the leathers and helmet styled on those worn by the late MotoGP rider.
GP Bikes couldn't be left without GTERTET's wonderfully produced The Beauty of GP Bikes, featuring a virtual Valentino Rossi…
Jeremy McGrath's Offroad is already available on Xbox Live Arcade, but is now also available on the Playstation Network in Europe for £8.89, or 9.99 Euros.
It's an off-road racing game with five vehicle classes including rally cars, Pro Buggies and Pro Lite trucks, but the big beasts are the 800-horsepower, 4WD offroad trucks as raced by Jeremy McGrath himself in the Lucas Oil Off Road Racing Series. McGrath originally rose to fame on two wheels, as a 7-time Supercross Champion who still holds the record for overall race career wins.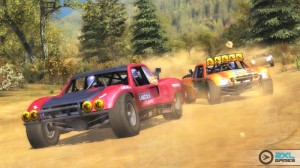 You can race on six tracks, including a snowy Dutch location and a reservoir in the Amazon rainforest, with 8-player online multiplayer, online leaderboards and stats, and a career mode which allows you to race as McGrath in his bit for the Pro2 championship.
The game was developed by 2XL Games, who previously created Baja: Edge of Control and 2XL ATV Offroad 2009. They worked with former AMA East Coast Supercross champion Stephane Roncada to help with track design and tuning the AI-controlled competitors to offer a range of difficulty levels for all players. Jeremy McGrath's Offroad is being published by D3Publisher on XBLA (800 MS Points), and Reverb Publishing on PSN.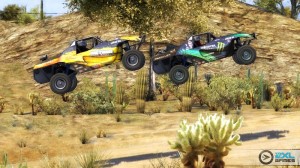 A percentage of all sales is being donated to BeTheMatch.org, a charity that helps people with life-threatening blood cancers, which includes McGrath's wife Kim who was matched with a marrow donor for treatment for her leukemia.