The 97th running of the Indy 500 race takes place on Sunday, May 26, 2013, and for the fourth consecutive year iRacing.com members can compete in a virtual version on Friday May 24th and Saturday May 25th.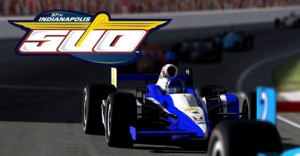 It's open to iRacers at all levels, and the races will feature two fields composed of Pro-C and D-Rookie license holders. Practice for the races began at 00:00 GMT on Tuesday May 21, and following tradition, it's based on four laps with qualifying based on the average speed.
But if you're not ready to compete, you can still enjoy the action with the top split of the Pro-C race being broadcast live at iracing.com/live on Saturday at 6pm GMT, 2pm EDT.
Within a week of the first race of Gen-6 NASCAR Spring Cup Series cars, iRacing released the Chevy SS and Ford Fusion. In fact, within 2 weeks, Jason Karlavige had claimed the first victory for the virtual Chevy SS at Las Vegas Motor Speedway.
The virtual models were developed on the fly, to the point that, says iRacing artist Brian Simpson '"NASCAR and the teams tried to be helpful, but on numerous occasions they told us 'Sure, you can see this (part), but by next week it'll be changed."
"We spent a lot of time watching practice at Daytona," Simpson recalls. "The cars at the track were running a different rear end (aero treatment) for restrictor plate races than we had been given data for . . . and we just about fell out of our chairs. We had no idea they were going to do that, so it had us scrambling.  Let's say we spent a lot of time poring over the DVRs of practice!"
Likewise, iRacing vehicle dynamicist Eric Hudec – a former race engineer for Petty Racing – was developing the physics of the virtual Gen-6 car in real time.
"There weren't a lot of details on the Gen-6 car's physics available," he says. "So I talked with my friends on some of the teams and with Kevin Bayless (GM Racing oval track chassis/aero program manager), especially with regard to the aerodynamics.  We did some guessing and then as teams began testing, we collected information in real time and made the car incrementally better with each step."
"Getting the Gen-6 fixed setup ready for Bristol, I saw we were banging on the rev limiter chip," Hudec says.  "I called my friends at Penske to check that we were using the right gear ratios and to see if they'd seen same thing on their data simulations.  When they said no, I chalked it up to our car having a little too much tire grip.  But then the teams got to Bristol and guess what?  In practice, they were all over the rev limiter."
Check out the Chevy SS and Ford Fusion in action below:
The 2013 NASCAR iRacing.com Series World Championship will begin on Tuesday, March 12 with the first round at Daytona International Speedway, and the entire series will be broadcast live on both iRacing.com and the Motor Racing Network.
The 18 race series will use the new Generation-6 stock cars as drivers will compete for more than $16,000 in prize money. Two-time champion Ray Alfalla will attempt to beat 2012 challenger Michael Conti, 2011 runner-up John Gorlinsky and 47 other qualifiers for the championship.
The action kicks off at 9pm, EDT, which is 1am GMT on Wednesday March 13th.
Zolder, the Belgian circuit built in the early 1960s and host to all manner of events from Formula One to Grand Prix motorcycle racing, 24-hour races and WTCC has received its image preview from iRacing, the online-only subscription-based racing simulator.
The plan is for the new track to be released in August and it is possible to make a pre-order via an iRacing.com account. Subscriptions start at $12 USD for one month, with better-value tiers for the 3-month, 1-year and 2-year intervals. The clearest example of economy is seen in the form of the $179 2-year subscription, which equates to less than $7.50 per month.
The iRacing system includes additional content (cars and the laser-scanned tracks), for which 'volume discounts' are available. These discounts start at 10% for three items bought at the same time, go to 20% for any six items bought and reach 25% when buying all of the content available.
A nice bonus is iRacing's race participation credit, giving up to $40 per year towards purchases. Just take part, work your way up the license scale and drive carefully!
http://www.iracing.com/membership
iRacing has now reached 35,000 active members, showing the growth in one of the most committed areas of online racing. It's a step beyond some of the more popular motorsport games, and although the total number is relatively small, it includes a large number of professional racing drivers such as Dale Earnhardt Jnr, Justin Wilson, Alex Gurney and Shave van Gisbergen.
"35,000 active or current customers is a great number," says Tony Gardner, president of iRacing.com.  "What's most gratifying is that so many iRacers have been with us since we launched almost four years ago.  We have staying power, not only because we keep improving and adding to our service, but because  through word of mouth – our long-time members have contributed significantly to our steady growth.
"If you want realism, I think iRacing sets the standard," says Gardner.  "Along with producing all our tracks from laser scans of the physical tracks, and our passion for mirroring exact car physics, a big reason for our growth is our fully- managed centralized service.  Thousands of iRacers around the world are online, 24/7, taking part in our official races, so we fit into just about anybody's schedule and even match you with like-skilled drivers."

The PC subscription-based service continues to add tracks which are produced from laser scans of the real locations, along with attempting to replicate exact car physics. In addition to more than 1,000 online races taken place daily, drivers are also tracked on skill and experience levels to match similar abilities and provide clear progression and measures of success.
As an example of the accuracy of the game, it's the official online racing partner of NASCAR, IndyCar, GRAND_AM and the V8 Supercar series. And in April 2012 a milestone was reached when the 500 millionth lap of official competition on the iRacing service was completed.
If you're intrigued to try iRacing, it's a good time as new memberships are currently half price until the end of July, 2012, which means prices start at just $6 for 1 month of racing.
Australian circuit Mount Panorama is the home of the Bathurst 12 Hour and Bathurst 1000, and it will soon be available to drivers around the world as the 4 mile road course is added to iRacing. Originally a dirt-track and tourist drive cared out of hills above the city of Bathurst in the 1930s, Mount Panorama now attracts upwards of 200,000 spectators to its most iconic events.
And considering the Ford Falcon FG is one of the 30+ cars available in iRacing, it's good news for both fans and current V8 Supercar drivers including Shane van Gisbergen, Scott McLaughlin, Jason Bright and Mark Winterbottom.
"Mount Panorama on iRacing?  Fantastic!" says van Gisbergen, a regular in iRacing's officially-sanctioned online version of the V8 Supercar series.  "Having worked together with Scotty (McLaughlin) and iRacing developing their Ford Falcon, I know firsthand the painstaking work that goes into iRacing's cars and tracks.   I have no doubt iRacing's Mount Panorama will be spot-on in every detail . . . we may even have to dodge a 'roo or two during the races!  I can't wait."
The iRacing.com laser-scan team will travel to Australia later this year to begin the process of adding a third Australian circuit to the online race sim, following Phillip Island (released in 2010), and Oran Park (Due for release summer 2012).
"This is great news for iRacing and our 35,000 members," says Steve Myers, iRacing.com executive vice president and executive producer.  "Mount Panorama certainly is one of the world's most spectacular race tracks; one of the few remaining circuits that uses public roads.  Its big elevation changes, huge straightaways and endless variety of corners make for a supreme challenge for drivers and their machines.

"Everyone at iRacing is anticipating the challenge of creating a digital version of Mount Panorama that does justice to the real thing, just as iRacers all over the world are looking forward to tackling the track's many challenges."
iRacing is just one of the games now covered by our growing Trackipedia listings of circuits, allowing you to find which game you need for a specific venue. If you spot a game or track which isn't listed, get in touch, along with our new list of cars for each racing game.
iRacing members can now enjoy the Cadillac CTS-V Coupe racing car, as driven by Team Cadillac's Johnny O'Connell and Andy Pilgrim in the Pirelli World Challenge GT Series.
"With Johnny O'Connell's win in the opening round of the Pirelli World Challenge GT Series in St Petersburg and Andy Pilgrim's win in Long Beach, the Cadillac CTS-V has already proven to be very a competitive proposition on the real race tracks of North America," says Cadillac V-Series and Racing Marketing Manager John Kraemer.  "Thanks to our partnership with iRacing.com, Cadillac is delighted to enable sim-racers around the world to enjoy the same incredible performance that Johnny and Andy experience every time they buckle in to their CTS-Vs on the race track."

As the Cadillac is joining the iRacing base package of cars and tracks it will be part of the experience for all 30,000+ iRacing members, and will form the basis of the Cadillac Cup, which is a series of races at the iRacing version of many of the tracks which also feature in the 2012 Pirelli World Challenge GT Series. Circuits will include Infineon Raceway, Mazda Raceway Laguna Seca, the Mid-Ohio Sports Car Course and Mosport International Raceway, with a variety of iRacing and Cadillac branded prizes up for grabs.
"We're excited to be able to make one of the world's most advanced racing sedans available to our members," says iRacing.com President Tony Gardner. "We're proud to partner with Cadillac, not only in creating the virtual CTS-V but through the Cadillac Cup.  iRacing and Cadillac have some exciting programs in the making, and we're all looking forward to making the most of our dynamic partnership for Cadillac, iRacing and iRacers."
What's iRacing?
iRacing is the online sim-racing creation of Dave Kaemmer and John Henry. It was founded in 2004 and includes the options to race cars from NASCAR, IndyCar, sports cars and even classic Grand Prix racers against drivers all over the world, with various championships officially sanctioned by the motorsports organising bodies.
They also have official agreements with a range of tracks. It operates on a subscription basis with prices starting from $7.46 per month. 7 cars are included in the base package, along with 10 tracks. You can then add additional cars and tracks as needed.
iRacing will be making an appearance at the Birmingham NEC for the Autosport International show on January 14-15, 2012, with two state-of-the-art VRX simulators loaded with all the current cars for anyone to try out.
In addition to the full car list, the simulators will also offer the full range of 50 tracks, from Spa-Francorchamps to Brands Hatch. Kevin Bobbitt of iRacing.com said: "We are looking forward to showcasing our motorsport simulators at Autosport International and inviting visitors to drive a few laps."
Autosport International is a motorsport show with live demonstrations and appearances from stars including F1′s Paul Di Resta, along with displays of a variety of motorsport vehicles. Tickets cost £30 for adults, with children £19.50 (Under fives go free). For more info contact 0844-5811420 or visit www.autosportinternational.com