Hello again men and woman of simulation racing! Although my home sim-racing league hasn't been featured here for quite some time, the IFCA (International Forza Club Association) is quite active as of late. All the buzz is about the, "2012 IFCA World Championship" and how to get into the "Sweet 16."
On the whole, 2012 was a rebuilding year for one of the very first Forza leagues to ever exist. With a long history dating back to FM1, the IFCA has a storied past with all or almost all of the very fastest Forza drivers in the world at one time or another. Names like, IIxcamxII, picaso, SP33DRAC3R, Chilledheat, Jed, Rayzer, Potthed, Lou, b0x, General E Live,Chemical, MOPAR, BRIZZO, Semper, and so many more have competed at various times at the IFCA.
2011 was a crossroads moment for the league when key members sought alternative and independent futures apart from the IFCA. Fairly painful at the time for everyone, it resulted in yet another successful league spinoff ("Virtual Motorsports") to add to the growing list which have been started by racers who competed in the IFCA.

The retooling emphasis at the IFCA for 2012 was to explore new ways and means to conduct organized Forza racing in simpler more user friendly formats, while at the same time establishing "standards" across the board. The idea was and is to standardize everything in a kind of turn-key fashion so that over time drivers and organizers would be able to focus more on competing, and steady competition, than ever changing rules and formats. This resulted in the creation of 5 different ongoing series with the same general four week season and rules. Three of the series used a different class of cars that would change every four weeks. The "Bone Stock" series as the name implies was a 100% stock series that ran for 9 seasons on Monday nights this year. The "Super Spec" series on Thursday nights used cars that could be partially tuned. The "Glory Days" series on Friday nights was to take older fully tunable cars of roughly the same era and pit them against each other.
The other two series on Saturday and Sunday nights are mixed class racing, "World Cup" and "World Cup II." These are IFCA signature series repeat events without series points. So often it is that with series points a driver can miss a race or two and be out of the points chase, and as a result drivers will quite often quit the series. Our solution to this problem was to offer a couple of series that didn't have any season points to lose. These events run continuously rain or shine every weekend of the regular season ending on September 16.
Everyone loves mixed class racing but the problem has always been about balanced grids and having enough drivers in each class week to week. Our answer to this issue was to figure out a way that would allow different classes to compete equally against each other at the same time. We accomplished this by calculating how many times the higher class faster car would have to pit vs. the lower class car, and still arrive at the finish line at the same time as the slower lower class car. This clever calculation enables us to race an R1-Class car against an R3, and an S-Class car against and A-class car. The result is fuller grids and exciting finishes where the higher class faster cars are flying through traffic and chasing down the slower lower class leaders at the finish line! The cars used in "World Cup" are R3-R1 from all the most popular real-life series such as ALMS, JGTC, Grand Am, and even Can/Am. So not only is there a mixed class of cars, drivers have the opportunity to select 66 cars from any series they like.
What connects all of the IFCA series whether they have series points or not, is another unique league invention called the, "IFCA Driver Ratings Formula." Each driver is numerically rated based on the finishing order of each official race. If you are expected to finish 1 but only finish 2 you lose points, but if you are expected to finish 2nd and you finish 1, you will gain points. Fairly simple until you have a grid of 16. It took some study and creative math to arrive at what we think is a reasonable formula that really works. It's similar to what our "iRacing" friends use, a type of skill rating also used in organized chess.
Because each IFCA competitor is rated, a rankings list is created that indicates who the overall stronger/faster driver is during the course of the year. The goal is to be in the top 16 by September 16 so that you can compete in the IFCA World Championship on September 30. At stake is a small prize purse of $200.00, and the coveted #1 number plate. Details here.
The only "catch" is you need 5 official races under your belt by September 16 to be eligible. There are only about 21 official races left between now and 9/16, so there is still time, but time is starting to run out. Send a friends request to AAR GTDon to get in on some races and visit www.IFCAracing.com to get your official competition number plate.
At the IFCA we welcome anyone interested in good clean fun racing regardless of skill level. See you at the races!
AAR GTDon
A whopping 830,000+ people downloaded and played the online qualifying demo for the Nissan PlayStation GT Academy 2012 by the time entries closed last week. The UK headed the nations entering, with over 161,000 hopefuls taking part followed by France and Spain as drivers attempted to record the fastest one lap time trail in a Nissan 370Z around the new version of the Twin Ring Motegi Circuit.
The 16 fastest online gamers from the UK and Ireland will join 16 Live Event Wild Card winners to take part in a National Final event at Silverstone Circuit on July 17-18, 2012), with the challenge of both Gran Turismo 5 challenges and driving tests in a real Nissan 370Z. The 6 best from the 32 finalists will then be selected for the International GT Academy Race Camp which takes place in August.
If you haven't seen previous competitions, the overall winner will end up being trained to international race licence standard to prepare for a drive in the Dubai 24 Hour race in January 2013 in a full race-space Nissan 370Z GT4 car.
Previous winners Lucas Ordonez (Spain, 2008/2009) and Jordan Tresson (France, 2010) both competed at the Le Mans 24 Hours race in Nissan-powered prototypes this year, whilst Jann Mardenborough (UK, 2011) has gone on to win a round of the British GT Championship in the GT Academy Nissan GT-R Nismo GT3 car.
Following the success of previous years, 2012 saw the GT Academy expand to include separate competitions for Europe, Germany, USA and Russia, with each Race Camp winner from each region getting the opportunity to compete in a Nissan car at a national level race.
Series 2 of the popular Virtual Motorsports SpecRacing championship is due to kick off on June 7th with drivers now challenged to compete in the 2010 Subaru Legacy B4 2.5GT – the previous season featured the 1994 Nissan Fairlady Z Version S Twin Turbo, and was won by F4H Mopar001.
Racing on Thursdays at 19:00 CST/ 01:00 GMT / 11:00 AEST, the Subarus will have a performance index of S670, starting at the Mugello circuit in Italy, the Nurburgring Grand Prix circuit, Maple Valley Raceway, Sunset Peninsula, Road Atlanta, Indianopolis, Sedona and finally the iconic Mazda Raceway Laguna Seca.

Four championships are up for grabs with the Drivers Championship, Team and Privateers Championships, plus a Rookies Championship. The series is officially sponsored by Turn10 with in-game credits and gift cars able to be won after the 8 weeks culminate in series finale on July 26th, 2012. More info can be found on the Virtual Motorsport forum.
Some teaser details have been released for the new Rivals events for June 2012, which will accompany the release of the new Meguiars Car Pack DLC when it launches on June 5th for 560 MS Points.
The details are:
ALMS Corvette V2
Take to the track in this updated version of the Spec Hot Lap Rivals event "American Le Mans Corvette" featuring the 2011 Chevrolet #4 Racing ZR1. Each week, 100 randomly chosen players from this leaderboard will receive a 2002 BMW M3-GTR, a "unicorn car" only available from Turn 10. The Meguiars Car Pack is required to participate in this event.
The Big Bopper
The 1950s brought the world "crusin'", but if you want to beat your rival in this event you will have to push these 1950′s classics past their cruising speed as you weave through the traffic.
4-Cylinder Fahrvergnugen
Throughout the 1990s, Volkswagen used "Fahrvergnügen" as their advertising slogan. Find out which of these 4-cylinder cars lives up to claim of "driving enjoyment".
Oh, What A Celica
The Toyota Celica has long been one of the Japanese manufacturer's bestselling automobiles. Take to the track to find out which Celica can be named the best of the breed.
Turbo Twin Drag
The eternal debate–single turbo or twin turbo—is temporarily put to rest in this Rivals mode event. Tune your favorite twin turbo car up to 500hp and get ready to hit the strip.
June VIP
This Rivals Mode event is open to Forza VIPs only. The car, track, and competition type were chosen by a series of polls conducted on the official Forza Facebook page. Players will be drifting on Maple Valley.
Audi Endurance Event
This Audi-themed event is for Forza players in France and will be locked to EMEA players only.
So it's time to get practicing for the new events if you want to top the leaderboards. And even if not, it's still worth competing in the Corvette event to be in with a chance of a unicorn car (This will require purchasing the new car pack for 560 MS Points).

It's not often you get the chance of two hours and thirty minutes of constant Forza Motorsport action, so when Virtual Motorsports announced the Nurburgring GP 2.4 Hours event I jumped at the chance. And having finally finished the race last weekend, I'm glad I did, even if there were times when I was questioning my sanity.
The format was fairly simple. As a multiclass event you had the choice of racing an LMPC Chevrolet, or one of two German DTM cars, all fitted with drag tyres to force drivers to pit regularly. Having already raced the Mercedes in other events, I went for the Audi, which was potentially the wrong choice. Although the VM organisers worked hard to ensure both cars were very evenly matched, the Audi was definitely slightly more challenging to get the best times from, and that proved the case in qualifying.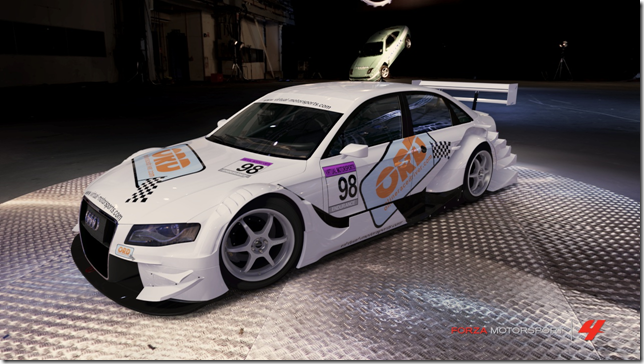 The qualifying sessions took place on the two Saturday evenings preceding the event, with 60 minutes to record the fastest possible time. Knowing that family commitments meant I could only take part in the first qualifying session put the pressure on, and I paid the price. Just three laps in and I caught a kerb, span, and ended up damaging my bodywork – as Forza only repairs mechanical problems in the pits it meant I had to finish qualifying with 30+% damage all round, which didn't help as I recorded a time over 1 minute, 57 seconds, compared to some of the fastest guys going 3 or 4 seconds faster per lap.
Race Day for the Nurburgring 2.4 Hours:
When race day arrived, I was pretty happy. Somehow I'd ended up on pole position of the DTM cars in my lobby, and as the results would be calculated purely on distance covered, it didn't matter that it wasn't one of the top groups. I'd also managed to cut  a bit from my lap times, and importantly, found I could nurse my tyres a little longer before pit stops than I'd originally thought. Given that it's a fairly long pit at Nurburgring GP, one less stop would definitely help my performance.
As the 3 LMPC cars in the lobby led round the 9 DTM competitors, I was anxious to get going, and couldn't wait for the leader to announce 3,2,1,Go! My aim for the first few laps was to stay safe and consistent, so I took a fairly conservative line into the first tight hairpin, not expecting the second-place qualifier to launch himself across the grass and into my side as I started to accelerate for Turn 2.
So with 2 hours and 27 minutes to go, I had a reasonable amount of bodywork damage, and slipped back a couple of places into the bargain. One day I'll actually manage to compete in that Audi with all the aerodynamics intact!
The race itself settled into a rhythm fairly quickly – two of the faster guys had shot off into the distance with consistently quick lap times, obviously having had similar issues in qualifying to me, but unfortunately solving them a little better for race day. Every so often I'd see an LMPC car suddenly appear beside me, often with a warning over my headset, but occasionally the drivers were so much quicker they didn't need it – with multiclass the important thing is for the slower drivers to stick to their line and not do anything unpredictable.
After the first few stops I was feeling pretty good – a fairly consistent fourth with a reasonable handle on how the drag tyres were handling as they degraded over the course of laps 10-14 when they really started to lose performance. There was the odd moment, but no major off track excursions which had happened to some of the other drivers judging by the occasional cursing – and I'd also managed a fairly decent job of avoiding tangles with the LMPC boys. I think they did have a couple of moments with some of the other cars, especially later in the race when everyone started to feel the effects of concentrating for that long.
Coming up to the final 30 minutes, I'd realised that there was the potential for third – the final podium spot was held by a driver who was running a slightly faster pace on average, but wasn't getting away. More importantly, I knew he'd just pitted, and didn't think anyone could make it to the end without a pit stop, so I desperately tried to keep the pace up on my totally worn tyres for a couple of extra laps, watching the distance to third grow, but gambling on strategy.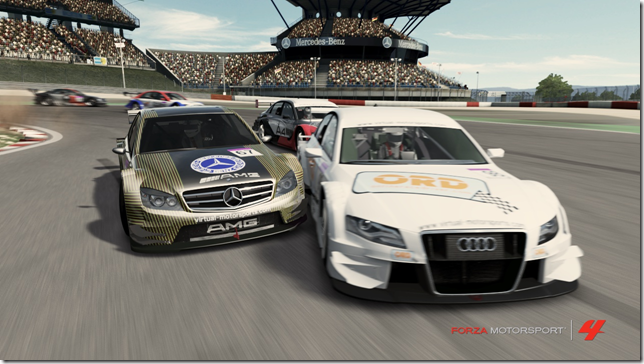 Coming out of the pits thousands of feet behind, I knew all I could do was hit every braking marker, and hope. When he pitted with about 15 minutes left, I could have stopped and thanks him, but then the battle really began. Again my tyres were way past the end of their effective life, and he was a lot quicker on fresh rubber, so the gap started to drop after he'd got some temperature in them – coming into the final 10 minutes the gap was about 3000ft, then 2,500ft, then 2000. By the time the last lap came around, he was only about 600ft behind and closing fast, so I had to take a deep breath and rely on the fact that even if he caught me, I still had the hope of hugging the inside of the corners and blocking him.
As it happens, I managed a better time than I'd predicted on the final lap as I watched the counter mercifully tick down to the finishing time – at the end I took third in the DTM lobby in my class by just 200ft, and I don't think I'd have lasted another 30 seconds! A pretty close finished after 160 minutes of racing.
Endurance Racing Tips:
Although I wasn't the quickest racer to compete, I did pick up quite a few tips for future races:
Preparation: It's obvious that more practice leads to faster lap times, but make sure you run laps with new tyres, worn tyres etc, and work out how far you can really push if you need it. Also practice running offline, as it's bound to happen during the race (The Track Day Rivals events are handy for this as they force you to consider different lines for overtaking, even if it's in a different car).
Environment: It might not be as physical as real racing, but there's still a lot of concentration involved. Make sure you've got comfortable seating, you've got adequate lighting throughout the whole race, and you're able to stand up etc during pit stops as required.
You: Make sure you get a good night's sleep before the race, avoid hangovers, and have a drink handy – but don't overdo it before the race unless you know you can make a toilet break during the pit stops. Some drivers actually rigged up a camel pack to drink during the racing just as real drivers do. If you're a smoker, it's also worth having a nicotine lozenge or two nearby if you don't think you can finish the race without a fix.
Car: Everyone wants to get the fastest possible car, but when it comes to endurance racing, you're better off with something that's consistent at 95% of the speed, and easier on the tyres. Having the fastest lap isn't as important if you're in the gravel every other lap.
Calm: It's important to stay calm and relaxed – tensing up will make you slower, and if I'd got annoyed at the first corner incident, I'd have just made more mistakes. You need to be able to think clearly, monitor tyre wear, and plan pit strategy all while heading down the straights at 150-200mph, so cool, calm and collected is the way to race.
The racing season is underway once again with the Virtual Motorsport GP2 series which features the Seat Leon Supercup in a specific S613 tune for all drivers – which tends to mean close qualifying times and even closer racing.
So having had a few practice laps in the car, I'd adjusted to a front-wheel drive racer despite my preference for RWD or AWD machines. As it's specified, it's handles pretty nicely although any car can struggle with understeer when there's that much power trying to get through the front wheels. As a result my practice laps were hovering between 1.29.500 and 1.30.500, which seemed respectable if not blisteringly fast.
Qualifying is a quick 5 lap affair, and it couldn't have gone worse. Having completed a clean out lap, I then managed to screw up the following four flying laps for various reasons, leaving me last of the 69 drivers competing in the 10-14 car lobbies.
So the only upside was that things had to improve, and they certainly did in the first race – despite a couple of worrying moments during the first lap on cold tyres, I slowly started to move my way up through the field from 12th on the grid.With so many similar cars, the qualifying times had been relatively close even down to the final lobby, so it was pretty tough against some talented but very gentlemanly drivers.
Over the course of 12 laps, I eventually managed to take 5th place which was a fantastic result, although it was frustrating that my lap times were comparable to the podium places – by the time I'd managed to get into 5th, the top four drivers were long gone and there was no way to pull back the deficit. But on the way through I'd enjoyed a titanic battle with F4H Castrol who pulled off some impressive overtakes, including heading into the tight final chicane three abreast as I attempted to pass another driver.
And if you want to know how this particular corner played out, here's a quick clip showing me taking some evasive action in the orange Seat as I was surprised by Castrol's blue hatchback suddenly appearing out of nowhere:
Race 2 should have been easier – in the GP2 series, the second race is an 18 lap event with a mandatory pit-stop, and most importantly the first 8 finishing positions are reversed, which meant I was starting from third place.
But on a night when nothing seemed to go right and the lobby had suffered immensely with connection issues, I managed to fluff the start and the opening lap, meaning that I'd dropped from 3rd to 6th. As the pits opened on lap 3, a couple of drivers took the chance for an early break, and I followed shortly afterwards to try and clear my head and re-focus. Luckily I was able to put in some consistently quick laps at the start of the stint and made up a couple of places as the pitstops resolved themselves to put me back up to 4th – despite occasionally catching the leaders earlier in the race, I just couldn't be quite consistent enough to close enough to put in a challenge for the lead, so in the end settled for 4th – again, not a terrible result given my start to the evening.
So overall I'm disappointed that I qualified so badly, but happy that we eventually got to enjoy two great races with some good drivers and I salvaged two respectable results. Given the level of driving in all the VM series, it's as tough to make up places in the last lobby as the times I've qualified in the top two, and the fastest times in our races would have been competitive up even in the 3rd lobby. Plus I've got more races to get to know the Seat and iron out the tendency for it to try and swap ends under braking – tracks with less camber on the corners will definitely be a little easier.
Race Organisers: Virtual Motorsports
Race Series: GP2 Season 2
Race Meeting: Round 1, Road Atlanta
Positions: Race 1: 5/12, Race 2 4/11.
Now it's all about the special Nurburgring 2.4 hour event on Saturday, followed by the toughest series challenge yet – the VM Super GT series, which features Japanese high performance touring cars with no assists, no guiding lines, and some of the toughest drivers in Forza. I'm one of a minority of drivers currently running the 2008 Nissan GT-R so it'll be interesting to see how it pans out, especially following on from 160 minutes of racing the R2 DTM Audi the night before…
If you're tempted by racing in a competitive series featuring every driver in the same car, then you might be interested in the Virtual Motorsports GP2 Series 2, which will put all racers in the 2007 SEAT Leon Supercup at S613 performance index.
Starting on May 1, 2013, the series will run on Tuesdays at 13:00 CST / 19:00 GMT / 05:00 AEST, and will feature a two-race format with partially reversed grids. Tracks on the schedule include Road Atlanta, Iberian International and Tsukuba, followed by Maple Valley Raceway, Infineon Raceway, Mazda Raceway Laguna Seca, and the Nurburging Grand Prix Circuit before finishing up at Sunset Peninsula Raceway on June 19th, 2013
You'll also be able to compete in four championships, with a Drivers Championship, Teams and Privateers Championships, and for all drivers new to the event, a Rookies Championship. The series is sponsored by Turn 10, so those finishing at the top of each championship receive unicorn cars and in-game credits, or credits only for the Team Champions.
You can sign up via the Virtual Motorsports Forum GP2 Series 2 Forum.

Want to take part with OnlineRaceDriver?
If you're interested in taking part, and fancy being part of a friendly team who hope to do well, why not join up with ORD driver Badger Gravling (That's me!) to be part of a team entry? If you're interested, let us know in the comments, or look me and the ORD Forza Motorsport 4 club (ORDC) up in the game and send us a message/application to join.
Virtual Motorsports have announced their first one-off Forza Motorsport 4 Special Event of the 2012 season with a testing and challenging Endurance race. The challenge will be to cover the greatest distance in 2.4 hours of driving at the full Nurburgring Grand Prix circuit, with absolutely no assists or circuit guides allowed. That means it'll be as much about surviving as driving close to flat out.
And the cars chosen for the event will add to the challenge. It's a multi-class race with the faster option coming as the 2012 Chevrolet FLM09 in the LMPC class, with a set-up which gives in 600 horsepower at R1 938 PI. Meanwhile the second class on track will see a DTM rivalry between the Audi A4 and Mercedes C Class R2 machines with just 470 horsepower and real-wheel drive to make things interesting.

The race itself will take place at 13:00CST / 19:00 GMT / 20:00 BST on Saturday, May 5, 2012, and to take part you'll need to register on the Virtual Motorsports forum and participate in either of two 60 minute qualifying sessions which run on Saturday April 21st and Saturday April 28th at the same times. In addition to prizes for the individual top ten, there will also be rewards for the top ten teams and privateers.
It's been a while since I last managed to update my race diary – unfortunately work has got in the way, but I've still managed to cram in a number of races. So although you might have to wait forever for me to finally upload more photos and videos, here's a rundown of how I've faired in the three championships since my last update.
Rllmuk Classic Roadsport: Rd 2 Nurburgring GP (Short)
The C Class series visited Germany for round two, and despite the home track for the VW Golf's, it was always going to be a struggle. In addition to the quick car and driver combo of our own ORDC Bladerunner in the Lancia, there were also a trio of Renault 5 Turbos to contend with, headed by frontrunner Meatball46.
A decent qualifying result saw me third on the grid, just ahead of my ORDC VW team-mate Pjeedai. And it proved that it's the Golf that struggles off the line rather than the driver, as we were both swamped at the start. Somehow I managed to make it through the tight hairpin Turn 1 unscathed, but could only watch as the Bladerunner and Meatball46 pulled away. I knew I couldn't catch them, so concentrated on keeping everything tight, hitting every apex, and making sure I stayed ahead of my team-mate.
That all paid off when an unfortunate challenge at the chicane saw Bladerunner spin, allowing me to pick up a slightly undeserved second place behind Meatball46
Race 2 was similar, besides a bit of a mid-race battle with Meatball46 before succumbing to the inevitable, and a faultless race from Bladerunner extending his lead at the top of the championship.
So a 2nd and 3rd was probably one place better than I could have hoped for, and does mean that I've made up some of the distance on the battle for second and third in the championship after my terrible first round. Sadly next up is Tsukuba, probably the worst track for the Golf, so anything will be a result there, but after a couple of good podiums for Pjeedai, he's my main target on track!
Rllmuk Classic Roadsports Round 2:
Race 1:  1) Meatball46, 2) BadgerGravling, 3) Pjeedai, 4) Blade Runner, 5) SharkyOB
Race 2: 1) Bladerunner, 2) Meatball46, 3) BadgerGravling, 4) Beezerly, 5) Sharky OB
Standings: 1) Bladerunner 112, 2) Pjeedai 88, 3) Beezerly 84, 4) Meatball46 82, 5) BadgerGravling 78.
Virtual Motorsports Classic Series Rd 3: Tsukuba:
You wouldn't typically think a 1966 Chevy Nova was the ideal choice for the short, tight and twisty Tsukuba track. And you'd be pretty much right as the set qualifying lobby saw the front runners disapear into the sub-1 minute laptimes, and the Nova wobbling round to qualify in the 4th lobby.
But one benefit of the multiple lobby system is that it almost always leads to close racing, and that's definitely what happened. Having been lucky enough to start on pole I had a 41 minute battle with the fast Corvette Stingray of Rancidblaze, seperated by less than 100ft for much of the action. A couple of times Rancid took the lead, but I managed to stay calm, relatively consistent, and was able to capitalise on a couple of mistakes, and after the mandatory pitstop I headed into corner one just ahead of the Stingray as it rejoined the track on new tyres.
Having lost a potential race win at the first round after a TV-related disaster, history almost repeated itself as a steering wheel failure for one driver left his car stuck in the middle of the final corner just as I came round at the front of the field. Somehow I managed to avoid him, lost drive and dropped to second for the closing stages, but an unlucky mistake by RancidBlaze saw me manage to retake the lead and then park the fortunately wide Nova on every apex to hold off his determined challenge, crossing the line first by about 10ft.
Virtual Motorsports Round 3: Tsukuba Full:
Lobby 4: 1) BadgerGravling, 2) Rancidblaze, 3) EZT RacerX, 4) OMG FLck, 5) GLR Puckhead.
Rllmuk Classic Touring Cars: Rd 2: Hockenheim GP:
So back into A Class Tourers and the Team OnlineRaceDriver.com Mercedes. Whilst various other teams and drivers have made some changes, leading to a new team running a pair of Lotus Carlton's, and an early switch for one driver to a Ford Sierra RS500 from an adventurous atempt in an Alfa Romeo, we're sticking with the 190Es. What they lose in a straight line they make up for with consistent handling for the short 8 lap races, which don't allow you to recover from a mistake.
First up was qualifying, and I was happy to put the Merc on pole, ahead of Bladerunner and Pjeedai (Meatball46 was absent from this round, meaning that I had one less rival to worry about with his quick RS500). The Mitsubishi Starion of Bladerunner is blisteringly quick off the line, and that meant I had to give way at the first corner, and then settle down to try and counteract straightline speed which saw him pull away even when I was right in his tow on the straights. Luckily I could close massively on the corners, and had managed to stay close throughout the race as the midpoint had been reached.
I really wasn't sure I could mount enough of a challenge, until a real life distraction slowed Bladerunner slightly, and I was able to not only pull alongside yet again, but stay there for 2-3 corners in a row, finally managing to nip cleanly through and holding the lead to the flag.
Race 2 followed a similar pattern, with Bladerunner again making a slight mistake, but this time much earlier in the race as I suspect he was trying to make up for his earlier second place. What should have been relatively comfortable was thrown into disarray slightly when I lost concentration for a split second and went sailing across the gravel before rejoining, but the only person to really lose out was my second-placed team-mate Pjeedai, who was slightly blocked when I came back onto the Tarmac, and lost out to Bladerunner. But I think we can all be happy with an all-ORDC podium! It also means 4 wins from 4 in this series and a 16 point championship lead.
Rllmuk Classic Touring: Rd 2 Hockenheim GP:
Race 1: 1) BadgerGravling, 2) Bladerunner, 3) Pjeedai, 4) Wev, 5) SharkyOB.
Race 2: 1) BadgerGravling, 2) Bladerunner, 3) Pjeedai, 4) BalhamBadger, 5) Wev
Championship: 1) BadgerGravling 120, 2) Bladerunner 104, 3) Pjeedai 86, 4) BalhamBadger 84, 5) Wev 70.
Virtual Motorsports Classic Series: Round 4 Bernese Alps Club:
And we're finally up to last night, which saw the Classic Series visit the tricky and twisty Bernese Alps track with camber changes, evil kerbs and a complete lack of testing time which saw me running pretty much the same set-up as Tsukuba, which wasn't ideal. Somehow, though, a laptime in the one minute 25s saw me move up into Lobby 3 for the first time, which was my aim when the season started.
The pressure was on a little – having spent 3 races in lobby 4, I've got to know some of the drivers who regularly qualify around my times and I've built up some experience and trust in them. Lobby 3 was a new field, with faster drivers, some of whom have been Lobby 1 drivers in previous weeks.
From seventh on the grid, I was a little fortunate at the start to get a good run, but then failed to capitalise by being a little too cautious for once. As things settled down I was in a solid 6th, and managed to keep a decent distance to the group in front, and through the first few pitstops found myself as high as fourth, despite the determined efforts of the Volvo 242 Turbo of ZA Warudo trying to find a way past and skilfully managing to avoid me when I had a couple of moments. Eventually he came past, and I settled down to what became a slightly lonely 6th place with the main battle between me and the track. Considering the tricky nature of the track and the fact the anti-clockwise bias was cooking the front right tyre early on, I'm pleased with that.
Virtual Motorsports Round 4: Bernese Alps Club:
Lobby 3: 1) MRT Tazkumi, 2) EZT Spartan, 3) VVV Zeragon, 4) G JC 96, 5) F4H ZA Warudo, 6) BadgerGravling, 7) F4H Tito, 8) F4H Bullet, 9) Preacherman23, 10) EZT o Sollelf.
Unofficial Forza racing series organisers Virtual Motorsports run a range of successful championships, including the Classic Series in which Dan is currently competing. They've just announced the addition of a new NASCAR series featuring the 2011 Chevrolet #04 Chevrolet Racing Monte Carlo SS STock Car and 2011 Ford #05 Ford Racing Fusion Stock Car. It starts on March 9, 2012 with 12 weeks of racing towards a series finale on May 25th, 2012.

Unusually for the predominantly European-led organisation, the racing will take place at 20:00 CST/ 02:00 GMT/ 12:00 AEST every Friday, and features heavy use of the oval circuits of Twin Ring Motegi, Sedona Raceway Park and Sunset Peninsula Raceway, plus the very different challnge of Infineon Raceway. Supported by Turn 10, there are in-game credits available for the top 10 drivers, a unicorn car for the top three, and all drivers completing 11 of the 12 scheduled races will be entered into a random draw for a further unicorn car. You can sign up at the Virtual Motorsports forum.