You can now race on the first fully-integrated motorsport facility to be opened in the United Arab Emirates, as RaceRoom adds the Dubai Autodrome in a new update.
The circuit was first opened in October 2004 and has hosted rounds of the FIA GT Championship, and the European Touring Car Championship. It's the home of the Hankook 24 Hour Dubai Endurance Race, and is 5.4km (3.349) miles in the longest Grand Prix Circuit configuration.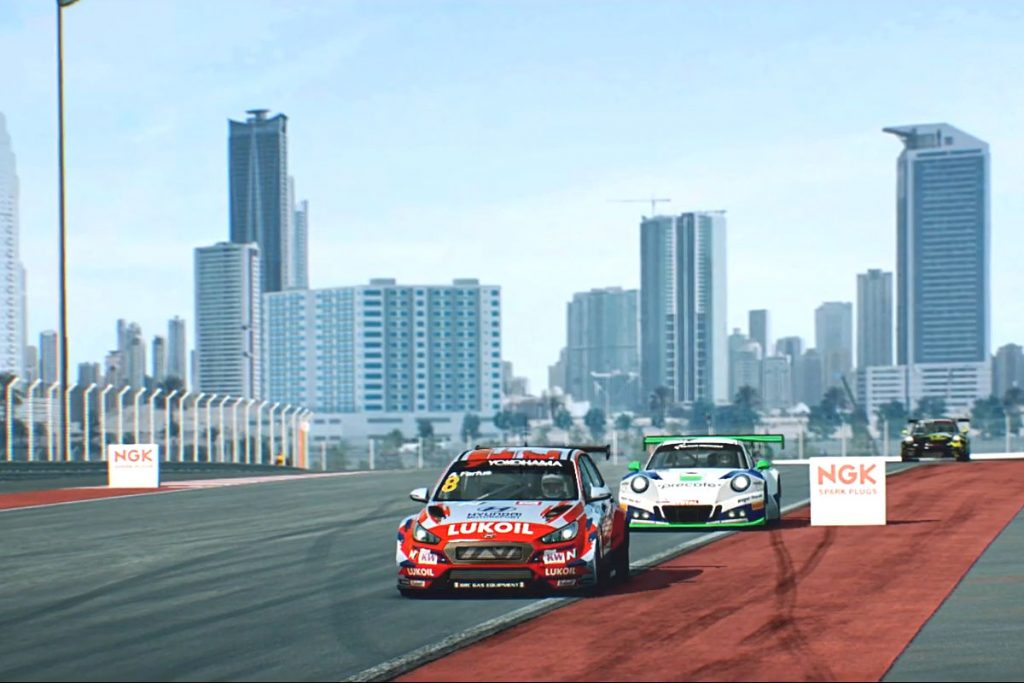 RaceRoom now offers four layouts included in the Dubai Autodrome track pack, which costs £4.44. You get the Club Circuit (2.46km), the National Circuit (3.56km), the International Circuit (4.29km) and the Grand Prix Circuit (5.39km). It's also available as part of the Premium Pack, which included all currently available content.
But the new circuit is not the only work released by RaceRoom developers Sector3 Studios. A sizeable 2.1GB update (client version 0.8.0.6592) has also been released with plenty of physics changes and updates for servers.
Update details:
Download size = 2.1 GB
Client version = 0.8.0.6592
Client BuildID = 4249150
Dedicated server version = 55.0.1028
Dedicated server BuildID = 4249152
Dedicated Server:
Added ability to determine the starting position of the race. When a starting grid is defined on the server, qualifying session will be skipped entirely. The server will place players on the grid in the exact order defined by the server administrator and will not perform any sorting by performance index.
Added ability to import users from a given leaderboard and a given team name to pre-populate the starting grid.
Added a chat box in the dedicated server interface to allow the broadcasting of messages to all players from the server admin.
Added a Weight Manager tool to easily manage the administration of success ballast for a large amount of players throughout a league championship. The manager can be pointed at the result of a past race and all players can be assigned weight following any kind of regulation with the help of custom formula's.
Added a latency indicator next to each of the connected players. It shows an average value that is calculated over a full minute.
Game:
Adjustments to Slowdown penalties that have been too harsh since the previous update, especially in high speed corners.
Increased connection timeouts from 30 seconds to 60 seconds in the hope to reduce the amount of disconnects from multiplayer sessions.
Improved automatic choice of graphic settings (at first start) based on the detected hardware.
Improved visibility of the message stating a game restart is required after switching to another monitor in fullscreen mode.
Attempt at getting rid of weird laser weapon sounds when cars transition from track to their garage position
Fixed saving of two identical screenshots when pressing the screenshot key while on a menu
Content:
Dubai Autodrome is now available with 4 layouts ( Grand Prix ; International ; National ; Club )
Audi R8 LMS – Fixed cockpit camera that was slightly off center
Audi TT cup – Fixed underbody feelers that were 2,5cm too low and made the car scrape the tarmac when it in fact should not.
Formula RaceRoom 90 – Updated physics (suspension and differential, rev limiter logic, increased oil cooling slightly); Improvements to AI behavior
GTR1 car class – Updated physics (aerodynamics, turbo buildup, rev limiter logic, tuned dampers) ; Improvements to AI behavior
GTR2 car class – Updated physics (Traction Control logic, dampers tuned, improved gearshifts) ; Improvements to AI behavior
Honda Civic TC1 – Fixed an issue where this car couldn't easily alternate between forward and reverse gears.
NSU TTS – Improvements to AI behavior (no more rolling over big curbs)
Pagani Zonda R – Updated physics (Traction Control logic, ABS improvements, dampers tuned, improved gearshifts)
Porsche Cayman GT4 Clubsport – Updated physics (tuned dampers, tyre model, Traction Control and ABS improvements; Improvements to AI behavior
Porsche 911 GT3 Cup – Updated physics (tyre model refinements to have much more response to tyre pressures, tuned dampers and rear camber, differential tweaks) ; Improvements to AI behavior
Porsche 934 RSR – Tweaked rearview mirror UV
Porsche 911 Carrera (964) – Updated physics (rev limiter behavior, differential, suspension and dampers, tyre model, ABS improvements); Improvements to AI behavior
WTCR – Improvements to AI behavior
Road America – Updated the high resolution road surface, fixed a misplaced curb at turn 11. Added ambient occlusion from walls.
So there's plenty to enjoy even if you're not investing in the new location yet. Especially as RaceRoom is about the best racing simulator you can start enjoying for free via Steam. Before potentially investing in more cars and tracks as your dedication demands, and your budget allows. Keep up with our latest coverage of RaceRoom, here.