We're all getting increasingly used to official manufacturers and race teams integrating virtual motorsport and professional eSports drivers into their racing programmes. But it's now spreading to two wheels as Ducati sign MotoGP eSports World Champion Andrea Saveri.
The 19-year-old Italian joins Ducati Corse riders Andrea Dovizioso, Danilo Petrucci and Michele Pirro as an official Ducati Corse eSport rider.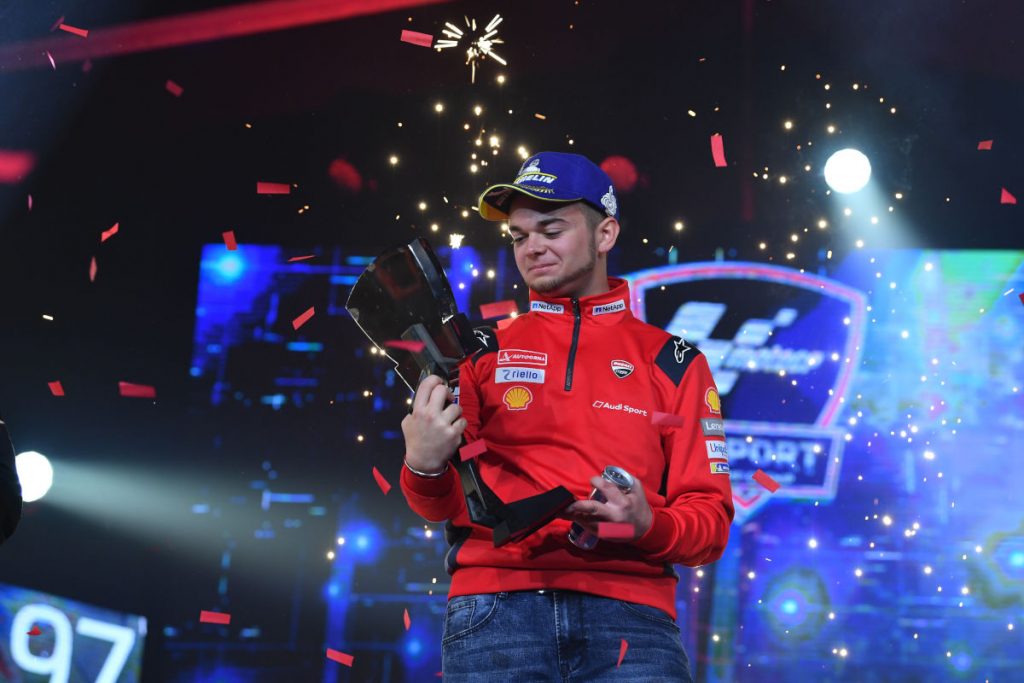 It's particularly appropriate as Savieri, who races under the name "AndrewZh" is born in Bologna, and lives a few kilometres away from the Ducati motorcycle factory. He finished third in the 2018 MotoGP eSports world championship, before taking the title in 2019 on a Ducati Desmosedici GP bike, and has now finished eighth in the ProDraft clasification for 2020, making him one of 11 riders competing for the title this year.
Paolo Ciabatti, (Ducati Corse Sporting Director):
"eSport is an entertainment platform that has grown quickly during the last years: innovation, progress and technology are part of Ducati DNA, and that is why we have decided to commit in this new adventure. We were already discussing to officialize this relationship with Andrea before he became World Champion in order to be able to dress him with the official colours of Ducati Corse, riding a virtual Desmosedici GP bike, for the 2020 World Championship. Andrea isn't just an extraordinary eSport rider, but also a true Ducatista. He comes from Bologna; he lives a few kilometres away from Borgo Panigale, he rides a Ducati Monster, and that is for us an added value. We wish him good luck, and we can't wait for the new championship to begin".
Andrea Saveri aka AndrewZh:
"When the eSport World Championship began I wouldn't have imagined reaching a similar goal. Becoming an official Ducati rider and wearing the colours of the squad from Borgo Panigale is a dream that comes true. Especially for a youngster from Bologna like me, who is a big motorcycle enthusiast since I was a kid and that knows what it means being a Ducatista. Although it is a tough moment for the world, we were able to compete to decide the ProDraft of the classification, and it was not easy to gain access to the final challenge, as this year the level is very high. It will be a special season, during which I hope to be able to repay all the trust that Ducati put on me by getting good results".
The growing prestige of the virtual MotoGP series was shown in 2019 as the final three races of the MotoGP eSport World Championship were shown by 15 TV broadcasters across 5 continents, and reached a global audience of 64 million viewers.
Want to emulate Andrew Saveri (akak AndrewZh)? The release of the upcoming MotoGP 20 will be on April 23rd, 2020. But the official series is currently still running using the previous MotoGP 19.
You can buy MotoGP 19 for the PC via Steam, the Microsoft store for Xbox One, the PlayStation Store for PS4, or the Nintendo Store for the Switch. Or you can pick up a physical edition from Game, or Amazon.
If you want to wait for the release of MotoGP 20 to prepare and enter future seasons of the MotoGP esSPorts world championship then you can add it to your Steam wishlist, pre-order digitally via the Microsoft Store, or pre-order the physical editions at Amazon. It's also being released for the Nintendo Switch and Google Stadia.
Amazon currently has the MotoGP 20 VIP Edition for pre-order as an exclusive, which includes earning double credits, reputation and development points in career mode.