They've produced data logging and timing equipment for international motorsport for many years. And now AiM Technologies launch Sim Racing Display Loggers for virtual racing.
Data logging has obviously become a key part of any motorsport effort, allowing teams to be able to analyse exactly what's happening on track. And it's become part of every level of racing, as well as for track day enthusiasts.
Given that AiM Technologies already make products for cars, bikes, karts, trucks, drag racers, powerboats and more, it's clear they know what they're doing. Especially when their OEM partners include names like ADAC, FIA GT3 and F3, Ariel, Dallara, Ferrari, Ginetta, Radical, Seat Sport, and Ultima.
So you know when AiM Technologies launch sim racing display loggers, it'll be high end equipment which is the same as race teams use.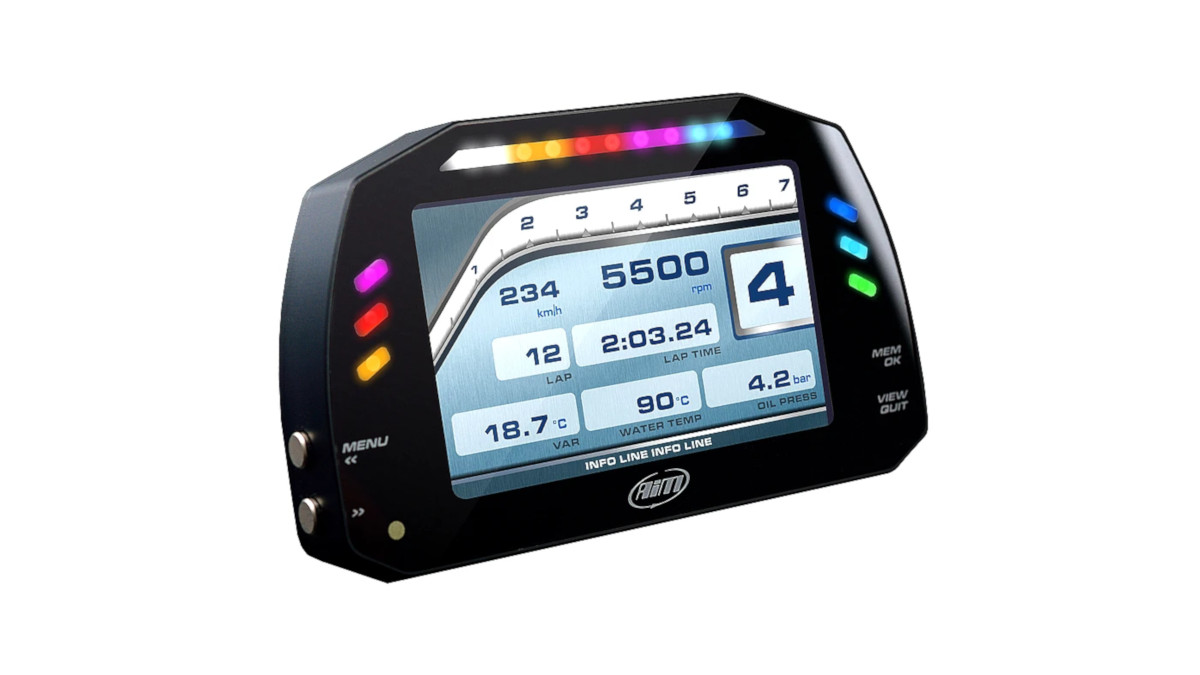 The current range includes the MXS 1.2 Strada Sim Racing Display Logger for £900, the MXP 1.2 Strada Sim Racing Display Logger for £990, and the AIM MXG 1.2 Strada Sim Racing Display Logger for £1,140, plus a Shift Light Module for £162.
All of the display loggers give you the ability to use an AiM dashboard while you're racing, and to analyse everything when a practice or race session has finished, using AiM's Race Studio 3 software. Which is the same platform used by world class motorsport teams.
Some of that functionality is demonstrated by British rally driver Chloe Anna Jones.
Essentially you're buying a data logger and display for your sim rig which is exactly the same as you'd use for your car or motorcycle when you race at a high national or international level.
The MXG 1.2 Strada is the top of the range, with a 7″ high contrast TFT display and customisable RGB shift lights.
The kit is compatible with PC based sim set-ups, and it's a plug-and-play option via a USB port. Everything is configured via the Race Studio 3 software.
Currently the AiM sim racing products support iRacing and Assetto Corsa Competizione, with rFactor 2 coming soon. If you're either a sim racer with a high-end rig, or an engineer for a sim racing team, it's definitely worth checking out the level of information you can get from the AiM system.
You can buy the AiM Technologies Sim Racing range from their website. Or check out more of our news and coverage of sim racing hardware to decide what to bolt onto your rig to improve your virtual motorsport performance.