Motorcycle sims and racing games always face a challenge compared to their car versions. Where a car sim can rely on a wheel and pedal set-up for immersion and more accurate control, bike fans are left with few options between an analogue stick or a €4900 official MotoGP Moto Trainer which requires a real motorcycle to be bolted to the base. So it's interesting that the latest MotoGP 21 update adds motion controls.
There have been previous experiments with using gyroscopic and motion to control racing games in the past, particularly involving the Wii and Microsoft Kinect (Forza Motorsport 4 even had an achievement for driving using the Kinect). But now Milestone are giving it a try with the option to use the motion sensor function is you're using a PlayStation control on the PC, PS4 or PS5.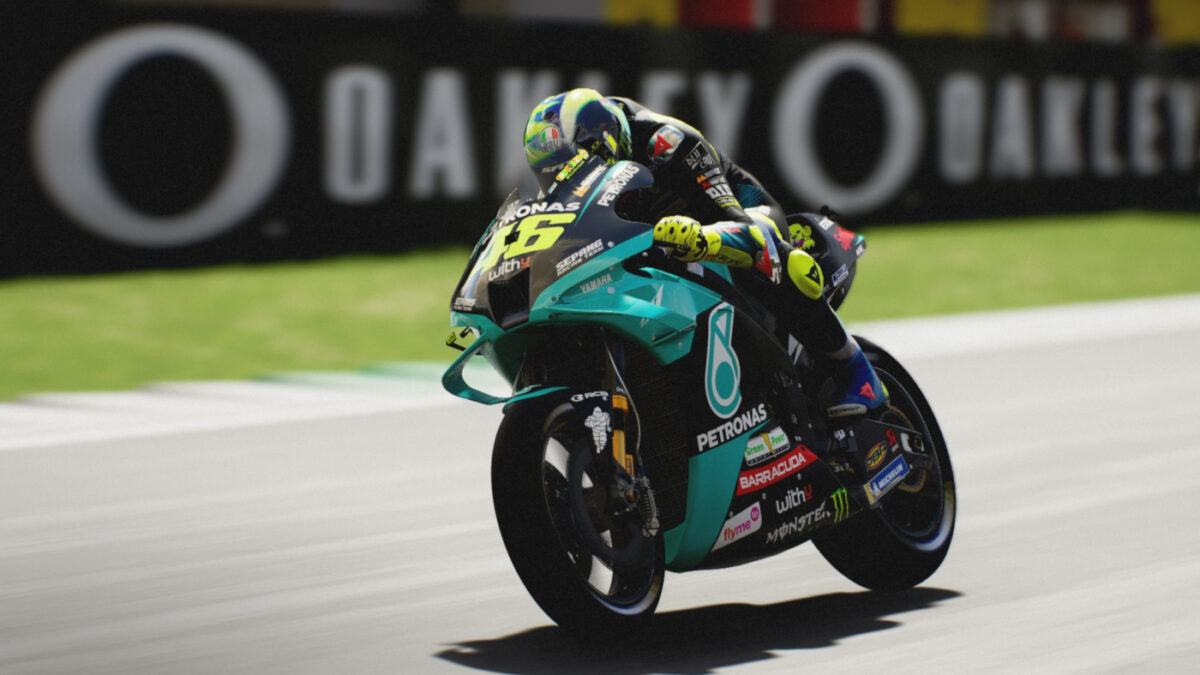 You'll need to download the update, go to the options menu, and turn on the motion sensor function. Your Dualshock 4 or DualSense controller can then be tilted left and right for steering, or forwards and back to controller your rider weight.
It's good to see Milestone experimenting with different control options, but I'd be intrigued to see how many MotoGP 21 players use it. And how many end up sticking with it rather than using the analogue sticks. One of the major issues with motion controllers is that there's obviously no weight to respond against, which is a big part of steering a motorcycle in real life. Those forces are why you actually push the left handlebar away from you to turn into a left turn at speed, rather than just tilting the bars to the left.
We haven't seen much in the way of motorcycle and handlebar game controllers since the PS2 era, although some people still use them via a PS2 to PS4 controller for later racing titles. Or by people building their own solutions, which does require owning a bike, and having some space and technical knowledge to create your own motorcycle-based rig.
The main reason is that the size of the motorcycle sim audience is significantly smaller than the number of car fans. But as technology continues to rapidly advance and come down in price, maybe we'll soon reach the point that a dedicated handelbar controller with accurate physics and feedback makes sense. The last launch was the Spanish LeanGP simulator, but the company seemed to go quiet a few years ago.
Maybe the fact that the MotoGP 21 update adds motion controls will inspire a new generation of sim enthusiasts and hardware hackers to come up with some new attempts at producing a great solution for motorcycle sim fans.
MotoGP 21 Update Release Notes:
PS4 (1.012.000), PS5 (1.014.000), Xbox One (1.0.0.13), Xbox Series X|S (1.0.0.16), PC Steam, PC Epic
Adding support for Controller Gyroscope (PC, PS4, PS5)
Adding "Bike Retrieval" in multiplayer game modes
Major updates on MotoGP bikes
Keep up with all the latest MotoGP 21 news, updates and eSports here. You can buy MotoGP 21 as a digital download for the PC via Steam, the Xbox One and Xbox Series X|S via the Microsoft Store, the Nintendo Switch via the Nintendo eShop, and the PS4 or PS5 via the PlayStation Store. Or order a physical copy via Game or Amazon.