The Racin' USA Pt2 DLC is completed with the F-USA Gen 1 class, along with a whole host of fixes arriving with Automobilista 2 Update V1.3.4.0 released.
Reiza Studios have added both the Lola T95/00 and Reynard 95i as the final cars included in the DLC content, giving you another era of classic American open wheel racing to enjoy. But a whole host of changes have come to a wide range of existing cars and tracks, the UI hjas been improved, and force feedback has been further optimised.
British race car engineering firm Lola operated from 1958 until 2012, building range of cars for CART and IndyCar. Notable drivers of the Lola T95/00 included Paul Tracy and Michael Andretti for the Newman-Haas team using Cosworth power, Arie Luyendyk in the Glidden/Quaker State CART Lola-Buick, and Bobby Rahal in the Rahal-Hogan CART Lola-Ilmor T95/00.
Fellow English firm Reynard was the largest manufacturer of racing machines in the 1980s, and the 95i boasted a similarly famous roster of drivers, including Robbie Gordon, Christian Fittipaldi, Gil de Ferran, Danny Sullivan, Buddy Lazier, and a Canadian named Jacques Villeneuve who took the 1995 title.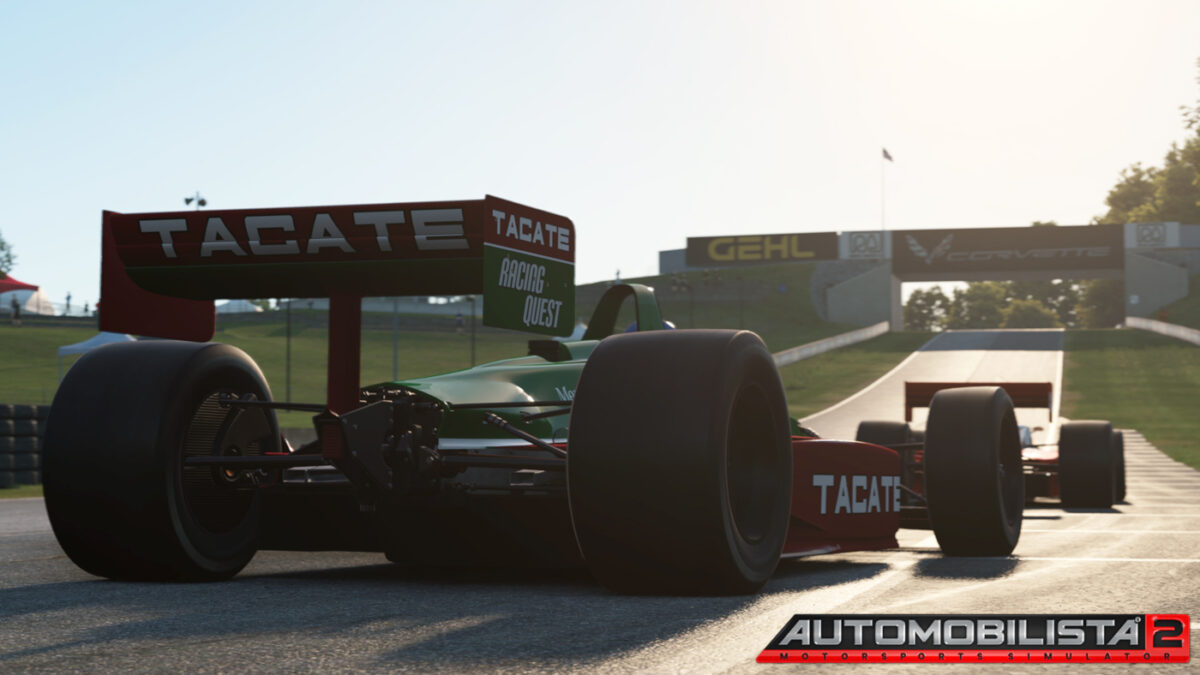 Automobilista 2 Update V1.3.4.0 Release Notes
CONTENT
Added F-USA Gen 1 class featuring Lola T95/00 & Reynard 95i (part of Racin´ USA Pt2 DLC)
GENERAL
Added VR mirror adjustment screen and fixed in-game VR options link incorrectly pointing to main VR options
Shared Memory: Fixed DRS state, added TCS/ABS garage setting entries; Updated changelog and fixed comment text of TCS setting
Optimized internal FFB subroutines, removed some unused FFB script values & exposed static caster trail to FFB scripts
UI & HUD
Added optional 'Cycle ICM' control bind which will open the ICM if not open, cycle ICM pages, and close the ICM with a long press. (existing d-pad navigation is still fully supported)
Reorganised ICM to a flatter navigation model without submenus and maintain old position on reopenning.
Fixed incorrect element order on Edit HUD page causing overlap on some inputs
altered 'DRIVE LAYOUT' label colour from white to Greyto match all other labels on this UI load screen
Fixed drive layout for Puma P052 in vehicle selection info
FORCE FEEDBACK
Optimized internal FFB subroutines, removed some unused FFB script values & exposed static caster trail to FFB scripts
Fixed FFB rattle under braking in all F-Retro cars
Caterham (all models): slight reduction of Mz influence in FFB signal
PHYSICS
Revised driveline and axle elasticity for Formula USA, GT1, GTE, GT3, DPI, P1, M1 Procar, RSR 1974, Ultima GTR, McLaren F1 LM
Revised driveline inertia for GT1, GTE, GT3, DPI, P1, M1 Procar, RSR 73, Ultima GTR, McLaren F1 LM, C3, C3R, Omega
Added engine support for thermostatic water cooling
Increased ABS update frequency
Revised turbo model for F-Classic G1, F-Classic G2M3, F-Retro G3 Turbo
Reduced F-Classic G2M3 fuel tank size to 150L accurate to Gen2 regulations
Improved F-Classic G3M1 and M2 sequential shift reliability
Mclaren MP4-1C: Fixed gearbox error
Revised engine heating & cooling properties for F-Vintages, F-Retros, F-Classics, F-USA (all gens) & set default radiator opening to 80%
Revised engine heating & cooling rates for F3, Ginetta G40, BMW 2002, MRX P4
Copa Classic and Hot Cars
Super V8: Fixed error in hard tires causing a physics crash
Updated default setups for F-USA (all gens), F-Classic G1, F309, F301, Porsche RSR, Corvette C3-R, F-Vintages (both gens), MCR2000 (setup reset recommended)
Revised engine heating & cooling rates for for F-Vintage V8s, Brabham BT46B, TSI Cup, Camaro SS, Ultima GTR
AI
Adjusted AI fast line at Goiania & Road America

AUDIO
Adjusted engine starter timing for F-USA (all gens), Kart GX390
:F-USA (all gents) Added Turbo, Starter/Startup, Transmission sound; Adjusted road noise (roadroll, scrub, skid) & increased gearshift volume
Revised F-Classic Turbo sounds
TRACKS
Road America: Added foundations under various buildings, redone terrain areas, tweaked emissive glow for the cafe interior, added lightmap for Corvette bridge, added advertisement boards, cafe benches, small garages and workshop building, terrain shadows, tweaked normals of rumblestrips, reworked T5 enter/exit runoffs to 2021 spec, added grasscrete bits, added small curb extension to Canada corner, added Motorcycle school building, reworked wall collisions, updated curb at Kink exit to 2021 spec, added Turn14 adboard, administrative building, optimized a few textures and materials; added registration building, adjusted terrain under the building. added north entrance gate, few more buildings at north paddock, optimized some of textures, object settings and LODs, let some trees grow a bit; added bungalow buildings, distant powerline & entrance sign, few changes to entrance gate, few more huts corrected position/height of few grandstands; added generic vehicles, tents, huts, houses, small shacks people, other various generic assets; Moved a tree blocking the 400′ brake mark at Canada corner; Adjusted track cut limits T5/T8; optimization pass
Bathurst: Fixed wall hole at the pit entrance; Expanded runoff road at Hell corner up to the orange barriers.
Curvelo: Minor LOD adjustments; Upgrade treeline shader; Added 3D tree shadows; Optimized object export with latest standards
Londrina: Reorganized pitbox/garage positions; Minor tweaks to shadow casters and pit markings
Brands Hatch: Fixed crowd alignment issue; Added variable crowd attendance per session; Added 3D tree shadows; Fixed normals on winter grass
Spielberg: Smoothed some abnormal track surface (short layout bridge road, T1 and T10 apex curb); Added variable crowd attendance per session; Removed some excess crowds on Short layout; Added brake markers for short layout T2; Minor LOD fixes
Watkins Glen: Added two missing trackside buildings
Kyalami: Revised track cut limits (relaxed T13 runoff, reduced T16 runoff)
Daytona: Minor static object LOD fixes: Fixed emmisive control on an outer building
Jerez: Minor LOD fixes
Nurburgring: Enabled score towers; Fixed some static object alignments
Montreal Historic: Fixed winter gravel LOD issue
Global trackside assets fixes: Tweaks to smoothing groups of motorhome LODB models, tweaks to AO of few tents, new variations of tents
Added VR cams to Cadwell Park, Granja Viana, Interlagos Kart, Buskerud
Curitiba Outer: Minor trackside camera adjustments
VEHICLES
Copa Truck: Added driver animations for all models
F-Classic: Revised driver animations (all models)
Caterhams: Revised driver animations (all models)
VW Polo GTS: Fixed damage models
ARC Camaro: Fixed oil temp needle
Caterham 620R: Fixed oil temp needle
F-Retro G3: Fixed missing backfire flame animation
Lancer Cup: Added 6 new liveries to Lancer RS model
F-USA: Fixed livery override bug; fixed all black wheel rims
F-USA: Added support for silver, black & gold wheels in livery customization (Requires updates to custom livery definitions)
GT3: Added two new liveries for McLaren 720S GT3
Lancer Cup: Added 6 new liveries for Mitsubishi Lancer R
Copa Classic: Added 3 new liveries to Passat B class & 2 new liveries to Gol B class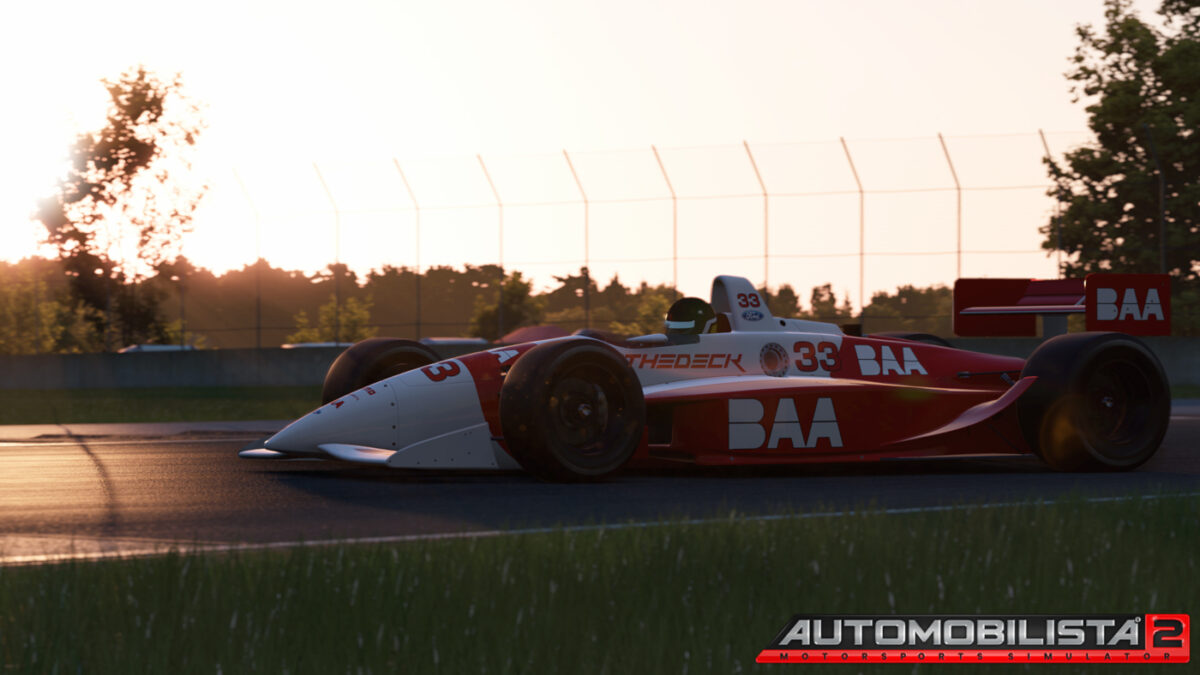 Automobilista 2 is available on Steam for the PC, along with the Ultimate Edition, the Season Pass bundle and all DLC content so far. You can keep up with all the latest Automobilista 2 news, updates and DLC here. Or check out everything available already with our Automobilista 2 car list and Automobilista 2 track list.