The first major changes have arrived as GRID Legends update V2.0 adds Special Events and new weather to the racing game first released in February. The Codemasters title has received some tweaks and improvements in the months since, but now it gets some new challenges with unique rewards to take on each week and month.
As well as potentially unlocking something for completing the new special event challenges, you'll also be able to see how you compare on global leaderboards, with exta events available if you own the GRID Legends Deluxe Edition, or you're racing via EA Play.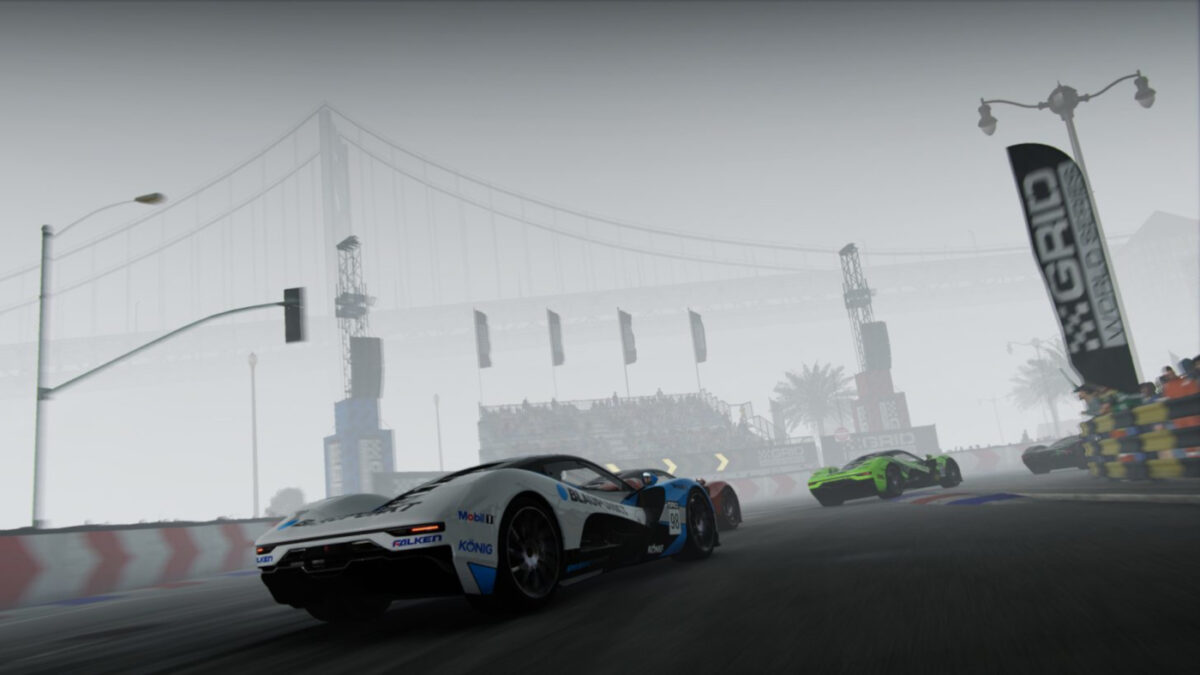 But more noticeable will be the new weather that can be selected via the Race Creator, and will be coming to other modes in the future. Your visibility will be hampered by thick fog, and at Dubai, Sydney, Bathurst and Crescent Valley, there's also dust conditions, with sand impacting your vision and the handling of your car.
Apparently the post-release content and development will be ramping up soon, with news promised on the first of four content packs, and community-requested features including Photo Mode.
GRID Legends Update V2.0 Release Notes:
New Features
A new weekly and monthly events page has been added, complete with leaderboards
Two new weather types have been added to Race Creator: Dust and Fog.
General
The Racing Line is now correctly shown when set to 'On' or 'Corners Only'
Add-Ons purchased through the PS Store now appear correctly
Artifacting around the screen is no longer visible when in replays
Distort sponsor objectives now progress correctly
GRID Legends no longer required a restart in order to complete installation
Online
UI from the Main Menu no longer shows in game after a host migration
Players no longer appear with a generic profile picture after a user leaves the Lobby
Players can now receive invites when the Lobby tab is open
Returning to the main menu from the session list no longer causes 'Select Vehicle' to be stuck
The correct message now displays when trying to join an online game for those without PS Plus or Xbox Gold subscriptions
Joining an 'in-progress' Drift session now functions correctly
When joining a rolling start session, AI drivers no longer set impossibly fast/negative lap times
Various other minor bug fixes have been made
Driven to Glory & Career
The Oval Stock Event 2 has been changed to Oval Stocks Finale
Progress on The Gauntlet is now visibly updating correctly in Career
Flicking in the corner of the screen during 'Into The Fray' has been resolved
Performance/System
Long loading times and low FPS after completing Induction and Into The Fray have been resolved
Various reasons that would cause the game to crash have been resolved across all platforms
Art and Visual Effects
Floodlights no longer flicker
Brabham BT62 – Rendering issues on headlights when the front bumper is detached have been resolved
Koenigsegg Jesko – Driver no longer grips the gearstick too hard when changing gears
Renault Laguna – Headlights have been improved
Shanghai – A white light no longer appears in the tunnel's distance
Text
Debug text no longer displays in certain instances
Audio
Voice over fixed have been made in Italian, Spanish, French and German
Dynamic music is now available in Weekly and Monthly events
There have been several other audio fixes made throughout the game
GRID Legends is available for the PC via Steam, the Xbox One and Xbox Series X|S via the Xbox Store, and the PS4 or PS5 via the PlayStation Store.
Keep up with the latest GRID Legends news, updates and more, here. Or check out the full GRID Legends car list for every vehicle included in the game.