Last updated on May 1st, 2020 at 01:49 pm
I unashamedly loved the 'TOCA' series. TOCA Touring Car Championship was my first game when I got a PlayStation. TOCA 2 was still my favourite game by the time I upgraded to a PS2, and was only superseded by TOCA Race Driver. By the time Race Driver 2 came out I had upgraded my PC with the very latest software (remember Windows ME?) and bought myself a steering wheel in anticipation. What followed was that nobody saw me for months as I became a little addicted to online racing for the first time. I only left my bedroom for food, and even then the food had to be easy enough to prepare and eat that I could have it in between races. Many a race was ruined by my reaching for a slice of toast rather than concentrating on a hairpin, and many a university essay was ruined by my spending far too much time online.
Race Driver 2 was my first proper 'online' racing game and it may be that I look back on it through rose-tinted specs, but I genuinely believe it has yet to be bettered in terms of user experience. RD2's key advantage over rivals before and since was the variety of one-make championships it offered, and the large variety of circuits to play on each. Want to race around in V8 Supercars or beefed-up GT's? No? Then try out the Seat Leon championship, or slide around Oulton Park in a Formula Ford. Still no? Then go off-road in a Subaru Impreza or Mitsubishi Evo or… hang on, you can also race Land Rovers? And trucks? On snow? Ok, I'll have a bit of that. Curiously the British Touring Car Championship was not actually featured in the game, but what was in it more than made up for it's absence.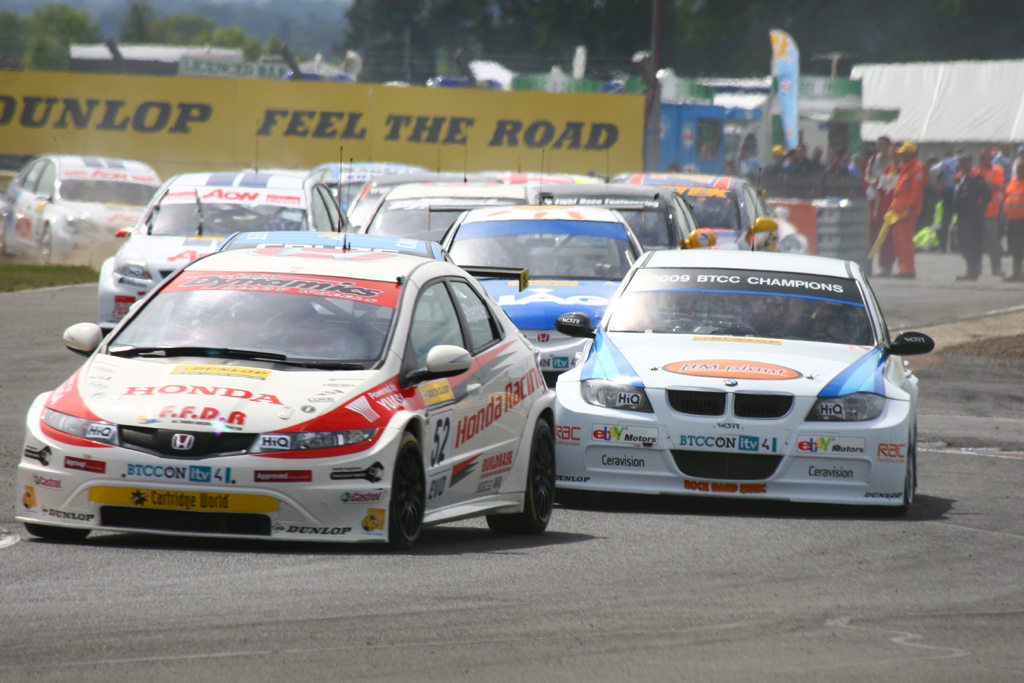 BTCC Croft June 2010 by Rob Dunckley on Flickr (CC Licence)
Some of the tracks included were brilliant – from classics like Bathurst, Brands Hatch and Laguna Seca to ones that I have never seen in a racing game before or since – Mantorp Park, Vallelunga and Zandvoort were all brilliant to drive no matter if you were racing in a Formula Ford or a Ford 9000 truck. Of course one-make championships in themselves are not the greatest programming achievement, but due to online racers not being able to customise their car set-ups everyone was on a level playing field and it made for some great racing. Hosts could also set the grid order to their own preferences, either to randomise the grid or to put the lowest-ranked drivers at the front, which always made for excitement around the first lap. This meant the newbies struggling to keep their lead and the regulars gingerly trying to make their way to the front without sustaining any damage. Over the course of a few championships you would make virtual peers that would be online at the same time after work the next day without fail.
It was only technical issues that stopped me playing Race Driver 3 (everyone seemed to stop playing 2 when 3 came out) as my now ageing PC's graphics card couldn't quite handle it, and by the time I got my PS3 the 'TOCA' series had shifted somewhat in it's style. I was really disappointed by Race Driver: Grid and think it's a crying shame that the TOCA series now has a much more 'arcadey' handling model.
The series was originally born off the back of the great racing in the British Touring Car Championship which featured great manufacturers and their latest tin-top saloons piloted by the exciting talents of John Cleland, Gabriele Tarquini and the late Will Hoy. In 2010, after a decade in the doldrums, the BTCC is once again producing some great racing – so what better time for Codemasters to revive the series? It looks like they are doing some sterling work on F1 2010, and if they could transfer that level of skill and passion to making a new-gen, old-school touring car game I would be one very happy bunny. And would once again be mainly eating toast.