Last updated on February 6th, 2023 at 05:23 pm
Find the best sim racing wheels for beginners comes down to three factors – performance, reliability and affordability. Most people starting out in their virtual motorsport hobby or career will want to get some racing done before investing large amounts in higher-end sim rigs.
So we've concentrated on the wheels and pedal sets which offer the best experience at a reasonable price. They won't break the bank, but even some top sim racers still use them to get great results in professional eSports.
Most of the pedals we'll look at are designed to work with a PC and Microsoft consoles, or a PC and Sony consoles. The only main differences between the versions for Xbox and PlayStation tend to be console compatability and the button configurations.
And even entry-level wheels and pedals are able to be modified in a variety of different ways. You can tweak the pedal functionality with a load cell modification, or create your own 3D printed wheel if you like.
As a cut-off point, we're only looking at wheels which offer force feedback. The reason for this is that racing sims can't simulate the physical feeling of moving around in a real racing car, so they use the feedback system to give you information about how your virtual car is performing. A wheel without force feedback will still be an improvement over a controller, but it's not going to give you the same detail, even if it simulates a controller rumble at times.
Before we start listing the best sim racing wheels for beginners in 2023, there are just two questions to ask yourself.
The first question is whether you are looking to buy new or secondhand. By going for a previously used set-up, you're able to get a fair bit more for your money. But obviously you're taking a risk on whether the previous owner has looked after the wheels and pedals. And you don't get any guarantee or warranty.
And the second question is what type of driving you intend to enjoy with your sim racing. The reason for this is that modern racing cars tend to operate with semi-auto paddle shifting, making clutches and gear shifters less important. Whereas to fully immerse yourself in competition using a classic car or lower spec racer, you'll need a H-shift pattern gear stick for the full experience.
The best new belt and gear wheels for sim racing beginners
The best secondhand belt and gear wheels for sim racing beginners
The best Direct Drive wheels for sim racing beginners
Where to buy sim racing wheels for beginners?
Obviously you want to check out the manufacturer websites to see what deals may be available. Various sim racing wheel companies do run their own online shops and offer sales and discounts at various times.
Typical ecommerce websites such as Amazon will stock various sim racing wheels from all kinds of brands. And as prices on the big shopping sites varies when there's high demand, it's also worth checking out high street electronics retailers and even toy stores if there are shortages and higher prices than normal.
For secondhand sim racing hardware, you can obviously find lots of stuff for sale on eBay. But again, prices can be high if there's enough demand. So it's also worth surfing Facebook Marketplace, and especially sim racing forums and sites. As racers acquire a variety of wheels and pedals over the years and continue to upgrade, they'll often let old equipment go for reasonable prices.
Best Sim Racing Wheels For Beginners: Buying New
Logitech G923 Trueforce
Thrustmaster T218 (recommended)
When it comes to buying a new entry-level sim racing wheel and pedal set-up, the choice is really between two main brands. And both have been producing sim racing wheels for many years. Which means you'll see fans of both companies arguing on behalf of their choice if you ask around on social media and forums for recommendations.
Thrustmaster was founded in 1990 to make controllers for flight sims before being acquired by the French Guillemot Corporation in 1999, producing their first Ferri 360 Modena replica wheel in the same year.
Meanwhile Logitech came into being back in 1981, producing all kinds of peripherals for the PC, from keyboards and mice to sim racing wheels.
The main difference between the two companies is that Logitech only ever produce one wheel and pedal set. Whereas Thrustmaster goes from low, to fairly high end sim racing equipment.
We'll try not to slip into too much sim racing jargon, but one thing which might keep coming up is the use of Hall Sensors. Simply put, these use magentic field strength to measure positions. And they tend to work for a much longer time than the method used in earlier sim racing wheels and computer mice of shining infrared LEDS through encoding disks to work out how much you're turning, or other options like potentiometers.
There are cheaper wheels available than our recommendations, but we're not recommending them for some simple reasons. Lower cost wheels often have no force feedback (including the Thrustmaster T80, for example), and bungee cords for resistance and centering. Which is still better than a controller or keyboard, but doesn't give the same benefits for driving information.
The Logitech G923 Trueforce
Launched in 2022, the latest Logitech G923 Trueforce replaces the previous G29/G920 with some subtle changes on the outside. And more upgrades on the inside.
The main change is that the Trueforce system adds wheel vibration on top of the force feedback, which despite a different internal system feels very similar to the older models. But you might find you get more immersion from the steering wheel itself vibrating based on sim racing physics and engine audio. And you do get a Hall-effect steering sensor, which should last a long time.
The accompanying G923 pedals also look a lot like the previous models, but have been tweaked to feel a little softer and smoother throughout the movement range. Probably the biggest difference is if you're opting for the PC and Xbox version, which now gets the rotation dial and rev lights which were previously exclusive to the PS4 and PC edition. And being able to assign in-game adjustments to the rotating dial is incredibly useful when you're sim racing.
In terms of price, the Logitech G923 Trueforce sim racing wheel costs £379.99 direct, which is £30 more than the G29/G920, and it'll suit someone who doesn't plan on upgrading again in the near future, if ever.
The Thrustmaster T128
Coming in at £200 less than the Logitech G923, the new Thrustmaster T128 arrived in 2022 as a replacement for the T150 and TMX models. And if you're on a budget which doesn't stretch to a G923, or Thrustmaster's own more advanced T248, it's the best option around.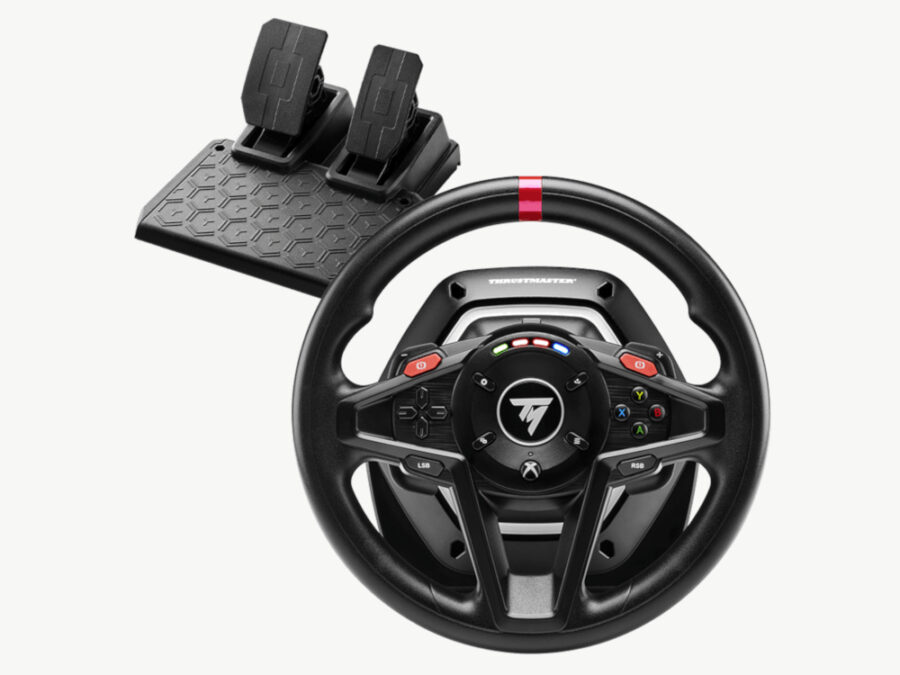 The gear and belt hybrid force feedback system is smoother and less noisy than Logitech alternatives, and the T128 now has 13 action buttons on the wheel rim along with a classic D-pad, which means you should have enough options for mid-race changes in most sims. And you also get some rev lights, which are handy if your field of vision obscures the onscreen indicators.
Cost cutting to meet the low price point is most noticeable with the plastic wheel rim and gearshift paddles, although they do have magnetic H.E.A.R.T tech for fast shifts. The pedals also use a magnetic system rather than potentiometers, but the lack of weight and travel mean they're going to slip around if you don't have something heavy wedged behind them. Or mount them to a cockpit or wheelstand. And you're going to need to be light and precise to get the best out of them – but for the saving over more expensive wheels you can always upgrade to a three pedal set such as the Thrustmaster T-LCMs, which could last you for a long time.
We'd recommend the Thrustmaster T128s as the best choice for anyone wanting to try sim racing for the least amount of money, and if you do decide you want to invest more, a set of T-LCM load cell pedals will make a massive improvement to your setup and driving.
The Best Sim Racing Wheels For Beginners: Buying Secondhand
Picking up some previously owned sim racing hardware is a great way to either get into the hobby for the lowest possible cost, or grab some higher end wheels and pedals for a reasonable amount.
As this guide is meant for beginners, we'll leave the higher end kit for a future article dedicated to wheels and pedals for enthusiasts. Instead, we'll look at the other wheels and pedals you'll be likely to spot secondhand along with the recommendations we've already covered.
Logitech G29/920 (recommended purchase)
Thrustmaster T150 Pro/TMX Pro
Logitech Driving Force GT
Logitech G27
The Logitech G29/G920
Our first recommendation for a wheel and pedal set-up aimed at entry-level sim racing will be no surprised to anyone who has done a little research. It's still available new, having originally launched in 2015, but the functionality remains largely the same. So buying secondhand means you're saving a fair amount of money.
The G29/G920 is gear driven, which tends to mean it's longer-lasting than the Thrustmaster equivalent, so makes the best secondhand choice.
The G29 is the PC, PS4 and PS3 version. This version has a few extra buttons including a handy rotary control for making small adjustments during a race, plus some built in rev counter lights. The G920 is the version for Xbox One, but if you're focused purely on the PC, we'd pick the G29 for the extra functionality.
Either way, you get a hand-stitched leather wheel with 900 degrees of rotation, dual motor force feedback, and a Hall-effect steering sensor.
And you get a fairly decent 3 pedal set-up with a carpet grip system to stop it slipping around. The Logitech G29/920 clamps to a desk or wheel stand, and as a common and popular wheel, most games will pick it up automatically. Plus the metal core of the wheel and the metal pedals should be durable for a long time.
Another benefit of the Logitech option is that the Driving Force Shifter is a pretty cheap addition for £44.99 with six speeds and push-down reverse.
Downsides to the Logitech option are that the wheel is entirely gear driven, which can give a feeling best described as 'notchy' when you're turning. It won't stop you cornering smoothly, especially as you get used to it, but it does feel a little less realistic. Some people do find it hard to live with, and it does mean the wheel is a bit noisy during operation.
But overall it's hard not to pick the Logitech wheels as the top recommendation for sim racing beginners.
Prices new will range from £200-£250 depending on any deals or special offers. Secondhand you will be looking under £200.
The Thrustmaster T150 Pro/TMX Pro
Once again, you can choose the T150 Pro for the PC and PS4, or the TMX Pro for the PC and Xbox One. But this time the Xbox compatible option looks the best, and has better positioned buttons for use during racing.
Thrustmaster offer the T150 and TMX with a two pedal set, or as the 'Pro' versions which come with the T3PA three pedal set-up. There's more plastic used for the pedals than with the Logitechs, although the internals are metal. And many racers use the conical brake mod supplied in the box to add more progessive resistance for the brake pedal, add load cell mods, or plan on upgrading to other Thrustmaster pedals at some point.
The wheel itself is mainly plastic with metal paddle shifters and rubber coating rather than leather. It does offer 1080 degrees of rotation, which is more than a Logitech. And the clamping system is a simple mount located under the wheel, which can occasionally cause issues with some race seats.
Force feedback on these Thrustmaster wheels is a hybrid belt and gear system. The idea is that it's smoother and quieter than using helical gears, although the noise benefit is marginal. And the wheel can feel clunky at times – again, you certainly get used to it, and it doesn't affect how your car handles in-game. But it can be a slight irritation at times.
One benefit to choosing the Thrustmaster route is that upgrades are easy to achieve by buying a seperate pedal set-up, such as the new T-LCM pedals, for £179.99 with built-in load cell technology. But it does mean that the you'll need to invest £169.99 for the TH8A Add-On shifter (Currently £140 at PC World). That's £120 more than the Logitech Driving Force, although the TH8A will work as a H-pattern or sequential shifter, accepts real universal gear knobs from car shops, and is fully metal with HallEffect Accurate tech to stay precise.
It's hard to judge reliability unless you have access to manufacturer return rates, but you do tend to see slightly more forum posts about issues with the T150 and TMX, or the T3PA pedals. The flipside is that often these issues are able to be fixed due to a broken pedal spring or belt, rather than terminal.
Ironically, although the Thrustmaster wheels come in as a very close second for our recommendations, it's actually what I currently own and race with!
And the two reasons for me picking the TMX Pro over the G920 were that Thrustmaster happened to offer a very good deal direct from their own shop at the time I looked to buy, and the ability to upgrade within the Thrustmaster ecosystem in the future. Both the TH8A shifter and T-LCM pedals are on my list for future purchases already.
Prices are generally under the £200 mark for the wheel and pedals, and Thrustmaster do offer sales directly. Secondhand prices should be between £100-150.
The Thrustmaster T300RS / TX
We have one more recommendation for entry level sim racers with a slightly higher budget. Moving more into the enthusiast level is the Thrustmaster T300RS (PC/PS4) and TX (PC/Xbox One).
As with the other Thrustmaster wheels, you get 1080 degrees of feedback, the same rubber covering, paddle shifters, and annoyingly, a two pedal set-up as standard. So you'll either need to invest in a specific edition like the T300 RS GT Edition or T300 Ferrari Integral Alcantara to get a clutch pedal, or upgrade to a T3PA pedal set. Hopefully one day, they'll just stick to 3 pedals as default to avoid occasional disapointment when people don't realise until their new set-up arrives.
But that's about the only downside. By investing slightly more, you get a wheel base with a dual-belt system and industrial level brushless motor controlled by HEART HallEffect Accurate tech for precision with 16-bit resolution.
Which means the T300 / TX offer smooth and powerful feedback. The heat of the system does mean that the built-in fan will start whirring away pretty soon, but it's still quieter than the T150/TMX or G29/G920. And there's no more notchiness.
As standard, the wheel may not feel amazing with the rubber grip. But the T300 has a detachable wheel system. Which means you can swap it out for a range of compatible wheels, including the Alcantara Ferrari 599XX Evo 30 or even the wooden Ferrari 250 GTO wheel.
If you have the money, the Thrustmaster T300 is definitely recommended. It's hard to think of a better choice at this price range. And the next level is definitely for committed sim racing enthusiasts.
Prices for the various T300 options will be around £300 for a wheel and pedals. Most of the 3 pedal sets will be slightly over, but save you needing a seperate pedal set to get a clutch.
Picking up some previously owned sim racing hardware is a great way to either get into the hobby for the lowest possible cost, or grab some higher end wheels and pedals for a reasonable amount.
As this guide is meant for beginners, we'll leave the higher end kit for a future article dedicated to wheels and pedals for enthusiasts. Instead, we'll look at the other wheels and pedals you'll be likely to spot secondhand along with the recommendations we've already covered.
The Logitech Driving Force GT
Released back in 2007, the Logitech Driving Force GT was really designed for use with the Gran Turismo series on the PlayStation 3. But it's worth including in the secondhand list simply because so many examples still seem to be offered in decent working confition, and it includes a sequential shifter on the wheel unit.
You can find examples very cheaply online, for around £40-£50 in normal circumstances. And you get a full-sized wheel, PlayStation gamepad buttons, real time adjusters when playing compatible games (e.g. Gran Turismo 5), and it'll work for specific PC titles including Assetto Corsa and Assetto Corsa Competizione, iRacing, rFactor 2 and more.
The pedal set is just accelerator and brake, but at this price, you can't expect more…
If you just want something that'll get you onto a wheel as cheaply as possible without risking an Amazon purchase from a brand you've never seen before, then a Logitech Driving Force GT is worth considering. Even with the risk of a 13-year-old wheel.
Prices for a secondhand Driving Force can vary wildly, but you should be looking at around £40-£50 for a working example in reasonable condition.
The Logitech G27
When anyone is recommending older wheels and pedals for a cheap way to get sim racing, it always tends to be a Logitech. Back in 2007, the Logitech G25 arrived alongside the Driving Force GT. But this was a higher end option with 900 degrees of rotation, and 2 force feedback motors.
The G25 also included a clutch pedal and a gear stick usable in both H patten and sequential mode. But it was replaced in 2010 by the G27, which would be our recommendation.
You lose the option to switch to sequential mode for the included gear shifter. But you get something with potentially 5 less years of use, which is less noisy than the G25, and has a better steering response due to the helical gears used.
The G27 doesn't look at good as modern alternatives. It doesn't have as many buttons on the wheel as the current Logitech and Thrustmaster options (although it does have a D-pad and 4 extra buttons on the shifter unit). And it's going to be 5-10 years old by now. But if you can find one at the right price, then it's still a decent purchase and perfectly capable of helping you to win races.
A good price for a secondhand G27 should be around £100, depending on what else might come with it (stands, modifications etc).
The best Direct Drive wheels for sim racing beginners
With the introduction of cheaper Direct Drive wheels, it's now possible to jump straight in without using a gear or belt driven set-up. And while the initial cost is slightly more, there's no real need to upgrade unless you're building a pro-level sim rig.
The three main choices of Direct Drive wheels are:
The Fanatec CSL DD
The Moza R5
The Thrustmaster T818
Deciding on the right sim racing wheel
Ultimately it's hard to go wrong with any of the new recommendations we've made (or the secondhand, ones assuming everything still works properly).
If you're on a really tight budget, or plan on upgrading in the future if you discover you love sim racing, then the top recommendation is the Thrustmaster T128. For the price, there's nothing better in terms of performance and feedback. And the most logical upgrade would be better pedals, which is true of more expensive options, anyway.
When you're looking for a wheel and pedal set to last you indefinitely, we'd recommend choosing Logitech (either new or secondhand), as they'll typically work for years and years without any loss in performance. The gear system is more noticeable, but it's built to be durable.
And if you have the money to invest and think you'll enjoy sim racing for the long haul, then opting for a direct drive wheel will save you money in the future. Both the Fanatec and Moza ecosystems will let you upgrade wheels, pedals and other components.
Whatever wheel you choose, it won't magically make you faster. So even if you're using a cheaper, non force feedback wheel, the biggest improvements you can make will be by focusing on your driving ability, rather than rushing to spend more money.