Last updated on January 16th, 2020 at 12:01 pm
Well, where do you begin? After all the hype and expectation, the first Formula One game for four years has arrived. Much was hoped for when Codemasters obtained the licence – a company with a good track record in making great racing games, and their style is immediately apparent when you boot up the game.
The presentation and menus are all beautifully presented – clean and modern, no lag when switching between menus and very easy to navigate. There aren't a hundred logos and start-up screens to skip through every time you start the game and everything has been generally well laid-out. It's also worth mentioning the soundtrack at this point too – the remix of Ian Brown's F.E.A.R that formed the soundtrack to the developer diary videos is the perfect fit, with soothing strings re-recorded at the Abbey Road studios sounding effortlessly cool. In short, the presentation is top notch, crisp and good-looking.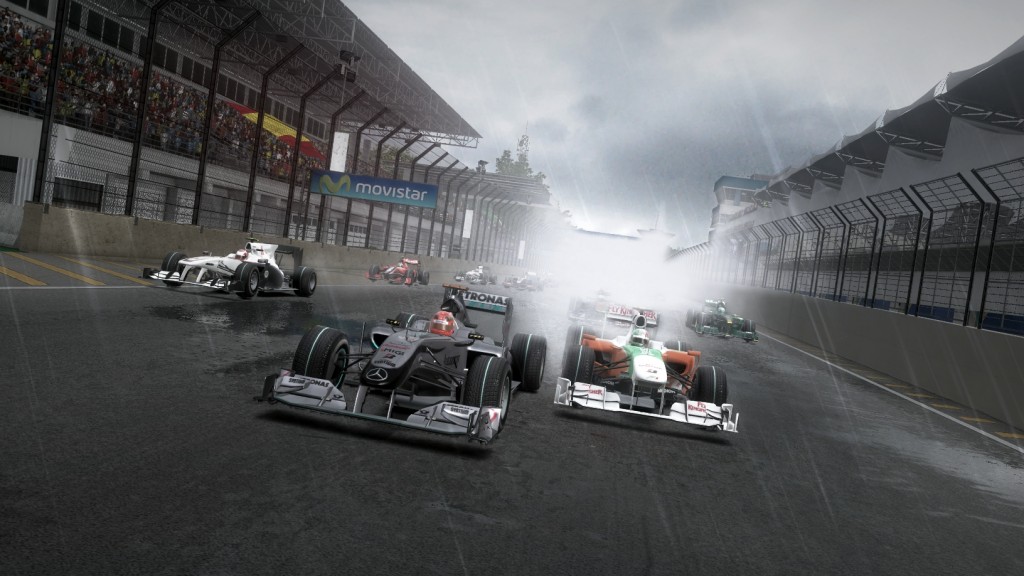 But obviously looking and sounding cool is useless unless you have content to back it up, else you end up with the gaming equivalent of a T4 presenter – always has a great appearance but is ultimately incredibly boring. Fortunately this is not the case in F1 2010. Having said that, there are no real surprises in terms if game modes – you can start a career, do a time trial, have a one-off Grand Prix weekend or go online – nothing new there, but each option is fully customisable. If you want to do a full-length Grand Prix complete with free practice and qualifying sessions you can. If you want to do a whole season of one-lap races you can do that too. You can also create custom championships – pick your favourite tracks and do them in a sequence you choose. You can make the game your own which is far better than picking from a few rigid, uniform options.
The online modes are interesting too – firstly because there are only four to choose from and yet they adequately cover all bases. You can compete on a hot lap Q3-style shootout called 'Pole Position' as well as doing 3-lap, 10% and 20% – length races including mandatory pitstops. Damage levels are customisable, as is car performance – meaning you can choose all cars to be equal or for them to reflect their 2010 standings. Making them equal seems like the only fair thing to do online though – as it will be pretty frustrating to trundle round in an HRT for 20 laps and watching a Red Bull zoom past you just because you joined an online lobby late. But again, you can specify the criteria of games you want to join.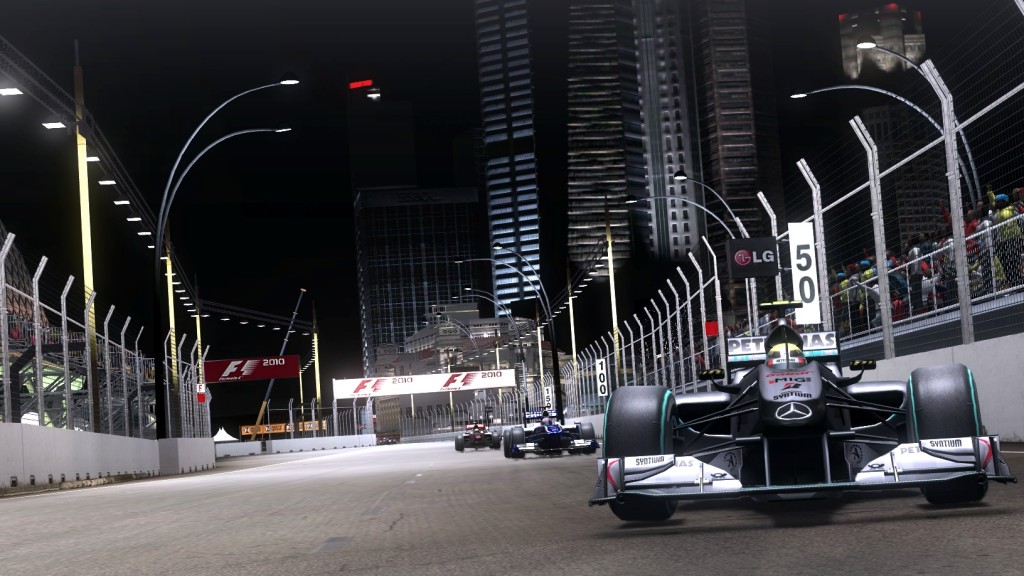 Online participation is rewarded in the form of experience points/XP – meaning you can rank up by setting fastest laps, finishing in the top three and even by completing clean and penalty-free racing laps. If you cause an accident or get disqualified all your XP will be void for that race – so it's a nice incentive for racers to be a bit more careful online and will hopefully deter perennial rammers. In my first race I did Silverstone and ended up on my roof at Club – something made more frustrating by my not realising I had to press start and then 'reset to track' in order to carry on. I finished a lap down. Poo.
So let me stop myself beating about the bush any longer – it's all about the quality of the racing. It's probably why you are reading this and clearly the most important aspect of the game. And I'm xelighted to say Codies have nailed it. With all the namby-pamby options switched off like brake assist, traction control and ABS the cars are brilliantly brutal. There is a good learning curve when driving them and the feeling of speed is immense, and with all the circuits recreated in such detail it makes for a great experience. I can't vouch for how the cars handle with all the driving aids turned on because I haven't tried them out yet – but needless to say you can customise the game (and AI skill level) to make it as easy or hard as you want to and still have a thoroughly enjoyable experience.
As I just mentioned, the circuits look great. They are all 2010-spec, meaning Singapore's Marina Bay night race is included complete with minor tweaks to the chicanes and the Korean Grand Prix features for the first time in any racing game. Added to painstakingly recreated classics like Monaco, Monza and Spa-Francorchamps there is more than enough to keep hardened F1 fans happy for a long time. Little hills and spectator banking on the outside in the track are in the right place, even food outlets can be seen where they should be – and overall the graphical design is a superb achievement… and all this is before you factor in the weather.
F1 2010's dynamic weather system is very impressive – to the point where it can genuinely 'rain' on different parts of the circuit at any one time. For instance it can be wet at Spa through La Source and Eau Rouge, but when you get around to Poulin the track is dry – which is where the game allows you to employ Jenson Button-esque tyre call tactics. Do you stay out on slicks and hope it dries up? Or pit early for wets and potentially make up a lot of time? These are calls that will make and break real championships, and their inclusion adds a whole new dimension to the game. The rain itself looks stunning – making it both exhilarating and terrifying to closely follow in another car's spray.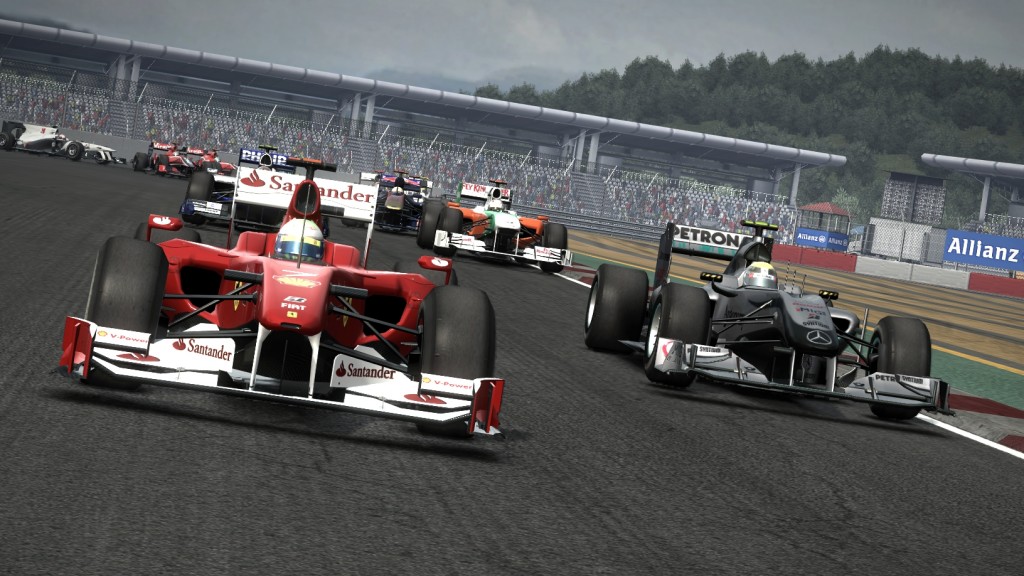 Pit stops themselves are also quite interesting – you can set these to 'automatic' and 'manual' and as always in racing games the 'manual' option is a lot more fun and rewarding. This requires you to brake down to the put lane speed limit as you enter, and hold down the rev limiter. Then you have to slow down for your pit box – as overshooting will cost you valuable time and you'll have to sit patiently as your mechanics push you back into position. Then it's back on the rev limiter and away. If you're also using manual gears the pit stop is quite a technical exercise, but one that is very enjoyable once you know what you are doing. I imagine anyway, as I keep overshooting my put box. Poo.
The only criticisms I can level at the game are relatively minor, but they do prevent F1 2010 getting a perfect score. My two biggest gripes are the lack of a two-player split screen, and the limitation of online races to twelve cars per-race. Codies did a sterling job last year with F1 2009 on the Wii, and managed to squeeze in a full two-player split-screen championship mode. Given the increased power available to the PS3, Xbox 360 and PC in particular I'm disappointed at the exclusion of the feature. I wouldn't mind it so much had the online modes catered for full F1 grid of 24 players racing simultaneously. Having done a few races online and seeing the general carnage for myself I can see why they have chosen to limit the numbers, but a twelve-car grid for an F1 race still seems somewhat disappointing. If the designers were worried about newbies and rammers spoiling everyone else's fun they could have implemented an XP system where you unlock the ability to participate in full races. There may be other technical reasons for it too, but it still seems something of a missed opportunity.
However neither of these 'problems' are things that detract massively from the overall experience of playing the game, and are very minor criticisms given the brilliant overall experience the game offers. F1 2010 has had me going 'ooh', 'wow' and 'whaaaat!' for a couple of days and has genuinely set a new benchmark for the genre. It is a game that will keep fans of the sport more than happy for a long time to come and I can categorically say that it was definitely worth the wait.
Looking to buy F1 2010? We recommend:
Amazon: PC, Xbox 360, Playstation 3.
(Currently with the lowest prices – £34.99 for new copies for Xbox/PS3)
Game: PC, Xbox 360, Playstation 3.
Gamestop: Xbox 360, Playstation 3.
Play.com: PC, XBox 360, Playstation 3
The PC version is £29.99 from Game, Play.com and Amazon.