Last updated on March 11th, 2020 at 12:33 am
The Forza Motorsport 5 full official car list has now been confirmed so racers know exactly what they will be getting on disc when the game arrives on November 22, 2013 for the Xbox One.
A total of 200 cars will be available to be driven when you load the game for the first time, with 9 more available as a day one DLC pack. That's a much smaller number than previous games and Sony's Gran Turismo. Forza Motorsport 4 ended up with 500+ cars including the 70 or so released as DLC car packs over a 12 month period.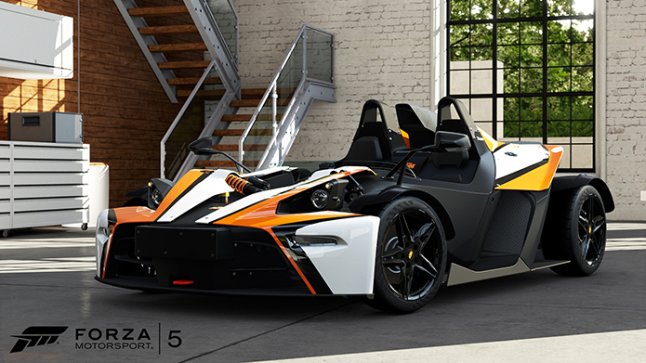 Forza Motorsport 5 Open Wheelers:
Some of the big news has been that Forza Motorsport 5 now includes open wheel cars from both the IZOD IndyCar Series and Formula One. The F1 cars are represented by the modern 2013 Lotus E21, and two famous and classic F1 cars that have recently been featured in the Ron Howard film Rush.
Not only is Niki Lauda's 1976 Ferrari 312T2 included, but so is the James Hunt McLaren M23D which means you can relive a season that went into the historic books for the titanic battle between the drivers.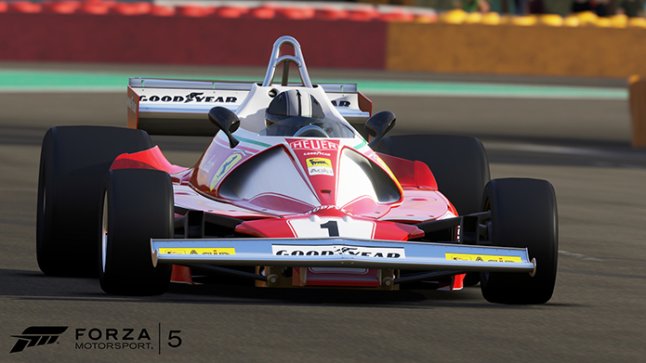 That's the European audience covered, but you also get the Dallara DW12 from the IZOD IndyCar Series in the livery of some of the top teams: Andretti Autosport, Rahal Letterman Lanigan Racing, Target Chip Ganassi Racing and Team Penske.
Also revealed is the day one DLC car pack, named LaFerrari, which includes a further 9 Ferrari cars to add to the list – as yet unannounced.
Latest Update: July 24th, 2015.
Forza Motorsport 5 Full Official Car List (On Disc):
2010 Abarth 500 esseesse
2001 Acura Integra Type-R
2002 Acura RSX Type-S (LaFerrari Car Pack)
1965 Alfa Romeo Giulia Sprint GTA Stradale
2007 Alfa Romeo 8C Competizione
2011 Alfa Romeo Giulietta Quadrifoglio Verde (LaFerrari Car Pack)
1971 AMC Javelin-AMX
2013 Ariel Atom 500 V8
2006 Aston Martin #007 Aston Martin Racing DBR9
2008 Aston Martin DBS
2010 Aston Martin One-77
2012 Aston Martin Vanquish
2012 Aston Martin Vanquish Limited Collector Edition (Limited Edition Car Pack)
1983 Audi Sport Quattro
2006 Audi RS 4
2010 Audi R8 Coupe 5.2 FSI Quattro
2010 Audi TT RS Coupe
2010 Audi Forza Motorsport TT RS Coupe (Day One Edition Car Pack)
2011 Audi RS 3 Sportback
2011 Audi RS 3 Sportback Limited Collector Edition (Limited Edition Car Pack)
2011 Audi RS 5 Coupe
2012 Audi #1 Audi Sport Team Joest R18 e-tron quattro
2013 Audi R8 Coupe V10 Plus 5.2 FSI Quattro
2013 Audi RS 7
2013 Audi S4
1973 BMW 2002 Turbo
1981 BMW M1
1991 BMW M3
1997 BMW M3
2003 BMW M5
2005 BMW M3
2008 BMW M3
2009 BMW #92 Rahal Letterman Racing M3 GT2
2011 BMW 1 Series M Coupe
2011 BMW X5 M
2011 BMW Z4 sDrive35is
2012 BMW M5
2013 BMW M6 Coupe (LaFerrari Car Pack)
2011 Bugatti Veyron Super Sport (VIP Membership)
1987 Buick Regal GNX
2011 Cadillac CTS-V Coupe
2013 Caterham Superlight R500 (IGN Car Pack)
1960 Chevrolet Corvette
1964 Chevrolet Impala SS 409 (IGN Car Pack)
1967 Chevrolet Corvette Stingray 427
1969 Chevrolet Camaro SS Coupe
1969 Chevrolet Nova SS 396
1970 Chevrolet Camaro Z28
1970 Chevrolet Chevelle SS-454
1970 Chevrolet El Camino SS 454
1979 Chevrolet Camaro Z28 (LaFerrari Car Pack)
1990 Chevrolet Camaro IROC-Z
2002 Chevrolet Camaro 35th Anniversary SS
2002 Chevrolet Corvette Z06
2009 Chevrolet Corvette ZR1
2011 Chevrolet #4 Corvette Racing ZR1
2012 Chevrolet Camaro ZL1
2013 Chevrolet #1 Andretti Autosport Dallara DW12
2013 Chevrolet #12 Team Penske Dallara DW12
2012 Chrysler 300 SRT8
2011 Citroen DS3 Racing
2012 Dallara #28 Andretti Autosport DW12
2013 Dallara #9 Target Ganassi DW12
1969 Dodge Charger R/T (LaFerrari Car Pack)
1999 Dodge Viper GTS ACR
2005 Dodge SRT4 ACR
2008 Dodge Viper SRT10 ACR
2012 Dodge Challenger SRT8 392
2012 Dodge Charger SRT8
2013 Dodge Viper #91 SRT Motorsport GTS-R
2013 Dodge Viper GTS
2013 Dodge Viper GTS Limited Collector Edition (LImited Edition Car Pack)
1998 Eagle Talon Tsi Turbo
1957 Ferrari 250 Testa Rossa
1957 Ferrari 250 California (IGN Car Pack)
1962 Ferrari 250 GTO
1976 Ferrari #1 Scuderia 312 T2
1984 Ferrari GTO
1987 Ferrari F40
1991 Ferrari 512 TR
1994 Ferrari F355 Berlinetta
1995 Ferrari F50
1998 Ferrari #12 Risi Competizione F333 SP
2002 Ferrari Enzo Ferrari
2002 Ferrari 575M Maranello (IGN Car Pack)
2003 Ferrari Challenge Stradale
2007 Ferrari 430 Scuderia
2008 Ferrari California
2010 Ferrari 458 Italia
2011 Ferrari #62 Risi Competizione F458 Italia
2011 Ferrari 599 GTO
2012 Ferrari F12 Berlinetta
2013 Ferrari LaFerrari (LaFerrari Car Pack)
1966 Ford GT40 MkII
1969 Ford Mustang Boss 302
1977 Ford Escort RS1800 (IGN Car Pack)
1985 Ford RS200 Evolution
1987 Ford Sierra Cosworth RS500 (LaFerrari Car Pack)
1992 Ford Escort RS Cosworth
1993 Ford SVT Cobra R
1995 Ford Mustang Cobra R
2000 Ford SVT Cobra R
2005 Ford GT
2007 Ford Shelby GT500
2009 Ford Focus RS
2011 Ford #5 Ford Performance Racing FG Falcon
2011 Ford F-150 SVT Raptor (VIP Membership)
2013 Ford Focus ST
2013 Ford Shelby Mustang GT500
2013 Forza Forza Motorsport Focus ST (Day One Edition Car Pack)
2013 Ford Shelby GT500 Limited Collector Edition (Limited Edition Car Pack)
2014 Ford Fiesta ST
2015 Ford Mustang GT (Single Car Pack)
1991 GMC Syclone
2012 Hennessey Venom
2011 Holden #1 Toll Holden Racing Team Commodore VE
2011 Holden HSV GTS
1992 Honda NSX-R
1984 Honda Civic CRX Mugen (Honda Legends Car Pack)
1997 Honda Civic Type R
2004 Honda Civic Type R
2014 Honda Civic Si (Honda Legends Car Pack)
2005 Honda NSX-R
2007 Honda Civic Type R
1994 Honda Prelude Si (Honda Civic Car Pack)
2009 Honda S2000 CR
2013 Honda #15 Rahal Letterman Lanigan Dallara DW12
2013 Honda #9 Target Chip Ganassi Dallara DW12
2012 Hyundai Veloster Turbo
2013 Hyundai Genesis Coupe 3.8 Track
2011 Infiniti IPL G Coupe
2014 Infiniti Q50 Eau Rouge (Infiniti Car Pack)
2014 Infiniti Q50S (Infiniti Car Pack)
1961 Jaguar E-Type S1
2012 Jaguar XKR-S
2009 Jeep Cherokee SRT8
2011 Kia Cee'd
2011 Koenigsegg Agera
2013 KTM X-Bow R
1967 Lamborghini Miura P400
1988 Lamborghini Countach LP5000 QV
1997 Lamborghini Diablo SV
2008 Lamborghini Reventon (IGN Car Pack)
2010 Lamborghini Murcielago LP670-4 SV
2011 Lamborghini Gallardo LP570-4 Superleggera
2011 Lamborghini Forza Motorsport Gallardo LP570-4 Superleggera (Day One Edition Car Pack)
2012 Lamborghini Aventador LP700-4
1982 Lancia 037 Stradale
1986 Lancia Delta S4
2012 Land Rover Range Rover Supercharged
2009 Lexus IS F
2010 Lexus LFA
1971 Lotus Elan Sprint
2002 Lotus Espirt V8 (LaFerrari Car Pack)
2009 Lotus 2-Eleven
2012 Lotus Exige S
2013 Lotus E21 (F1)
1961 Maserati Tipo 61 Birdcage (IGN Car Pack)
2010 Maserati Gran Turismo S
1991 Mazda #55 Team Mazdaspeed 787B (VIP Membership)
1994 Mazda MX-5 Miata
1997 Mazda RX-7
2010 Mazda Mazdaspeed 3
2011 Mazda RX-8 R3
2013 Mazda MX-5 Miata
1976 McLaren #11 Team LcLaren M23
1993 McLaren F1
2011 McLaren MP4-12C
2013 McLaren P1
2013 McLaren P1 Limited Collector Edition (Limited Edition Car Pack)
1954 Mercedes-Benz 300SL Gullwing Coupe
1990 Mercedes-Benz 190E 2.5-16 Evolution II
2005 Mercedes-Benz SLR
2011 Mercedes-Benz SLS AMG
2012 Mercedes-Benz C63 AMG Black Series
2012 Mercedes-Benz SLK55 AMG
2013 Mercedes-Benz A45 AMG (IGN Car Pack)
2013 Mercedes-Benz G65 AMG
1970 Mercury Cougar Eliminator
1965 Mini Cooper S
2009 Mini Cooper John Cooper Works
1995 Mitsubishi Eclipse GSX
1999 Mitsubishi Lancer Evolution VI GSR
2004 Mitsubishi Lancer Evolution VIII MR
1969 Nissan Fairlady Z 432 (IGN Car Pack)
1970 Nissan Datsun 510
1971 Nissan Skyline 2000GT-R
1993 Nissan Skyline GT-R V-Spec
1994 Nissan 240SX SE
1997 Nissan Skyline GT-R V-Spec
2000 Nissan Silvia Spec-R
2010 Nissan 370Z
2012 Nissan GT-R Black Edition
2009 Pagani Zonda Cinque Roadster
2012 Pagani Huayra
2009 Peugeot #9 Peugeot Sport Total 908
1984 Peugeot 205 Turbo 16 (IGN Car Pack)
2011 Peugeot 308 GTI
1971 Plymouth Cuda 426 Hemi
1969 Pontiac GTO Judge
1969 Pontiac Firebird Trans Am
1973 Pontiac Firebird Trans Am SD-455
1977 Pontiac Firebird Trans Am
1987 Pontaic Firebird Trans Am GTA (LaFerrari Car Pack)
2003 Renault Sport Clio V6
2010 Renault Megane RS 250
2014 Renault Spark SRT_01E (Single Car Pack)
2014 Rolls-Royce Wraith (Single Car Pack)
1987 RUF CTR Yellowbird (VIP Membership)
1995 RUF CTR2
2011 RUF Rt 12 S
2004 Saleen S7
2012 Scion tC
1965 Shelby Cobra 427 S/C (VIP Membership)
1965 Shelby Cobra Daytona Coupe
1998 Subaru Impreza 22B Sti
2004 Subaru Impreza WRX Sti
2005 Subaru Impreza WRX STi
2011 Subaru WRX STI
2013 Subaru BRZ
1985 Toyota Sprinter Trueno GT Apex
1989 Toyota MR2 SC (LaFerrari Car Pack)
1994 Toyota Celica GT-Four ST205
1995 Toyota MR2 GT
1998 Toyota Supra RZ
2003 Toyota Celica SS-I
2013 Toyota GT86
2005 TVR Sagaris
2012 Vauxhall Astra VXR
2013 Vauxhall Astra 1.6 Tech Line Top Gear Edition (Single Car Pack)
1963 Volkswagen Beetle
1984 Volkswagen Rabbit GTI
1992 Volkswagen Golf GTI 16V Mk2
1995 Volkswagen Corrado VR6
2003 Volkswagen Golf R32
2010 Volkswagen Golf R
2011 Volkswagen Scirocco R
Forza Motorsport 5 DLC Car Packs:
LaFerrari Car Pack: Release November 22nd, 2013:
2002 Acura RSX Typse-S
2011 Alfa Romeo Gilulietta Quadrifoglio Verde
2013 BMW M6 Coupe
1979 Chevrolet Camaro Z28
1969 Dodge Charger R/T
2013 Ferrari LaFerrari
1987 Ford Sierra Cosworth RS500
2002 Lotus Esprit V8
1987 Pontiac Firebird Trans Am GTA
1989 Toyota MR2 SC
IGN Car Pack: Release Jan 7th, 2014
2013 Caterham Superlight R500
1964 Chevrolet Impala SS 409
1957 Ferrari 250 California
2002 Ferrari 575M Maranello
1977 Ford Escort RS1800
2008 Lamborghini Reventon
1961 Maserati Tipo 61 Birdcage
2013 Mercedes-Benz A45 AMG
1969 Nissan Fairlady Z 432
1984 Peugeot 205 Turbo 16