NASCAR Heat 4 was released back in September 2019 for PC, PS4 and Xbox One. Along with a Season pass, two DLC packs have been released. Each has mainly focused on pain job, and now the NASCAR Heat 4 November DLC adds more liveries to choose from. Along with '3 new challenges', whatever they might be.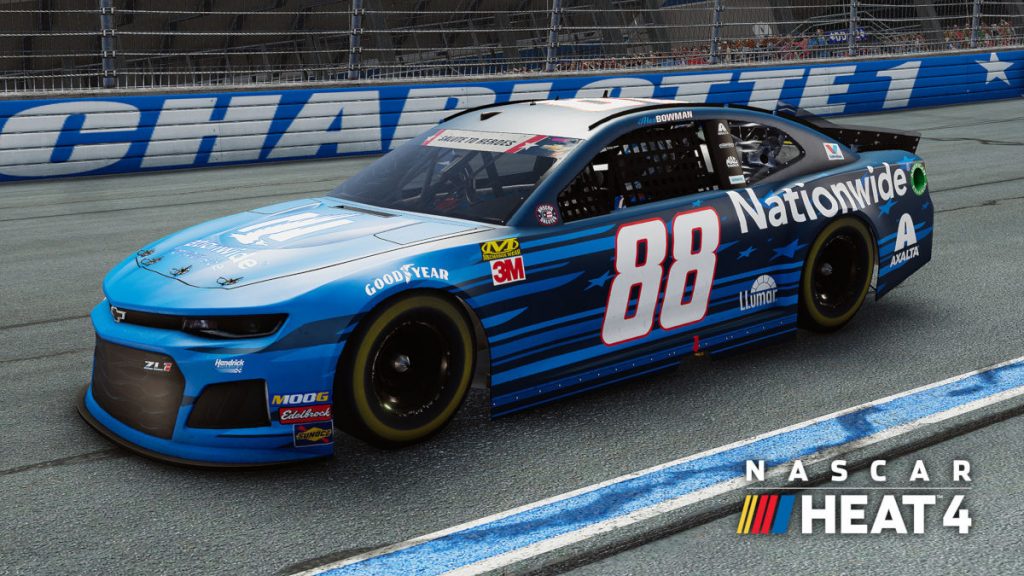 It comes alongside an update with some additions and fixes. The non-DLC patch info is:
New Competition Mode – With this new addition. While in Quick Race, when running the most difficult AI level setting of (105), you will get an option to race in "Competition Mode" on the Select Track screen. This new competition mode locks certain game settings to provide the ultimate racing challenge.
Set Drafting Effect Slider – You now have the option to control the power of the draft effect.
Online Strict Cautions – Players now have the ability to enable Strict Cautions for online races.
Some Career Sponsors didn't use the correct logos – This issue has been resolved.In split screen, player 1 settings were sometimes carrying over to player 2- This issue has been resolved.
Sonoma Track Layout Update – Updated track layout to match current real-world configuration.
Added Speed Digital, Motorious, and Off Axis Paint logos to the Paint Booth (all series).
Added Xfinity Driver: Joe Graf Junior
So that's the gameplay stuff sorted. But developers Monster Games and publishers 704Games obviously believe that the typical NASCAR Heat 4 player really cares most about paint schemes.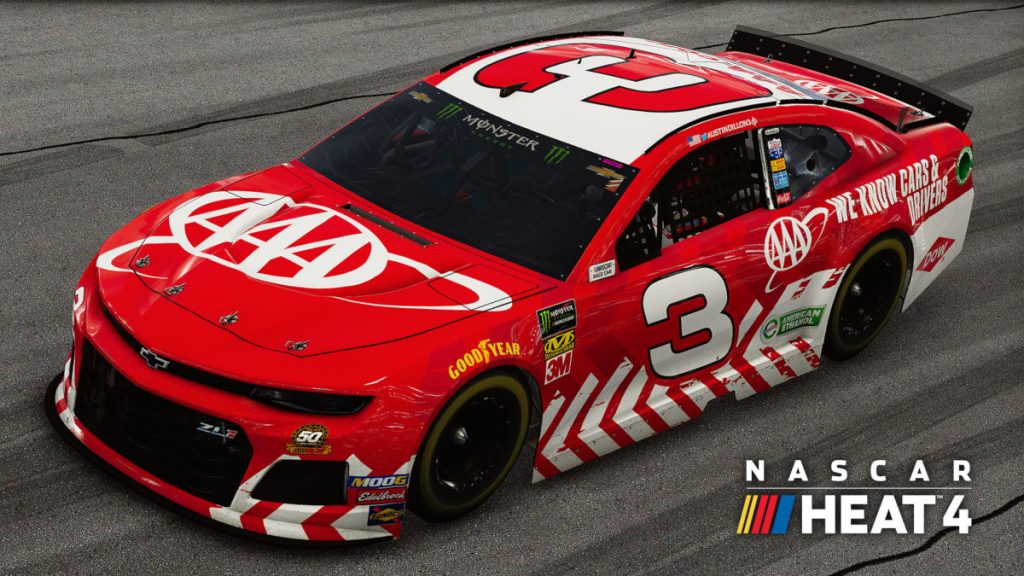 And if they're right, the DLC so far has certainly delivered, with each pack containing 35+ paint schemes. And the NASCAR Heat 4 November DLC adds more liveries, meaning you get another 50 or so to choose from. In total, around 120 or so new paint jobs have now been released…
November 2019 NASCAR HEAT 4 Livery List
Monster Energy NASCAR Cup Series:
Alex Bowman Nationwide Patriotic
Alex Bowman Llumar Window Film
Aric Almirola Farmer John
Austin Dillon AAA
Austin Dillon DOW Veterans
Brad Keselowski Wabash National (KF)
Chris Buescher Kroger / Speed Up Clean
Clint Bowyer Mobil 1
Clint Bowyer Dekalb0
Corey LaJoie KeenParts / CorvetteParts
Daniel Hemric CAT / Bass Pro
Daniel Suarez Haas Demo Day
Darrell Wallace Jr. Plan B Sales
Darrell Wallace Jr. Blue Emu
David Ragan CitGard Heavy Duty Engine Oil
David Ragan Long John Silver's
Denny Hamlin FedEx Office
Erik Jones Reser's
Jimmie Johnson Ally Patriotic
Joey Logano AAA SoCal
Joey Logano MoneyLion
Joey Logano AAA Insurance
Kevin Harvick Hunt Brothers (KF)
Kurt Busch Global Poker
Kyle Busch Snickers Creamy
Kyle Larson Clover
Landon Cassill StarCom Fiber Throwback*
Martin Truex, Jr. Bass Pro Shops Patriotic
Matt DiBenedetto Barstool
Matt DiBenedetto Barstool One Bite
Michael McDowell Love's Travel Stops Patriotic
Paul Menard Quaker State / Menards
Ricky Stenhouse, Jr. NOS Energy
Ryan Blaney Wabash National
Ryan Blaney MoneyLion
Ryan Newman Performance Plus
William Byron UniFirst
NASCAR Xfinity Series:
Austin Cindric PPG Paints
Brandon Jones JD GIbbs Legacy
Cole Custer Haas Automation
Jeremy Clements All South Electric
John Hunter Nemechek Fire Alarm Systems (RED)
Justin Allgaier Klondike
Justin Allgaier US Cellular
Michael Annett Pilot / Flying J Patriotic
Noah Gragson Nationwide Children's Hospital
Ross Chastain Contec
Ross Chastain EZ Angus Ranch
Tyler Reddick Alsco
Tyler Reddick Hurdl
And how much does this cost? Well, the Season Pass is £23.79 on Steam, and covers 4 expansion packs running from September to December 2019. Or each individual pack bought separately will cost you £10.29 on Steam. The game itself is £32.99.
Prices are similar for the console versions, e.g £24.99 for the Season Pass on Xbox One, and £10.74 for the DLC via the Xbox Store. On the Playstation Store it's £24.99 for the Season Pass, but only £9.99 for each DLC. But PS4 owners pay £44.99 for the game, as opposed to a discount for Xbox One Gold subscribers.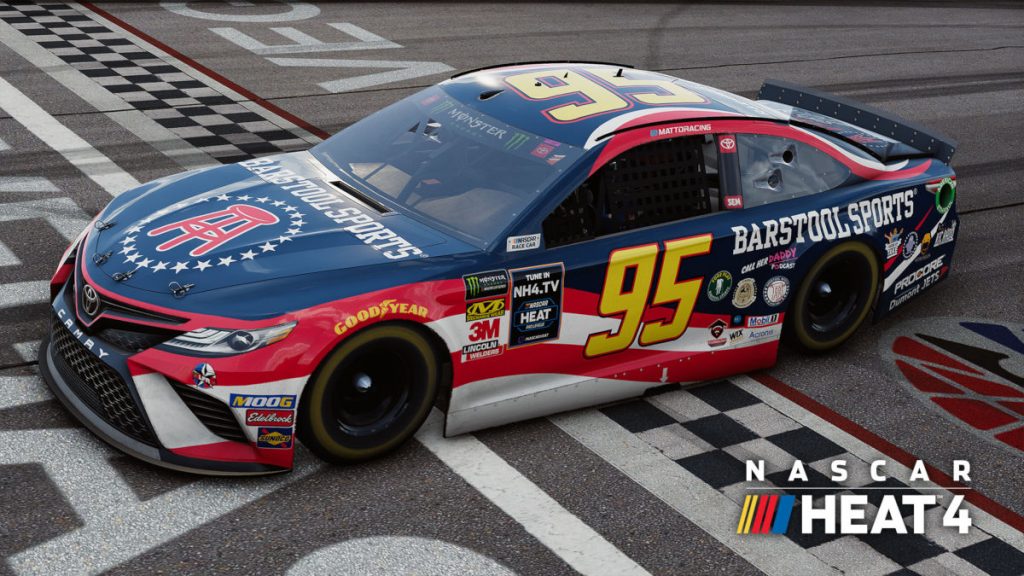 Want a physical copy? Amazon does have copies of NASCAR Heat 4 for some higher prices than the digital editions. As does Play Asia.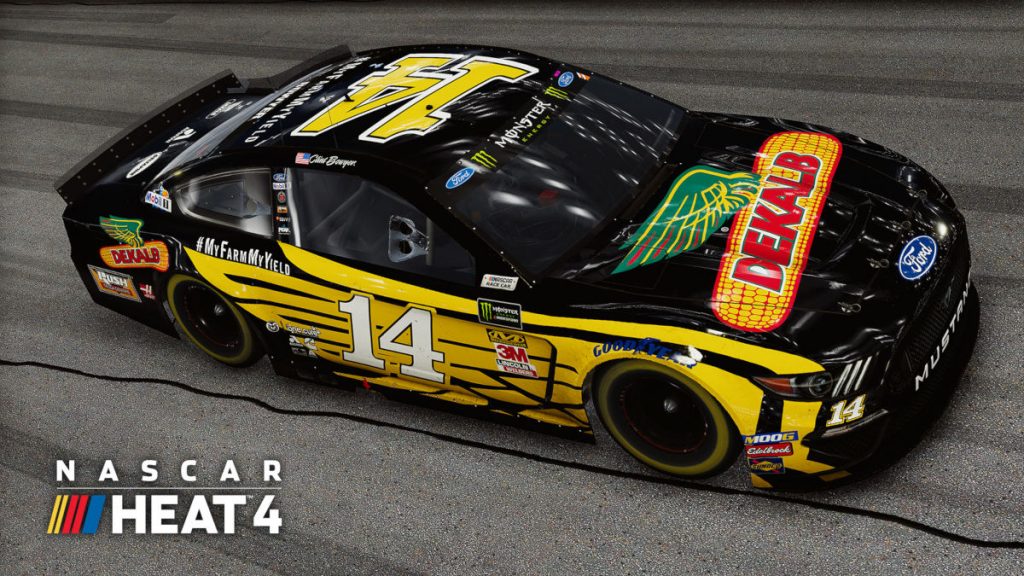 Is it good value to get 40+ liveries for £10? Leave a comment below if you're a NASCAR or NASCAR Heat 4 fan, but it does seem slightly odd in an era when so many racing games include livery editors…