The latest season of the German GT3 sports car championship has arrived as RaceRoom adds the ADAC GT Masters 2021 Car Pack.
The championship has run for 15 seasons, with rounds taking place in Germany, Holland and Austria. And the 2021 season was won by Ricardo Geller and Christopher Mies, driving an Audi R8 LMS Evo for Monaplats by Land-Motorsport. The pack includes five of the cars from the series, although the Lamborghini Huracan GT3 Evo and Aston Martin Vantage AMR GT3 don't appear as they're currently not available on RaceRoom.
Fortunately all of the circuits are included in the RaceRoom track list, although the sim is still using the 2019 layout of Zandvoort. But if you want to replicate the season, you'll need to visit Oschersleben, the Red Bull Ring, Zandvoort, Lausitzring, Sachsenring, Hockenheimring and the Nurburgring.
Along with the five cars, you also get the current team liveries, which join the previously released packs for the 2013, 2014, 2015, 2018 and 2020 seasons. And if you already own some of the contents, there's a discount on the £11.35 price (individual cars are £3.49 before any discount, with liveries at 25p).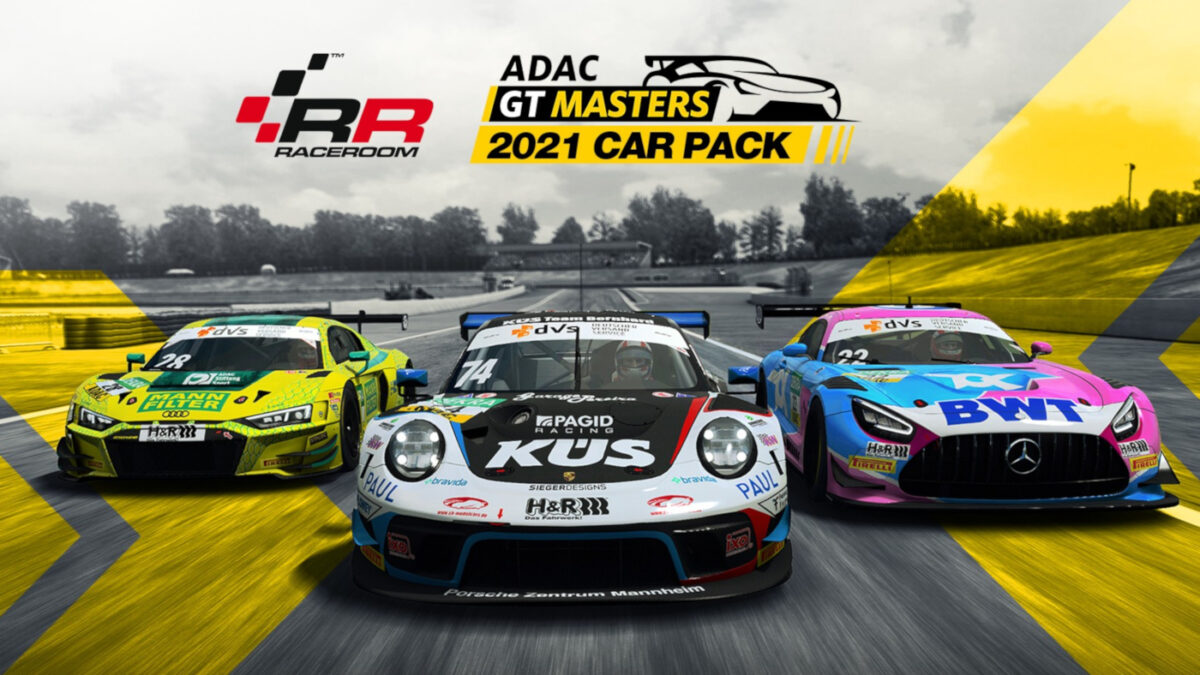 RaceRoom ADAC GT Masters 2021 Car Pack Contents:
Cars
BMW M6 GT3
Audi R8 LMS GT3 EVO
Mercedes-AMG GT3 2020
Porsche 911 GT3 R (2019)
Callaway Corvette C7 GT3-R
Liveries
#3 Aust Motorsport 
#4 Phoenix Racing 
#5 Phoenix Racing 
#7 Precote Herberth Motorsport 
#10 Schubert Motorsport 
#11 Rutronik Racing by TECE 
#13 Team Zakspeed Mobil Krankenkasse Racing 
#14 MRS GT-Racing 
#20 Team Zakspeed Mobil Krankenkasse Racing 
#22 BWT Toksport WRT 
#28 Montaplast by Land-Motorsport 
#29 Montaplast by Land-Motorsport 
#32 Team WRT 
#33 Rutronik Racing by TECE 
#54 YACO Racing 
#69 Car Collection Motorsport 
#70 Mann-Filter Team Landgraf-HTP WWR 
#74 KÜS Team Bernhard 
#75 KÜS Team Bernhard 
#77 Callaway Competition 
#91 Team Joos Sportwagentechnik 
#92 SSR Performance 
#99 Precote Herberth Motorsport
You can download Raceroom Racing Experience on the PC for free via Steam. Some additional content is available via Steam, but everything can be purchased via the official game store.
Keep up with all the latest RaceRoom news, updates and eSports articles, here. And check everything available for free and via paid DLC with our RaceRoom car list, and RaceRoom track list.