A new update for the Rainbow Studios off-road racing game has appeared with MX vs ATV Legends Patch 2.05 released.
Probably the most noticeable change will be that the controller vibrations have been overhauled so you should get better feedback and information when you need to change gear or you've lost traction on the dirt. So that should help your riding.
There are also updates to the 2023 Loretta Lynn track features to replicate the actual race event more accurately, but the 2023 Unadilla has been left as it is due to positive feedback from MX vs ATV Legends players. And the online playlists have been revised, with Supercross now featuring 5 laps and a 60 second lobby, while Nationals are three laps with a 90-second lobby.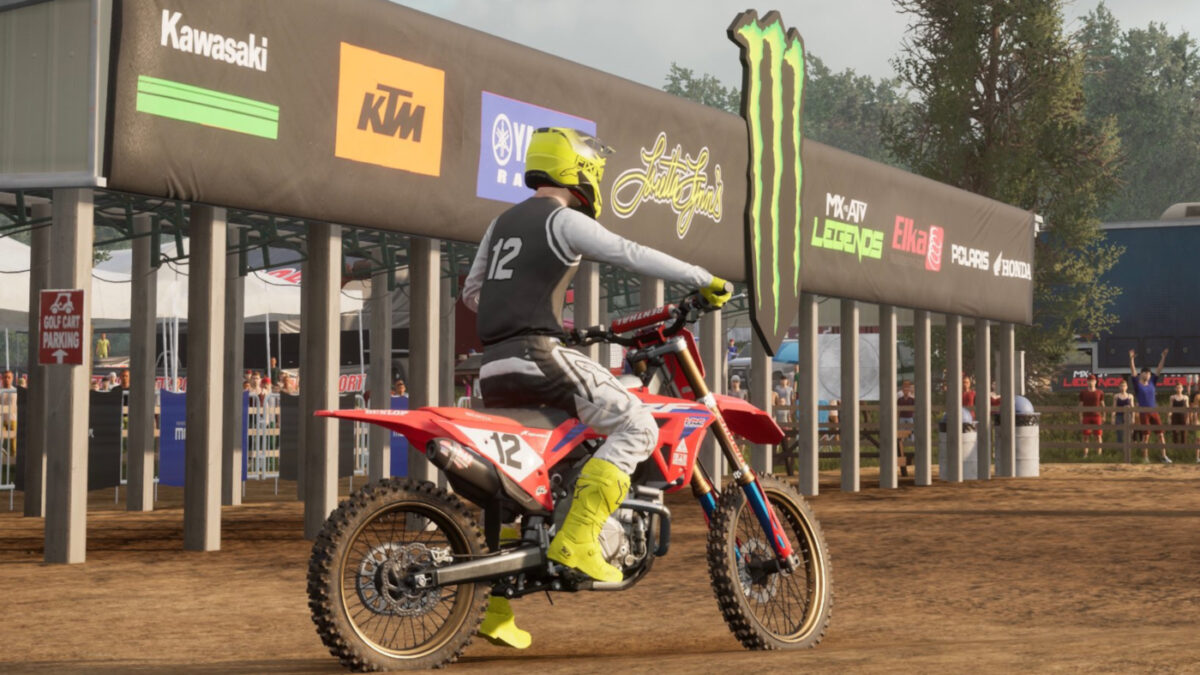 MX vs ATV Legends Patch 2.05 Release Notes:
UI: Increased the font size of body text in most menus.
UI: Updated Locker and Parts icons for increased legibility.
UI: Vibration settings have been moved from Gameplay Settings to Control Settings.
UI: Fixed a persistent and long-standing crash in the menu input legend system.
Environment: Updated track features on 2023 Loretta Lynn's to be more like the actual race event.
Environment: Added ramps and other Free Ride gameplay elements to 2023 Pro Motocross tracks.
Gameplay: AI improvements to track navigation and course correction, especially when negotiating 180° turns.
Gameplay: Fixed a rare bug would trigger the same Near Wreck animations multiple times in a row.
Gameplay: Adjusted timing required to perform dual-stick stunts to make it easier to perform if pressing the stunt button before providing the stunt input on the sticks.
Gameplay: Fixed issue allowing reversing to overcome the brake control restrictions during some stunt and near wreck animations.
Gameplay: Tweaked control restrictions on ground stunts.
Gameplay: Smoothed camera movements when driving on sloped surfaces and when ascending/descending in-air.
Gameplay: Fixed a persistent and long-standing crash in the system for updating career data.
Gameplay: Overhauled the controller vibration system and added more options for controlling the haptic feedback experience.
Gameplay: Added vibration feedback when reaching the RPM redline.
Audio: Fixed missing localized voiceover for non-English languages.
Online: Updated Supercross and Nationals online playlists based on feedback and player data gathered during the Summercross event. Supercross is now 5 laps with a 60-second lobby. Nationals is now 3 laps with a 90-second lobby.
Online: Leaderboard infrastructure is in place. Over the course of this patch we will start collecting lap times and refining the system. Expect the full Leaderboard release in the next patch.
Online: Improved server stability and error reporting.
Online: Fixed a bug which could cause the wrong riders to appear on the podium if a spectator was present or if a player left the match.
Online: Improved the clarity Spectators in the race results by marking and sorting their positions correctly and nullifying their stats.
Customization: Added Thor Prime Rival jersey and pants in 4 standard colors and 1 custom.
Physics: Made it easier to seat-bounce while leaning with the right-stick.
Physics: Significantly increased the wreck thresholds when sliding, especially at high-speed.
Physics: Fixed uncommon bug causing a wreck to trigger after turning or sliding in corners.
Physics: Slightly shortened the length of time the clutch boost is applied to reduce overall acceleration when using the clutch.
Animation: Improved ATV stunt animations and fixed several instances of the rider's torso twisting.
Animation: Improved blending of tear-off animation with the other riding animations.
You can buy MX vs ATV Legends for the PC via Steam, for the PS4 and PS5 via the PlayStation Store or the Xbox One and Xbox Series X|S via the Microsoft Store. Or you can pick up physical copies of the title via Game or Amazon.
Keep up with the latest MX vs ATV Legends news, updates and more, here. Along with checking out the full MX vs ATV Legends vehicle list, here.