Gran Turismo 5 was awarded Racing Game of the Year at the Golden Joystick awards on Friday, in a year which saw a record number of votes cast by the gaming public, with 2.06 million votes setting a new Guiness World Record for a videogame awards.
Obviously Forza Motorsport 4 wasn't in the running, but to claim the award, GT5 still beat nominees including DiRT 3, F1 2010, Need for Speed: Hot Pursuit and Shift 2: Unleashed. So although Sony's flagship racer was always a clear favourite, it wasn't a complete foregone conclusion.
DiRT 3, Gran Turismo 5 and Need for Speed: Hot Pursuit were also in the running for the Ultimate Game of the Year, which was awarded to Valve's first person puzzle game Portal 2, which we can understand, even if it's not a racing game. Sega Rally Online Arcade lost out to Minecraft in the Best Downloadable category, whilst both Need for Speed: Hot Pursuit and Real Racing 2 were overcome by the phenomenon which is Angry Birds in the Mobile Gaming category.
Obviously it missed out this year, but from what we've seen so far, and what's coming up in the next 12 months, we reckon Forza Motorsport 4 might continue the rivalry by taking top racer next year…
As fans of my work will know (hello mum), I was a big fan of the original Dirt, but less so of it's sequel. So here's the difficult third album – it has to keep the original 'rally' fans happy and still appeal to the slick, polished Americanised variety showcase that was Dirt 2. And I'm pleased to say it generally straddles the delicate balance between the two quite well.
Gone is the irritating daredevil Travis Pastrana playing the role of your in-game menu 'buddy' (needed presumably by those who can't find their own way around an in-game menu with the options laid out in MASSIVE CAPITAL LETTERS), and in come three new irritating voices to replace him and guide me through the game. I also have no idea why there are three of them, and even less idea why one is English, one American and one Australian. They pop up to tell me a new team wants to sign me now and again, as well as to tell me my driving is brilliant, which is nice, although they use a lot of annoying words like 'sweet!', 'cool!' and 'wow!' when you make a selection. It grates. They introduced themselves to me at the start, and I presume they still have names but they haven't stuck. One sounds a bit like John Torode, so I call him John Torode. The others are known to me as 'cheesy' (the American) and Linda, because I like the name. I encourage all players to name these three to make their inane and insincere banter less likely to induce suicide.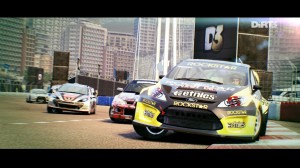 Sticking with the aesthetics, the soundtrack is a little strange too. It's really great in parts – there are some soothing strings, some funky bass and some nice melodies during some of the menus and loading screens. But then some thumping rock will kick in that seems totally out of place. I loved the use of F.E.A.R in F1 2010 because it was a theme, it gave the game an identity. Dirt 3 tries to have the cool soundtrack of FIFA but the musical styles are a little too far apart for it to work. Still, there are some good tunes and the menus are nicely laid out.
You can even change your co-driver's voice from 'Scottish man' to 'American woman' in the options menu, and specify they talk in Sega Rally language – 'easy left!' / 'medium right!' – should you not be able to cope with numbers, or struggle with the concept of counting from one to six.
Oh yes, the game itself. Easily forgotten. It's divided up into the career mode (Dirt Tour), single races and multiplayer. I haven't had a chance to play online much yet, but the ranking system seemed quite intuitive – giving you more points according to the number of higher-ranked players you beat. All the game modes are represented and it was quite good fun. I had a few games of rallycross and won, and then did a few rallies and lost. I am yet to try the splitscreen options as I currently have no friends.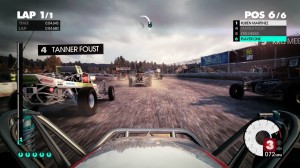 The main tour mode is a mixture of the game's main disciplines. There are some excellent rally stages, challenging rallycross tracks, some fun truck arenas and a few 'Gymkhana' locations where one must perform a succession of stunts in order to gain points. Yes, Ken Block has been digitally recreated to guide you through the discipline. Whilst fun, this mode could prove frustrating to those wanting a pure 'racing' game. Gran Turismo 5 players can leave the 'drift' mode alone if they wish, but in Dirt 3 it's all part of the main game – and if you're the perfectionist who wants to beat every level, you may be in for some hardcore donut practice.
The cars themselves generally feel solid, and the environments are superb. Weather effects look nice, handling is sufficiently different on different surfaces, and there are some nice day/night effects that really show off the lighting model. It's not quite as pretty as F1 2010, but there is a lot more variety in this game, not to mention cars.
The damage model is probably the best thing about the game, especially when combined with the punishing rally stages. It is entirely possibly to hit a bank, roll spectacularly and come to a rest on a grassy verge. It's equally possible to total your car hitting a tree, and perhaps most excitingly, you can now fall off cliff edges and plunge to your doom. There are no rock-solid plastic barriers anymore, and the lifelike environments really add to the sense of danger on the rally stages as you hurtle through forests and villages far too quickly.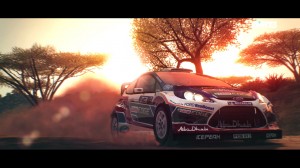 'Flashbacks' make a return too, so once your car is damaged you can 'rewind' time and carry on from just before you messed up. Proper race fans won't use this feature obviously… except when nobody is looking.
The game has some nice replays, any if which you can upload to YouTube via the clever integrated software. I haven't tried it myself yet, but I would assume the results look very much like a virtual car being driven round a track on YouTube, complete with comments underneath such as 'LOOL', 'You're a crap driver, I'm much better' and the obligatory 'you're a racist'.
So all in all, Dirt 3 is a good game. I'd still rather have a pure rally-driving game, but hey, I'm not the mass market and the rally stages within it are still the best yet. There is a real sense of authenticity to many of the rally elements, especially with the HUD turned off and using the in-car view, and many of the other disciplines are a good laugh (specifically via the excellent multiplayer system).  It's not groundbreaking, but it's slick, polished and great fun which scores it an excellent 4/5 and a hearty recommendation.
Buy Codemasters Dirt 3 now from:
The DiRT 3 racing seat has been announced, with styling modelled on real rally cars, and complete with head stabilizers, plus some other additions above Playseat's flagship Evolution model.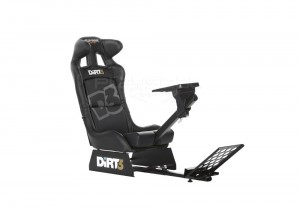 The seat is compatible with all digital driving wheels supported by DiRT 3, with a robust and stable metal frame. It has a folding mechanism with a fully adjustable frame for height, length and depth, and it's suitable for gamers from age eight and up. It's upholstered in leatherlook vinyl with the offical DiRT 3 branding and synthetic leather reinforcement in areas which are likely to get a lot of wear. The seatback and base cusgions are removable, and the seat will fit drivers up to a 42-inch waist.It's particularly suited to the Logitech G27 with special screws to ensure the Logitech set-up fits perfectly.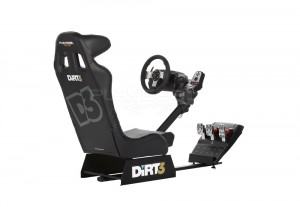 The price is £439 online at the moment, so it's not cheap, but will easily be better than trying to balance your wheel on your knees or your coffee table! And just to make sure – you're buying the seat, not the wheel and pedals, unless you choose one of the bundled offers on the Playseat website. But obviously a seat is compatible with all consoles and computers, so no problems there!
Dirt 3 is now available and has been getting a favourable response from reviewers and gamers – but Playstation 3 owners won't be enjoying online multiplayer until the Playstation Store is back online, hopefully by the end of May.
In order to compete in the multiplayer mode, you'll need to redeem a VIP pass included with the game. Not a problem for Xbox 360 or PC owners, but with the recent issues affecting the Playstation Network, the Store is still offline, meaning the code can't be used.In addition to multiplayer, it also means PS3 gamers can't share their Dirt 3 videos on Youtube.

A similar problem affected Mortal Kombat but was solved when the online pass was disabled. However, Codemasters have said that the online pass is hardcoded into Dirt 3, and stated their position to Eurogamer:
'"Changing this would require considerable development time and a patch which would need to go through the submission process. This in itself would be a longer process that waiting for Sony to bring the PSN Store back online."'
With Sony continuing to only give a vague 'before the end of May' aim for the Playstation Store to return, and the fact the Japanese firm is continuing to experience hacking problems, it's a real pain for PS3 racers.
Incidentally, if you're buying a secondhand copy of Dirt 3, keep in mind that multiplayer will require 800 MS points, or £6.29 if and when the PS3 store returns.
The Colin McRae name may have disappeared from the box, but Codemasters' rally series is coming back with a bang. After the critical acclaim of Dirt 1 and the lukewarm reception for Dirt 2, the arrival of the third Dirt game on May 24th is a make-or-break moment for the series that debuted back in 1998. This is now the eighth in the 'Colin McRae Rally' series, barring the bonus version created for Mac users, and the signs look very promising indeed.
After being present in the first two games of the 'Dirt' series, McRae's name is now gone but not forgotten. Following the legend's untimely death in 2007, Codemasters have decided to drop his name from the game's title in the UK (having done so already elsewhere), and to me it seems about the right time. It would have been wrong to drop the name from 'Dirt 1' that was released so soon after his fatal helicopter crash, and not enough time had passed when 'Dirt 2' was released two years later in September 2009. Ironically though, the dropping of the McRae name comes as the game is being re-focused on rallying – the part of the game that made the series what it is and the lack of it the thing most vehemently criticised in Dirt 2. Dirt 2 was a departure from the series' roots, with more Motorstorm-style off-road buggy racing and more arcade-like handling; it didn't feel like a proper McRae game. But Codemasters have listened to the fans and Dirt 3 is going to be at least 60% rally mode – more than double the amount of its predecessor. Core fans wanted a rally game, but got a mainly off-road driving experience selection box.

Not to say that all of Dirt 2 was bad, in fact the game scored highly in reviews, but fans of the series were unhappy with the change in direction. Codemasters' award-winning EGO engine was developed for the game, and has gone on to be used superbly in other titles such as F1 2010. The game's damage model, track design, surface modelling and weather effects were all top of the range. Two years down the line, one can only assume Dirt 3 will showcase the best yet.
Some of the best parts of Dirt 2 were the Multiplayer modes. Eight-player online racing returns for this game; alongside something I personally have been anticipating for a very long-time in the modern era of motorsport gaming – split-screen online play. You and a friend can now take on six other drivers from the same room, which for me is enough incentive to buy the game in itself. Split-screen enthusiasts have been poorly treated by developers in recent years in favour of the 'people just want to play online' brigade, but Codemasters are taking the plunge with this feature and I believe this should be applauded. Playing with a friend in the same room is a big part of gaming, and I warmly welcome its return.
There are also many multiplayer modes available including a 'capture the flag'-style mode, one where aliens invade and another called 'Cat and Mouse' where two teams of four players in high-powered cars battle one another to protect their teammates trying to reach the finish line in a Mini Cooper. It's a far cry from the original Colin McRae Rally and the game modes borrow heavily from titles such as 'Motorstorm' and 'Grand Theft Auto 4', but these game modes should provide a fun distraction from the pursuit of shaving tenths of your best time on your favourite special stage, especially if you are playing with friends.
Career mode is back, Ken Block's gymkhana mode (which looked good even in early builds), night racing, snow, a hatful of legendary cars (including Group B), a full WRC license and the fact Codemasters have described it as their 'biggest-ever driving game' are all things that should mean virtual petrolheads will be lapping it up for a long time to come.
Buying Dirt 3

The game is released on May 24th on PS3, Xbox, and Windows.
Selected retailers will have the Superteam Pack as a pre-order bonus, which includes four exclusive teams ( Texaco Racing Team, Brembo Racing Team, Team Yokohama and Mobil 1 Performance Team), and unlocks 14 cars, including the Ford RS200 Rallycross, Fiat 131 Abarth, Mitsubishi Lancer Evo X Jun and the iconic Lancia Delta HF Integrale.
You can order it now at:
Gamestop (With Speedteams Pack) or (With Ken Block RC Car)