Last updated on January 9th, 2021 at 04:32 pm
As fans of my work will know (hello mum), I was a big fan of the original Dirt, but less so of it's sequel. So here's the difficult third album – it has to keep the original 'rally' fans happy and still appeal to the slick, polished Americanised variety showcase that was Dirt 2. And I'm pleased to say it generally straddles the delicate balance between the two quite well.
Gone is the irritating daredevil Travis Pastrana playing the role of your in-game menu 'buddy' (needed presumably by those who can't find their own way around an in-game menu with the options laid out in MASSIVE CAPITAL LETTERS), and in come three new irritating voices to replace him and guide me through the game. I also have no idea why there are three of them, and even less idea why one is English, one American and one Australian. They pop up to tell me a new team wants to sign me now and again, as well as to tell me my driving is brilliant, which is nice, although they use a lot of annoying words like 'sweet!', 'cool!' and 'wow!' when you make a selection. It grates. They introduced themselves to me at the start, and I presume they still have names but they haven't stuck. One sounds a bit like John Torode, so I call him John Torode. The others are known to me as 'cheesy' (the American) and Linda, because I like the name. I encourage all players to name these three to make their inane and insincere banter less likely to induce suicide.
Sticking with the aesthetics, the soundtrack is a little strange too. It's really great in parts – there are some soothing strings, some funky bass and some nice melodies during some of the menus and loading screens. But then some thumping rock will kick in that seems totally out of place. I loved the use of F.E.A.R in F1 2010 because it was a theme, it gave the game an identity. Dirt 3 tries to have the cool soundtrack of FIFA but the musical styles are a little too far apart for it to work. Still, there are some good tunes and the menus are nicely laid out.
You can even change your co-driver's voice from 'Scottish man' to 'American woman' in the options menu, and specify they talk in Sega Rally language – 'easy left!' / 'medium right!' – should you not be able to cope with numbers, or struggle with the concept of counting from one to six.
Oh yes, the game itself. Easily forgotten. It's divided up into the career mode (Dirt Tour), single races and multiplayer. I haven't had a chance to play online much yet, but the ranking system seemed quite intuitive – giving you more points according to the number of higher-ranked players you beat. All the game modes are represented and it was quite good fun. I had a few games of rallycross and won, and then did a few rallies and lost. I am yet to try the splitscreen options as I currently have no friends.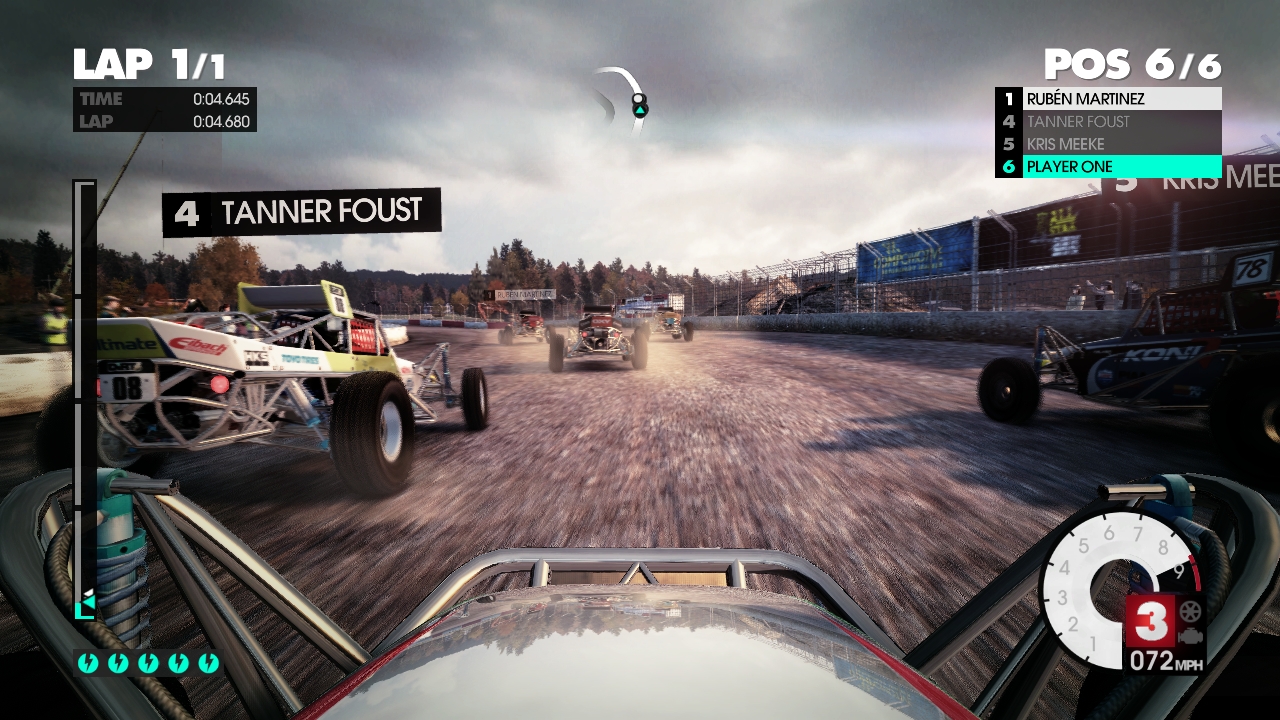 The main tour mode is a mixture of the game's main disciplines. There are some excellent rally stages, challenging rallycross tracks, some fun truck arenas and a few 'Gymkhana' locations where one must perform a succession of stunts in order to gain points. Yes, Ken Block has been digitally recreated to guide you through the discipline. Whilst fun, this mode could prove frustrating to those wanting a pure 'racing' game. Gran Turismo 5 players can leave the 'drift' mode alone if they wish, but in Dirt 3 it's all part of the main game – and if you're the perfectionist who wants to beat every level, you may be in for some hardcore donut practice.
The cars themselves generally feel solid, and the environments are superb. Weather effects look nice, handling is sufficiently different on different surfaces, and there are some nice day/night effects that really show off the lighting model. It's not quite as pretty as F1 2010, but there is a lot more variety in this game, not to mention cars.
The damage model is probably the best thing about the game, especially when combined with the punishing rally stages. It is entirely possibly to hit a bank, roll spectacularly and come to a rest on a grassy verge. It's equally possible to total your car hitting a tree, and perhaps most excitingly, you can now fall off cliff edges and plunge to your doom. There are no rock-solid plastic barriers anymore, and the lifelike environments really add to the sense of danger on the rally stages as you hurtle through forests and villages far too quickly.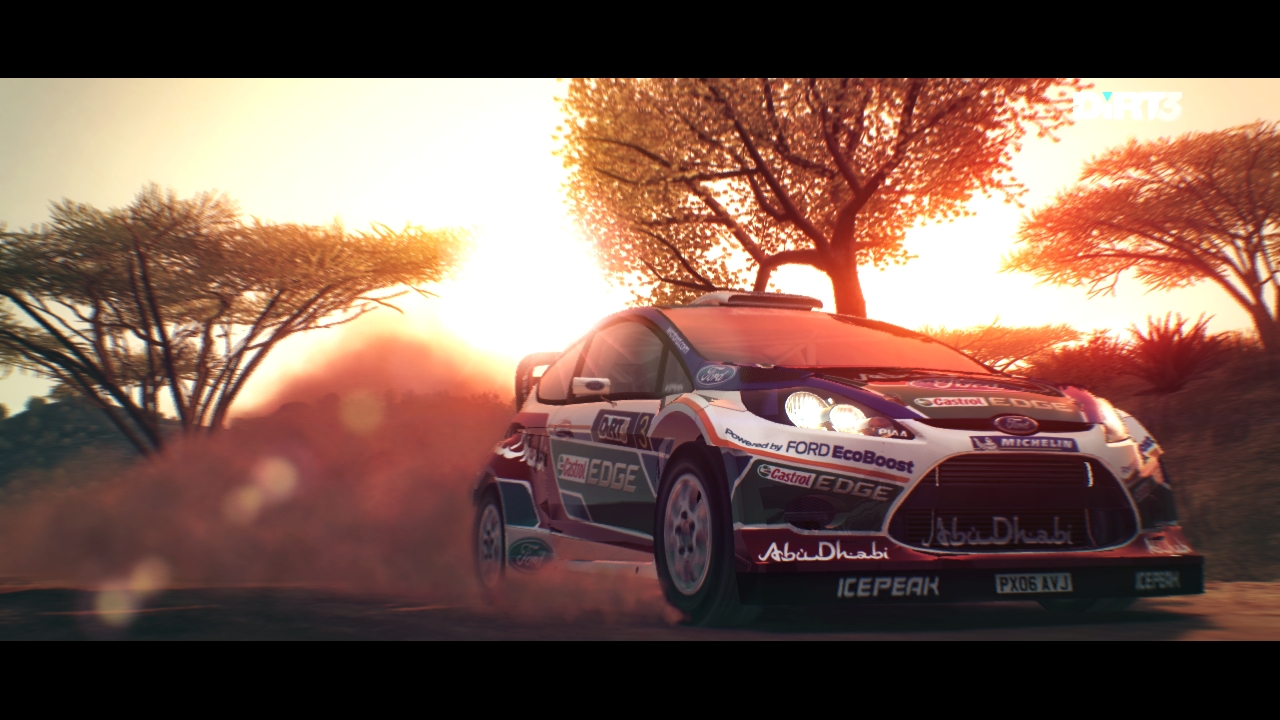 'Flashbacks' make a return too, so once your car is damaged you can 'rewind' time and carry on from just before you messed up. Proper race fans won't use this feature obviously… except when nobody is looking.
The game has some nice replays, any if which you can upload to YouTube via the clever integrated software. I haven't tried it myself yet, but I would assume the results look very much like a virtual car being driven round a track on YouTube, complete with comments underneath such as 'LOOL', 'You're a crap driver, I'm much better' and the obligatory 'you're a racist'.
So all in all, Dirt 3 is a good game. I'd still rather have a pure rally-driving game, but hey, I'm not the mass market and the rally stages within it are still the best yet. There is a real sense of authenticity to many of the rally elements, especially with the HUD turned off and using the in-car view, and many of the other disciplines are a good laugh (specifically via the excellent multiplayer system). It's not groundbreaking, but it's slick, polished and great fun which scores it an excellent 4/5 and a hearty recommendation.
Buy Codemasters Dirt 3 now from:
Want to find out about the latest titles in the DiRT series? Check out our dedicated DiRT coverage, here.