Last updated on April 24th, 2020 at 05:44 pm
September 24th 2010. Get that date in your diaries – for it's the release date of what looks set to be the greatest Formula One game of all time. Five developer videos have been released to whet our appetites, and after watching them I'm bloody hungry. Each will wet your pants for different reasons: the first is a general introduction, the second explains the handling physics, the third regards the superb-looking weather effects, the fourth looks at the how all the tracks and cars have been designed and finally number five (the best one) gives a sneak peek into how the game itself will work. This is where the game begins to potentially stand apart from other racing games.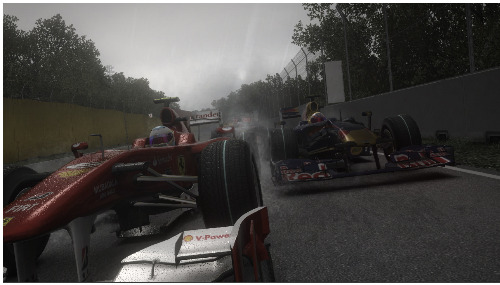 Codemasters have dabbled previously in storyline-based racing games – remember Ryan McKane, the boy-racer out to avenge his fathers' death? No, of course you don't, because you bought TOCA Race Driver
because you wanted to simulate being a racing driver, not to be the star of a Hollywood film. F1 2010
does have a life outside of the racing itself, but crucially this life is all about being a Formula One driver – talking to the media, dealing with team expectations, offers and contracts, managing the relationship with your teammate and so forth.
The cars don't require extensive setting up either – which is one of my biggest bug bears about racing games. I don't want to spend hours adjusting my gear ratios, torque settings, brake bias and the 'in' and 'out' of my toe. I don't even care what a toe is, let alone know whether it should be sticking 'in' or 'out' or up another driver's arse. The cars in F1 2010 will have been generally set up by your team, just like in real life, and it will be down to the driver to tweak these settings, and not have to understand the minutiae of aerodynamics and gearbox technology in order to do so.
Then there's the racing itself – obviously the game has all the licenses etc, but the attention to detail is impressive. Tyres will grain, a proper racing line will emerge and tracks will 'marble' – meaning do-or-die overtaking manouveres are likely to end in 'die' unless perfectly judged. The weather effects look truly superb, and when you're racing on slick tyres when the rain begins to fall strategy becomes all important – do you pit and cost yourself time? Do you stay out and risk an accident? These are the real-life judgment calls that F1 drivers have to make and they are the calls that the player will make in the game, which is exactly how it should be.
In-game voice talent comes from BBC Radio Five Live commentator David Croft, with his co-commentator Anthony Davidson – the former BAR, Minardi and Super Aguri F1 driver acting as a special advisor to Codemasters whilst creating the game. Codies have said they won't be including an in-game commentator in the style of the previous F1 series where first Murray Walker and then James Allen lent their vocal talents (and hopefully there won't be such an irritating engineer barking at you whenever you do anything vaguely interesting. Yes, I know I've crashed thanks. I personally think having no commentary is a brilliant decision as there is nothing more unrealistic when pretending you are an F1 driver than hearing a TV commentator talking over the sound of your engine during the race. After all, the game should be about representing the sport and not the TV coverage.
So what's Crofty doing in the game if he isn't commentating? Good question. I'm glad I asked it. The answer is he will be the voice in the post-race press conferences, asking questions relating to your performance if you make it to the podium. The answers you give will affect the media and the public's perception of you and presumably have a knock-on effect on how quickly you can progress your fledgling career. The fifth developer diary video gives us a pant-wetting sniff of how the game is structured and what we might be looking to expect.
Above all what makes this game the most exciting prospect for F1 fans since Grand Prix 4 is that the team behind the game really know what they are doing. There won't be a demo – the team are focusing 100% on the game until release, and they won't be messing around creating any downloadable content, for as soon as the game is released the development team will turn their attentions to F1 2011. There was no F1 2009 because they didn't want to rush out a sub-standard product. The game's senior producer Paul Geal worked on Geoff Crammond's 'Grand Prix' series, and the fact that GP3 and GP4 are still modded and updated by a strong fan community tells you that they are still the best F1 racers available. But not for long. F1 2010 looks set to be a massive step forward not just for F1 games but also for the entire genre and I cannot wait. Go on – I dare you not to order it