Last updated on December 7th, 2020 at 10:42 pm
If you're really eagle-eyed, you might have noticed there wasn't the customary midweek practice update for ORD Racing. Mainly because a quick 15 lap blast around Road America was all I could manage thanks to work and family commitments, and as a result, I stuck with the stock set-up for the BMW GT2 M3. That's not entirely a bad thing, as I'm pretty accustomed to the way it handles now, and even with no tuning, times in the 2:04/2:05 range were possible, which wouldn't be enough to compete with the leaders, but could edge towards the middle of the pack.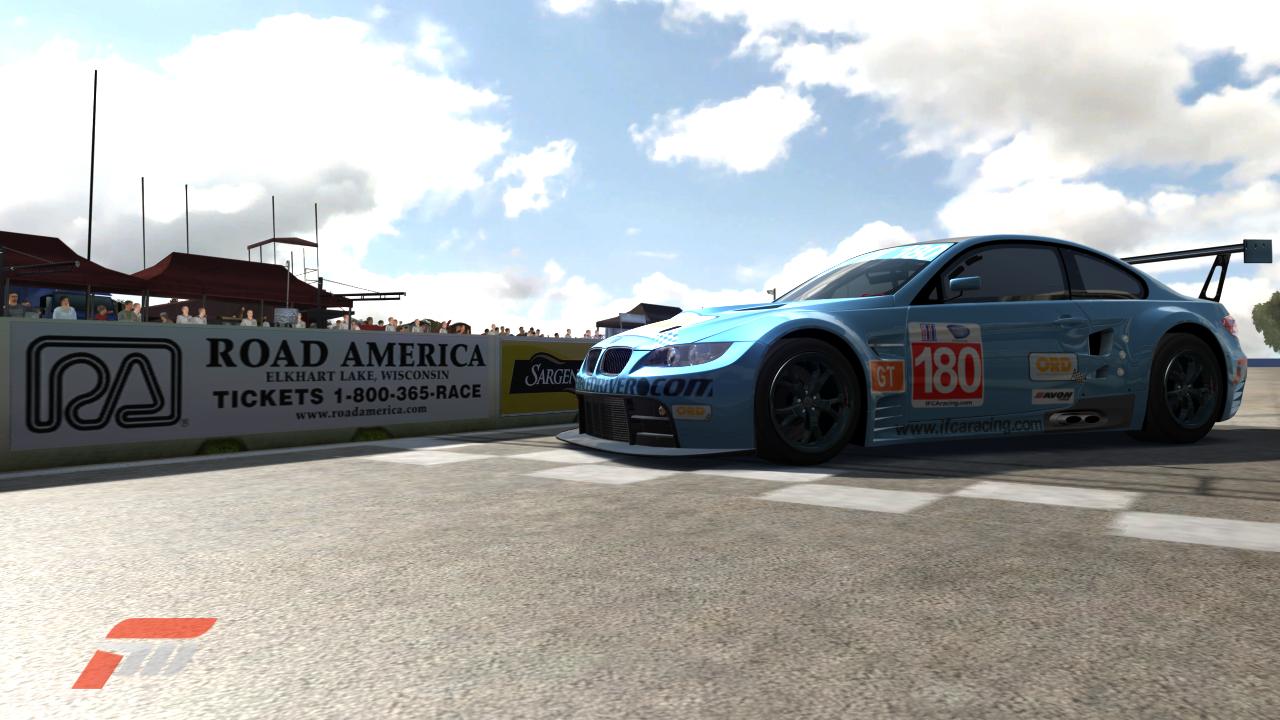 Road America: The Race
It turns out that I really could have done with more practice and set-up when faced with hosting a full lobby of drivers who were either more skillful, better prepared, or both! I'm not sure whether it was nerves, but somehow I managed to make a mistake with setting up the grid positions which meant I'd effectively reversed the grid, leaving myself in near the back. I didn't mind personally, as I'd rather not hold anyone up getting away from the line, but it did disadvantage the driver who should have rightfully been on pole, and it'd come back to bite me later…
So the lights went green, I got an OK start, and the first corner went without any incidents. In fact it wasn't until Turn 5 that we had any issues, when two cars came together – luckily both drivers were off the racing line by the time I arrived, and I picked up two places due to their misfortune. I'd spotted the rightful polesitter, Smally288, was coming up fast behind me as I'd expect, and got caught into two minds whether I should try and play careful and cautious to hold my position for a bit (Although with 50+ minutes left, I didn't expect to hold it forever), or just move to the side, let him go and follow him for as long as I could to try and pick up some tips…
If you've ever wondered why a driver would move over and give up a legitmate position for a faster driver, here's the reason…
The straightline speed of the BMW was enough to have gapped Smally288's Porsche on the start/finish straight, but even around the first corner he'd closed right back up. For a split second I thought maybe I should either look behind and pull out of his way or just tell him to go right and go past – and that split second was enough for me to lose the rear of the BMW and wheelspin towards the inside of the track at the point Smally288 was lining up a move. With nowhere for him to go, I effectively launched the M3 into his path and with no chance to avoid me, he tagged the rear end. Totally and utterly my fault…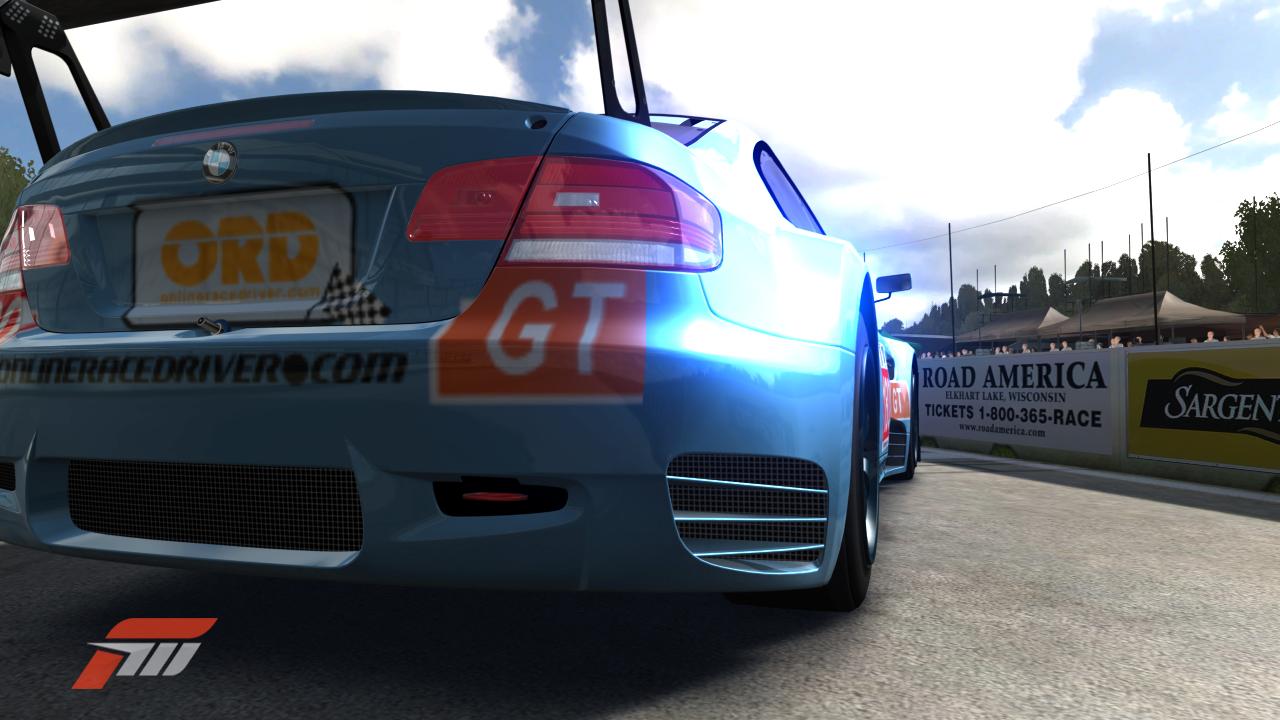 Luckily it didn't seem to affect him too much as he shot off into the distance, eventually finished second. But it appears the M3 is more fragile than I might have though – multiple body panels were showing yellow damage, and the engine was also yellow and producing smoke. So it was into the pits within the first 5 minutes, and back out on track at the back of the field by some distance.
Although the steering was still OK, the engine and aerodynamic damage put me approximately 10+ mph down at the end of each straight, and with speed being the big advantage for the BMW, I resigned myself to 7th, after one driver had quit out. And thus it continued – I wasn't able to match the speed of the driver in front, losing a little each lap, and within a few laps, I was in the uneviable position of being lapped.
Deciding to hold my line for the time being, I'd reached Canada Corner with enough of a gap back to the race leader that I planned to take the following turns 13, 13A and probably 14, and then keep out of the way on the start-finish straight. Unfortunately though, the great brakes on the BMW took the lead Porsche by surprise, and as a result, I was punted off the track. Scratch another 5-10mph off my top speed – meaning I was barely topping out 5th gear by the end of the straights.
The IFCA series do all have a complaints procedue should you wish to race a racing incident for cross-examination (Hence why saving replays is important), but as I was already trundling round to make the best of things, and after some heartfelt apologies from the leader – who was really the only one with anything to lose in the circumstances, I figured it's just a racing incident, and hopefully I'll be quick enough not to get lapped next time…
The only frustration was that another driver had just announced he'd damaged his car after a collision, so I finally had some hope that someone was in a similar position, and I might have a chance! Either way, as I continued, the early pitstop to repair damage meant that my tyres were pretty much shot by the 45 minute mark (Over 39% damage and sliding all over the shop), and some mental calculations suggested that I was likely to run out of fuel before the hour was up. So do I pit, or do I slow right down and try to eke out the fuel to last 60 minutes?
They say bad luck comes in threes. And Road America proved it. Having survived two collisions, and reached the point where the chequered flag would be victory enough, my internet connection dropped! Which means 2 of the only times I'd had my connection drop whilst using it have been during Race 1 and Race 3 of the ALMS series. Feel free to guess the language I was using at this point.
I think it's safe to say I'll be harassing my ISP and checking every possible router setting this week. To drop out with just 12 minutes to go is even more frustrating than Race 1, as although I wouldn't have even been close to the next driver, every time I get an hour of driving time, it's making a big difference.
The next one: The Nurburgring Nordschliefe Full
The good news is that I shouldn't expect to get lapped at Race 4, as it's the massively length and challenging Nordschliefe. I'm quite looking forward to this, as although the BMW will be a bit of a handful, there's a higher than usual chance that other people will struggle with the unique challenges of the twisting, winding, bumpy, legendary circuit. Which means I hope to have more of a legitimate battle for positions, rather than mainly relying on back luck for other people… I'm also hopeful that I'll get more of a chance to practice and set-up for this one.
Especially as I'm finally evolving ORD Racing by attracting my first team-mate for future Forza racing, so hopefully we'll be able to benefit from each other in the future (I'm not sure what I can offer aside from cheering encouragement, but I'll think of something). We can't officially both run under the ORD Racing banner in the ALMS series as it's already underway, and he's actually using a different car at the moment, but he's definitely faster than me, seems like a nice guy, and hopefully might share some tips on how to tackle the Nurburgring. I'll also be developing an ORD Racing section of the site and forum, so if you'd be interested in joining the newest team in online racing, come and volunteer. We're not necessarily looking for the absolute fastest racers (Although we won't complain), but we're definitely looking for people who can share a good team spirit, help out other racers to improve, and don't mind being featured in regular articles on the site (If you fancy writing them as well, even better).
And that doesn't mean we're not interested in news about other teams, race series and drivers – we'll still aim to provide unbiased coverage of every series and club wherever possible. So if you're in a club and fancy some coverage, let us know, or send us race reports, articles, videos etc.
Time to go and tackle the Nurburgring – anyone got money for the toll barrier?
The previous exploits of ORD Racing: