Last updated on January 19th, 2021 at 01:13 pm
Forza Horizon is due for release on October 23rd, 2012 and you can now pre-order the game through a variety of online and offline retailers. However, before you commit yourself, check out what bonus cars and DLC you can choose from, both for Forza Horizon, and also for Forza Motorsport 4.
In addition, various forums and pre-order customers are sharing new that some retailers are either having difficulty supplying DLC codes (Particularly in the UK), or are stating that you will receive your DLC code for Forza Motorsport 4 content only when you receive your copy of Forza Horizons in October. Which is obviously frustrating a number of customers, particularly as there is a pre-order only rivals event for the FM4 DLC this month (August).
We'll update this with the latest info from around the internet – if you've pre-ordered Forza Horizon, post a comment below, and help others out by sharing which store, country and bonus items you have received or are still waiting for!
Limited Collectors Edition Details
The Forza Horizon Limited Collectors Edition includes the following:
Custom cover design
Custom-designed Steelbook packaging
Horizon Festival ticket to access exclusive Xbox Live Content
Day 1 Add-On Pack with 5 cars
VIP Membership and Car Pack
Horizon Accelerator Token Pack
Five Exclusive LCE Car Pack liveries
Forza Horizon Pre-Orders: Bonus Content:
The first bonus item you should receive for pre-ordering a copy of Forza Horizon from participating retailers is actually for Forza Motorsport 4. It's a 2012 Dodge Challenger SRT8 392 with a custom Forza Horizon paintjob designed by the Forza community team, and retailers included in this incentive in the U.S are listed as Amazon and Best Buy. There's no official list of non-U.S retailers, so make sure you check before pre-ordering in the rest of the world.
The car itself looks pretty good, as long as you like pink.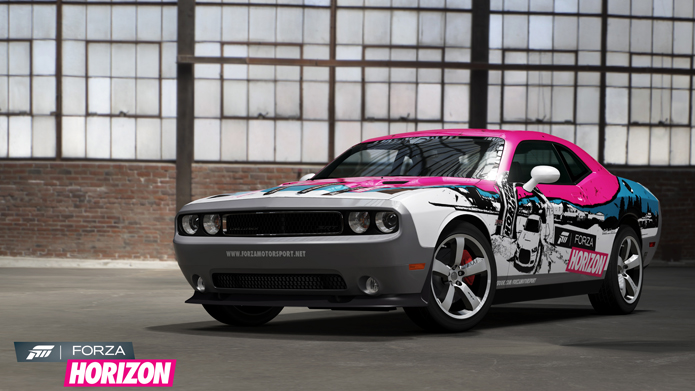 Forza Horizon Retailer Specific Bonus Cars:
The pre-order bonus cars specific to each individual retailer are as follows:
2010 Ferrari 458 Italia: Gamestop
2012 Aston Martin Virage: Amazon
2011 Mercedes-Benz SLS AMG: Best Buy
2010 Nissan 370Z: Newegg.com, Target, Walmart, Microsoft Store.
Additional Retailer Information:
Gamestop in particular is listing the Forza Motorsport 4 Dodge DLC as being available either when you pick up Forza Horizon in-store, or to be emailed to you two days after your online order ships.
International Information:
UK
Game: States that you will receive the Forza Motorsport 4 Dodge DLC on a rolling monthly basis.
HMV: Has the Nissan 370Z Bonus Car. No mention of Dodge DLC.