Last updated on January 13th, 2021 at 02:31 pm
Having recently been looking around again for hardware options made on the European side of the Atlantic for something obtainable closer to home, I spent some time browsing through the catalogue of SimRacingHardware.com, a company best known in our sim circle of late for its button boxes and Monsta display.
What I'd missed during my initial perusing was a single image of SRH's new 'Dashboard System' that will be made to fit Fanatec's ClubSport Wheel (or CSW).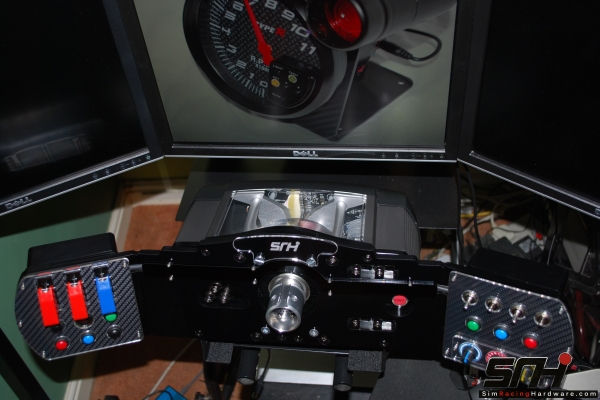 With the clean look of carbon-fibre that's en vogue at this time, the CSW Dashboard as it's also being called, is a sturdy-looking piece of kit that retro-fits to the ClubSport body as a long bracket that with the wheel temporarily removed, will attach to the body fascia via four included stainless steel bolts. Attach a USB cable, slap a wheel back on and you're all set!
A first good impression that's a particularly welcome reaction after a comment I made on the Derek Speare Designs ClubSport Panel is that the left and right button areas are angled towards the driver. A small point of note would be that like the DSD panel, Sim Racing Hardware's dash has the USB socket mounted at the left-hand side of the hardware rather than at the rear where it would help with cable routing and look tidier as well as reduce the risk of catching it on entering or leaving the cockpit area. Right-angled A-B USB cables and extensions do exist to somewhat improve this mainly cosmetic situation and a socket leaving the rear of the dashboard would probably have slightly complicated its internal design, but it would nonetheless have been nice to see the cleaner aesthetic. It is a really minor point though!
Getting to the all-important specifications, SRH state that the switch box top-panel sections are of a laser-cut 10mm acrylic construction. These sections are fully-boxed and self-contained panels, so there's no loose wires, parts to find or sections to mount to. This is a genuine 'mount, plug and play' option for anyone after that next step in control methods beyond their wheel's buttons and a cumbersome keyboard.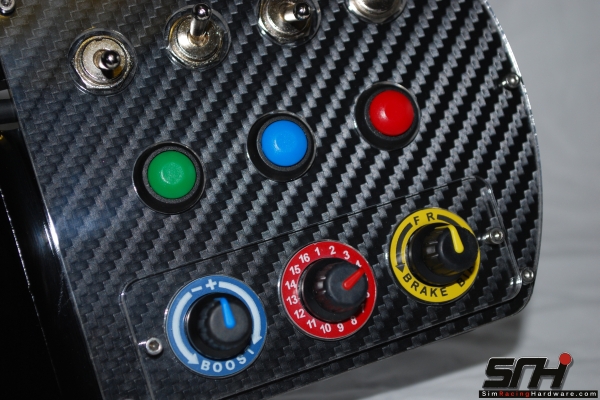 With a small question mark over the number of flip covers included, here's the current configuration for the CSW Dashboard:
Seven toggle switches (three on the left section, the remaining four on the right)
Eight momentary buttons
One starter button
Three rotary encoders
A very nice detail with the encoders is that roundels are fitted. Besides adding a professional and 'real car' look, they are engraved – with LASERs again! – to give an indication of how the encoders are being used. That gives a quick reference point for brake bias (yellow, marked 'BRAKE BIAS' with F and R directions), a + or – dial (blue, marked as 'BOOST') and a range of 1-16 on the red encoder.
Like the four mounting bolts mentioned earlier, the dashboard uses stainless steel fixings everywhere.
It will be fully assembled, with only the mounting to be done. As we described earlier, remove the wheel and four bolts, add the dashboard, screw in the new bolts, plug in a USB cable and GO, GO, GO!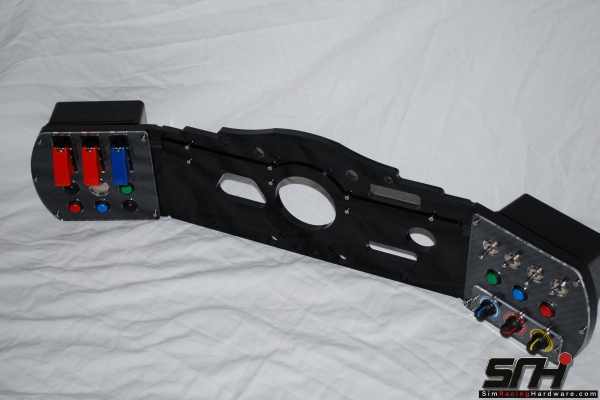 So how much does it cost and when can you get one?!
Though not yet in permanent stock due to high demand, the good news is that the CSW Dash is already being made and the pre-release ordering price is still available. Until SRH can balance production with demand and build stock levels, that means a continuing early offer price of £235 GBP plus shipping – or approximately €275 (Euros) and $360 (USD) plus delivery as this goes to press. After final release, the price will be £250 GBP plus shipping (€293 and $383 plus freight costs, respectively). Order arrangements can be made by contacting SRH via e-mail from the Web page given below. For the CSW Dashboard, a £30 deposit is required and is to be paid via PayPal.
Due to the demand that we've referred to, there's currently a delay of a few weeks between order and dispatch of the dash – but we reckon that discount offsets the wait nicely. Call it more time to build your anticipation! With earlier orders still being cleared, Brian at SRH has told us that three to four weeks between the order being placed and sent would be about right for the CSW Dash at the moment. When looking at the custom, hand-built nature of equipment like that of Sim Racing Hardware and other small producers, that looks fair to us even were it a typical wait (which Brian has said can often be as little as a couple of days for standard catalogue items). We all know of the long delays experienced elsewhere recently and over the years, and even the huge mass-market companies (who make nothing like this, incidentally) can have long delays in production and shipping.
Even with their present wide-spanning range, there is more to come from Sim Racing Hardware and sim racers with a Thrustmaster T500 or Fanatec CSR Elite just might want to keep their eyes peeled…
On a final note away from the CSW Dashboard that we're covering here, we'd like to add that SRH also sell parts for anyone that wants to take the fully custom approach with their cockpit and controllers. There are USB controllers, hand-made steering wheels, LCD and LED displays and even wheel and pedal modifications that include adaptors for Logitech and Fanatec hardware. Certain items can be purchased in kit form at a considerable discount and if your requirements aren't listed, bespoke parts can be made to order either as a one-off instance or for a small production run.
Shelf stock of the dash will be built in time, so why not go ahead and order with the discount now? Have a see what else tempts you and do give our OnlineRaceDriver team a mention too!
For further enquiries or to arrange an order, you can contact Sim Racing Hardware here.