Last updated on January 13th, 2021 at 02:40 pm
Exciting times for racing game fans. Although the current generation of video game consoles is drawing to a close, there have never been more opportunities on the horizon to get your virtual speed fix. Most prominently Gran Turismo 6 and Forza Motorsport 5 in the form of an Xbox One launch game. Not to mention the likes of Driveclub (PlayStation 4) and Need for Speed: Rivals (multiplatform), followed by Ubisoft's promising new IP The Crew. However, all of these potential fast heavy hitters will not see the light of day until the end of this year.
Trump card
Fortunately, Codemasters has just played a trump card to keep us occupied, one the British racing game studio kept up its sleeve for quite a while. As the successor to 2008's Race Driver: GRID, GRID 2 takes you back to the world of track racing in an accessible way. Having refined the EGO engine with several F1 and DiRT games, this game shines in many ways from the moment you get started. The first race, for instance, sees you blasting through downtown Chicago, while you get a taste of the attention to detail racing games are capable of nowadays. Newspapers being blown across the track, sparks coming off the overhead rail network and crowds cheering you on while you put your Ford Mustang Boss sideways in pursuit of the lead.
It sets the tone for a game that has the emphasis on sensation. Despite the semi-simulation roots Codemasters established with the famed TOCA-series, GRID 2 is possibly the most arcady game the team produced in a long while – save from last year's DiRT: Showdown. That's not to say it's totally unrealistic: in essence, the various cars handle inspired by their real counterparts. From early on in the game, you'll deal with both accessible rear-drive sports cars, which can be thrown into corners with relative ease, and front-wheel driven hot hatches suffering from hard-to-overcome understeer. As you proceed through four tiers of vehicles, you learn to get the most out of modern V8-powered coupes, track day specials and, ultimately, a collection of supercars and FIA GT3 racers. With no electronic gizmo's like stability control and anti-lock brakes to speak off, it's all up to you to keep your metal monster between the white lines. This can be quite challenging to newcomers, though the process of playing through the games should prepare you well enough for the task at hand. (A free word of advice: turn up the vibration, even when playing without a steering wheel setup, for notably more communicative handling – a major improvement over that in Race Driver: GRID.)
Prizefighter
This goes both for the singleplayer campaign and the multiplayer mode, which are actually completely separated. Aforementioned lets you be a racing driver coming up in the big world, still keeping racing cars in de garage below your house, until racing entrepreneur Patrick Callahan takes notice of your results. You become the prizefighter Callahan needs to convince international racing communities to join his movement and take part in the newly formed World Series of Racing. From here, you essentially move from event to event. Sometimes you race others, sometimes you hunt for a quick time or a high drifting score and occasionally you get to win a new car.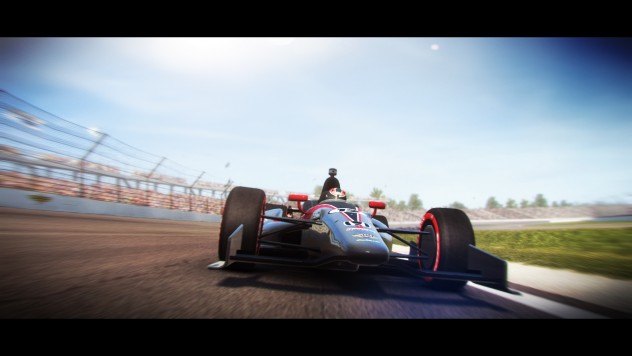 It's not the most inspired campaign ever, and although it's cool to see your progress get reviewed in a fictional ESPN commentary show, the lack of building a team through recruiting a fellow driver (like in Race Driver: GRID) shows it's hard to best the bland singleplayer mode setups as seen in recent Forza Motorsport and Need for Speed games. A serious repetition of locations and track variations in the first few hours could almost make you lose interest, until the game finally moves out of the United States. In total, tracks can be divided in three groups: dedicated courses like Brands Hatch and Yas Marina, point to point routes located among the Far East and Mediterranean France, and tracks through cities like Barcelona and Miami. The latter category seems most suited to the game's arcadey way of playing – most notably during the new Liveroutes mode, which creates a random ribbon of track to follow and adds a lot of tension to the mix. Once every game type and location is introduced to you, there's plenty of variation to keep you coming back.
Earn some cash
The game shines a tad brighter in multiplayer mode, offering an experience that can be compared to the famed role-playing game type of playing as we know from Gran Turismo. You start out with just a single car for the first three tiers and race other people online to earn cash. This process can require some patience, as the prize money is determined by the number of people playing and (obviously) your results. As you get richer and more experienced, unlocking new cars, performance parts and visual customization options, your car collection expands, helping you to select the right cars for the right tracks. There are plenty of options to configure when looking for or hosting a game, including matchmaking based on track reputation, to prevent pile-ups at every first few corners. If you prefer taking on others indirectly, you can also resort to seasonal events, where the goal is to either beat your friends' scores or those of the best GRID 2 players in the world.
Without a doubt the most spoken of feature (or rather: shortcoming) is the cockpit view. As for this generation of video games, Race Driver: GRID basically introduced us to a detailed look from the inside of the race cars while competing. It's not available in GRID 2, which is a shame, as the sensation of raw racing action would surely have benefitted. Still, there's a rock solid frame rate and an array of impressive lighting effects, complimented by some of the best virtual engine noises ever to come out of your speakers. Few racing games offer the same level of sensation when thundering down a long straight, followed by braking and shifting down to enter a corner, preferably in pursuit of a rival. And although the game favors the unrealistic hard on approach of going sideways around pretty much every bend in the road, no-one can say he won't have goose bumps while doing so.
Review Score: 8/10