Last updated on January 13th, 2021 at 03:01 pm
Right on the one-week point since the first update, F1 2013 has had a follow-up patch applied through Steam this afternoon.
I'll stop the startwatch!
At a smidgen under 45MB, the points addressed by Codemasters today are listed below.
PC FPS Issues:
We've made further improvements to the PC FPS issue whereby higher specification PCs had a considerable lap time advantage over lower ones. The difference now should be negligible and should allow fair competition between all players. Again, we are aware this is a hot topic and will continue to monitor the forums for feedback once this fix is live.
At 30+ FPS the track will now rubber in.
Minor Fixes:
In on-line custom races, AI cars that have retired will now be removed from the track correctly.
Improved AI replication on high latency, low bandwidth connections in on-line custom races.
Corrected Professional and Expert AI difficulty at Sakhir (Bahrain) and Monza.
Fixed an issue where on certain hardware all menus would be black.
Force feedback settings have been tweaked to remedy the mid-corner 'dropout' that some players were reporting.
Reporting, fixing and testing continues for the console versions of F1 2013 too. As I described last week, a number of fixes will be collated into a single patch when Codemasters considers the time to be right for its submission to Microsoft and Sony. Sending frequent patches for approval (and potential refusal) wouldn't make sense due to the way those systems operate.
Posts regarding the discovery of problems remain worthwhile and it would be a good move to offer descriptions of any odd events on Codemasters' F1 2013 Technical Assistance forum. From word of possible bugs to feedback regarding on-line issues or difficulties with the game for a reason like the low sound level of the player's car, it is all worth responding to as a way of demonstrating what most needs attention.
Problems are discussed in the General Discussion section of the forum too, so it's also good to check there for confirmations and talk of fixes or temporary workarounds.
FIRE! FIRE! Diniz in the oven!
You don't have F1 2013 for the PC yet but you're interested? Then we have a few offers for you this weekend!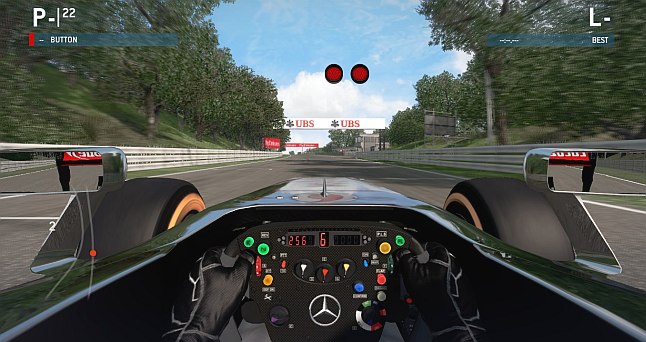 SimplyCDKeys.com has the Standard Edition for just £17.99 right now, sold as an 'Instant Key' which should arrive within a few minutes of purchase.
For an alternative, Green Man Gaming is carrying discounts on both editions of F1 2013 for the PC until Monday afternoon.
The Standard Edition comes with 20 percent off, making it a reasonable if now slightly lacking £23.99.
For the Classic Edition, GMG have a 25 percent price drop – taking the complete F1 2013 package down to £29.99.
To round off this picture, the extra 1990s content is sold on Steam in two packs of £6.49 each. As I covered in this piece, the '90s drivers and cars are included in the F1 Classics: 1990s Pack and the Imola and Estoril circuits are sold in the Classic Tracks Pack.