Forza Horizon 2 will be released on September 30th, 2014, and the first official cars have been confirmed for the game. Being developed for Playground Games for Xbox One and Sumo Digital for Xbox 360, Playground will be using the graphics engine from Forza Motorsport 5 to run the game at 1080p and a locked 30 frames-per-second, while Sumo Digital will be using the original Forza Horizon graphics engine.
The Xbox One versions of the cars will include new features including functioning windscreen wipers for the dynamic weather environment, working headlights and interior lights, and dynamic dirt-mapping. Assuming that the graphic accompanying the news is accurate in terms of the total number of cars, it appears Forza Horizon will ship with 211 cars, with 111 still to be revealed.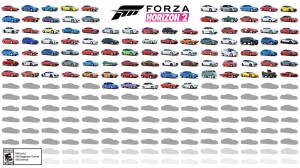 There are a number of new cars to the Forza Horizon series, including the new Lamborghini Huracan, the 1973 Renault Alpine A110 1600S, the 2009 Vauxhall Corsa VXR, the 1945 Jeep Willys MB, and the 1963 Volkswagen Type 2 De Luxe.
There's no word on DLC yet, but we'll keep updating this list with the latest information
Forza Horizon 2 Official Car List
| Year | Manufacturer | Model | DLC Packs | New Car to Forza Horizon? |
| --- | --- | --- | --- | --- |
| 1980 | Abarth | Fiat 131 | | |
| 2010 | Abarth | Punto Supersport | | |
| 2002 | Acura | RSX Type-S | | |
| 1986 | Alfa Romeo | Spider Quadrifoglio Verde | | |
| 2007 | Alfa Romeo | 8C Competizione | | |
| 2011 | Alfa Romeo | Giulietta Quadrifoglio Verde | | |
| 1964 | Aston Martin | DB5 | | |
| 2010 | Aston Martin | One-77 | | |
| 2012 | Aston Martin | Vanquish | | |
| 1995 | Audi | RS2 Avant | | |
| 2006 | Audi | RS 4 | | |
| 2011 | Audi | RS 5 Coupe | | |
| 2013 | Audi | R8 Coupe V10 Plus 5.2 FSI quattro | | |
| 2013 | Audi | S4 | | |
| 1991 | BMW | M3 | | |
| 1997 | BMW | M3 | | |
| 2011 | BMW | X5 M | | |
| 2012 | BMW | M5 | | |
| 1964 | Chevrolet | Impala SS 409 | | |
| 1970 | Chevrolet | Chevelle SS-454 | | |
| 1979 | Chevrolet | Camaro Z28 | | |
| 1990 | Chevrolet | Camaro IROC-Z | | |
| 1995 | Chevrolet | Corvette ZR-1 | | |
| 2009 | Chevrolet | Corvette ZR1 | | |
| 2012 | Chevrolet | Camaro ZL1 | | |
| 2014 | Chevrolet | Corvette Stingray | | |
| 1970 | Dodge | Challenger R/T | | |
| 2012 | Dodge | Charger SRT8 | | |
| 1957 | Ferrari | 250 California | | |
| 1957 | Ferrari | 250 Testa Rossa | | |
| 1994 | Ferrari | F355 Berlinetta | | |
| 2007 | Ferrari | 430 Scuderia | | |
| 2012 | Ferrari | F12 Berlinetta | | |
| 2013 | Ferrari | LaFerrari | | |
| 1969 | Ford | Mustang Boss 302 | | |
| 1987 | Ford | Sierra Cosworth RS500 | | |
| 1993 | Ford | SVT Cobra R | | |
| 2000 | Ford | SVT Cobra R | | |
| 2009 | Ford | Focus RS | | |
| 2011 | Ford | Transit SuperSportVan | | |
| 1997 | Honda | Civic Type R | | |
| 2006 | HUMMER | H1 Alpha | | |
| 2013 | Hyundai | Genesis Coupe 3.8 Track | | |
| 1954 | Jaguar | XK120 SE | | New |
| 1956 | Jaguar | D-Type | | |
| 1961 | Jaguar | E-Type S1 | | |
| 1945 | Jeep | Willys MB | | New |
| 2011 | Koenigsegg | Agera | | |
| 1997 | Lamborghini | Diablo SV | | |
| 2014 | Lamborghini | Huracan LP 610-4 | | New |
| 1982 | Lancia | 037 Stradale | | |
| 2010 | Lexus | LFA | | |
| 2013 | Lexus | GS350 F Sport | | |
| 1956 | Lotus | Eleven | | |
| 2012 | Lotus | Exige S | | |
| 2010 | Maserati | Gran Turismo S | | |
| 1994 | Mazda | MX-5 Miata | | |
| 2011 | Mazda | RX-8 R3 | | |
| 2013 | McLaren | P1 | | |
| 2009 | Mercedes-Benz | SL65 AMG Black Series | | |
| 2011 | Mercedes-Benz | SLS AMG | | |
| 2012 | Mercedes-Benz | C63 AMG Coupe Black Series | | |
| 2012 | Mercedes-Benz | SLK55 AMG | | |
| 2013 | Mercedes-Benz | A45 AMG | | |
| 1965 | Mini | Cooper S | | |
| 1999 | Mitsubishi | Lancer Evolution VI GSR | | |
| 2004 | Mitsubishi | Lancer Evolution VIII MR | | |
| 2008 | Mitsubishi | Lancer Evolution X GSR | | |
| 1969 | Nissan | Fairlady Z 432 | | |
| 1971 | Nissan | Skyline 2000GT-R | | |
| 1993 | Nissan | Skyline GT-R V-Spec | | |
| 1994 | Nissan | Fairlady Z Version S Twin Turbo | | |
| 2000 | Nissan | Silvia Spec-R | | |
| 2010 | Nissan | 370Z | | |
| 2009 | Pagani | Zonda Cinque Roadster | | |
| 2012 | Pagani | Huayra | | |
| 1969 | Pontiac | GTO Judge | | |
| 1973 | Pontiac | Firebird Trans Am SD-455 | | |
| 1987 | Pontiac | Firebird Trans Am GTA | | |
| 1973 | Renault | Alpine A110 1600S | | New |
| 2003 | Renault | Sport Clio V6 | | |
| 2010 | Renault | Megane RS 250 | | |
| 2011 | RUF | Rt 12 S | | |
| 1965 | Shelby | Cobra 427 S/C | | |
| 1998 | Subaru | Impreza 22B Sti | | |
| 2005 | Subaru | Impreza WRX STI | | |
| 2011 | Subaru | WRX STI | | |
| 1994 | Toyota | Celica GT-Four ST205 | | |
| 1995 | Toyota | MR2 GT | | |
| 2013 | Toyota | GT86 | | |
| 2005 | TVR | Sagaris | | |
| 2009 | Vauxhall | Corsa VXR | | New |
| 2012 | Vauxhall | Astra VXR | | |
| 2013 | Viper | SRT GTS | | |
| 1963 | Volkswagen | Type 2 De Luxe | | New |
| 1984 | Volkswagen | Rabbit GTI | | |
| 1992 | Volkswagen | Golf Gti 16v Mk2 | | |
| 2010 | Volkswagen | Golf R | | |
| 2011 | Volkswagen | Scirocco R | | |