Last updated on January 4th, 2021 at 11:11 am
MX vs ATV Alive was originally released in 2011, but has just had a new lease of life after being available as a free game for Xbox Live Gold Subscribers on the Xbox 360. But as a digital download, you might be struggling to pull off some of the tricks without the manual. So here's how to perform stunts in MX vs ATV Alive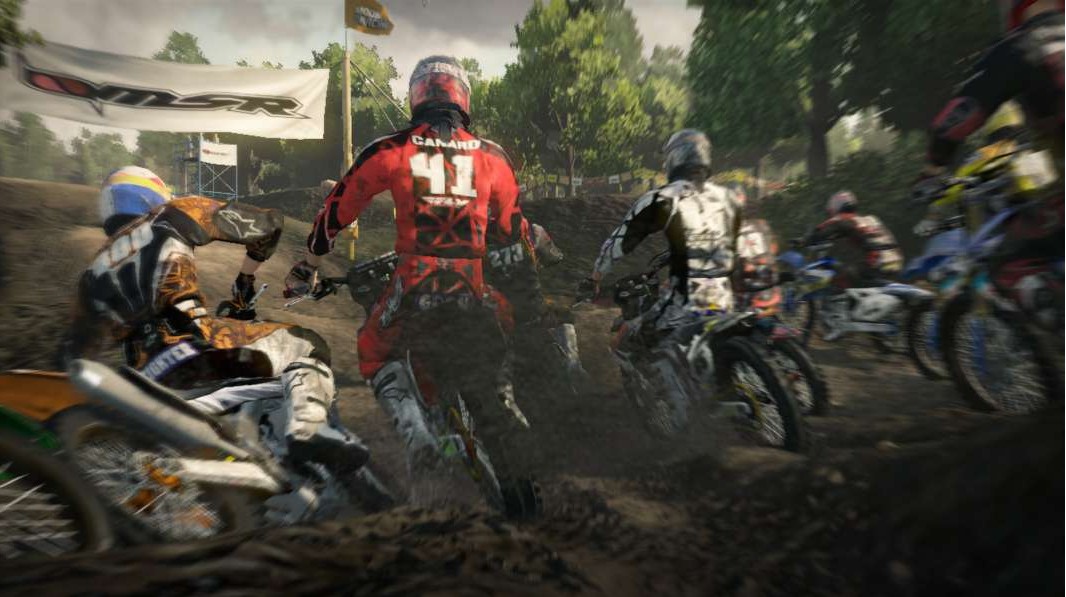 MX vs ATV Alive Controls:
With the default controller layout (Xbox 360):
Left Stick: Vehicle Steering
Right Stick: Rider Control (Rider Reflex)
Right Trigger: Throttle
Left Trigger: Brake
Left Bumper: Clutch
Right Bumper: Trick Modifier
Reverse: B
Reset Vehivle X
Bail Out: Press Left and Right stick, plus Left and Right Bumpers
Start a Free Ride Jame: Up on the D Pad.
Rider Reflex, Clutch and Seat Bounce:
Move your rider left and right to make sharper turns and balance the motorcycle or ATV.
Move your rider forwards and backwards to keep your rear wheel planted and your vehicle balanced over whoops and small jumps.
Move your rider back and feed in the throttle to perform wheelies, and lean forwards with the brake on to perform stoppies.
Seat Bounce allows you to jump further. Whether you're able to perform a seat bounce, the shock absorber on your HUD will turn yellow – and you should pull back on the right stick. If you're successful, the shock will turn orange. And to get a maximum bounce, press the right stick while pulling back, and if you get it right, the shock will turn green.
Use the Seat Bounce appropriately – you want to be landing on the flat or the downside of jumps, and staying lower to the ground is faster as you'll get your wheels on the ground more quickly and therefore be able to drive forwards.
Clutch: To get our of corners and landings from jump quicker you should hold LB to build up the revs. The further the metre is filled up, the longer your engine will put out peak power when the clutch is released. So pull in the clutch with LB when you're in the air and release when you're landing to power out of a jump for example, or when you're not using the throttle to get around a corner.
MX vs ATV Alive Trick Controls:
Backflip: Just before you take off, hold RB and move the right stick down. Hold the right stick down until you complete your backflip – rider position, throttle and braking will control how fast you flip.
360: Before you take off, hold RB and then move the right stick either left or right, and then quickly down to start the rotation.
Whips: When airborne, move the right or left stick to the left or right to perform a whip.
Scrubs: To stay as low to the ground as possible on a jump, move the right stick hard left or right before you take off, and you can also add the left stick.
No Hander: Up,Right,Up
Heelclicker: Up,Left,Up
Windmill: Up,Right,Down
Rodeo: Up,Down,Right
Taunt: Up,Left,Down
Barhop: Up,Down,Left
Shaolin: Up,Down,Upp
Superman: Up,Left,Right
Double Grab: Up,Right,Left
Lazyboy: Down,Right,Down
Upcan: Down,Left,Down,
Switchblade: Down,Right,Up
Superman Seat Grab: Down,Up,Right
Supercan: Down,Left,Up
Indian Air: Down,Up,Down
Nac Nac: Down,Left,Right
Ninja Nac: Down,Right,Left
Body Flip: Down,Up,Left
9 O'Clock Indian Air: Left, Up, Left
9 O'Clock Nac: Left, Down, Left
Cordova: Left, Down, Right
Hart Attack: Left, Right, Down
Flatliner: Left, Right, Up
Kiss of Death: Left, Right, Left
Ruler: Left, Up, Down
Deadbody: Left, Down, Up
Body Varial Right, Up, Right
Tsunami: Right, Down, Right
Solo Cliffhanger: Right, Left, Right
Rigor Mortis: Right, Up, Left
Rock Solid: Right, Down, Left
Twister: Right, Down, Up
Fullpress: Right, Up, Down
Buzzsaw: Right, Left, Down
Bizzare: Right, Left, Up
Kiss of Death Indian Air: Left, Up, Right.
Top Tips:
You'll need to master the 360 and Backflip if you want to collect all the achievements in the game – the easiest way to do this is to wait until you have access to the 250 and 450 MX motorcycles, and you've upgraded them to the maximum to give you more power, and more manoeuverability (Which comes from the Factory Chassis at the 3 star level).
Make sure you get the hang of the Seat Bounce to maximise your air time. You'll need this for most jumps to let you perform any combos.
Practice the stunts in free ride – alternatively to get the achievements, including landing a 360 across the finishing line as you win a race, switch the difficulty to Rookie and the laps down to 1 or 2 to get to the finish line more quickly.
There are no Rider Skills which make tricks easier – when attempting a trick mode, I'd tend to use Holeshot Boost to get away from the other riders at the start, and Quick Get Up when I inevitably crash.
Stick to the same track to practice – something like the first track which has two big jumps, including one across the start/finish line.
See all of our MX vs ATV Alive coverage and news, here. You can still find MX vs ATV Alive for sale via the Xbox Marketplace, or find physical copies on Amazon.