Last updated on April 2nd, 2020 at 01:23 pm
The monstrous-in-a-good-way Mazda 787B 1.4 has reached Assetto Corsa! A new candidate for our in-progress Top Cars list, this fan-made model of a motor racing legend is available now.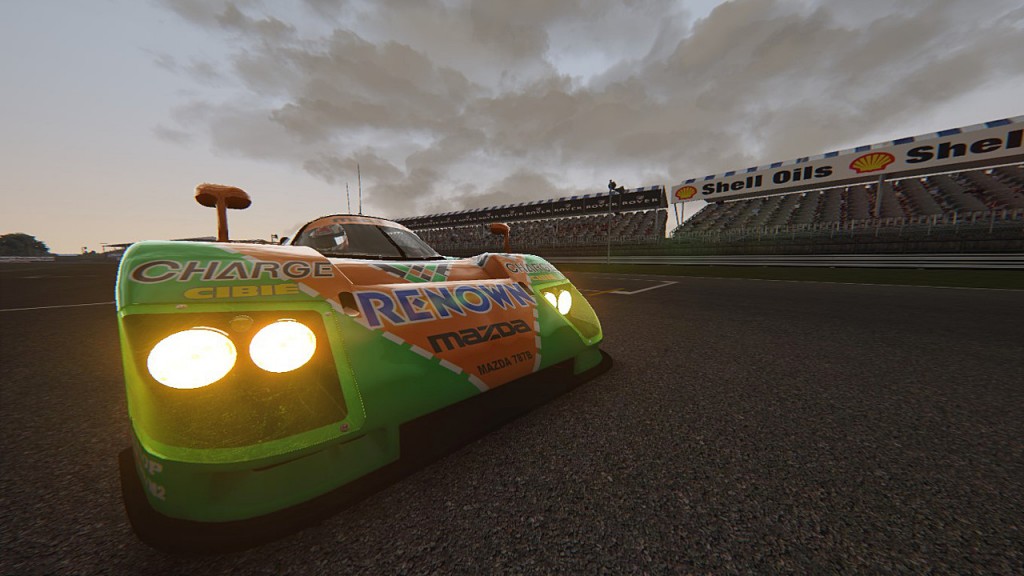 First previewed last May, the Mazda saw an initial full release late in December. Regular updates have followed this year and after a brief spell at the wheel of the previous version, it's cool to see an enthusiasm to improve what's already a striking community addition to AC's line-up of machines.
Created by a three-person team – Patrik Sander (3D modelling), David Dominguez (physics) and 'elMariachi90' (sound) – in every sense, the Mazda is a car with bite.
Famous to racing fans for the sound of its rotor engine as well as a Le Mans 24 Hours win in 1991 (Mazdaspeed, with Johnny Herbert, Volker Wiedler and Bertrand Gachot at the wheel), this rarely seen machine of the popular Group C Sports Car Prototype class has been as much an icon in gaming as it has been for knowledgeable followers of real-world racing.
Previously a highlight of the Gran Turismo and Forza Motorsport series, it's a pleasure as a newcomer to the full version of this sim to say that the 787B is also a reality for Assetto Corsa drivers. One of the first 'scene' cars that I installed alongside the Adelaide 1988 and Silverstone 1988 circuits, I'm just a little happy to have found an update for what was already a great car!
Patrik offered a late video preview of the Mazda's then soon-to-be-released first build in December:
Since then, the guys have given attention to the car's collision boundaries. They have added animations, implemented a 'Hood' camera and tackled graphical optimisations to keep it all running as smoothly as possible. Over the three previous versions, further liveries were created to take the selection possibilities up to a current total of 12 designs. Sound wasn't left out either, with a revised 'autoblip' and a more recent fix to keep the Mazda 787B's audio compatible with new versions of Assetto Corsa.
That nicely takes us to this week's arrival.
Mazda 787B 1.4 changes…
Improved blur rims
Improved chrome effects
Improved mirrors
Added glowing brake discs (credited to: Vatter)
Windscreen with wiper effect
Download options…
Part of an on-site Assetto Corsa collection there approaching 50 vehicles, RaceDepartment is hosting the Mazda 787B 1.4 as a 77MB Zip file.
To get the car, visit the Assetto Corsa Mazda 787B 1.4 page and click on the 'Updates' tab where a direct download button will become visible.
In addition to support via PayPal, you can thank the guys directly with a comment at RaceDepartment or over on the car's page on the Assetto Corsa forums. A forum membership is required at the latter site for viewing or posting comments.
Assetto Corsa is currently available for PC through Steam, where it recently received a major update and new (free) content. Further DLC is available in the form of Dream Pack 1, which includes three layouts of the Nürburgring course and cars from Alfa Romeo, BMW, GM, McLaren, Mercedes-Benz and Nissan as well as a GM Corvette C7r GTE. Additional features and content are in production, a new Version 1.3 of AC being only weeks away from release. Not stopping at updates and extras for the PC, Kunos Simulazioni also has a planned 2016 release of Assetto Corsa for the PlayStation 4 and Xbox One consoles.
And keep up with our latest Assetto Corsa news and coverage, here.