Last updated on January 4th, 2021 at 10:56 am
The good news is that Forza Motorsport 7 has now been officially released for everyone. The bad news is that it appears there are a quite a lot of issues affecting both the Xbox One and Windows 10 PC versions of the game.
Obviously that isn't good, particularly when issues are affecting the VIP and Ultimate edition rewards. And sometimes the game is becoming unresponsive in specific conditions. And the private multiplayer matches are also experiencing issues. While you expect occasional issues during the launch period for almost any modern game, it does seem like there's quite a list for Forza Motorsport 7.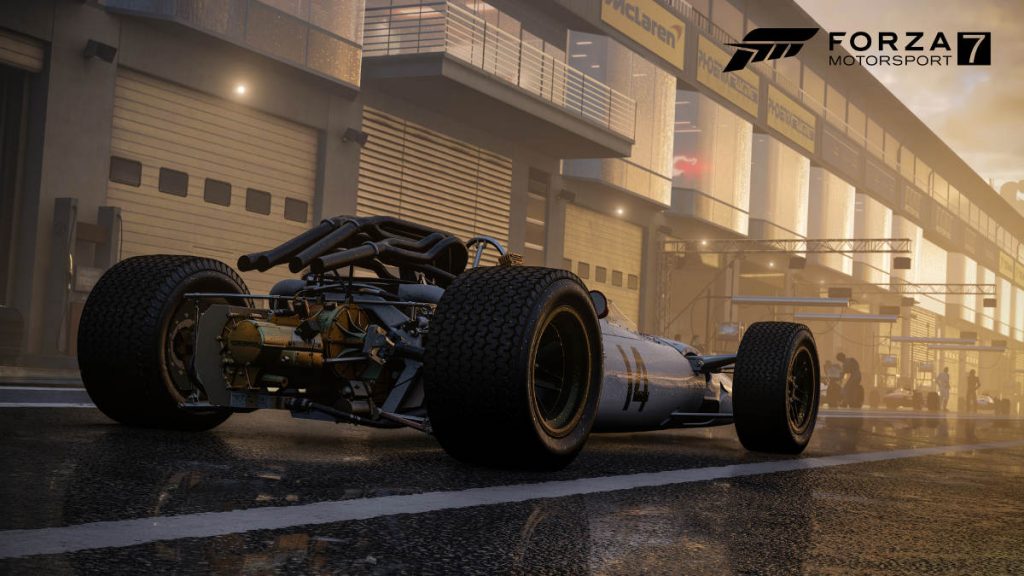 As you'd expect, Turn 10 are obviously working to fix issues as soon as they can. So there's a Forza Motorsport 7 October 3 Update released on launch day which does cure a few issues.
These include:
Stability-related issues for players on Windows 10 PCs
Fixed numerous livery-related issues, including some liveries applying as paint colors only, liveries not appearing in multiplayer, and game lock-ups when cancelling liveries.
Fixed an issue where vinyls would not appear in the vinyl editor for players who were creating vinyl groups with HDR enabled.
Arabic text is no longer reversed in game menus
Default profile slider settings for wheel users are no longer maxed out
Benchmark mode on PC now displays the correct minimum FPS
Framerate now improved in loading with G-Sync enabled.
This is obviously a small section of all the issues reported so far, but it's a start. And we'd expect to see a regular stream of updates being released to solve all the major problems. The last official list of known issues was updated on September 30th, 2017:
PC SPECIFIC KNOWN ISSUES
• All players on a given PC will be able to play the game but only players who purchased the DLC will be able to access the DLC.
• Player's mouse pointer will stay in the forefront while actively racing
• Race track and audio features may not load properly in a race if the player has tabbed out of the game in the pre-race lobby until the race starts.
• Random Gamertags may appear in the host's lobby when backing out of Public or Private multiplayer sessions and not allow them to join a new hopper lobby.
• Some players may be unable to create or join voice chat sessions. We suggest restarting your computer and trying again.
• We are aware that the ['] key may be difficult to see in various menus.
• Game may become unresponsive when a player is browsing Driver Info in a large public multiplayer lobby during the transition to the next track.
• Players' HDR settings may reset to max brightness and gamma upon relaunching the game.
• Players who exit Car Select during Launch Countdown without selecting a car will be left behind in the lobby with no car selected.
• Players who redeemed DLC on their Xbox One console may not see their DLC available when they play on PC. Players who experience this should make sure the DLC is downloaded to the PC they're playing on.
• When selecting a car, pressing the toggle option may not toggle the car stats.
• Driver Tier icon may not display properly on the Event Results or Leaderboard in the Post Race screen.
• Players will not receive credit bonus rewards for using VIP Forza Edition cars in Rivals events.
• Wheel rotation for navigating outside of racing may not be supported in menus like Livery Editor, Forzavista, Photo Mode, and the Decal Editor.
• Players may lose game audio if they unplug their headset and plug it back in while in the game.
• Unlocked framerate is currently not supported in the Forza Motorsport 7 but will be available with a future update.
• Currently, players cannot change video options during a race. We will be releasing an update in the future that will allow players to change video options mid-race.
• Benchmark mode may experience long load times or crashes after running the benchmark test.
• Players may experience the track not loading after using consecutive rewinds. If you experience this, please quit the race and start it again.
• Players may experience graphics not rendering properly when racing. If you experience this, we recommend turning down your in-game video settings.
• Changing the Camera Motion Effects will not apply after saving. The setting change should be applied to your second race but if it doesn't, please quit the demo and launch it again.
• Players won't be able to use G-sync if they have the Nvidia 385.69 drivers installed. Players will want to install the 385.41 drivers to use G-sync.
• If players are experiencing hitching/stuttering, we suggest disabling Game Mode in Windows and close any overclocking, hardware monitoring, streaming, recording and any nonessential apps while we investigate this.
XBOX SPECIFIC KNOWN ISSUES
• Game may be unresponsive for players who launch that game after their console turned off due to inactivity.
• Race track and audio features may not load properly in a race if the player has the Xbox Guide open in the pre-race lobby until the race starts.
• In multiplayer, players may experience their menu to disappear until the next race starts if they are idle on the Driver Level Milestone Reward section.
• Players will be unable to access their VIP cars and Driver Gear if they are offline.
• Player ghosts may not appear while participating in Rivals events.
• While playing split-screen, Player B will be unable to use their purchased DLC if player A has not also purchased it.
• Some players may not see their VIP crates when first launching the game. Those experiencing this will need to fully close the game and launch it again to claim their VIP crates
• Cars may be misplaced or appear outside of the environment when loading Replays through Rivals Leaderboard.
• Player's car may appear outside of the track while in the Post Race screen in Rivals events.
• Players may only have the option to choose "Rent Car" in Rival events even though they own a car for that Rival event.
• While viewing a Rivals replay through Leaderboards, DLC cars that are not owned by the player will show as NULL.
• When signing into another profile, the game will freeze and user will get controller disconnect message. User will need to close game completely and relaunch the demo
GENERAL KNOWN ISSUES
• Some players may get a "Game server allocation failed" error when trying to create a private multiplayer match or join public matches with 8 or more players in the hopper select screen. If you experience this, we suggest trying again. If this continues, you may need to wait 15-20 minutes before trying again. In the meantime you can match in public hoppers with up to 6 of your friends. Due to this issue, players who do get into a private match may experience higher than expected latency.
• Players may not see their Forza Faithful rewards if there wasn't a save action (finish a race, equip a driver gear, open a crate, etc.) performed after they were awarded. We are currently investigating this issue.
• If the Controller Disconnect message appears while in a public or private multiplayer pre-race lobby at the "Loading Track" screen, the background will turn white and the OK button will flicker red and blue
• Players may notice performance hitches when loading into a multiplayer lobby for the first time.
• Player's may not be able to make a selection in the Post-Race menu if they open the Vote for Track window and dismiss it.
• Game may become unresponsive when changing game types in Free Play.
• Game may become unresponsive if a player is disconnected and tries to join a public hopper after reconnecting.
• In a private multiplayer lobby, players who are removed from the lobby by the host may see a "Voted Out" message instead of "Kicked by Host".
• Arabic text is reversed in both the Forza Motorsport 7 demo and in full version of the game. We are aware of this issue and will be issuing a fix in the near future.
Add issues from many people about the new restrictions based around car divisions, and the lack of drifting or drag lobbies or leaderboards, and it seems that there may be a few inherent issues with Forza which won't be going away soon.
Have you played the full game yet? Did you pre-order? And are you experiencing issues or are you frustrated with any of the changes? Let us know in the comments…
Keep up with the latest Forza Motorsport 7 news and updates here, or check out the full Forza Motorsport 7 Car List. You can buy the game via the Microsoft Store as a digital download or as a physical copy from Game or Amazon.