Last updated on January 6th, 2021 at 05:26 pm
It's hard to believe it's been a decade since the original game was released. But now a new generation can experience the combination of arcade races and accidents with Burnout Paradise Remastered announced for release on March 16, 2018, for the Xbox One and PlayStation 4. A PC version will also be available later in 2018. The full soundtrack and car list are detailed below, with almost every song, and the complete DLC vehicle roster returning.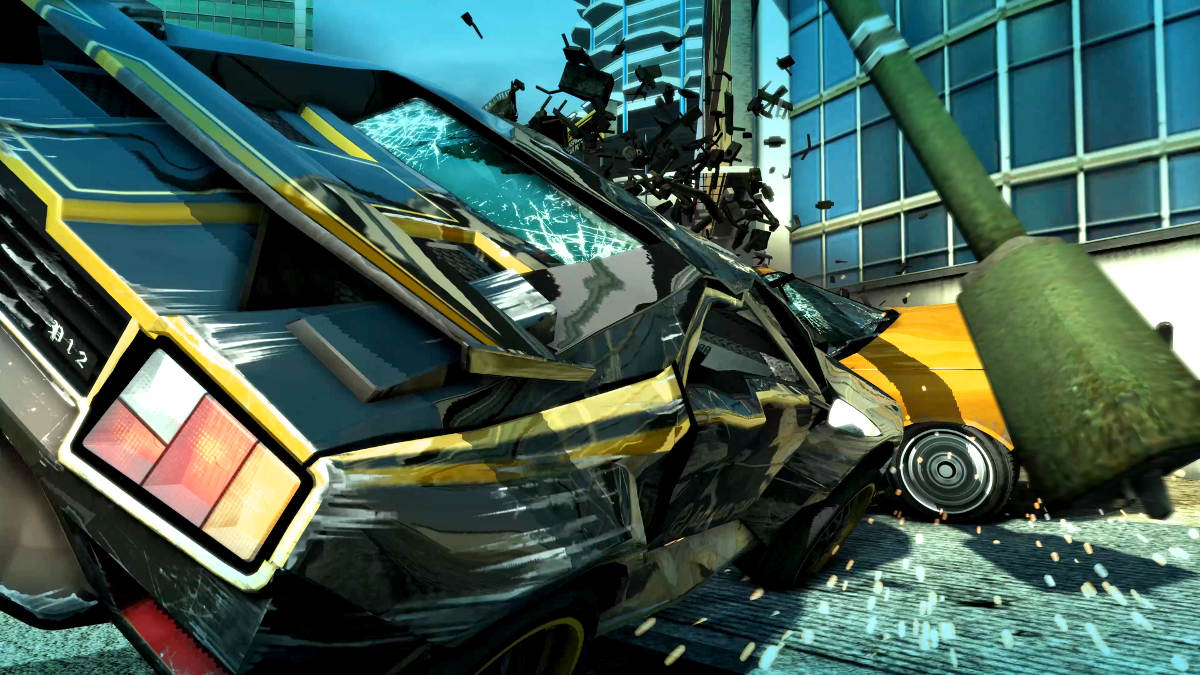 Burnout Paradise was the last physical release in the series which originally began in 2001. Developers Criterion Game did release Burnout Crash! as a downloadable title for the PX3, Xbox 360 and iOS in 2011. But that game switched to an aerial view and didn't really resemble the classic Burnout gameplay, making Paradise the highpoint of the franchise.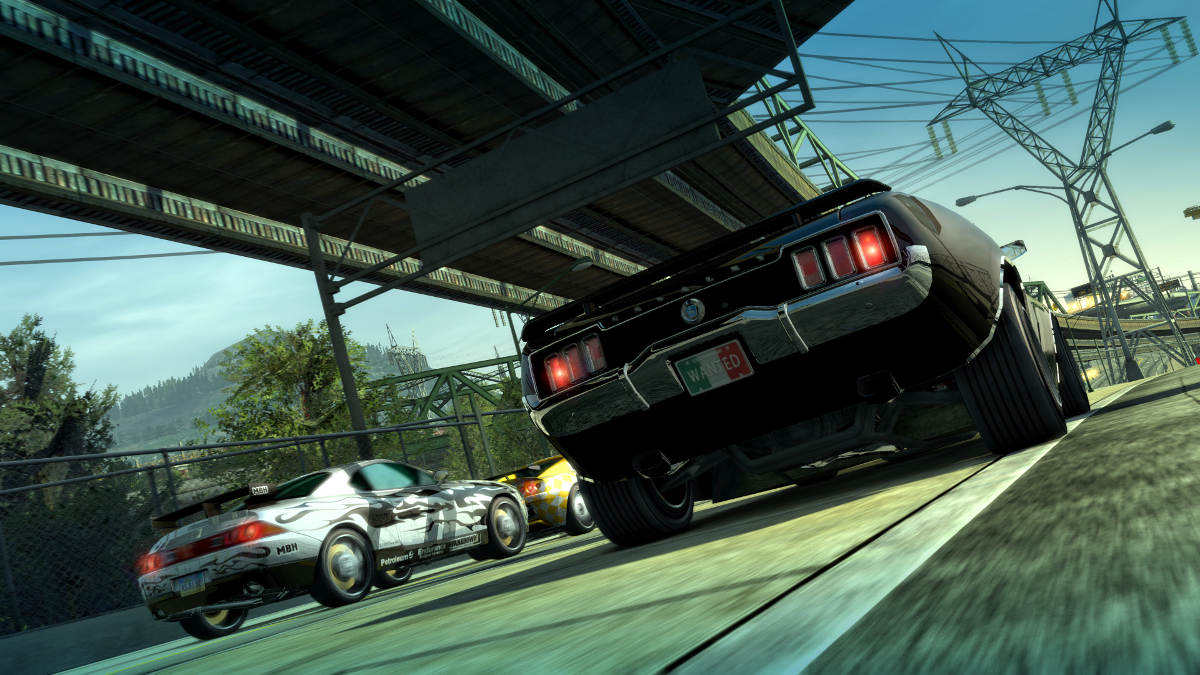 The game itself was an open-world exploration of the fictional Paradise City in which you raced, attempted the most notable crashes, and gained access to new vehicles. And online competition accessible at any time by pressing right on the D-pad. Burnout Paradise Remastered will include everything from the original base game, and the eight add-on game packs released during the Year of Paradise. The only add-on you won't get included is the Time Savers pack which unlocked everything at once.
The PC release of Burnout Paradise Remastered will be the first time both the Cops and Robbers pack and Big Surf Island become available on that platform.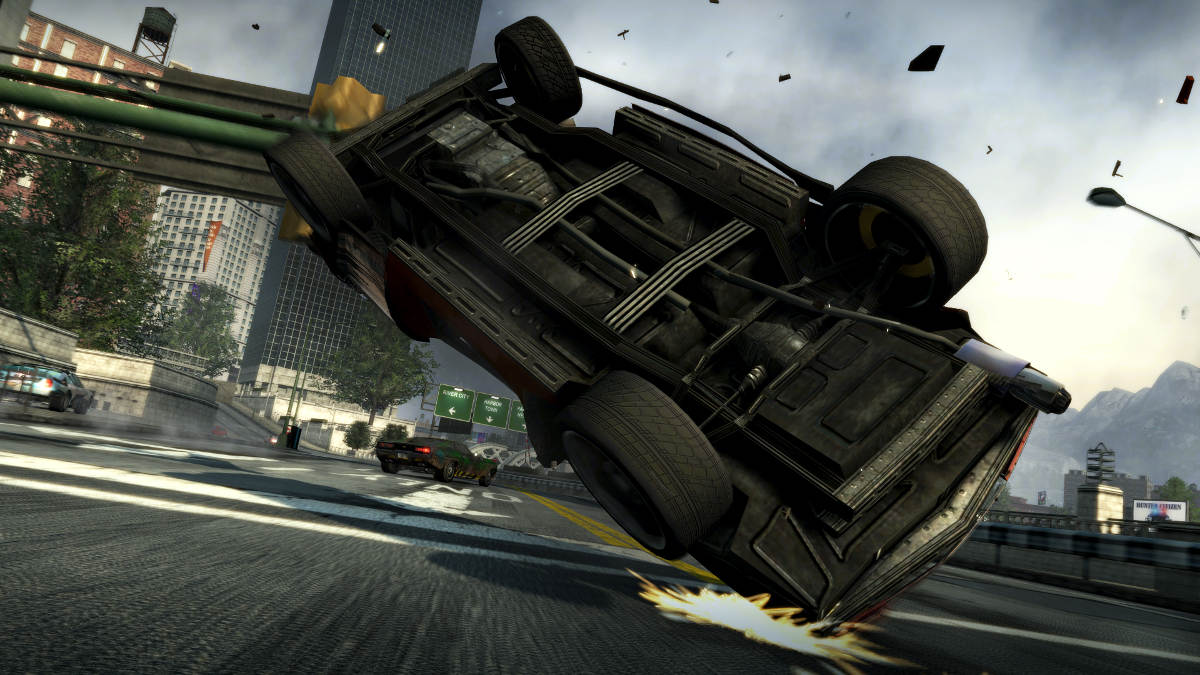 You'll get access to the Big Surf Island expansion, and the packs including the Bikes motorcycle pack, the Party pack which included single console multiplayer modes, the online Freeburn challenges around Speed, Stunt and Skill modes for up to 8 players, and various car packs including inspiration from films and TV, full-sized toy inspired vehicles, specials with unique boost mechanics, and a multiplayer Cops and Robbers pack and mode.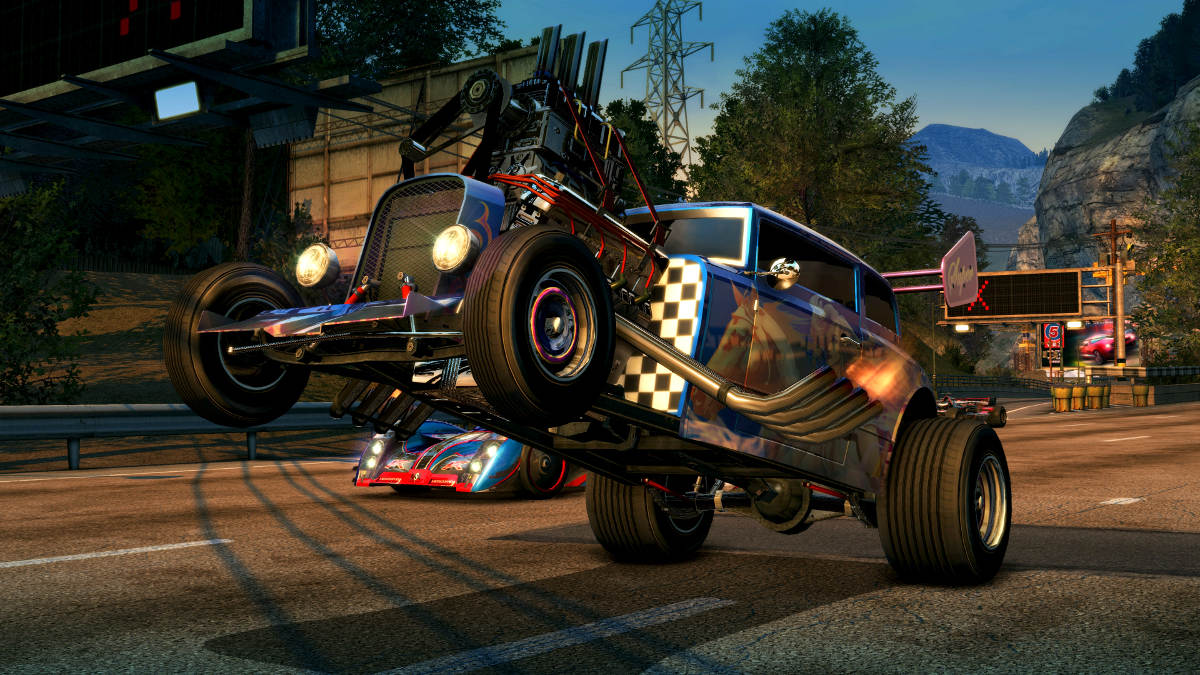 For those who remember the original, it seems that almost all of the original soundtrack will be included, along with the potentially irritating game guide DJ Atomika. The Xbox 360 version was made backwards compatible in November 2016, ahead of it becoming free via Xbox Live Gold from December 16-31, 2016.
But to justify the purchase of the remastered edition, the game will receive a number of technical enhancements for greater 'visual fidelity', including high-resolution textures for driving around Paradise City in 4K with 60FPS support for the PlayStation 4 Pro and Xbox One X.
Burnout Paradise Remastered is due out on March 16th, 2016 as a physical release and digital download for £34.99 for the PlayStation 4 and Xbox One. It's also available from March 9th for EA Access members via the Play First Trial.
"When people think of Criterion Games, they often remember the Burnout franchise and for good reason. What we created 10 years ago, we feel is still fun and unique to this day in the gaming industry," said Matt Webster, General Manager at Criterion Games. "Burnout Paradise is an arcade racer built to provide players the thrill of racing with their friends, in a free form way that was both seamless and immersive, but also a little crazy with all the different stunts and crashes players could pull off. With the release of this remaster, we're able to share this action-packed ride with a whole new generation of players."
It's also been confirmed that rumours micro-transactions would be included in Burnout Paradise Remastered are incorrect, as they were based on a PlayStation 4 listing rather than anything official, thankfully.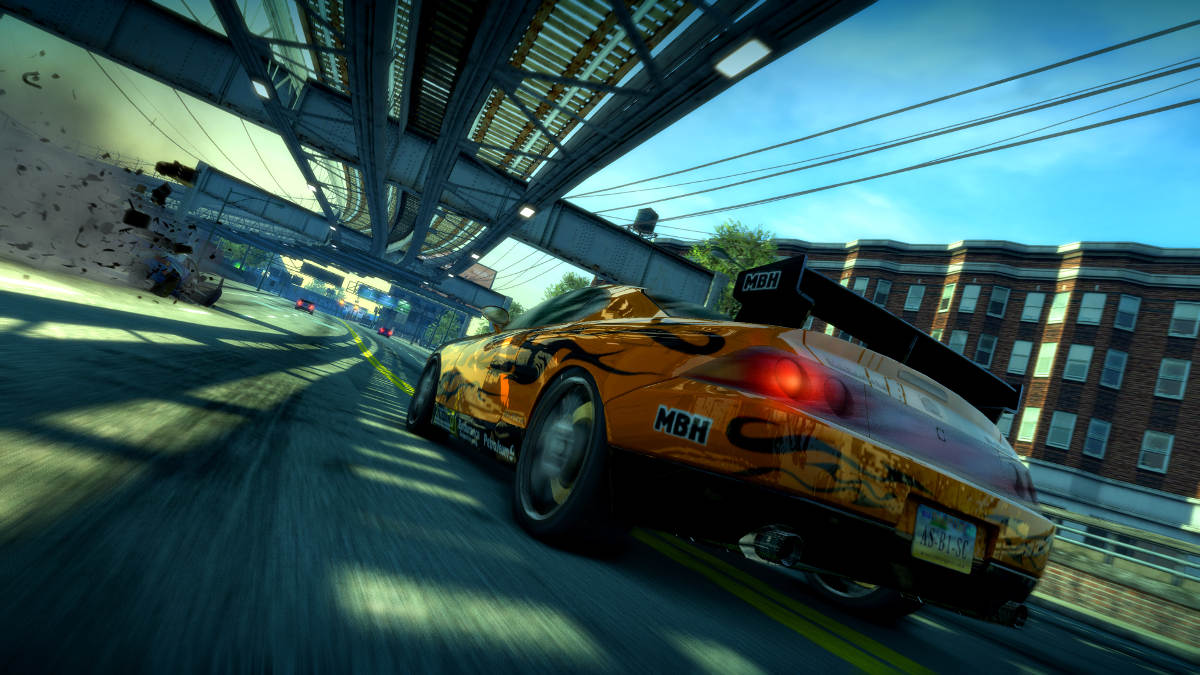 Burnout Paradise Remastered Sountrack:
Guns N' Roses –
Paradise City
LCD Soundsystem –
Us V Them
Killswitch Engage –
My Curse
Adam and the Ants –
Stand And Deliver
Avril Lavigne –
Girlfriend
Brand New –
The Archers Bows Have Broken
Bromheads Jacket –
Fight Music For The Fight
Depeche Mode –
Route 66 (Beatmasters Mix)
Army of Me –
Going Through Changes
Make Good Your Escape –
Beautiful Ruin
Maxeen –
Block Out The World
N.E.R.D –
Rockstar (Jason Nevins Remix)
Senses Fail –
Calling All Cars
The Styles –
Glitter Hits (J. J. Puig Mix)
The Photo Atlas –
Red Orange Yellow
Twisted Sister –
I Wanna Rock
The Pigeon Detectives –
I'm Not Sorry
Permanent Me –
Until You Leave
Operator –
Nothing To Lose
Junkie XL feat. Lauren Rocket –
Cities in Dust
Jimmy Eat World –
Electable (Give It Up)
Innerpartysystem –
Heart of Fire
Brain Failure –
Coming Down to Beijing
Airbourne –
Too Much, Too Young, Too Fast
Criterion Games Burnout 2 –
Burnout 2002 Reprise
Criterion Games Burnout 1 –
Tokyo Nights
Criterion Games Burnout 2 –
Bulldozer Blues
Criterion Games Burnout 1 –
Rounder and Rounder
Criterion Games Burnout 2 –
Pass Me By
Criterion Games Burnout 2 –
Panic Attack
Criterion Games Burnout 3 –
Ozone
Criterion Games Burnout 1 –
Lyon
Criterion Games Burnout 1 –
Like My Shirt
Criterion Games Burnout 1 –
Halfway To Dreaming
Criterion Games Burnout 1 –
Free
Criterion Games Burnout 1 –
Fight or Flight
Criterion Games Burnout 1 –
Exodus
Criterion Games Burnout 2 –
Dark Moon Rising
Criterion Games Burnout 2 –
Childish Games
Criterion Games Burnout 1 –
Chicken George
Criterion Games Burnout 1 –
Caught On A Wire
Criterion Games Burnout Paradise –
Burnout Paradise Theme
Criterion Games Burnout 2 –
Destroyer Mix
Criterion Games Burnout 2 –
Bridge the Gap
Criterion Games Burnout 2 –
Backlash
Criterion Games Burnout 2 –
A Photograph
Criterion Games Burnout 3 –
16 Years On
Criterion Games Burnout 3 –
Another World
Criterion Games Burnout 3 –
Betties Last Voyage
Criterion Games Burnout 3 –
Liquid Sky
Criterion Games Burnout 3 –
Red Sky Horizon
Criterion Games Burnout 3 –
Shine
Criterion Games Burnout 3 –
Take Cover
Criterion Games Burnout 3 –
Tonight This Ends
Johann Sebastian Bach –
Air On A G String
Luigi Rudolfo Boccherini –
Minuet
Wolfgang Amadeus Mozart –
Eine Kleine Nachtmusic – 2nd Movement
Leo Delibes –
Flow Duet from Lachme
Charles Gounod –
Ave Maria (Meditation)
Pyotr Illyich Tchaikovsky –
Nutcracker Ballet Suite – Dance of the Mirlitons
Camille Saint-Saens –
Carnival of the Animals – The Aquarium
Wolfgang Amadeus Mozart –
Horn Concerto #4
Pyotr Illyich Tchaikovsky –
Sleeping Beauty Ballet Suite – Waltz
Giuseppe Verdi –
Hebrew Slaves Chorus, Nabucco
Antonin Dvorak –
Symphony #9 Largo
Claude Debussy –
Clair De Lune
Ludwig Van Beethoven –
Moonlight Sonata – 1st Movement
Wolfgang Amadeus Mozart –
Piano Concerto #21
George Frideric Handel –
Water Music Suite #1 – Air
Camille Saint-Saens –
Carnival of the Animals – The Swan
Georges Bizet –
Habanera Carmen
Wolfgang Amadeus Mozart –
Horn Concerto #3 – 3rd Movement
Giuseppe Verdi –
Triumphal March from Aida
George Frideric Handel –
Water Music Suite #2 In D Major
Antonio Vivaldi –
The Four Seasons, Spring – 1st Movement
Johannes Brahms –
Hungarian-Dance #5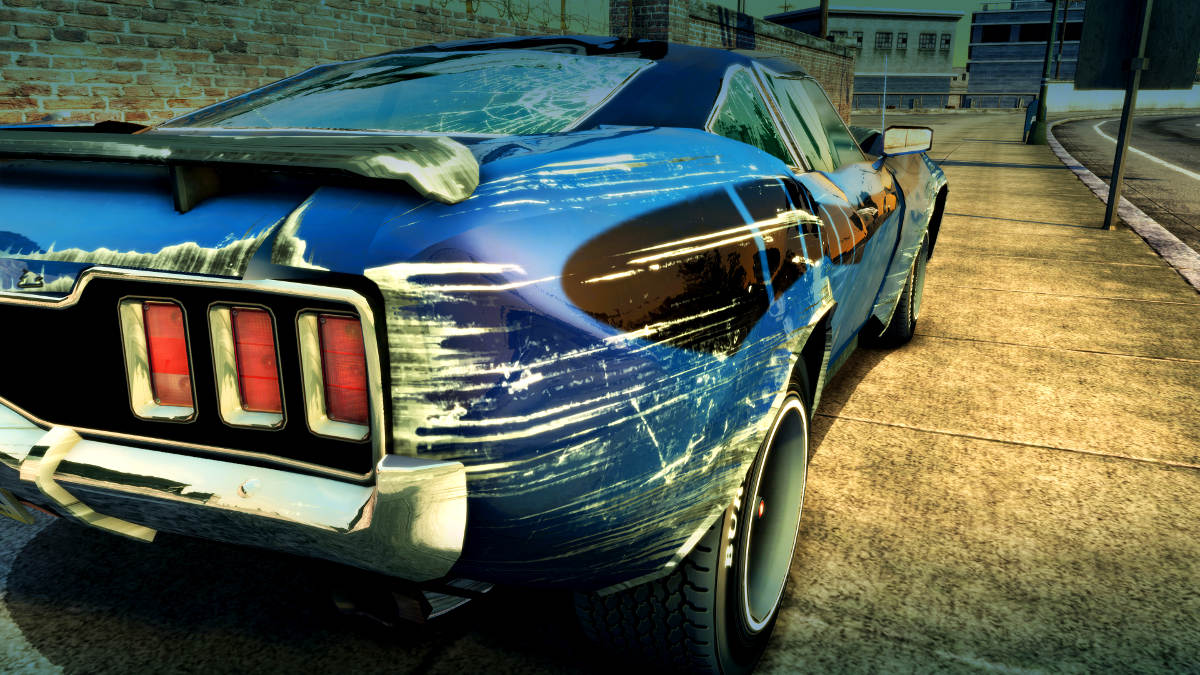 Burnout Paradise Remastered Car List:
Hunter Cavalry – Learners Permit
Hunter Oval Champ 69 – Complete Cavalry Burning Route
Hunter Mesquite – D License
Hunter Mesquite Custom – Complete Mesquite Burning Route
Nakamura SI-7 – D License
Nakamura Racing SI-7 – Complete SI-7 Burning Route
Hunter Vegas – D License
Hunter Vegas Carnivale – Complete Vegas Burning Route
Krieger Pioneer – D License
Krieger Pioneer Super Gator – Complete Pioneer Burning Route
Nakamura Ikusa GT – C License
Nakamura Ikasa Samurai – Complete Ikusa GT Burning Route
Kitano Hydros Custom – C License
Kitano Hydros Techno – Complete Hydros Custom Burning Route
Hunter Reliable Custom – C License
Hunter Reliable Special – Complete Reliable Custom Burning Route
Watson R-Turbo Roadster – C License
Watson Burnout Roadster – Complete R-Turbo Roadster Burning Route
Rossolini LM Classic – C License
Rossolini LM Track Package – Complete LM Classic Burning Route
Hunter Manhattan – C License
Hunter Manhattan Custom – Complete Manhattan Burning Route
Carson Fastback – B License
Carson Fastback Special – Complete Fastback Burning Route
Carson Grand Marais – B License
Carson Grand Sicillian – Complete Grand Marais Burning Route
Montgomery Hyperion – B License
Montgomery Hyperion Rattler – Complete Hyperion Burning Route
Krieger 616 Sport – B License
Krieger 616 Arachno Sport – Complete 616 Sport Burning Route
Hunter Spur – B License
Hunter Hotspur – Complete Spur Burning Route
Montgomery GT 2400 – B License
Montgomery Sabotage GT 2400 – Complete GT 2400 Burning Route
Jansen P12 – B License
Jansen P12 Track Package – Complete P12 Burning Route
Rossolini Tempesta – A License
Rossolini Tempesta GT – Complete Tempesta Burning Route
Carson Inferno Van – A License
Carson Inferno BRT Van – Complete Inferno Van Burning Route
Carson Opus – A License
Carson Opus XS – Complete Opus Burning Route
Carson Annihilator – A License
Carson Annihilator Phoenix – Complete Annilihator Burning Route
Jansen X12 – A License
Jansen XS12 – Complete X12 Burning Route
Kitano Touge Sport – A License
Kitano Touge Criterion – Complete Touge Sport Burning Route
Hunter Takedown 4×4 – A License
Hunter Takedown Dirt Racer – Complete Takedown 4×4 Burning Route
Carson 500 GT – A License
Carson Racing 500 GT – Compelete 500 GT Burning Route
Hunter Racing Oval Champ – A License
Hunter BRT Oval Champ – Complete Oval Champ 07 Burning Route
Carson GT Concept – Burnout License
Carson GT Flame – Compelete GT Concept Burning Route
Hunter Citizen – Burnout License
Hunter Civilian – Complete Citizen Burning Route
Watson 25 V16 Revenge – Burnout License
Watson Revenge Racer – Complete 25 V16 Revenge Burning Route
Montgomery Hawker – Burnout License
Montgomery Hawker Solo – Complete Hawker Burning Route
Krieger Überschall 8 – Burnout License
Krieger Überschall Clear View – Complete Überschall 8 Burning Route
Carson Thunder Custom – Burnout License
Carson Thunder Shadow – Compelete Thunder Custom Burning Route
Carson Hot Rod Coupe – Burnout License
Carson Tribal Special – Complete Hot Rod Coupe Burning Route
Krieger Racing WTR – Burnout License
Krieger PCPD Special – Compelete the WTR Burning Route
Montgomery Carbon Hawker – Special Unlocks
Nakamura Carbon Ikusa GT – Special Unlocks
Carson Carbon GT Concept – Special Unlocks
Jansen Carbon X12 – Special Unlocks
Hunter Olympus – Online Cars
Kitanos Carbon Hydros Custom – Special Unlocks
Nakamura Rai-Jin Turbo – Online Cars
Nakamura FV1100 – Bike Learner License
Nakamura Firehawk V4 – Bike Learner License
Nakamura FV1100-T1 – Bike Learner License
Nakamura Firehawk GP Competition – Rider License
Krieger Carbon Überschall 8 – Freeburn Challenges
Jansen P12 88 Special – Legendary Cars – starts unlocked
Hunter Manhattan Spirit – Legendary Cars – starts unlocked
Carson GT Nighthawk – Legendary Cars – starts unlocked
Hunter Cavalry Bootlegger – Legendary Cars – starts unlocked
Toy Hunter Cavalry – Toy Cars – starts unlocked
Toy Hunter Manhattan – Toy Cars – starts unlocked
Toy Krieger WTR – Toy Cars – starts unlocked
Toy Jansen P12 – Toy Cars – starts unlocked
Toy Hunter Takedown 4×4 – Toy Cars – starts unlocked
Toy Carson GT Concept – Toy Cars – starts unlocked
Toy Hunter Citizen – Toy Cars – starts unlocked
Toy Carson Inferno Van – Toy Cars – starts unlocked
Toy Nakamura Firehawk GP – Toy Cars – starts unlocked
Carson Extreme Hotrod – Boost Specials – starts unlocked
Montgomery Hawker Mech – Boost Specials – starts unlocked
Jansen P12 Diamond – Complete all 500 Freeburn challenges
Carson Dust Storm – Big Surf Island
Carson Dust Storm Super Turbo – Complete Dust Storm Burning Routes
Hunter Olympus Governor – Big Surf Island License – 50%
Toy Hunter Cavalry Bootlegger – Big Surf Island – complete all 15 Mega Jumps
Toy Jansen P12 88 Special – Big Surf Island – complete 45 billboards
Toy Carson GT Nighthawk – Big Surf Island – complete all Showtime and Timed Road Rules
Toy Hunter Manhattan Spirit – Big Surf Island – complete all 75 Smash Gates
Carson Annihilator Street Rod – Big Surf Island Elite License – 100%
Hunter PCPD Cavalry – Cop Cars – starts unlocked
Hunter PCPD Mesquite – Cop Cars – starts unlocked
Nakamura PCPD SI-7 – Cop Cars – starts unlocked
Hunter PCPD Vegas – Cop Cars – starts unlocked
Krieger PCPD Pioneer – Cop Cars – starts unlocked
Nakmura PCPD Ikusa GT – Cop Cars – starts unlocked
Kitano PSCP Hydros Custom – Cop Cars – starts unlocked
Hunter PCPD Reliable Custom – Cop Cars – starts unlocked
Watson PCPD R-Turbo Roadster – Cop Cars – starts unlocked
Rossolini PCPD LM Classic – Cop Cars – starts unlocked
Hunter PCPD Manhattan – Cop Cars – starts unlocked
Carson PCPD Fastback – Cop Cars – starts unlocked
Carson PCPD Grand Marais – Cop Cars – starts unlocked
Montgomery PCPD Hyperion – Cop Cars – starts unlocked
Krieger PCPD 616 Sport – Cop Cars – starts unlocked
Hunter PCPD Spur – Cop Cars – starts unlocked
Montgomery PCPD GT 2400 – Cop Cars – starts unlocked
Jansen PCPD P12 – Cop Cars – starts unlocked
Carson PCPD Inferno Van – Cop Cars – starts unlocked
Rossolini PCPD Tempesta – Cop Cars – starts unlocked
Carson PCPD Opus – Cop Cars – starts unlocked
Carson PCPD Annihilator – Cop Cars – starts unlocked
Jansen PCPD X12 – Cop Cars – starts unlocked
Kitano PCPD Touge Sport – Cop Cars – starts unlocked
Hunter PCPD Takedown 4×4 – Cop Cars – starts unlocked
Carson PCPD 500 GT – Cop Cars – starts unlocked
Hunter PCPD Racing Oval Champ – Cop Cars – starts unlocked
Carson PCPD GT Concept – Cop Cars – starts unlocked
Watson PCPD 25 V16 Revenge – Cop Cars – starts unlocked
Montgomery PCPD Hawker – Cop Cars – starts unlocked
Krieger PCPD Uberschall 8 – Cop Cars – starts unlocked
Carson PCPD Thunder Custom – Cop Cars – starts unlocked
Carson PCPD Hot Rod Coupe – Cop Cars – starts unlocked
[amazon_link asins='B079VD4L33,B079VRR11Q,B001PGW3HG,B000I5TL4I,B001ULCHY0,B0041ZJNSU,B000MUW98O,B00CZ52Q8W,B00BYMSEDS' template='ProductCarousel' store='onlineracedriver-21′ marketplace='UK' link_id='a91f8fed-18c2-11e8-9a22-079fa258a5d7′]