Last updated on January 27th, 2020 at 12:41 pm
As the stripped-down, free-to-play Forza extension for Windows 10 PCs, there was less choice in the game. So find out which cars were actually available with our Forza Motorsport 6: Apex car list.
The game was developed by Turn 10 and became available for Windows 10 PCs for free in 2016. Unfortunately it's now been delisted from the Microsoft Store (Both the standard and Premium Edition) unless you have a redeemable code.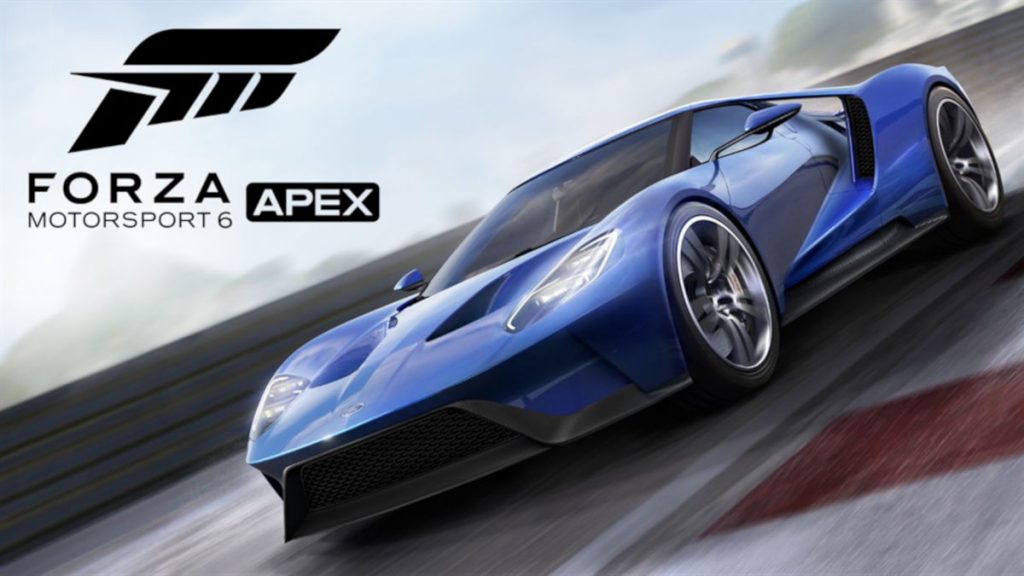 The tracks included were Brands Hatch, Spa, Rio de Janeiro, Sebring, Top Gear Test Track and Yas Marina. The Premium Edition added 2 car packs, along with the Nurburgring Nordschliefe and the GP circuit, plus the 24 hour layout.
Forza Motorsport 6: Apex Car List
Abarth Punto SuperSport
Ariel Atom 500 V8
Aston Martin DBR9
Aston Martin One-77
Aston Martin V12 Vantage S
Audi 2 Audi Sport Team Joest R15++ TDI
Audi 2 Audi Team Joest R18 e-tron quattro
Audi 45 Flying Lizard Motorsports R8 LMS Ultra
Auti 67 Rotek Racing S3 Saloon
Audi R8 Coupe V10 plus 5.2 FSI quattro
Audi TTS Coupe
BAC Mono (Power to Weight Car Pack)
Bentley Continental GT3
BMW 5 eBay Motors 125i M Sport
BMW M235i
BMW Z4 GTE
Bugatti Veyron Super Sport
Caterham Superlight R500 (Power to Weight Car Pack)
Chevrolet 3 Corvette Racing Corvette C7.R
Chevrolet Camaro Super Sport Coupe
Chevrolet Camaro Z/28 (2015)
Chevrolet Camaro Z28 (1970)
Chevrolet Corvette Z06 (2015)
Dodge Challenger Hellcat (Power to Weight Car Pack)
Dodge #91 SRT Motorsport Viper GTS-R (Hyper Endurance Car Pack)
Dodge SRT Viper GTS (Power to Weight Car Pack)
Ferrari 458 Italia GTE
Ferrari 458 Speciale
Ferrari 599 GTO
Ferrari California T
Ferrari F 12 Berlinetta
Ferrari LaFarreri
Ford #66 Ford Racing GT Le Mans (Hyper Endurance Car Pack)
Ford F-150 Raptor (2017)
Ford Focus ST (2013)
Ford GT (2017)
Ford Mustang Boss 302
Ford Mustang GT Coupe
Henessey Venom GT (Hyper Endurance Car Pack)
Honda Civic WTCC
Hyundai Genesis Coupe 3.8 Track
Jaguar XKR-S GT
Koenigsegg Agera
Koenigsegg One:1 (Hyper Endurance Car Pack)
KTM X-Bow R (Power to Weight Car Pack)
Lamborghini Aventador LP700-4
Lamborghini Huracan LP 610-4
Lamborghini Veneno (Hyper Endurance Car Pack)
Lexus LFA
Mazda 70 SpeedSource Lola B12/80 (Hyper Endurance Car Pack)
McLaren 12C GT3
McLaren 650S Coupe
McLaren P1
Mercedes-AMG GT S
Mercedes-Benz SLS AMG GT3
Mercury Cougar Eliminator
MINI John Cooper Works GP
Mitsubishi Lancer Evolution X GSR
Nissan 23 GT-R LM NISMO
Nissan 370Z
Nissan GT-R Black Edition
Nissan NISMO MOTUL AUTECH GT-R (Hyper Endurance Car Pack)
Pagani Huayra
Pagani Zonda Cinque Roaster
Peugeot 908
Pontiac Firebird Trans Am (1969)
Pontiac Firebird Tans Am SD-455
Subaru WRX STI (2015)
Volkswagen Golf R (2014)
Volvo S60 STCC
Want to invest in a new Forza Motorsport game? Check out the latest news on Forza Motorsport 7, and Forza Motorsport 8 (due out in 2020). To find specific cars and tracks, check out our car lists and trackipedia.
And for a free PC racing sim, you can download RaceRoom with a selection of cars, tracks and online multiplayer.