Last updated on April 9th, 2020 at 12:15 am
Have you tried the free-to-play mobile and PC racing game that became part of the Forza family after originally launching as Miami Street in 2018? The main focus is on building up your vehicle collection, so here's the full official Forza Street car list to help.
The game was developed by Electric Square using Unreal Engine 4 to let you compete in quick street races using just 2 buttons to control your car, and then invest in tuning and upgrading using the rewards you earn in credits and tuning kits.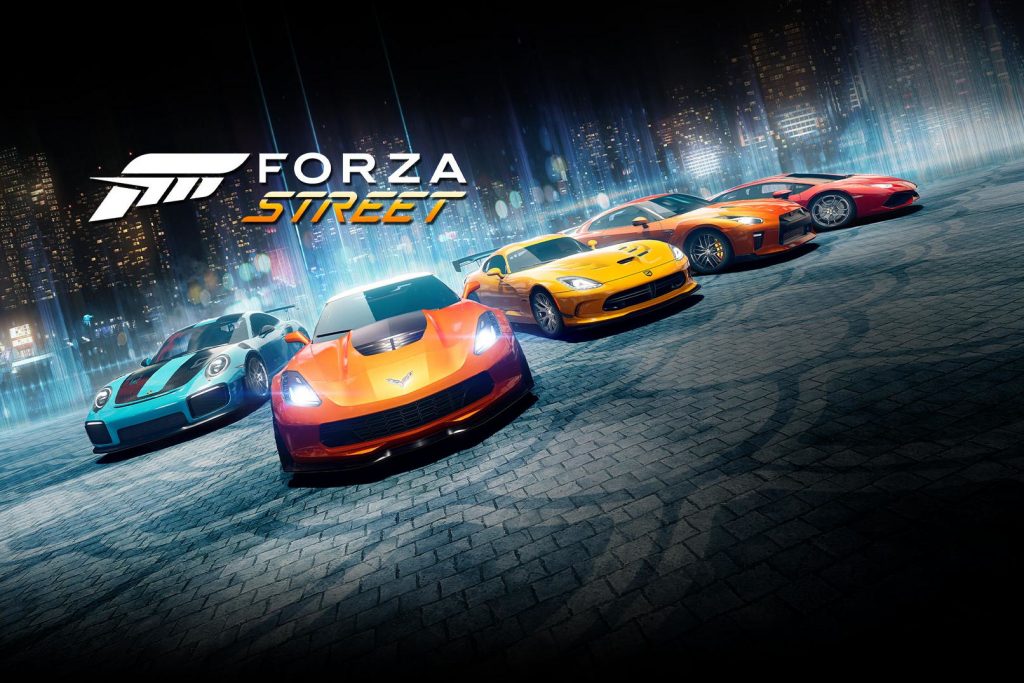 And while it's simplistic, you might well pick it up to collect the achievements or just to have every Forza title available. So here's the full official Forza Street car list to help you acquire the perfect garage to complete the game.
The full official Forza Street car list
A total of 66 cars are included in the game, and you can acquuire them by earning reward cards. These allow you to spin a selection of cars for a random 'loot box' style reward. Some cars are only available using cards earned in specific Spotlight event.
Each car comes with a default upgrade level (common, rare or epic), and a star level which can be increased when you get a duplicate reward. These limit the highest performance index tuning level your car can reach, and vary for each model depending on whether you win a 1,2,3 or 4 star version.
Each car is allocated to one of four specific categories (Street, Super, Sports or Muscle), and an era (Classic, Retro, Modern), which are used to restrict the cars which can enter specific races. You can also get category specific tuning kits with a bigger effect on the right type of car, and you'll need category specific upgrade parts as your cars reach higher levels of tuning.
The cars in the game are:
1973 BMW 2002 Turbo (Classic Street)
1981 BMW M1 (Retro Super)
1991 BMW M3 (Retro Street)
1995 BMW 850CSi (Retro Sports)
2000 BMW 323ti Sport (Modern Street)
2008 BMW M3 (Modern Street)
2011 BMW 1 Series M Coupe (Modern Street)
2011 BMW Z4 sDrive35is (Modern Sports)
2016 BMW M4 GTS (Modern Sports)
1967 Chevrolet Corvette Stingray 427 (Classic Sports)
1969 Chevrolet Camaro Super Sport coupe (Classic Muscle)
1970 Chevrolet Chevelle Super Sport 454 (Classic Muscle)
1970 Chevrolet Corvette ZR-1 (Classic Sports)
2002 Chevrolet Camaro 35th Anniversary Super Sport (Modern Muscle)
2012 Chevrolet Camaro ZL1 (Modern Muscle)
2011 Cadillac CTS-V Coupe (Modern Muscle)
2015 Chevrolet Corvette Z06 (Modern Sports)
1970 Dodge Challenge R/T (Classic Muscle)
2015 Dodge Challenger SRT Hellcat (Modern Muscle)
2015 Dodge Charger SRT Hellcat (Modern Muscle)
2016 Dodge Viper ACR (Modern Sports)
1969 Ford Mustang Boss 302 (Classic Muscle)
1973 Ford Escort RS1600 (Classic Street)
1973 Ford Capri RS3100 (Classic Street)
1977 Ford Escort RS1800 (Retro Street)
1985 Ford RS200 Evolution (Retro Sports)
1993 Ford SVT Cobra R (Retro Muscle)
2000 Ford SVT Cobra R (Modern Muscle)
2015 Ford Mustang GT (Modern Muscle)
2017 Ford Focus RS (Modern Street)
1967 Lamborghini Miura P400 (Classic Super)
1988 Lamborghini Countach LP5000 QV (Retro Super)
1997 Lamborghini Diablo SV (Retro Super)
2014 Lamborghini Huracan LP 610-4 (Modern Super)
2016 Lamborghini Aventador LP 750-4 SV (Modern Super)
2016 Lamborghini Centenario LP 770-4 (Modern Super)
1993 McLaren F1 (Retro Super)
2015 McLaren 570S Coupe (Modern Sports)
2015 McLaren P1 GTR (Modern Super)
2018 McLaren 720S Coupe (Modern Sports)
2018 McLaren Senna (Modern Super)
1954 Mercedes-Benz 300 SL Coupe (Classic Sports)
1990 Mercedes-Benz 190E 2.5-16 Evolution II (Retro Street)
2004 Mercedes-Benz C32 AMG (Retro Street)
2012 Mercedes-Benz SLK 55 AMG (Modern Sports)
2013 Mercedes-Benz E63 AMG (Modern Street)
1969 Nissan Fairlady Z 432 (Classic Sports)
1971 Nissan Skyline 2000GT-R (Classic Street)
1998 Nissan Silvia K's Aero (Retro Street)
2002 Nissan Skyline GT-R V-Spec II (Modern Street)
2003 Nissan Fairlady Z (Modern Sports)
2010 Nissan 370 Z (Modern Sports)
2017 Nissan GT-R (Modern Super)
1971 Plymouth Cuda 426 Hemi (Classic Muscle)
1969 Pontiac GTO "The Judge" (Classic Muscle)
1964 Porsche 904 Carrera GTS (Classic Super)
1970 Porsche 914/6 (Classic Sports)
1973 Porsche 911 Carrera RS (Classic Super)
1989 Porsche 944 Turbo (Retro Sports)
1995 Porsche 911 GT2 (Modern Super)
2003 Porsche Carrera GT (Modern Super)
2012 Porsche 911 GT2 RS (Modern Super)
2014 Porsche 916 Sypder (Modern Super)
2015 Porsche Cayman GTS (Modern Sports)
2018 Porsche 911 GT2 RS (Modern Super)
You can download Forza Street for the PC via the Microsoft Store, for Android via the Google Play store, or via the App Store for iOS.