More sim racing changes to get used to as RaceRoom start February with a new update containing bug fixes, physics updates, and some livery adjustments.
Key things to note include the physics updates to the Aquila and Audi RS TT VLN, the Porsche 911 GT3 Cup now has Traction Control and more car set-up to meet Endurance specs in suitable classes, and due to a change in brand guidelines from Red Bull, some liveries will be removed with a refund coming to anyone who has purchased them. The issue is when the livery is used on a car which isn't a replica of something in real life.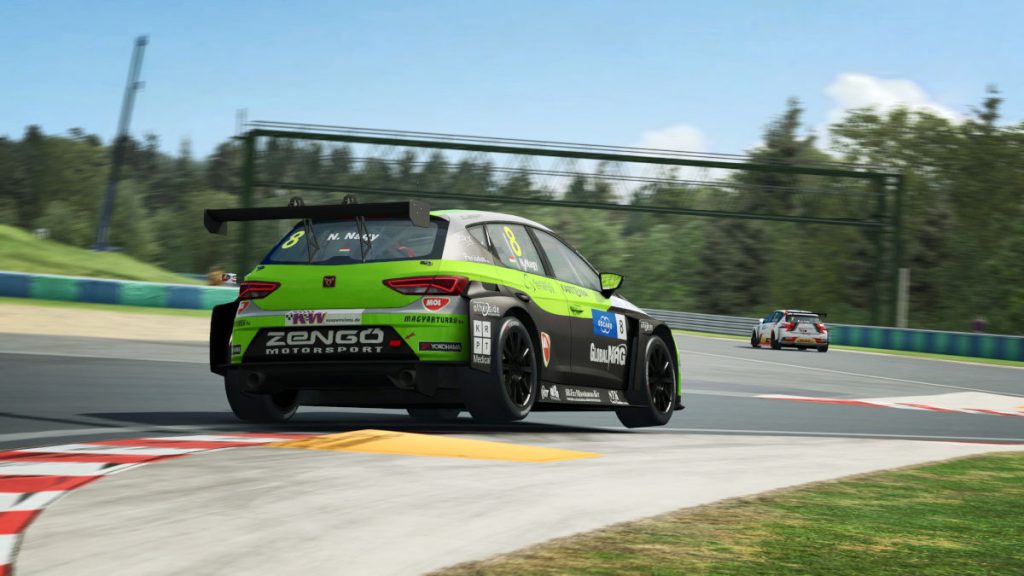 So here's the full list:
RaceRoom Racing Experience Update Notes
Dedicated server now offers the possibility to set an incident point limit. Any player going above that defined amount will get instantly disqualified.
Dedicated server manager page now shows the points accumulated by each player in real time, rather than the amount of incident events involving that player.
Reputation – Improved detection of Non Starter participants on long tracks such as the Nordschleife.
Reputation – Car to car collisions are now worth 4 points. Losing Control of the vehicle is now worth 2 points.
Flat Spots – Reduced further tyre wear on flat spots, which makes them vanish quicker with tyre wear.
Flat Spots – Fixed some bad performance when locking a tyre on a flat spot while in gravel or grass.
Suspension damage – Fixed some cases where a car with suspension damage could sometimes be seen shot into the air.
Car Setup – Fixed Setup rules are now properly affecting the car setup menu.
Car Setup – Changed so 4WD cars differential changes affect the rear differential instead of the front.
Fixed shift sounds playing twice in replays.
Fixed an issue where HUD elements would show in replays if the client was started with -broadcastUrl=http://**
Fixed some sorting / timing issues in client's position bar
Fixed a case where entering the pitlane could sometimes result in the lap being invalidated
Fixed rolling start qualifying where the car, under AI control, would try and dodge other players around the spawn location, even though they're invisible.
Fixed wrong values fed to Spectator overlays for live gaps between cars.
Fixed smoke not rendering from Aerial TV cameras.
Fixed an old Helpdesk URL that the client was attempting to load after throwing an error. It's now changed to point to the Sector3 Studios forums.
RaceRoom Content updates:
Bosh DDU4 – (data display seen in cars such as the Tatuus F4) – Fixed the Oil and Water temperatures that were swapped.
Aquila – Physics updates
Audi RS TT VLN – Physics updates
All Manual Gearbox cars – Reduced dogbox RPM to encourage more lifting when changing gears.
BMW M1 – Updated cockpit art
DTM (all years) – Reduced default FFB multipliers
Formula RaceRoom 90 – Tweaks to AI behaviour
Group 4 and Procar classes – Increased tyre heating and reduced default tyre pressures accordingly
GTR3 Car Class – Tweaks to AI behaviour
GTR3 Class BOP – Improved BOP of the older generation of GT3's. Porsche 911 GT3 R (2019) +20 Kg ; Mercedes AMG GT3 +15 Kg
GTR4 Class BOP – Adjustments
Hyundai I30 TCR – Reduced rear ride height and its adjustment range
Lotus Evora GT4 – Tweaks to pit limiter timings as well as engine orientation
Nissan GTR R32 – New sounds, updates to cockpit art.
Porsche Cayman (all types) – Adjustments to car physics
Porsche 911 GT3 Cup – The current model has now been modified to Endurance specs. The car now has Traction Control as well as more car setup adjustments allowed. The Cup specs will now be only available in upcoming Porsche Carrera Cup classes.
RUF CTR3 + RT12R GT2 and GT3 – Fixed a bad collision box
Silhouette Class – Physics updates
WTCC 2015/2016 – Fixed Chevrolet Cruze not having adjustable Tyre Pressure
Mount Panorama (Bathurst) – Tweaks to pitlane ambient sounds
Ningbo – Flipped the starting grid so the pole position starts on the right side, on the trajectory.
Nuerburgring GP Fast Chicane – Fixed rolling starts that could sometimes be bad for AI.
Portimao (all layouts) – Moved the spawn location used in Time Attack and rolling start qualifying.
Silverstone – Fixed AI running wide in turn 1 after a rolling start on GP and International layouts.
Zhuhai – Improved performance
Zolder – AI control in pitlane should no longer result in hitting a guardrail
Red Bull Announcement:
In this update, we had to heavily modify the looks of some fantasy liveries that had Red Bull sponsoring since their original release. The Red Bull brand guidelines now enforce the brand to only be used as replica's of existing cars and liveries, never on fantasy cars. As some of the liveries were sold, we will be looking into refunding the 29 vRP's to your in-game wallets in the coming days.

The liveries affected are:
– Formula Raceroom 2 #1
– Formula Raceroom 2 #2
– Formula Raceroom 3 #2
– Formula RaceRoom Junior #18
– Pagani Zonda R #73
– Porsche 911 GT3 Cup #11
– RaceRoom Canhard R51 #15
And that's the complete update from RaceRoom, which you can download for the PC from Steam. As a free-to-play game, check out which cars and tracks you can use without paying, and what can be purchased when you want or need it with our Raceroom car list and track list.
It's a bit of a pity regarding the Red Bull livery changes, but RaceRoom developers Sector3 Studios are handling as well as they can with refunds, and it's obviously better to keep official manufacturers, brands and racing teams on side as much as possible to hopefully keep collaborating on future content.
Some of the fixes and improvements are also useful, making incident points better and more important, giving you more car adjustments and generally tweaking much of the game for a better racing experience.