Last updated on May 5th, 2021 at 01:12 am
Project CARS 3 was released on August 27th, 2020 for the PC, PS4 and Xbox One. And it packs in more than 120+ global circuits and layouts for you to race on. So find out exactly what's included, with our complete Project CARS 3 track list.
As with previous games, there is a mixture of real and fictional circuits. Many locations have reappeared from earlier games, but there are some big names not yet available, including Spa, COTA and Le Mans. Meanwhile the Circuit de Monaco is named, replacing the "Azure Circuit" from previous Project CARS titles.
Last update: May 4th, 2021 with the release of Zandvoort alongside the Electric Pack DLC.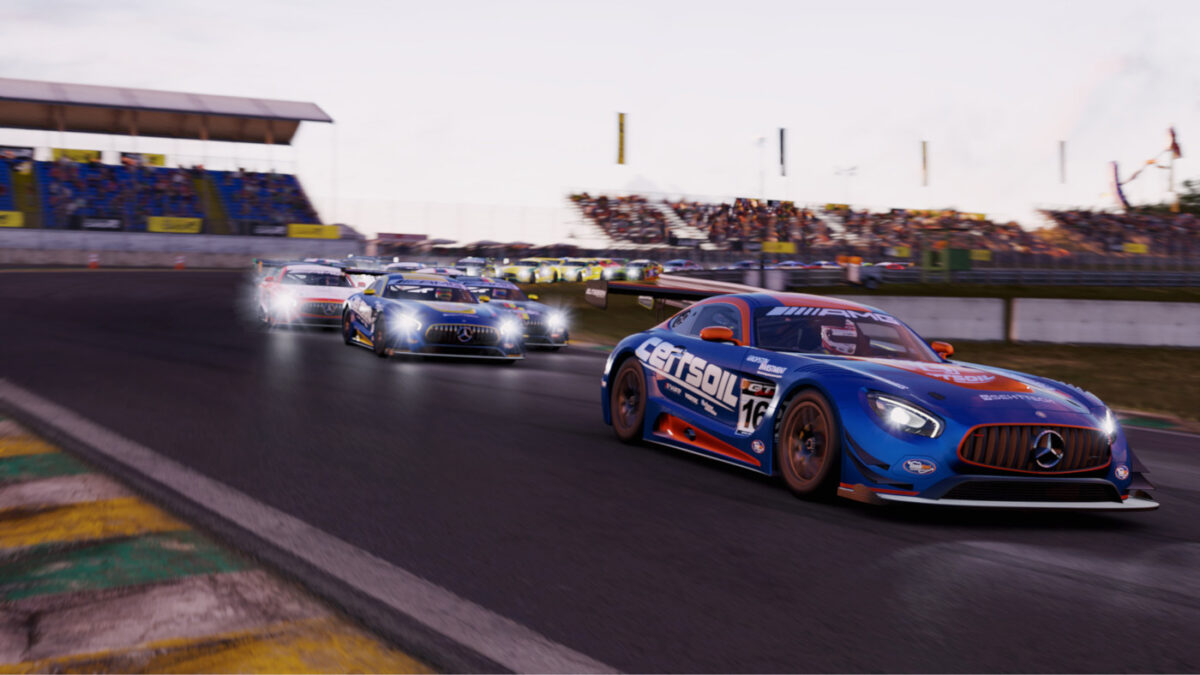 The Project CARS 3 track list
Autodromo Internacional do Algarve
Autodromo Internazionale del Mugello – 2 Layouts
Autodromo Internazionale Enzo e Dino Ferrari (Imola)
Autodromo Jose Carlos Pace (Interlagos)
Autodromo Nazionale di Monza – 5 Layouts
Azure Coast – 5 Layouts (Fictional)
Bahrain International Circuit (4 layouts)
Bannochbrae (Fictional)
Brands Hatch – 2 Layouts
Brno Circuit
Cadwell Park – 3 Layouts
California Highway – 5 Layouts (Fictional)
Circuit de Barcelona-Catalunya – 3 Layouts
Circuit de Monaco
Circuit Zolder
Circuito de Jerez
Circuito di Fiorano
Daytona International Speedway – 2 Layouts
Donington Park – 2 Layouts
Dubai Autodrome – 4 Layouts
Fuji International Speedway
Havana – 3 Layouts (Fictional)
Hockenheimring – 4 Layouts
Indianapolis Motor Speedway – 2 Layouts
Knockhill Racing Circuit – 5 Layouts
Lake Valley Speedway (Fictional) – 4 layouts
Long Beach
Lydden Hill Race Circuit
Mojave – 5 Layouts (Fictional)
Monument Canyon – 3 Layouts (Fictional)
Motorsport Arena Oschersleben – 3 Layouts
Mount Panorama (Bathurst)
Nurburgring – 9 Layouts
Oulton Park – 3 Layouts
Porsche Leipzig – 3 Layouts
Road America
Rouen-Les-Essarts – 2 Layouts
Ruapuna Raceway – 5 Layouts
Sakitto – 4 Layouts (Fictional)
Shanghai Street – 2 Layouts (Fictional)
Silverstone Circuit – 5 Layouts
Snetterton Circuit – 3 Layouts
Sonoma Raceway – 3 Layouts
Sportsland Sugo
Texas Motor Speedway – 3 Layouts
Tuscany – 2 Layouts (Fictional)
Watkins Glen International
WeatherTech Raceway Laguna Seca
Wildcrest (Fictional)
Willow Springs International Raceway – 2 Layouts
Yas Marina
Zandvoort – 3 layouts
Zhuhai International Circuit
If our Project CARS 3 car list has left you wanting more, then check out all the latest Project CARS 3 news, updates and esports, here. Along with the full Project CARS 3 car list.
You can buy Project CARS 3 as a Standard or Deluxe Edition (which comes with 3 day early access and Season Pass). it's available as a digital download for the PC via Steam, the Xbox One via the Microsoft Store, and the PS4 via the PlayStation Store. The standard edition will set you back £49.99, while the Deluxe version is £74.99 across all platforms.
For a physical copy of Project CARS 3, you can find the Xbox and PS4 standard editions at Game, and Amazon.