Plenty of fixes and improvements are included in Spintires update v1.6.2, which is now available via Steam. Which means you can now enjoy the off-road challenge of the game with less technical issues, and more focus on not getting stuck on a rock.
It should also be a bit easier to get around as the 'mud balance' has been tweaked to give less drag, and be less punishing for road tyres. And the weather will be better, with a reduction in how often it rains.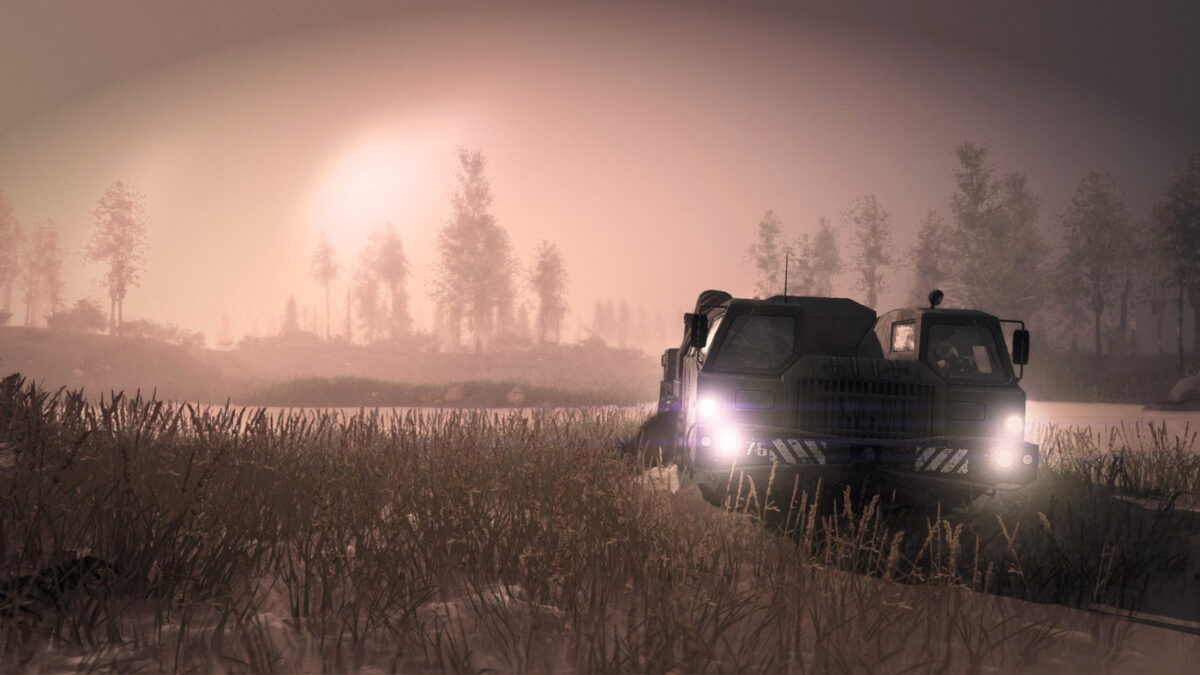 Spintires Update v1.6.2 Changelog:
Added / New
– Customizable brake strength (<Truck>/<Wheels>/<Wheel>/BrakeTorque in N.m).
This defaults to 3x engine torque/number of wheels.
Improvements
– Mud balance tweaks. It's easier now.
– Russian translation (Thanks Oldman777).
– Torque repartition is now less punitive when the differential is unlocked.
– multiplayer ghost truck visuals.
– Camera manageability on capsized vehicles.
– UI text is now ellipsized if too big.
– Rain happens less often.
– C509 collision boxes optimization.
– On skid steering vehicles (ie: Sherp N) steering brake strength is now dynamically adjusted to match a target steering speed, instead of player input directly controlling brake pressure.
– Tweaks to the Night DayTimeState.
– Gamepad and Steering wheel accelerator and brake responses.
Mud balance tweaks
– Less punishing road tires.
– Less grip for offroad tires.
– Overall less drag.
Fixes
– Logs not spawning at log kiosks or when capsizing.
– Several causes of wheels vibrating or moving by themselves when touching mud.
– Curbed down the advantage of very heavy wheels in mud.
– Garage and fuel station menus were briefly displayed at the wrong position.
– Bug causing jagged movement of remote vehicles and trailers in multiplayer.
– Vehicles spawning inside each other and stuck there in multiplayer.
– K700 and Ark Sherp can now autosteer toward the vehicle that tows them.
– Some crash when removing winch.
– Vehicles flipping forward too easily when braking sharply at medium and high speeds.
– Tire inflation keybinds not always appearing in controls menu.
– Damaged engine spark effect playing too often, increasing with framerate.
– Handbrake could prevent wheels from steering.
– Suspension creaking way too often on the e167.
– In side camera mode, pressing 1 or 2 could switch presets in the wrong order on the first move.
– Distorted rims when deflating c255, b66, or b131 tires.
– Ark Sherp driver's hands now stick to the steering columns when steering.
– B80 tire were not getting muddy.
– "Drop load" button not drop trailer loads.
– Crash when processing empty text.
– Random crash when applying settings from the main menu.
– Incorrect detection of mud height around a wheel.
– Sherp N's right side wheels had different settings as the left side ones.
– Auto gearbox sometimes failing to switch between forward and reverse gears.
– Side camera could get stuck when switching between the last and first preset positions.
– Wheel spin speed in mud was capped, preventing loss of torque when diff were unlocked.
– B66 spare wheel was flipped
– Reduced the brightness of the muddy water
Keep up with all the latest Spintires news, updates and DLC, here. Or out full official Spintires truck list, here. The game is available on Steam, along with two free DLC packs, and the paid DLC Aftermath, Chernobyl and Ural Challenge.