Like most sim racing titles, there's a wide range of virtual motorsport available in iRacing, across four road and dirt disciplines. But what's the best series on iRacing in my personal opinion?
I'm judging this as a fairly average sim racer, and from the perspective of taking part, rather than trying to judge which top professional championship has the best drivers or provides the best viewing. And having tried most of the options available (Outside of some of the endurance races, the Grand Prix series, and top level dirt ovals), I've found there's one championship which captures my time and attention more than any other.
And it's the SimLab Production Car Challenge.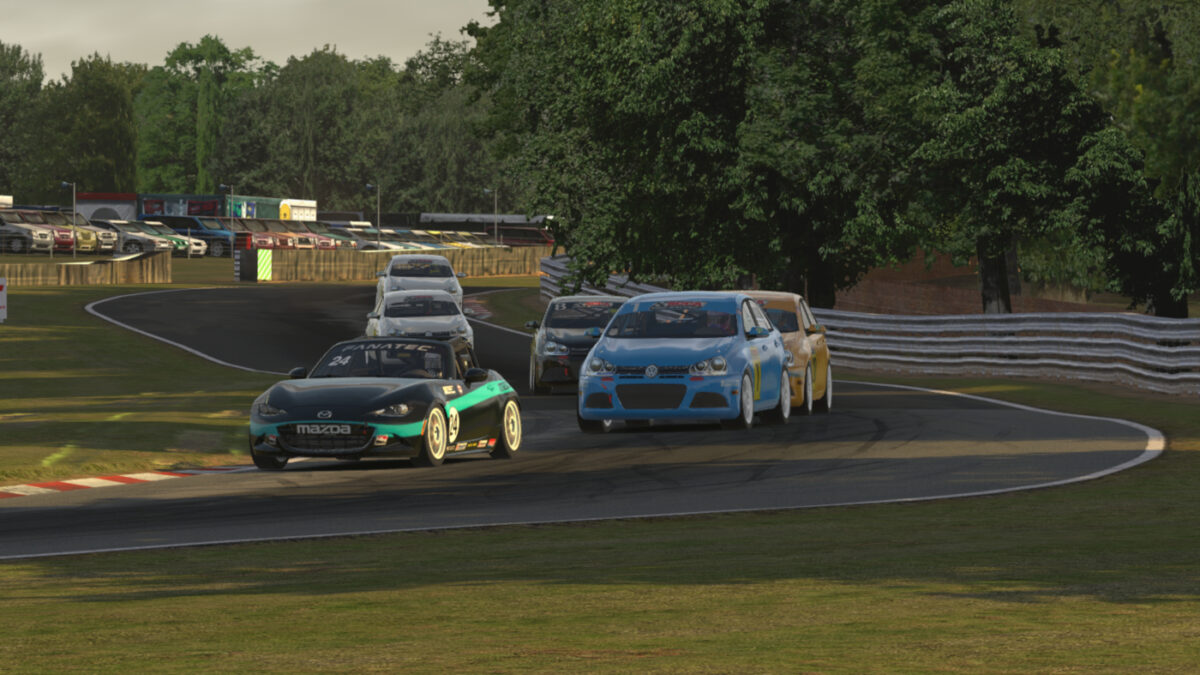 But I've tried to be as objective as possible in suggesting what might be the best series on iRacing, so here are some points to support my argument…
It's multiclass with different race lengths
There are lots of great single make series, and you can find some fantastic racing. But often it tends to only last for a couple of laps, and then you're just trying to maintain an increasingly lonely spot. Multiclass means even if you're 20 seconds ahead, you still have the challenge of faster and slower classes to contend with.
Plus you get the shorter 25 minute races, longer 40 minute challenges with a pitstop, and even one 60 minute race each season. That variety is great as it accomodates those who just want a straight race with no pitstop strategies, and those like me who enjoy trying to get a slight advantage through the pits.
PCC is slower, and therefore more fun
A lot of people will immediately rush to the fastest cars in any racing game or sim. And they're normally the idiots piling into you at turn 1.
A slower pace means the racing is more accessible, closer and gives you more time to avoid or recover from mistakes. It doesn't mean the top split isn't full of top drivers and tough competition, but it allows more average drivers the chance to focus on racing rather than trying to just keep on the track.
Each class is a single make and model
Speaking of faster cars, there are various multiclass series available, usually featuring a combination of LMP, GT3 and GTE cars, with the occasional option of the Audi RS 3 LMS.
Inevitably one GT3 or GTE car will have a slight advantage at one track and be worse at another, no matter how the balance of power is tweaked. So you end up with half the field all in the same car, and a few outliers persevering with their favourite, so it's not a level playing field. Whereas if a SimLab PCC VW Jetta driver beats me, I know it's down to skill.
It's mostly accessible for free
Three of the four cars racing are available in your basic iRacing subcription, with the Pontiac Solstice, Global Mazda MX-5 Cup, and VW Jetta TDI Cup. And most of the courses across 12 weeks are also in the free selection, with a couple of paid tracks making an appearance for variety.
That means you can race and win your division without spending any extra money, and only invest in paid tracks you actually want to race. Or if you fancy driving the Ford Mustang FR500S. And you only need a D Class road licence.
The cars are good to drive
Is there anyone in iRacing who isn't familiar with the Mazda MX-5? But the other cars are worth checking out – the VW Jetta TDI has quickly become one of my favourites on the sim with the forgiving front wheel drive and quiet torque of the diesel engine allowing me to focus on getting better lap times (and it's also helped me improve in the FWD Kia Optima and Audi RS3 LMS in other series). And while the other cars have more open set-ups, the Jetta is fixed to just the fuelling, allowing for an easy option to turn up and get driving without spending hours or money on set-up tweaks.
But it's also worth trying out the Pontiac Solstice as an alternative to the MX-5, and the Mustang is equally rewarding to drive. Both are forgiving to bad drivers to some extent, and rewarding to anyone who learns how to pedal them more quickly.
There's a good community around the series
The iRacing forums are a little hidden away on the old member site, but various championships have active communities supporting them. The SimLab PCC forum is probably one of the busiest, and actively supportive of new and established drivers alike.
After a few races, you'll start recognising forum regulars, and I've had some of my best races with names I've seen posting. And then been able to chat to them on the forum afterwards and compare our experiences. Most are happy to share tips and advice, which has definitely made a big improvement to my results.
It's evolving with the right changes
Another benefit of an active community is that the series organisers from the forum can get good feedback on their ideas and suggestions.
For 2021, the tyre model was changed for the VW Jetta, essentially demoting it from the second fastest class to the third fastest, and that's made for better racing and less problems co-existing with the Mazda MX-5 drivers. And that came from lengthy forum conversations – I'll admit I wasn't a fan of the idea, but seeing it in practice, I have to admit I was wrong…
But it also helps shape the race schedule, meaning that circuits which didn't really work (Road Atlanta Short, for example), gets voted out in favour of the full course, or the inclusion of Oulton Park, which is one of the best tracks in the game.
So that's my suggestion for the best series on iRacing, and it'd be great to see more drivers try it out. And particularly choosing cars other than the MX-5, as one of the current issues is lower splits being completely filled by Mazdas. One incentive is that picking the Solstice or Jetta will immediately get you into higher lobbies, which tend to offer cleaner racing and a little less chaos.
Hopefully I'll see you in the SimLab PCC sometime (or say hello in any other series I'm racing in – for season 1, that's mainly the Fanatec Global Challenge, the Skip Barber Race Series, and the Turn Racing Touring Car Challenge).
Leave a comment below if you're a fellow SimLab PCC fan, or feel free to disagree and share your own choice of the best iRacing series…
If you're not a member yet, you can sign up to iRacing here (and credit your referral to us).
And if you're not sure what's included in the iRacing subscription and what content costs extra, check out our full official iRacing car list, and iRacing track list. Along with all the latest iRacing news and updates, here.