It's been talked about for a while, and you can now try out the new Force Feedback system released in the sizeable June 2021 RaceRoom update. Sector3 Studios have been talking about the rebuild of FFB for a while, and the improvements to the feeling and response across all the cars in the racing sim.
It's completely physics-based, so you will now get all tyre forces, gyroscopic effects and contact patches taken into account, along with the steering geometry. So each car should feel noticeably different going forwards, and more lively and dynamic, with a new options system of sliders focused on the most crucial options.
All existing wheel profiles will be updated with the new force beedback system settings, so it should hopefully be a smooth transition. Your wheelbindings etc won't be changed, but you may need to tweak the FFB Strength setting, which runs across every car. This applies to the average forces, not the maximum, so it can still spike to 100% even if you've manually set it to 80%, and there's a FFB Meter available to see how it's working. If you need it tweaked for individual cars, you can use the specific FFB Multiplier + and – controls for each vehicle.
Sector3 Studios also recommend some settings which can also help improve the feel of the new model:
Allow damping effects on your wheel! We do not use any damping effect for the FFB besides the stationary friction, so it will not make any difference during normal driving
We recommend setting any interpolation or smoothing filters to 'Minimum' or 'Off'
We recommend turning any added damping or friction effects off, or keep them at minimal values if you prefer that
The new RaceRoom force feedback system means that you should get a more accurate, pure-physics based response to driving, without the artificial effects previously used. So, for example, the effects of kerbs will now vary depending on the shape and height of the individual object, not just trigger a pre-determined vibration. And you'll now feel a more accurate, and less drastic drop in steering weight when you turn at a sharper angle.
Obviously we'll all need to dive into the free-to-play sim racing title to see how the new physics-based force feedback system works across a range of cars (and fortunately you're able to test drive anything you don't already own, to see how different classes feel).
Plus the June 2021 RaceRoom update also brings a new replay interface, upgrades to the options menu, the addition of sparks and exhaust fumes along with improvements to smoke and dirt particle effects, and support for the new Thrustmaster SF1000 wheel, along with various car tweaks.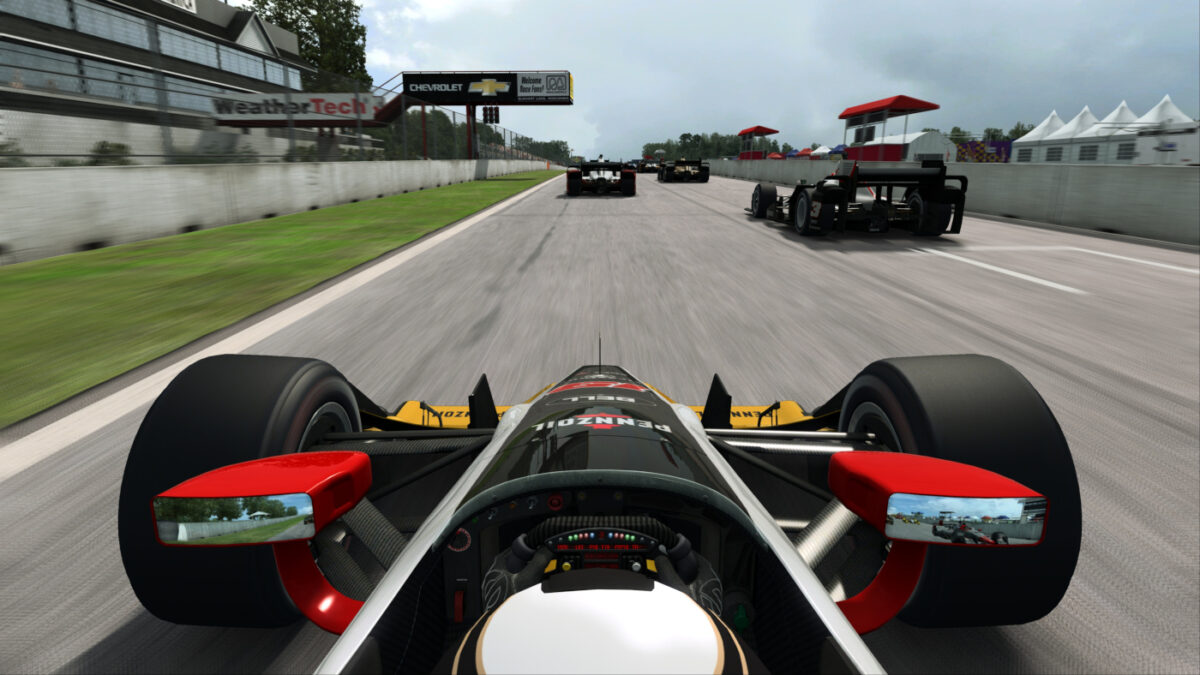 June 2021 RaceRoom Update Release Notes:
Update details:
Download size = 3.7 GB
Client version = 0.9.3.007
Client BuildID = 6916738
Dedi version = 76.0.1312
Dedi BuildID = 6916920
Changelog:
New Force Feedback system
Options menu interface has been redone, with FOV tools, Triple Screen setup, Search field.
Replays interface has been redone, with added keyframes feature and 100% unlimited free camera movements
Gameplay menus interface has been redone with Timing Screen comparison tools, Multiplayer chat box, new Race Monitor controls.
Test Drive feature in the store page now allows to select any of the free track layouts
Particles – Smoke and dirt puffs improvements
Particles – Sparks added on applicable cars. Sparks will be emitted with varying amounts depending on the type of material that hits the ground and the force of impact
Particles – Added exhaust fumes. Cars will emit varying types of fumes depending on engine type, exhaust types, engine temperature.
Sounds – Improved on how drivetrain oscillations at gearshifts are coming through for a selection of cars (Formula cars, DTM, Group C, GTE). All the cars will eventually receive this change in subsequent updates.
Sounds – Updated sound from riding on curbs
Controllers – Updated to latest Thrustmaster SDK, adding full support for their new SF1000 wheel.
Added support for 16:5 aspect ratio with 3840×1200 resolution
Content:
BMW M235i Racing – Physics review
Formula RaceRoom 2 – Physics review
Formula RaceRoom 3 – Physics review + New Sounds
Audi TT RS VLN – Improved sharpness of turn-in
BMW M3 E30 – New sounds
BMW Z4 GT3 – Resized wheels
Ford GT GT3 – Resized wheels
Formula RaceRoom 90 – Improved differential settings, less engine braking reduction
Formula RaceRoom Junior, 2, 3, 4 and 90 – Tweaked rear tyre slip curves to give more progressive grip drop off beyond the limit
Group 4 – Tweaked rear tyre slip curves to give more progressive grip drop off beyond the limit
Group 5 – Tweaked rear tyre slip curves to give more progressive grip drop off beyond the limit
Mercedes AMG GT3 EVO – Fixed a hole spotted in the dashboard
P1 and P2 car classes – Updated brake heating/cooling behaviour. Cures some inconsistant brake performance issues.
Pagani Zonda R – Switched to tyres GT3-spec
Porsche 911 GT3 R (2019) – Fixed a decal on the seat that would still be rendered while the seat itself was disabled in visual settings.
Brno – Fixed starting grid issues with maximum amount of AI opponents
Vålerbanen – Fixed a strict cut detection
You can download Raceroom Racing Experience on the PC for free via Steam. Some additional content is available via Steam, but everything can be purchased via the official game store.
Keep up with all the latest RaceRoom news, updates and eSports articles, here. And check everything available for free and via paid DLC with our RaceRoom car list, and RaceRoom track list.