Last updated on September 2nd, 2021 at 04:29 pm
When you ask someone to name a videogame featuring vehicular destruction, only two or three names tend to crop up. And a couple of them are now linked with the Wreckfest Carmageddon Tournament update released today.
Demolition derby racer Wreckfest launched in 2018 with a focus on destruction and car physics, while Carmageddon originally appeared 21 years earlier as the opportunity to win by killing pedestrians rather than crossing the finish line. And this obviously caused some controversy, and meant the MS-Dos version was traded on 3.5 inch discs in school playgrounds around the world.
In some countries, the first release of the game was censored by switching pedestrians to zombies with green blood, and it was successful enough to produce a number of sequels, with the most recent appearing in 2015. And in 2018, the rights were picked up by THQ Nordic, who also happen to publish Wreckfest.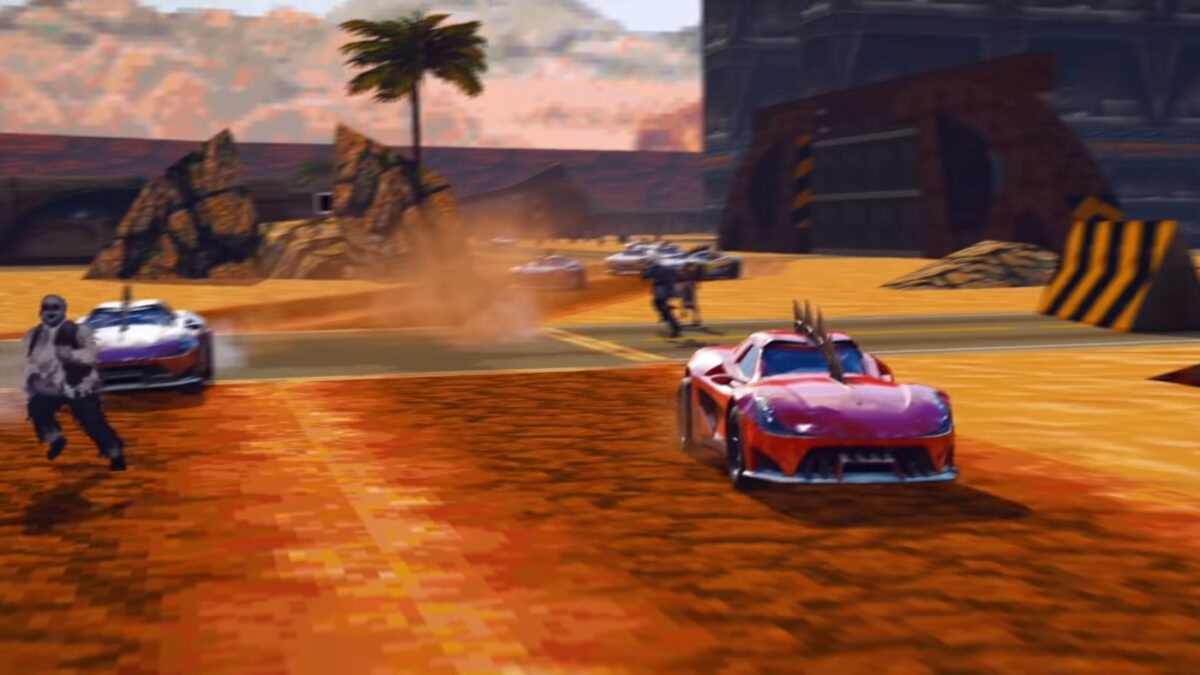 So the Wreckfest Carmageddon Tournament Update has arrived with the infamous Eagle-R car from the game as a reward car, along with the Bleak City and Devil's Canyon locations. And you get 1990's style pixelated zombies to run over which is a fun way to relax in the Carnage Accululator monthly event, or the weekly Death Race checkpoint challenges.
The Eagle-R is a tournement reward car, so you'll need to earn enough fame points to purchase it, but all players get access to the new tracks. Bleak City features a reverse layout and demolition derby area, so you'll be able to keep enjoying it even once the excitement of zombie murder wears off.
Wreckfest Carmageddon Tournament Update Release Notes
Game version
PC: 1.278680
PS5: 1.012.000
PS4: 2.12
XB1/XSX/XSS: 2.0.1.2
CONTENT
Added two new environments from Carmageddon: Bleak City and Devil's Canyon.
Both new environments feature a race track and a free roam environment best suitable for deathmatches, and additionally Bleak City also has a reverse race layout as well as a dedicated demolition arena.

Server admins note: the internal designation for the tracks are as follows:

Code: Bleak City Race Track: crm01_1 Bleak City Race Track Reverse: crm01_5 Bleak City Demolition Arena: crm01_3 Bleak City Free Roam: crm01_2 Devil's Canyon Race Track: crm02_1 Devil's Canyon Free Roam: crm02_2
TOURNAMENT
New tournament season: Carmageddon.
New tournament reward car: Eagle-R.
SYSTEM
(XBSX) Improved framerate for more stable 60 fps.
(PC) Improved reliability of save data handling.
(PC) Game no longer crashes to fatal error whenever save data is corrupted.
MULTIPLAYER
(PS4) Creating a public lobby now works properly.
(PC) Steam networking asserts are no longer displayed in the server console.
KNOWN ISSUES
(PC) Performance issues in multiplayer.
(PC) Dedicated server currently suffers from a severe memory leak, most likely causing the server to crash eventually.
(PC) Hosting in-game does not currently work (neither Internet or LAN), please use the dedicated server in the meantime.
(PC) In-game ping currently displays ~30 ms too much, meaning that your actual ping is ~30 ms less.
(PC) Server message is not being displayed.
Keep up with all the latest Wreckfest news, updates and content, right here. And you can see all the vehicles officially available in the game, from motorised toilets to trucks, with our Wreckfest Car List.
You can buy Wreckfest digitally on Steam for the PC, on the Microsoft Store for Xbox One and the PlayStation Store for PS4. Or via Game or Amazon.