The acquisition of Monster Games back in January already makes more sense, as iRacing announces a World of Outlaws console game due out in Autumn 2022.
The new game will be coming to Xbox and PlayStation as a first example of iRacing expanding beyond the core PC racing sim, and releasing work from the studios it has recently picked up (they also picked up DRAG developers Orontes Games at the start of the year).
It's an interesting move, considering there's a longstanding partnership between World of Outlaws and iRacing, with several popular cars and series based around dirt oval racing, and sanctioned professional sim racing championships. Apparently the new game has been developed by Monster Games, and iRacing have just been providing art assets and an improved physics model.
Most recently, Monster Games have released SRX: The Game and Tony Stewart's Sprint Car and All American Racing, after a long history of working on NASCAR Heat titles from 2000 until 2019.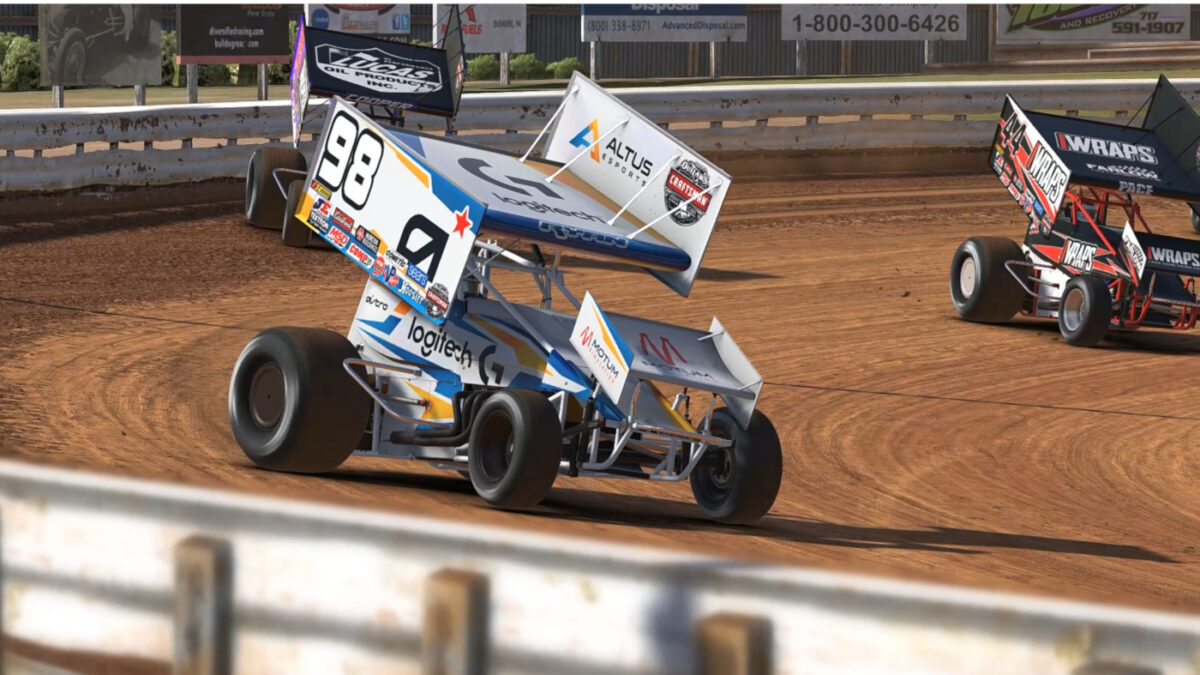 "We're excited to partner with the World of Outlaws to release Monster Games' first title under iRacing ownership," said Rich Garcia, Monster Games founder. "The addition of some iRacing assets and expertise in creating authentic vehicle models will allow us to continue pushing MGI products forward. With iRacing's resources, we were able to take extra time in development to add features and content that will provide a fun and realistic experience for everyone, from multiplayer online action to a career mode featuring real-world drivers and tracks. We're excited to give the robust dirt racing community and World of Outlaws' passionate fanbase a console gaming experience that they've long craved!"
"We've been exploring the right opportunity for iRacing to move into the console gaming market for quite some time and are excited to partner with World of Outlaws in order to take this first step later this year," said iRacing president Tony Gardner. "iRacing's acquisition of Monster Games enabled us to step in and help provide some improvements to this title while it was already in development, and we look forward to being able to contribute even more to MGI's future titles. We look to provide the dirt racing community with an engaging and fun console gaming experience."
"World of Outlaws is elated to make its return to the world of console gaming with the support of Monster Games and iRacing later this year," said World Racing Group Client Services Executive Director Tish Sheets. "We view the console space as a terrific platform to get in front of new and younger World of Outlaws fans and provide everyone with an opportunity to be a part of The Greatest Show on Dirt."
So, this means a new, and hopefully pretty good, dirt oval racing title for PlayStation and Xbox console owners. It also demonstrates that iRacing are looking to diversify for the future, although this is coming from acquired studios, rather than expanding the core PC team and then splitting their focus.
But even if non-core iRacing games and sims are being produced by separate studios, that doesn't rule out cross platform racing in the future, for example. Could we see a series that allows both PC sim racers and console game owners to compete against each other?
Further announcements are going to be made to reveal the cars, tracks and licensed content before the Autumn release. And you'll be able to keep up the World of Outlaws console game news, here.
You can sign up to iRacing, here (and credit your referral to ORD, which we'd appreciate!). And see all vehicles included in your basic subscription, or what you can access by paying more, in our full official iRacing car list, here.
Or check out all of the included circuits, and the others you can buy, in our full official iRacing track list, here. And keep up with all the latest iRacing news, updates and eSports, here.