One of the joys of sim racing and games is trying motorsports you might not be an expert on, and that's certainly true with the new NHRA: Speed For All game announced for release on August 26th, 2022. Drag racing is undeniably more popular in the U.S, with more than 40,000 drivers on the roster of the National Hot Rod Association govering body.
But living fairly close to Santa Pod, and knowing some car and motorcycle drag racers, it's likely to have some appeal outside America. NHRA: Speed for All will include five classes (Top Fuel, Funny Car, Pro Stock, Pro Mod and Super Modified), and real tracks including Bristol Dragway, The Strip at Las Vegas Motor Speedway, zMax Dragway in Charlotte, Lucas Oil Indianapolis Raceway Park, Auto Club Raceway at Pomona and more. Along with 38 NHRA drivers familiar to fans of the sport, with names like Brittany Force, Antron Brown, John Force, Steve Torrence, Erica Enders, Greg Anderson, and Ron Capps.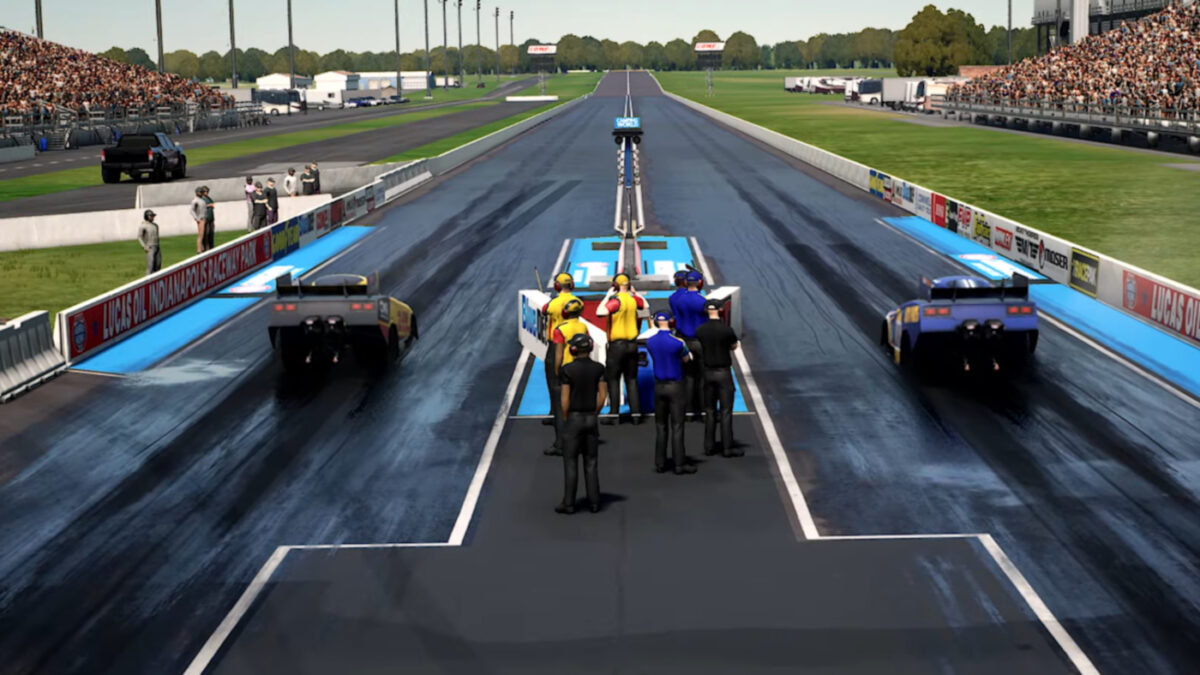 So it's an officially sanctioned drag racing game, with a single-player career mode including team management, tuning, research and development and customisation. And the first licesned title since NHRA Countdown to the Championship in 2007 or NHRA Championship Drag Racing back in 2005, so it's understandable fans are poring over the announcement trailer.
It's being published by GameMill Entertainment, whose previous racing titles include the 2016 Monster Hame: Crush It, and the much better received Cruis'n Blast and two Street Outlaws titles. The latter series follows the street racing TV series, and is developed by Team6 Game Studios, with Street Outlaws 2: Winner Takes All released in 2021.
Apparently multiplayer will be limited to local split-screen only available on the PlayStation and Xbox console versions (so not the Nintendo Switch and PC editions), and asynchronous online multiplayer leaderboards. Or leaderboards, then. So no online drag racing against anyone, unfortunately.
Various drag racing enthusiasts have commented on details including the cars, startline procedures and size of the canopies etc, so it'll be interesting to see whether NHRA: Speed for All delivers on the promise of physics-based gameplay with the "authentic speed, depth and feel of real championship drag racing".
NHRA: Speed for All will be released on August 26th, 2022 for the PC, Nintendo Switch, Xbox One and Series X|S, and the PlayStation 4 and 5, costing $49.99. A digital-only Deluxe Edition will be released with a bonus John Force Racing Pack for $59.99, and an Ultimate Edition for $79.99 also gets you the Battle Ready, Moonshot, Electro Blitz and Nitro Fire Packs.
In the meantime, you can keep up with any NHRA: Speed for All news, updates and DLC content, here.