Something big is arriving soon, quite literally, as truck racing is coming to RaceRoom. KW Studios have announced they'll soon be releasing the RR Truck, developed with the help of professional racer Sascha Lenz, and featuring all the unique aspects of racing these vehicles, including the driving style required.
The basic overview of the RR Truck is that you'll have 1100hp and 5000nm of torque at 1250 revs. That comes from a 12.4 litre six cylinder engine, mated to a 16-speed gearbox. And along with hustling a total weight of 5300kg, and dealing with the high centre of gravity, you'll also have to manage with water-cooled brakes through the races.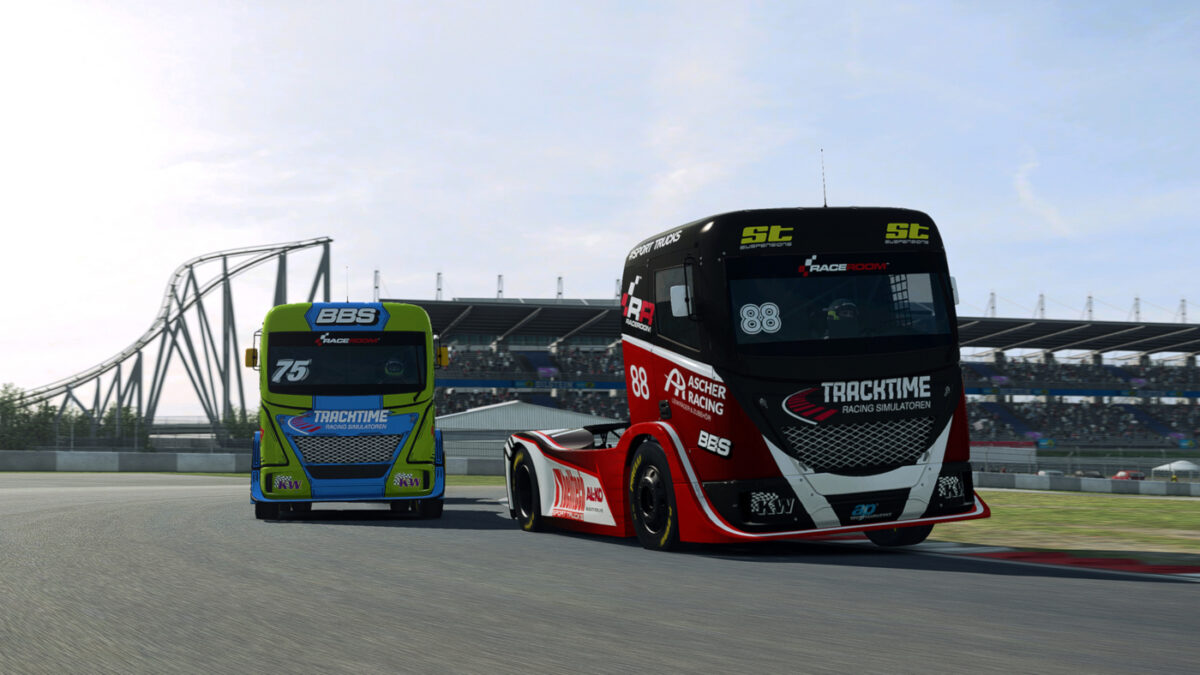 A racing truck features eight gears, split into Low Split ratios for better acceleration, or High Split for top speed, which are switched via a button. Gears 1-4 are Lo range, and 5-8 are Hi range, with drivers tending to only use a couple of the higher gears through the race, switching between splits during a lap with a specialy designed gearstick. Assuming you don't have one already on your sim rig, KW Studios have set three accessibility options for auto gear shirts, a sequential option, and a H pattern choice, with key bindings to toggle the Gear Range and the Gear Split.
In both real and sim racing, the top speed of the trucks is limited to 160kph for safety, but you'll still have plenty to think about, as the water cooled brakes are fed by a 200 litre tank. So you'll need to manage this carefully if you're operating it manually, although you can also let Raceroom automatically cool the discs once they go beyond their optimal 350 degrees Celsius operating temperature.
Finally, you'll also need to remember the high centre of gravity and weight, and adjust your technique accordingly. Beyond the stopping distances, it's easy to tip a truck onto two wheels riding higher kerbs or being a little too vigorous in your cornering.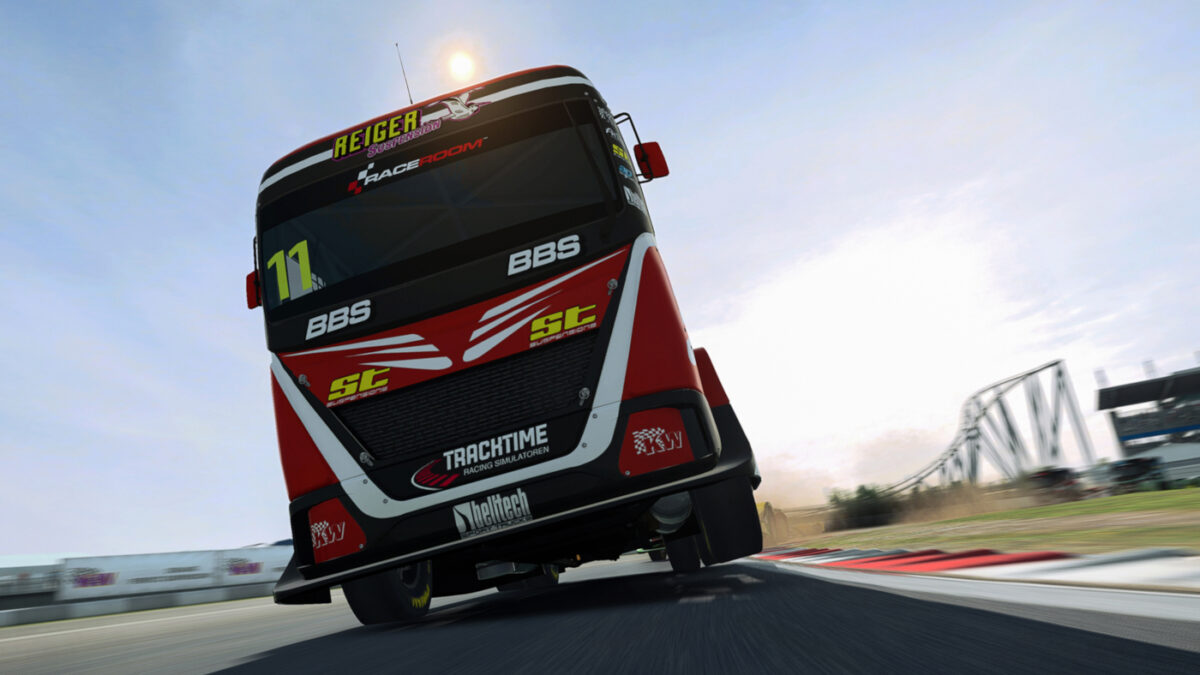 Adding the RR Truck to RaceRoom may be a little bit niche, but it's good to see the efforts to make a truly authentic truck racing experience. Nacon published FIA European Truck Racing Championship back in 2019, developed by N-Racing, and it was definitely a fun experience to drive something so different. But with no sequel announced, it appears the audience wasn't quite large enough to sustain a solo title. By having them as part of RaceRoom, hopefully it'll gain a big enough following to populate online lobbies, while benfitting from the general ongoing development and content releases.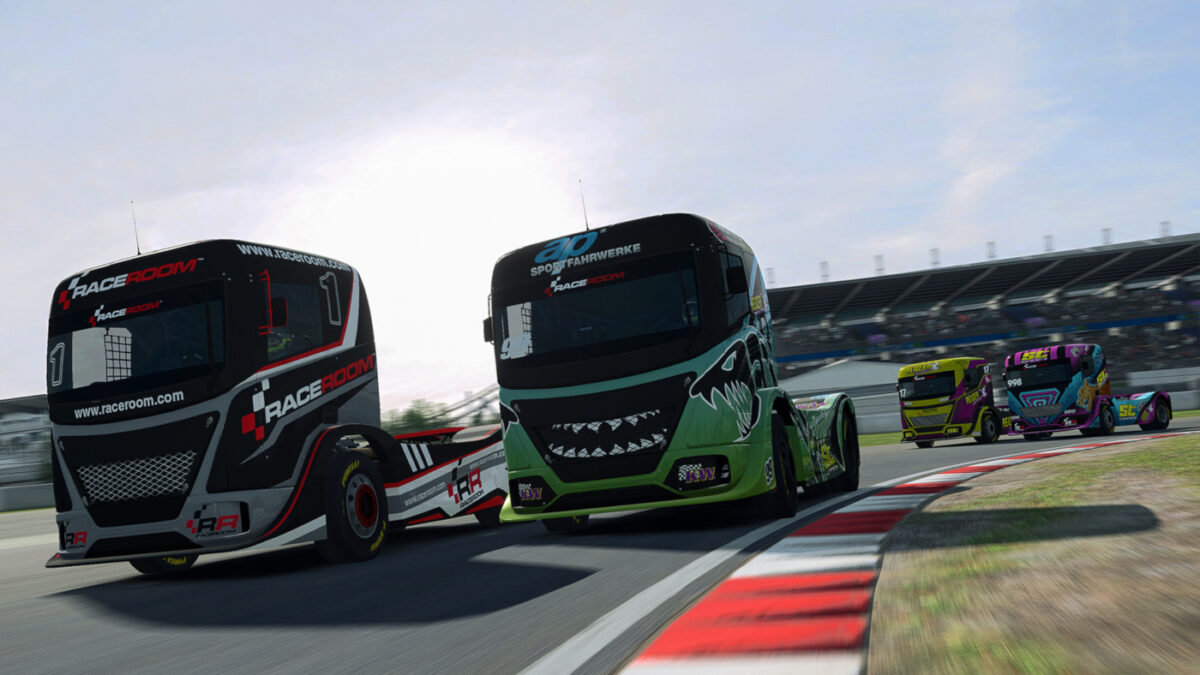 A price and release date for the RR Truck has not been announced, but it's likely to be fairly soon.
You can download Raceroom Racing Experience on the PC for free via Steam. Some additional content is available via Steam, but everything can be purchased via the official game store.
Keep up with all the latest RaceRoom news, updates and eSports articles, here. And check everything available for free and via paid DLC with our RaceRoom car list, and RaceRoom track list.