If you're looking for some high end sim racing hardware, Christmas may have come early with the new Gomez Sim Industries Hyper P1 wheel revealed for a launch event on December 1st, 2022.
Dallas-based GSI have been teasing their new flagship wheel for a little while, and for the first 24 hours, you can get a 10% discount with the code HP1DAY1. But with prices starting at $1650, it's a serious investment in virtual motorsport.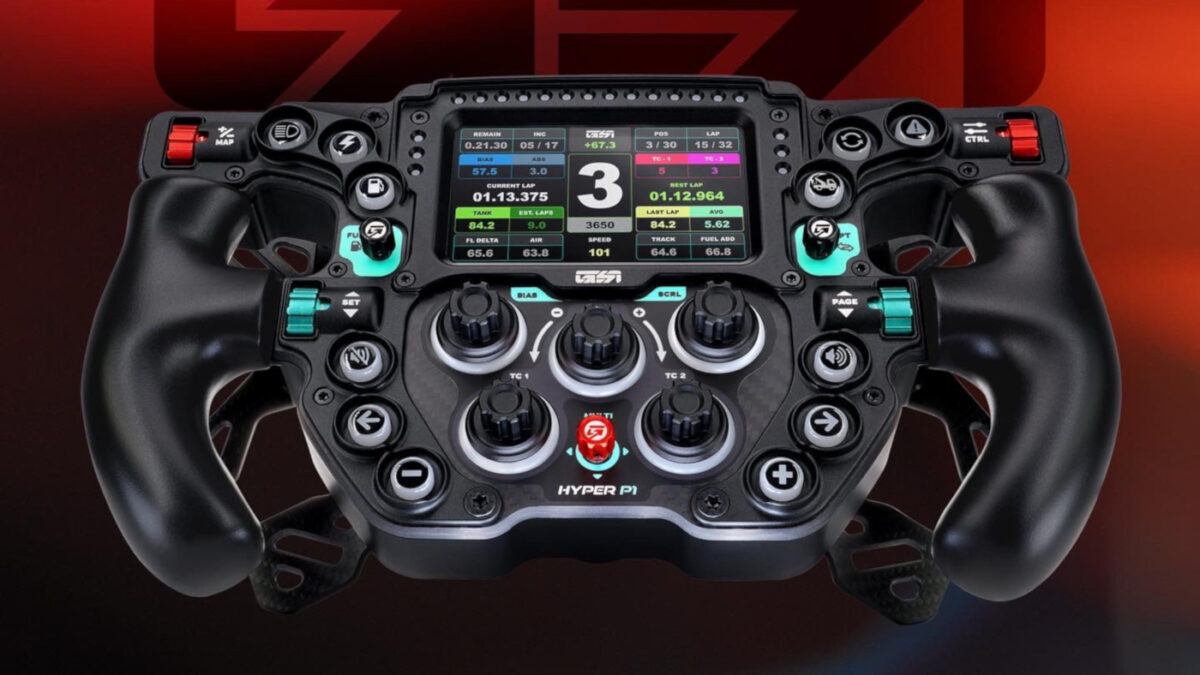 The specs do explain the price though, with a CNC aluminium body and button/screen guard, and featuring overmolded silicone handles to make sure there's no flex. You get a dual clutch as standard, with four or six paddle optios, as well as a carbon fibre faceplate.
And then there's the electronics side of the 298mm wide F1 and GT3 style wheel. So there's a 4.3 LCD display, and 88 programmable LEDs to ensure you have no excuse for missing shifts or important information during a race. And a selection of four rotary thumb encoders, five LED domed backlit rotaries, twelve 550g force LED buttons, and three 7-way multi switches. It definitely feels like you won't be short of options during a race with the new Gomez Sim Industries Hyper P1 wheel.
The Hyper P1 is a universal USB wheel, and you can also choose the GSI QRS-1 quick release system as an option.
December 1st is also the launch date for the limited edition Gomez Sim Industries Formula Pro Elite "Simucube" edition for immediate shipping, which features a built-in hub extension and wheel side quick release for Simucube direct drive wheel bases, with 250 units available, priced at $1,499. You can also buy a bundle with the wheel and one of three Simucube bases directly from GSI.
The new Gomez Sim Industries Hyper P1 will be available for pre-order on December 1st, 2022 from the GSI website. You can also find wheels and other products available in the UK from retailers including Demon Tweeks, with prices starting from £785.
Check out all of our sim racing wheel and pedals news and articles, here. And if you're new to virtual motorsport, we've got a guide to the best sim racing wheels for beginners, here.