One of the delights of the KW Studios sim racing title is that you often find different cars and circuits available to many other titles. And that continues as the Raceroom Drivers Pack will add 4 cars and a new track in early December, 2022.
It's an interesting bundle of content, as RaceRoom suggest it will present a sensible progression through cars offering different performance levels, suitable for beginners or those looking to have fun and improve their skills.
The cars include the familiar Mazda MX-5, with the Miata a popular starting point for racers around the world. And it's something that most fans of racing games and sims will probably have sampled. But it gets more exciting from there, with two examples from Crossle.
Based in Northern Ireland, it's the oldest specialist race car manufacturer in the UK, and one example coming to RaceRoom is the Crossle 9S sportscar which was originally built in 1965, and now comes with a 220bhp 2 litre Ford Zetec. The other car is the Crossle 90F, based on the 1969 Crossle 16F Formula Ford car and produced since 2017 for the Classic Racing School, based at Circuit de Charade. It was designed for people to train before getting behind the wheel of a vintage F1 or F2 car, again running a modern Ford Zetec.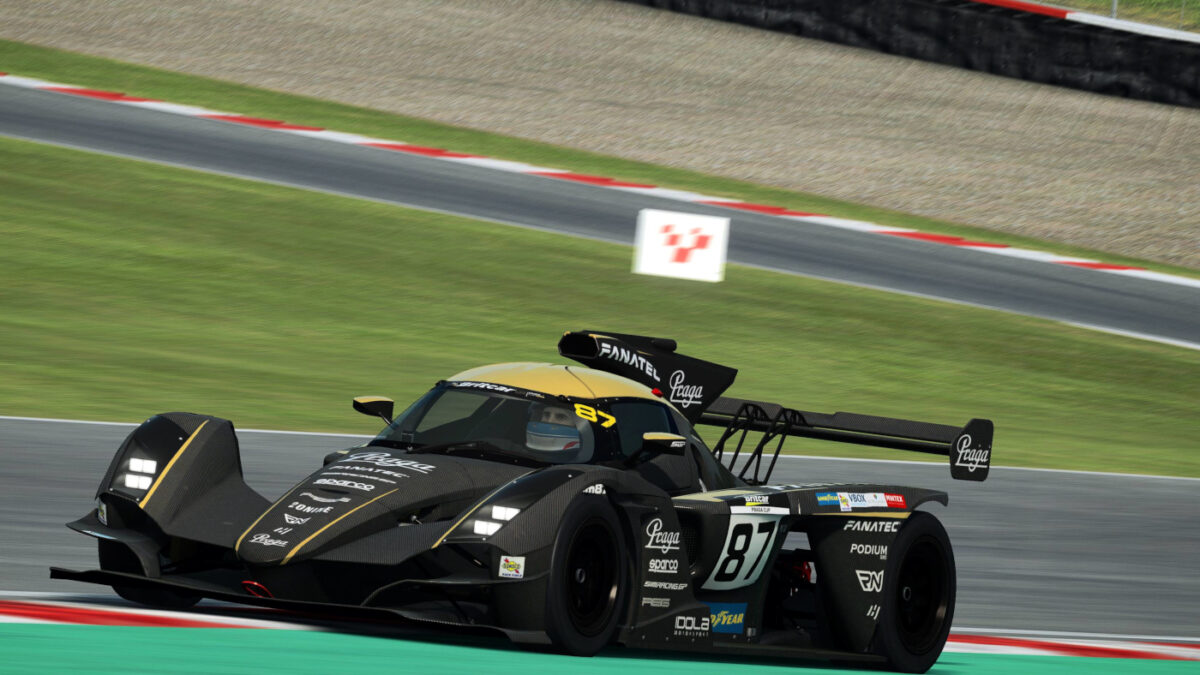 And then there's the car that will probably get most attention, with the Praga R1 as driven to an inaugural Praga Cup title by Jimmy Broadbent and Gordie Mutch in 2022. And along with the option of the Goldie 2.0 livery used by Broadbent and Mutch, you'll also get the performance of a lightweight mini prototype offering a turbo-charged 365bhp from the returned 2.0 litre four cylinder engine from a Formula Renault, in a car which weighs just 660kg, and sits under a metre tall.
RaceRoom have worked with Chris Bridle, Product and Operations Specialist, along with using official CAD data from the Czech company, and both Broadbent and Mutch to develop the virtual version of the Praga R1, which should feel like a go-kart with LMP2-levels of downforce.
If that wasn't enough for the new RaceRoom Drivers Pack DLC, there's also a new track being added, with the Circuit de Charade.
A familiar location to those interested in F1 or motorcycle Grand Prix history, but most commonly used for track days, historic motorsport events and the Classic Racing School in the modern era, the track near Clermont-Ferrand is built around the base of an extinct volacno.
The original 8.055km layout on public roads was described as a twistier and faster version of the Nurburgring when it opened in 1958, even causing Jochen Rindt to complain of motion sickness at the 1969 French Grand Prix. It hosted the event four times, along with 10 motorcycle Grand prix between 1959 and 1974, along with appearing in the classic film Grand Prix.
Unfortunately the location meant it was impossible to build safe run-off areas and falling volanic rocks were a constant hazard. In one incident at the 1972 French Grand prix, Helmut Marko was blinded in one eye by a stone thrown from the Lotus of Emerson Fittipaldi, and three track marshals sadly died at a touring car race in 1980.
Due to protests and safety issues, a new 3.975km (2.470 mile) circuit was opened in 1989, using the southern part of the original layout, and in 2000, the previously public roads were closed to create a permanent motorsport venue.
You can download Raceroom Racing Experience on the PC for free via Steam. Some additional content is available via Steam, but everything can be purchased via the official game store.
Keep up with all the latest RaceRoom news, updates and eSports articles, here. And check everything available for free and via paid DLC with our RaceRoom car list, and RaceRoom track list.