Unless you've got a full motion sim rig, one of the biggest limitations of virtual racing is the lack of physical feedback beyond your wheel. But that can now be fixed more easily, as the Next Level Racing HF8 Haptic Gaming Pad launches this month, costing £229 in the UK.
Haptic systems aren't new, with hardware including Buttkickers and various motion platforms available, but they all require either mounting something under your sim rig, or investing in an entirely new set-up. Whereas the Next Level Racing HF8 Haptic Gaming Pad will fit gaming chairs, sim racing and flight seats, and can be used on the PC via plug-andplay software using telemetry data, or on consoles using the 3.5mm audio jack. And you can always use it in addition to any other systems you've got in place.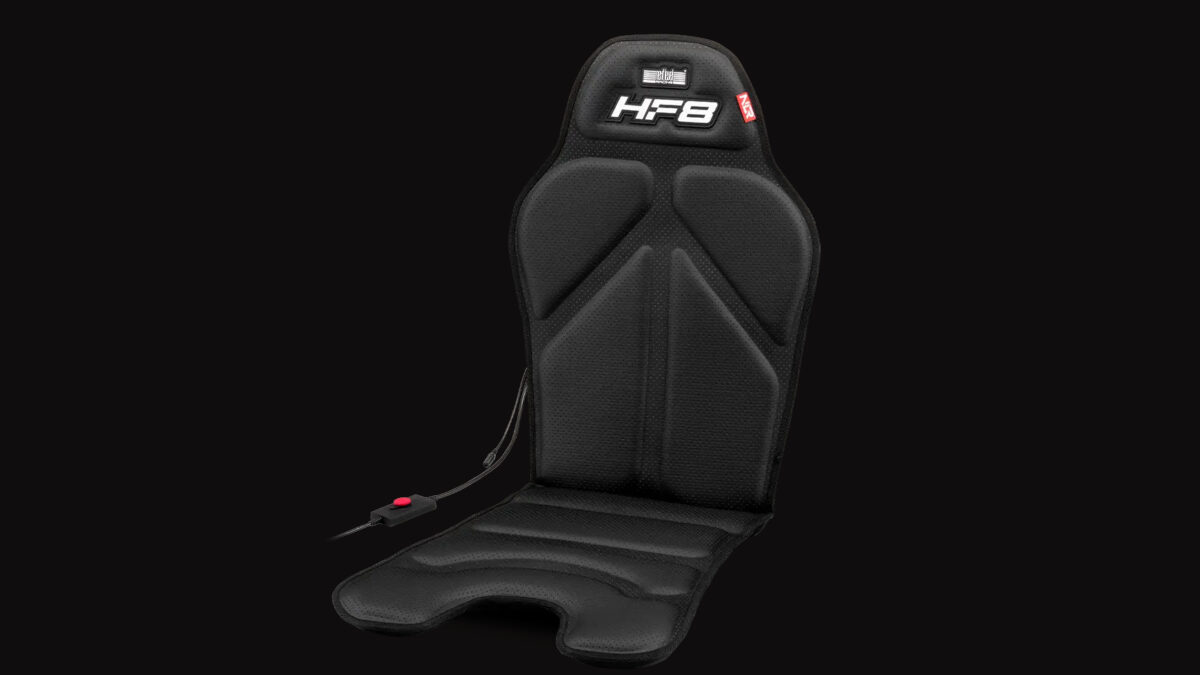 It's not the first product of this type to be developed, as the Realtus ForceFeel launched in 2021. But Next Level Racing saw how it could be improved.
"The new HF8 Haptic Feedback Gaming Pad is a breakthrough for Haptic Feedback devices, offering a unique and exciting gaming experience for our customers. Next Level Racing saw potential in the original Realteus pad, and our R&D team improved various components such as comfort and aesthetics of the product, internal components, overall quality and effects, and introduced our own software for more adjustability and refined effects," said Next Level Racing CEO, Hess Ghah.
"The HF8 stands true to the product range at Next Level Racing, offering high-quality immersion through existing technology acquired from Realteus. The HF8 was then further developed by Next Level Racing to also be fully compatible for users regardless of platforms or applications, including all gaming chairs, racing cockpits and flight simulators."
The pad includes eighth individual motors which can be triggered by audio for console games and watching films. Or be customised for the PC using a USB connection and software developed by Next Level Racing for the product. Which means, for example, you can have four motors to rigger when your tyres run over rumble strips, meaning you're less likely to get caught out by kerbs. Or to help you feel your acceleration, braking, speed, rpm, ground effect and suspension, all of which can be tweaked for intensity.
Racing sims and games listed as compatible with the Haptic Feedback System include Assetto Corsa, Assetto Corsa Competizione, Automobilista 2, F1 2020, F1 2021, F1 2022, iRacing, Kartkraft, Project Cars 2 and Project Cars 3, with more potentially on the way in the future.
The Next Level Racing HF8 Haptic Gaming Pad will be on sale in January 2023 via various retailers, costing £229, and with a maximum supported weight of 150kg or 330lbs. Construction uses cold moulded foam, covered with perforated PU leather, so it should be fairly comfortable and durable for longer racing sessions.
If you're looking to upgrade your sim rig, check out all of our Sim Racing Rig and Seat articles, here. Including all our coverage of the Next Level Racing range.