Preparations are getting underway for the first race of the season as Team ORD return for the TRL RLTC Season 2. It's a seven round series running from the 30th January 2023 until March 20th, followed by a special multiclass event, with each driver picking one of three touring car options to run throughout the championship.
Our initial effort in Season 1 saw the first Team ORD iRacing league victory, with Ondrej Majarech taking the top step at the Hungaroring in his Honda Civic Type R. But with all our drivers impacted by bad luck in such a competitive field, Ondrej finished the season in 13th, with Joe Gibson 16th in the Audi RS3 LMS TCR and me in 27th running the Hyundai Elantra N TC from a field of 32 drivers, meaning we were eighth of ten teams.
But with a small points gap to the top ten drivers and top four teams, we were hopeful for the coming season. Until we found out that Ondrej was unable to race due to other commitments.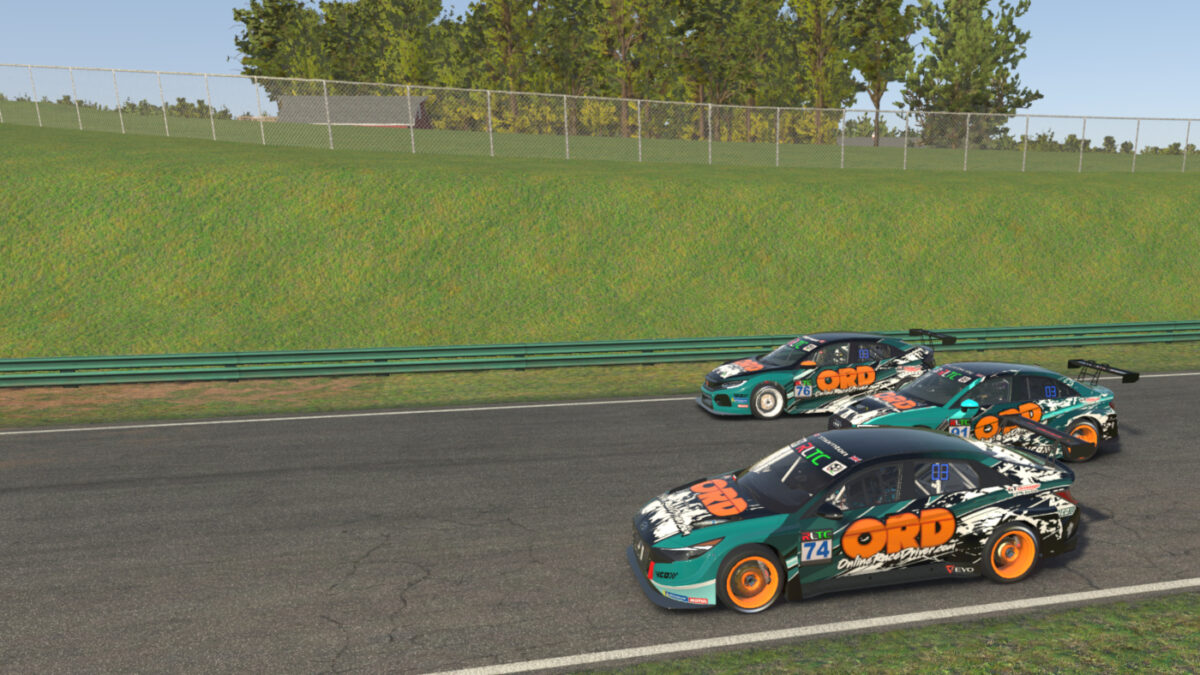 Fortunately, we seem to have found a fairly decent replacement. Mats Andersen joins us in the Honda, having raced it in season 1. The Norwegian driver was actually the Honda champion and finished fourth in the overall championship. And at the initial Media Day event, he managed to take his first win, even if it doesn't count for points. So that's a second victory for the Civic with two different drivers!
Joe is returning in the #91 Audi for a second season, having now gained valuable experience of league racing after his debut in the first series. With a best result of 4th last time, he's looking as quick as ever.
And despite the plan to replace myself in the team for this season, due to other driver commitments I've stepped back into the #74 Hyundai. Having been a bit disapointed in my league performances last year, I'm aiming for much better results in 2023, and can hopefully avoid some of the bad luck that hampered my efforts. That was certainly true in the first race of the Media Day, which saw me finish 8th. Even if the level of competition will ramp up a lot for the season start, it was a nice confidence boost, along with two top 15s in the earlier qualifer event.
Also returning is our collection of awesome TCR liveries, painted by ORD's Lee Walker, whose other designs can be found on Trading Paints.
RLTC Season 2 Calendar
30/1: Round 1 Phillip Island
6/2: Round 2 Okayama
13/2: Round 3 Interlagos
20/2: Round 4 Canadian Tire
6/3: Round 5 Silverstone
13/3: Round 6 Imola
20/3: Round 7 Magny Cours
If you'd like to watch the racing, and cheer on Team ORD, you'll be able to watch the TRL RLTC Season 2 powered by GT Omega in partnership with VCO on The Racing Line Twitch and Youtube channels, or also on the VCO Esports Youtube and Twitch channels.
And keep up with our sim racing Esports coverage, here. Along with updates on the fortunes of Team ORD, here. If you'd be interested in joining the team, our Discord is here, and sim racers of all abilities and disciplines are welcome. At the moment we're primarily focused on road racing across the Jetta, TCR, GT4 and GT3 classes, but if you'd like to start representing us on ovals, or in Forza or Gran Turismo, then get in touch. Our main focus is being a friendly, welcoming group of enthusiastic racers who can help each other improve.
You can sign up to iRacing, here (and credit your referral to ORD, which we'd appreciate!). And see all vehicles included in your basic subscription, or what you can access by paying more, in our full official iRacing car list, here.
Or check out all of the included circuits, and the others you can buy, in our full official iRacing track list, here. And keep up with all the latest iRacing news, updates and eSports, here.