The first big batch of improvements and changes for 2023 have arrived with the sizeable BeamNG.drive update v0.28 released to download.
At 1.61GB, 18 new missions are included, with the ability to enable automatic recording for your attemps, along with a stats tracking system arriving as a prototype, so you can see how long you've spent with a particularly vehicle or map. And both the backend missions code and the Overview Map have been cleaned up and polished.
And rather than adding lots of new content, the focus has been on revamping and improving existing cars, most notably the ETK 800-Series and ETK K-Series with a new V8 engine and twin turbo options, bodystyles, aftermarket parts, skins, and more. And most vehicles now have openable doors and panels.
There's also a fix for the unintended brief clutch input previously required to change gears, so you will now have more realistic shifting. But while it will feel slower, the actual timing should be the same, or possibly faster, due to other improvements and changes.
And there's also some renovation for the Automation Test Track, improvements to support for Logitech Trueforce hardware, new game audio, and lots of backend optimisation to improve the BeamNG.drive platform and performance.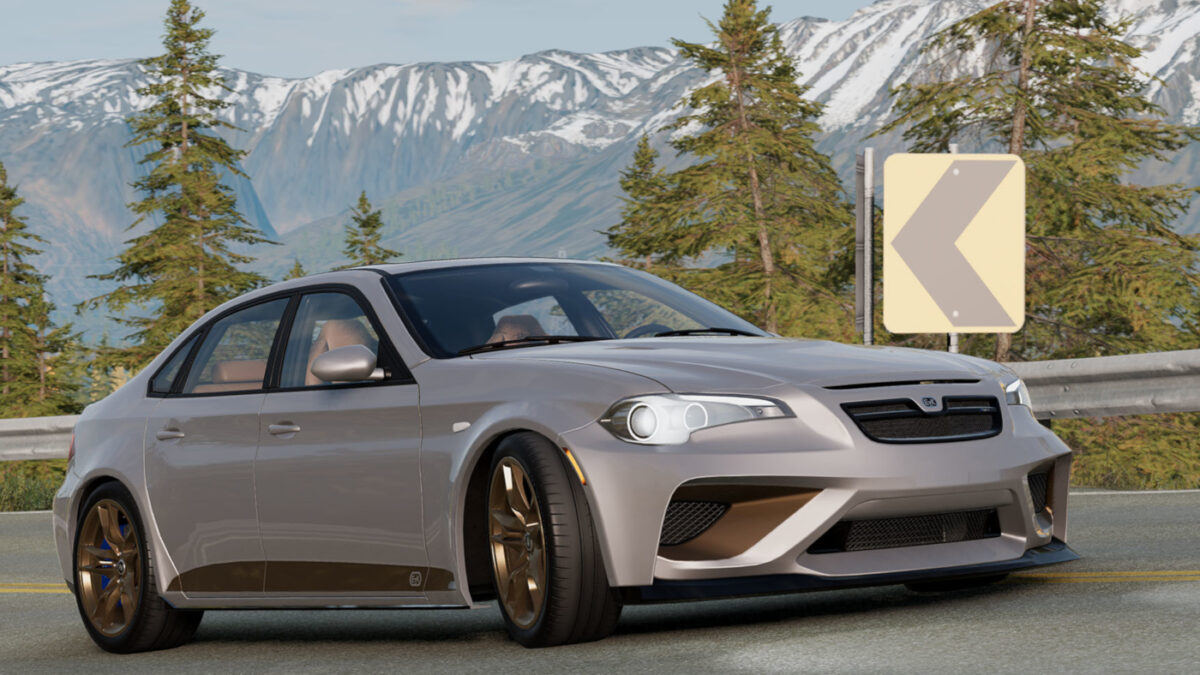 BeamNG.drive Update V0.28 Release Notes:
Vehicles
REVAMPED VEHICLE: ETK 800-Series and ETK K-Series:

ETK common

Added new ETK V8 Engine with naturally aspirated and twin turbo options
Updated existing ETK inline 4 and inline 6 engines and many more drivetrain related parameters
Added ttSport specific carbon ceramic brakes
Added new gauge options
Added new shared ttSport seats
Added ETK "Rennspecht" T20 Wheels
Added ETK ttf5 Wheels

ETK 800-Series

Added sedan bodystyle
Added new widebody ttSport models
Added "Rennspecht" parts
Added new engine options
Added new skins
Updated and improved quality on several meshes and materials
Updated all configurations

ETK K-Series

Added new widebody ttSport models
Added new "Turbo Rabbit" widebody kit
Added "Rennspecht" parts
Added new engine options
Added new skins
Added modern race steering wheel
Updated and improved quality on several meshes and materials
Updated all configurations
Autobello Piccolina
Added openable panels
Added interior collisions
Autobello Stambecco
Fixed engine not breaking when torn from vehicle
Bruckell Bastion
Added openable panels
Added interior collisions
Added animated automatic shifter and missing sequential shifter
Bruckell LeGran
Added openable panels
Added interior collisions
Fixed dashboard warning lights setup, the panel above the gauge cluster is now used instead of generic lights
Fixed some license plate positions
Fixed missing european rear license plates
Bruckell Moonhawk
Added openable panels
Added new engines: 309cui V8 and 448cui V8, with new meshes
Added power bulge hood
Levels
REVAMPED MAP: Automation Test Track

Added new materials and updated the old ones to PBR
Improved track surface materials
Updated and improved buildings
Updated bridges, dams, and tunnels
Updated/improved terrain and added some new terrain materials
Updated/improved brackground
Updated groundcover, added new grass materials
Updated all forest vegetation, added new poplar trees
Updated asphalt and dirt roads, added new road edge materials
Beautification pass on all the natural environment of the map
East Coast, USA
Fixed several floating issues, mesh errors, and removed broken assets
Fixed spiky terrain
Fixed "Pessima Introduction" scenario missing decalroad
Garage
Added spotlight and standing light to garage props
Gridmap
Hirochi Raceway
Fixed racetrack mesh issues
Johnson Valley
Added numerous new trails
Gameplay
Added Stats tracking system

Supports tracking how long you've played on a given map or driven a vehicle
Supports tracking rollovers and J-turns
Enabled mod vehicles to be spawned in garage mode
Fixed 'A rocky start' campaign camera getting stuck looking at the player instead of looking at the falling vehicle
Missions
Added 19 new Missions across multiple maps:

Automation Test Track: Mixed Rally Stage, Factory Fetcher, BeamNG Sports Race, Forest Fumble, Trail Glacier, Hill Top Test Course
East Coast USA: Log Launch, Fearless, Tackle Time, Classic Escape
Hirochi Raceway: Derby Race
Johnson Valley: Crankshaft Pass, Pit Robber, Shortcourse A, B, & C, Highway Drag Strip
Italy: Pasta Master, No Way Out
Game Engine
Refactored the vehicle placement code. Should work a little better now in off-road terrain
Added a warning when selecting Windowed mode, informing those who have enabled G-Sync for windowed applications that they may experience severely decreased framerates
Fixed an issue with Render Views not being able to debug draw: drawBox, drawSquarePrism, drawSphere, and drawCylinder now
Debugdrawer now only renders in main view by default and not in Render Views anymore
Mod Support:

Added a new tool at the bottom-right in Repository > Mods Manager tab, "List possibly broken mods". This feature will do its best to find activated mods that conflict with the game or with other mods. It is not perfect but can provide useful hints:

For normal players: this tool could help you narrow down which enabled mod can create issues after game updates, or when installed at the same time as other mods
For modders: this tool could help you notice which files from your mod are conflicting with the base game files, or with files from other currently-enabled mods. The more files overwritten by your mod, the easier it can create issues after the game updates, or after the other conflicting mod gets updated
UI
Improved Overview Map mode:

The player icon is now an arrow that shows the vehicle direction
Adjusted POI merge radius to make selecting easier
Pressing the map button again now skips the transition animation
Increased the visible distance to fix artifacts in some maps
Fixed an issue where the transition sound ended too abruptly
Fixed an issue where the black level border could be seen for one frame at the start of the camera transition
Adjusted camera speed and controls with the controller

Added fading audio for the Fade Screen process
Improved Police Info app
Improved Fade Screen module by adding a phase that is displayed while a mission is loading; supports a title, subtitle, text, tips, and image
Revamp of Parts Manager icons, more visually consistent tree layout, proper indentation, highlight when hovering mouse over parts that can be expanded, added a bit of transparency to the rest of the vehicle when hovering over a part, uninstalled parts are now listed with a light grey tint to help locate them faster
Performance Graph:
Added several new tracked sections of CPU use to the shift+ctrl+F Performance Graph menu, moved some from "Update" section to CPU
Tweaked several section names
Tweaked the hover-over tooltip of Performance Graph menu: it'll now keep the sections in a fixed order, and a time bar will appear on the left to help better gauge the impact of each of them. This helps keep the text readable, as it's not jumping up and down anymore
Fixed Audio cost being tracked as part of 2 different sections
Minor fix to the heuristics behind the bottleneck detector
Fixed JSON export 'PostRender' time being the 'Render' time instead
Powertrain
Added ability to have a hydraulic pump connected all the time
Fixed electric hydraulics controller not turning off the electric motor after use
Improved turbo spooling behavior when in revlimiter (fixed or temporary)
Fixed incorrect rpmspin calculation for rotating props
Improved turbo wastegate PID control
Fixed an issue where bump-starting wasn't possible after briefly engaging the starter motor without actually starting the engine
Vehicle Systems Controller
Fixed wheelslip based shift prevention sometimes ignoring a wheel
Improved topspeed limiter PID control
Increased default clutch speed for manual transmissions in arcade mode or when using the clutch assistant
Fixed loss of clutch control during shifting
ABS, ESC, TCS, parking brake lights now turn off when the ignition is fully off
Fixed five different common bugs with older (EV) mods that prevented them from working as designed
Implemented ability to create multi-latch systems such as racing hoods
Reduced wasted idle frames during manual shifts, increasing shift speeds slightly
Added ability to turn on brakelights during one-pedal-driving when decelerating
Input & Force Feedback
Added optional Logitech Trueforce effects. Only works if your Logitech wheel supports it and you are running the Windows version of the game. If your system does not support Trueforce, the game will automatically fall back to the traditional force feedback system. Further tweaks and options are planned for future updates
Added search tags to camera left/right bindings, so people typing "look left" or "view left" can still find the relevant controls Fixed steering lock degrees not being selectable with newly created 'Steering' bindings. Previously you need to first create and save the binding, then open it again. Now it'll show directly when first assigning it
Fixed force feedback options not being displayed when editing 'Steering' binding from Options > Controls > Bindings tab. Previously they were shown only when editing the binding from Options > Controls > Force Feedback tab
Added or improved default configurations for the following hardware:

Fanatec Podium Wheel Base DD1
Fanatec Podium Wheel Base DD2
Fanatec GT DD Pro
Fanatec CSL DD
Fanatec CSL Elite Wheel Base
Fanatec CSL Elite Wheel Base 1.1
Fanatec CSL Elite Wheel Base+ PlayStation 4
Fanatec ClubSport Wheel Base
Fanatec ClubSport Wheel Base V2
Fanatec ClubSport Wheel Base V2.5
Moza R9 Base with CS V2 steering wheel
Moza CRP Pedals
Moza HBP Handbrake
Moza HGP Shifter
Moza Universal HUB with pedals or shifter
Sim-Plicity SW20 Steering Wheel in "Game mode"
PXN V12 steering wheel
PXN V10 steering and parking brake bindings

Added a new binding shift+ctrl+W to help vehicle modders, this will directly open the Parts Selector > Debug tab menu
Added a warning if the force feedback Update Type is set to 'Full'. There's a misconception that 'Full' is better than 'Fast', but 'Full' is only a last-resort fall back for a handful of steering wheels (such as outdated/buggy steering wheel firmware versions, etc), and can impact the game framerate
Reorganized the force feedback options section
Minor tweaks and rephrasing of Options > Controls > Force Feedback "Tips" section
Fixed incomplete grey-out of force feedback UI widgets when force feedback is disabled
Fixed some tooltips not showing up in the force feedback options section
Fixed inconsistent visuals of binding icons shown in 'Bindings' versus 'Force Feedback' UI tabs
Fixed a small memory leak in the force feedback subsystem
There's been a minor, partial revamp of the core input system. This has no effect on you (the final user), but makes bugfixing and future improvements a bit easier
AI & Traffic
Implemented ray tracing based environment awareness for three way turns https://player.vimeo.com/video/813973206?badge=0&autopause=0&playsinline=true&color=#f60&dnt=1
Improved traffic AI response to emergency vehicle lights and sirens
Implemented several various optimizations in traffic code
Increased tire friction on Simplified Traffic vehicles
Cameras
Added option for Driver camera to look where the vehicle is going, such as while drifting
Fixed an issue where the "look back" mode could become stuck
Fixed an issue where the shadows in the driver camera could look blurry when driving fast
Increased granularity of the "Follow vehicle direction" slider of Orbit Camera
Audio
Improved interior sounds (shorter and cleaner assets, EQ and volume adjustments, volume re-balancing)
Added additional interior sounds for greater variety
Added latches sound support for all vehicles (except Gavril T-Series)
Added distant chase tone to unmuffled i4 and i5 exhausts
Added bell sound for entering petrol stations
Re-normalized all engine/exhaust samples and normalized event volume curves to compensate
Added cabin filter coefficient support for all vehicles. Please note, this is not dynamic in real time, however, if you change vehicle parts which affect the filter – the coefficient will update
Internal glass impacts (such as windscreens, door windows, etc.) are now not filtered by the cabin EQ. External glass impacts (such as headlights, rooflights, etc.) now use new events extglassbreaksoundx (where x is a value of 1 to 10 based on size of glass) and are filtered by the cabin EQ
Changed default volumes for gear shift sounds from 1 to 0.5 and rebalanced in FMOD to give headroom for volume increases where required
Fixed playback of loose files
Render
Started the process of revamping the material's shader generator, aiming to simplify and streamline future development. More improvements will be implemented in future updates
Improved the precision and stability when rendering objects at large distances from the map's origin coordinates
Reduced GPU memory used by terrain materials
Fixed visual artifacts in the terrain materials
Bananabench
IMPORTANT
Due to improved physics detail in the Gavril D-Series vehicle (used in bananabench), the bananabench scores will be lower by about 10% compared to previous versions of the game.
World Editor
Added an SFX Previewer which lists all available sound events that exist and allows you to play them
Fixed crashes when loading another level from within the editor
Made Zones selectable by clicking zone fences
Added search by persistent ID for scene tree
Added jump to the selected item when clearing search filter in scene tree
Added undo/redo functions for Sites Editor
Improved Terrain Painter Performance
Fixed hitTest being called every frame in Sites Editor
Fixed Forest Editor Copy Error when no ForestItem is selected
Fixed Inspector ID & PID Copy Issue
Fixed Terrain Tools Grab Brush
Fixed Material Editor throwing error while viewing a common material
Fixed Terrain Height Change Undo Does Not Update Decal Roads
Fixed SpawnSphereMarker Invisible Issue
Fixed minor bugs in Race/Path Editor and Traffic Signals Editor
Improved AI Path/Plan Tests editor, by creating a feature that tests multiple AI vehicles
Changed to only save JSON prefabs. There is backward compatibility support for old Torque script prefab files. The editor will still unpack and pack Torque script prefabs
Added utility functions to convert CS prefabs to JSON prefabs
Flowgraph Editor
Added node Static Object Touch to test for vehicle static geometry collisions
Improved various audio and traffic nodes
Vehicle Editor
Added a hotkey to enter Vehicle Editor directly with shift+f11
Editor is now split into two modes: "Static" and "Live" Editor (these editors are toggled using the play/stop button)
Improved Static Editor Render Views camera controls
Render Views in Static Editor do not allow for raycasting to be able to pick objects in the 3D scene
Added axis gizmos to Static Editor Render Views
Added a "favoriting" mesh feature in flexmesh debug app
Jbeam Debug
Added torsionbar debug modes
Coltri debug mode transparency added
Added node debug text mode which allows you to render custom text at specific nodes ( ctrl+K and ctrl+shift+K to cycle)
Mesh transparency system revamped to allow transparency syncing between Parts Manager UI, changing mesh transparency with ctrl++ / ctrl+- and JBeam Debug UI transparency buttons
Added ability to only show JBeams of a specific JBeam part with "Part Selected" combobox
Parts manager UI highlight state bug fixed
Cleanup of JBeam Debug UI
Lua
Refactor of the Free camera:

getCamera can't be used to set camera position or rotation anymore (use core_camera.setPosRot instead)
many other camera related functions will be deprecated but will suggest the correct function in a console warning

More rigid input value checks for advancedCouplerControl
Improved error logging for advancedCouplerControl
Created new core module Extended Triggers; this module can load "triggers.json" from a level, and can show or hide objects when triggers are entered or exited in the map
Exposed BeamNGVehicle::getNodeAbsPosition(nodeID) to Lua to get the world position of a node
Fixed onVehicleSpawned/onVehicleSwitched events being called too early when some vehicle data have not been fully initialized yet
You can find BeamNG.drive for the PC via Steam, or through Humble Bundle. Keep up with all our latest BeamNG.drive news and coverage, here. Or check out our full BeamNG.drive car list for all the officially released vehicles for the game.