We've predicted that direct drive sim racing hardware would continue to drop in price. But we didn't expect to see the innovative new Cammus C5 Direct Drive wheel under $300 arrive so soon.
The design takes a different aproach to anything else on the market, ditching a wheelbase for an all-in-one approach which means you essentially hold the motor directly to drive. And that allows for a potential price of around $250, or under $300 including a desk clamp.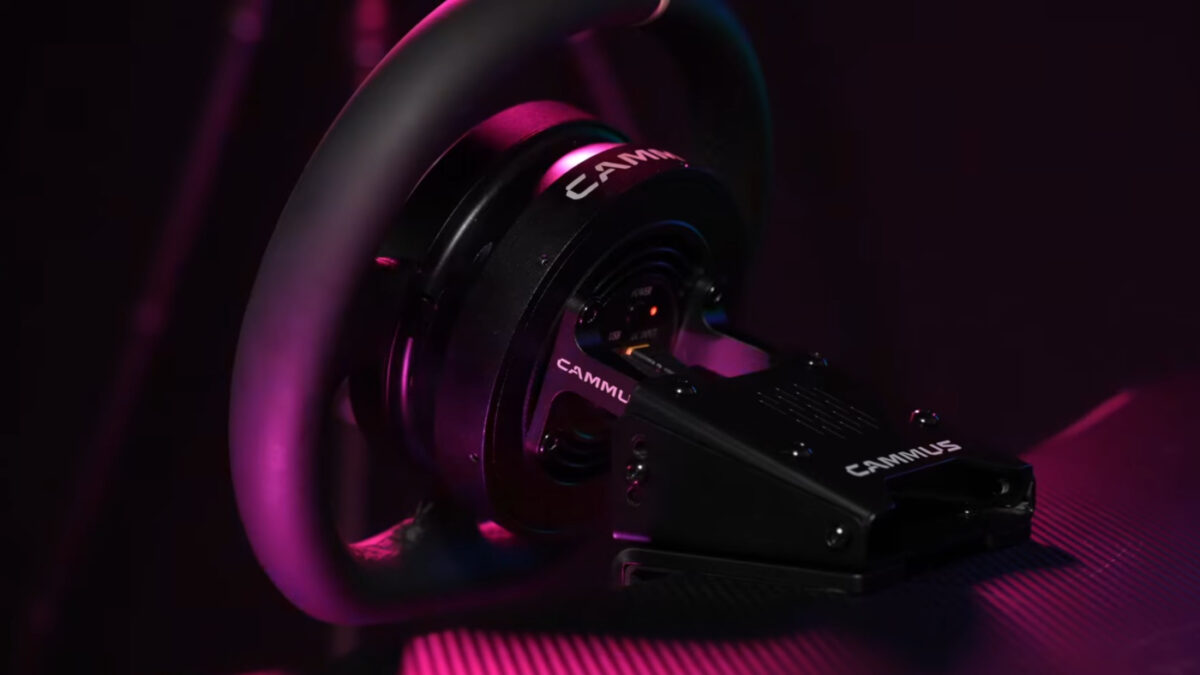 The Chinese company was founded in 2008 in Shenzhen to focus on automotive technology, including producing electric karts and supercars. They moved into sim racing a little while ago, with various hardware, including a small range of wheelbases.
But the C5 is definitely attracting attention for a number of reasons. The price point is lower than existing, 'traditional' products offered by Moza and Fanatec. And the design means you save some space and weight, which could make it more suitable for mounting on a desk as well as cockpits. The all-in-one approach does mean that the cooling fan needs to be mounted externally, but the motor is actually built into the hub of the wheel.
Obviously, the design does raise some questions. With the motor directly in the hub of the wheel, it means that you won't be able to collect different rims to swap between. But there's little to stop Cammus producing a formula wheel version pretty quickly, and the price point would be much different to a lot of the sim racing rims out there at the moment. And with the USB connectors in the back of the hub, it should be pretty quick to swap between.
Cammus have revealed that the C5 should hold continuous torque of 5Nm, with a peak of 6-7Nm, and the dimensions aren't as big as you might think. The wheel diameter is 280mm, and it's only 67mm thick, which makes it relatively portable as well as space saving. In an explanation video, it's explained that traditional wheelbases attach a wheel to a rotor mounted inside the servo motor, but with the C5, the shell is the external rotor.
The other potential advantage to this type of design is that it has less inertia, which can make it feel more powerful than non-direct drive wheels in particular.
Obviously, the Cammus C5 will be PC compatible, with 20 programmable push button switches, three multi-position switches, and a row of LED rev lights. Four of the buttons currently sport a very similar design to a PlayStation controller, which may either be a hint at compatibility, or something which will probably be changed after Sony spots it.
One potential downside at the moment is that the Cammus C5 has gearshift paddles, but they look extremely small, probably due to the design approach. So this could make them a bit trickier to use in the heat of sim racing, but it'll be interesting to find out how much this actually impacts shifting, and whether it's something that's necessitated by the design approach.
Regardless, at under $300 for the new Cammus C5 Direct Drive Wheel, it's going to be fascinating to see the response when people get their hands on a unit, and what it may mean for the prices of sim racing hardware.
Will other manufacturers be forced to try new design approaches, or drop the prices of their existing hardware? And could it wipe out the non-direct drive market completely?
Check out all of our sim racing wheel and pedals news and articles, here, along with more coverage of the Cammus range. And if you're new to virtual motorsport, we've got a guide to the best sim racing wheels for beginners, here.