There's a new car and plenty of other features, but BeamNG.drive update V.029 focuses on the Gambler 500 with lots of new off-road configurations for existing vehicles. And with the real event using cheap, impractical or fun vehicles to collect rubbish, there are some decidely unique and unusual choices now available in the driving and physics sim.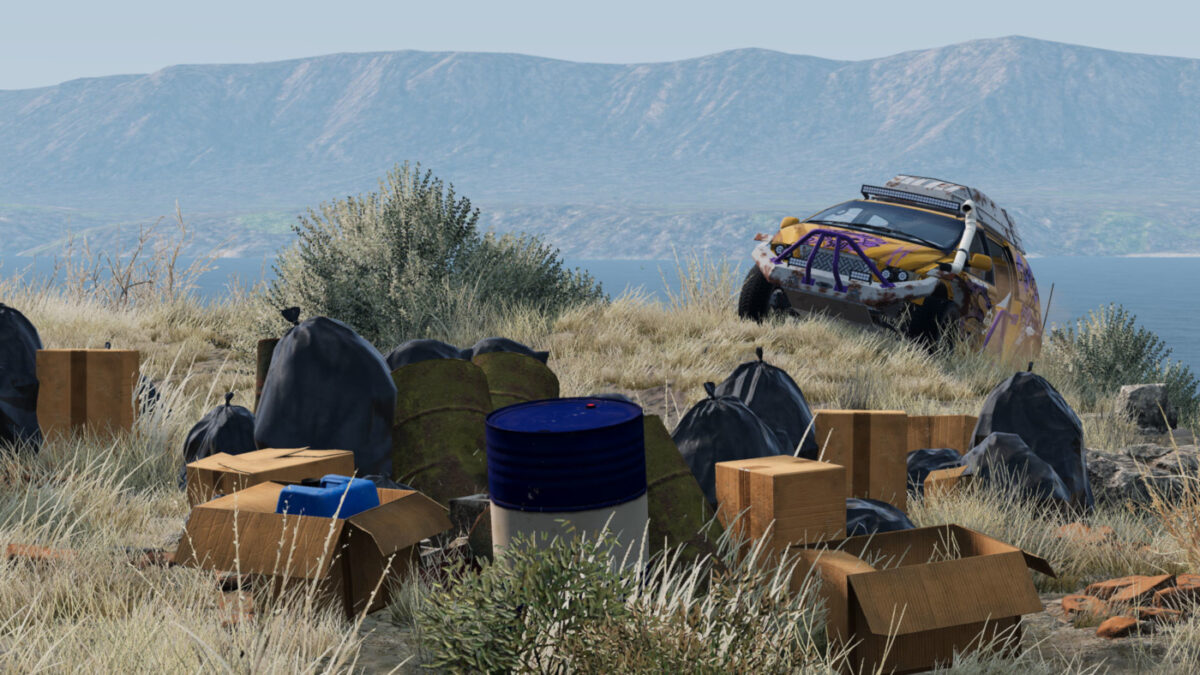 They include the Poogeon Ibishu Pigeon which includes a portable toilet, the Autobello Piccolina La Brutta Anatra modified with parts including a bathtub, and a three-wheeled Ibishu Covet with the rear wheel from a tractor.
In addition to the cars, there's also a new mission type, with 25 new challenges to complete against the clock, collecting as much trash as possible.
For those who prefer more conventional road cars, there's also the new Soliad Lansdale, which is reminiscent of a Chrysler Voyager and features working sliding doors. The update also include configurations for new wheelbases and tweaked force feedback for the Logitech G29, auto headlights for changing conditions, and othersmaller changes.
BeamNG.drive v0.29 Release Notes
NEW VEHICLE: Soliad Lansdale
Features I4, V6 and V8 engines with AWD
With plenty of customization with body kits and off-road accessories
Includes factory cargo van, base, midrange, high-end and sport models
Diesel-powered European models
Decked-out tuner configurations
The usual complement of Derby, Race, Rally and Drag configurations
New working sliding doors
Included in the lineup of new 'Gambler 500' configurations
New Soliad wheels: Platinum (17×7), Requiem (17×7), Chariot (16×7) and Emerald (15×7)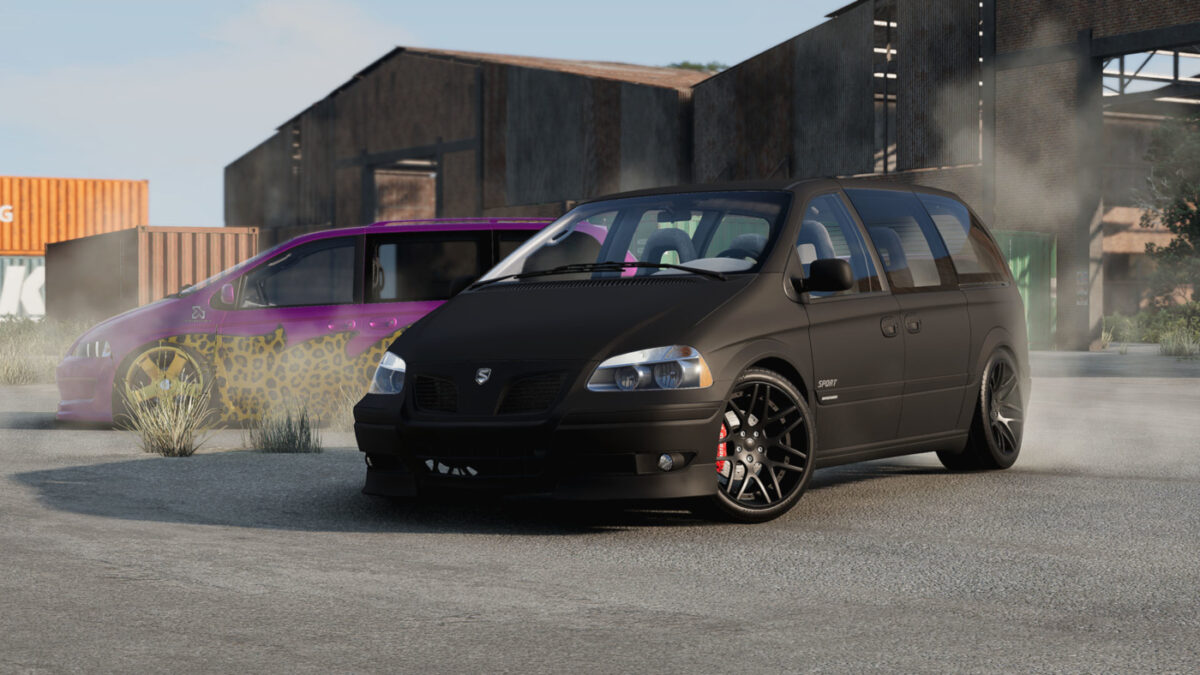 Autobello Piccolina
Added 'Gambler 500 – La Brutta Anatra' configuration with new front suspension and bathtub
Added 'Drag' configuration
Added option to install engines and transmissions from the SBR4
Updated 'Street Machine' config to use SBR4 engine
Improved and optimized rollcage and cage meshes on 'Baja' config
Improved brake meshes
Civetta Bolide
Added 6×4 'Gambler 500 – Iron Owl' config utilizing Legran drivetrain
Fixed issue with bumper break groups
Cherrier FCV
Small tweak to steering damper
ETK I-Series
Updated interior materials to PBR
Gavril D-Series
Fixed mapping on column shifter
Gavril Grand Marshal
Added 'Gambler 500 – Grand Scavenger' config
Ibishu 200BX
Ibishu Covet
Added 'Gambler 500 – The Unstable' half-tractor 3 wheeled, 3 wheel drive config
Added 'Gambler 500 – The Incapable' half-trailer config
Fixed Automatic transmission shift behavior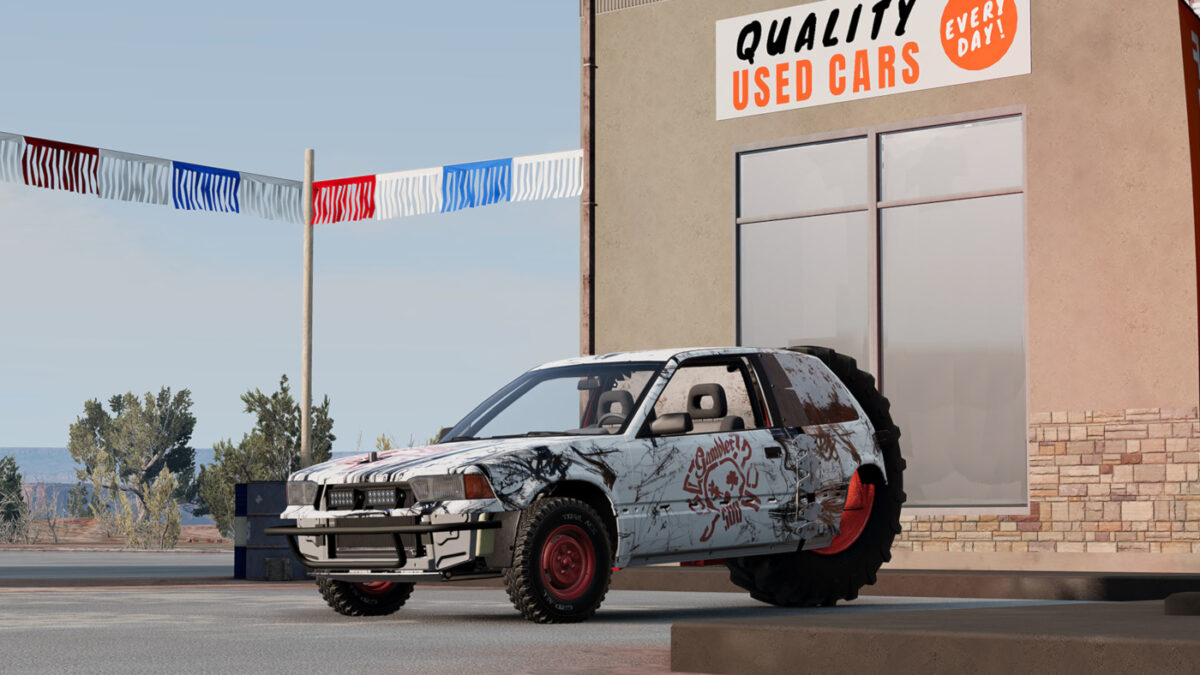 Ibishu Pigeon
Added 'Gambler 500 – Poogeon' config with D-Series rear axle and Porta Potty
Soliad Wendover
Added 'Gambler 500 – Croco' config
Box Utility Trailer
Updated tailgate to use latch system
Updated lights
Common
Updated rally part materials to PBR
Updated Soliad hubcaps to PBR
Added new shared 4 inch and 2 inch LED lights
Props
Added Porta Potty prop
Added Bathtub prop
Added Engine props
Levels
Added new trash piles instances
Added new trash bags assets
Missions
Added a new Mission Type: Trash Grab – clean up a required amount of trash in the least amount of time
Added 25 new Missions across various maps:

East Coast USA: Barrel Master, Warbler Trail, Cuckoo Sprint, Sawmill Brawl, Forest Cleanup, Fields Cleanup
Industrial Site: Catwalk Capers, Race Day Renovations, Motor Head, Dirty Tires
Johnson Valley: Track Day, Desert Hauler, Rubbish Rustler, Toughman's Trail
Jungle Rock Island: Tropical Toboggan, Potty Shaker, Jungle Rumble
Small Island: HooptieX – Small Island, Pollution at the Dock, Wreck Recovery, Rough Road Test, Litter Liberator
Utah: HooptieX – Utah, Camp Cleanup, Sunshine Sprint
Gameplay
Enabled automatic headlights for missions during dawn, dusk, or night
Fixed a case of missing navigation markers for Delivery missions (if enabled)
Input & Force Feedback
Improved resilience to stick drift by increasing the default deadzone in all sticks present on Fanatec steering wheels
Added configuration for the new Moza R12 wheel base
Added configuration for Genius TwinWheel PC/PS2 steering wheel
Configured pedals in all Moza wheelbases, as well as tweaked button configurations, and improved default steering lock angle
Simucube 2 Ultimate now ships a generic configuration that is compatible with all possible steering wheel rims, rather than being tailored to only a Tahko GT-21 rim model
Slightly tweaked force feedback for the Logitech G29
Audio
Added new asphalt skid sounds
Fixed near silent bypass shocks
Improved and added new interior sounds for greater variety
Set up sounds for Soliad Lansdale
Set up sounds for Gambler 500 vehicles
You can find BeamNG.drive for the PC via Steam, or through Humble Bundle. Keep up with all our latest BeamNG.drive news and coverage, here. Or check out our full BeamNG.drive car list for all the officially released vehicles for the game.