Last updated on September 5th, 2023 at 03:11 pm
You can probably start ramping up the excitement for the upcoming racing sim for PC and consoles from Straight4 Studios, with the first in-game screenshot shared from GTRevival.
It looks like the cockpit of an Audi R8 LMS GT3 heading around turn 1 at the Autodromo Jose Carlos Pace (Interlagos) circuit in Brazil, and comes a day after Straight4 Studios founder Ian Bell shared a logo concept.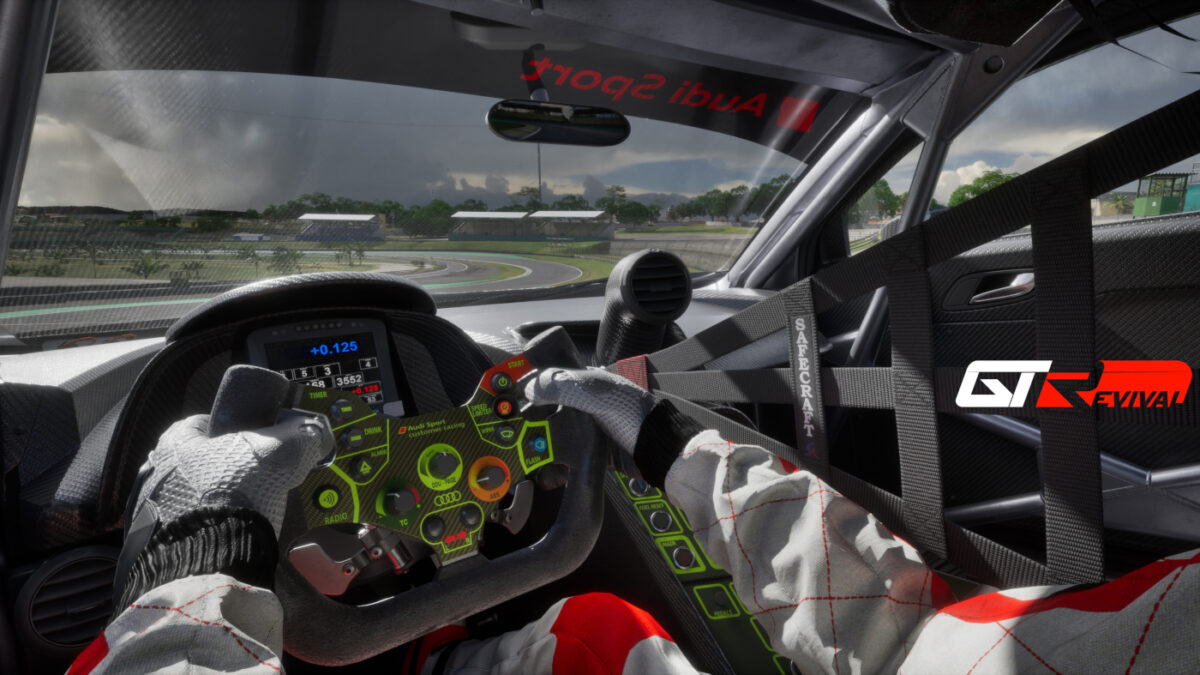 You can understand why the first image is from the most popular class in sim racing, and at a well-known circuit. And the level of detail looks good, from the carbon and material textures inside the cockpit, to the grandstands and scenery in the distance.
GTRevival is being built on Unreal Engine 5 as a spiritual successor to the classic GTR 2 – FIA GT Racing Game, which was released in 2006 (and is still available to buy on Steam). It's a key sim racing title for many both for the realism it offered, and the availability of modded content. It was developed by Blimey! Games (with Ian Bell as CEO), and SimBin Studios, who went on to become Sector3 Studios and create RaceRoom, before rebranding as KW Studios.
Meanwhile Bell acquired the business and assets of Blimey! from the bankrupt parent company, and set up Slightly Mad Studios, which worked on Need for Speed: Shift and Shift 2: Unleashed before launching the Project CARS series. Slightly Mad were then acquired by Codemasters, who were themselves bought up by Electronic Arts, and the franchise was officially ended by EA following the poorly received Project CARS 3.
All of that history, and the continued affection for GTR 2, means there's a lot of interest in both Straight4 Studios and GTRevival. Especially when the developer has hired a number of notable people from both the GTR2 and Project Cars eras, announced a strategic partnership with Reiza Studios (Automobilista 2, which uses the Madness game engine), and secured publishing via Plaion (part of Embracer Group (formerly THQ Nordic), whose developers include Milestone.
Other interesting details revealed in the past for GTRevival include aiming to be the most moddable platform ever, and AI-generated commentary. But seeing the first in-game screenshot shared from GT Revival suggests that the core of the new sim is progressing well, although no release date has been suggested as yet.
You can keep up with all the latest GTRevival news and updates, here. And along with the digital version, you can find physical copies of GTR 2 available on eBay for your sim racing collection.