If you're a fan of the original overhead racing game by indie developer ViJuDa or fancy trying your hand at tarmac racing, rallying, endurance events and more, then it's good news as Super Woden GP 2 is released on Steam.
It'll usually set you back £10.99, but it's reduced by 35% until November 17th, 2023, costing you £7.14. And there's plenty of content for that price, with more than 180 cars, and a whole wealth of different race options contained in a menu that is inspired by the early Gran Turismo titles.
There's little in the way of handholding, so the initial menu can seem quite overwhelming at first, but besides the various dealerships you can jump into Arcade racing with a set car and series of tracks to navigate before the timer and your credits run out. Or try to set the best lap times in the Time Trials section.
But under Go Race, you'll find a number of other events, including one-off races, championships, endurance races and rallies. Many of these will unlock as you level up, and have set limits on cars and horsepower, requiring you to earn cash or use vehicles you've won in previous events. And each car can be tuned, along with getting a regular wash and oil change in the Workshop.
Having received a review code, I jumped into a few races and definitely noticed differences between some of the car models. Switching between the compact Soop hatchback I bought for the career races, and the turned rally cars for the Arcade mode, you definitely feel the changes in power and handling. The short length of each race, and the up-tempo soundtrack (including the brilliantly named Streets of Race) mean that levelling up is fairly quick, and earning new cars and events doesn't feel like a chore.
The handling also feels fairly good. It's accessible, but still rewards using a decent racing line and braking at the right spot to keep momentum, especially in the lower horsepower classes. The fixed angle of the isometric camera means you still need to pay attention to the track map and plan ahead until you've learned each course.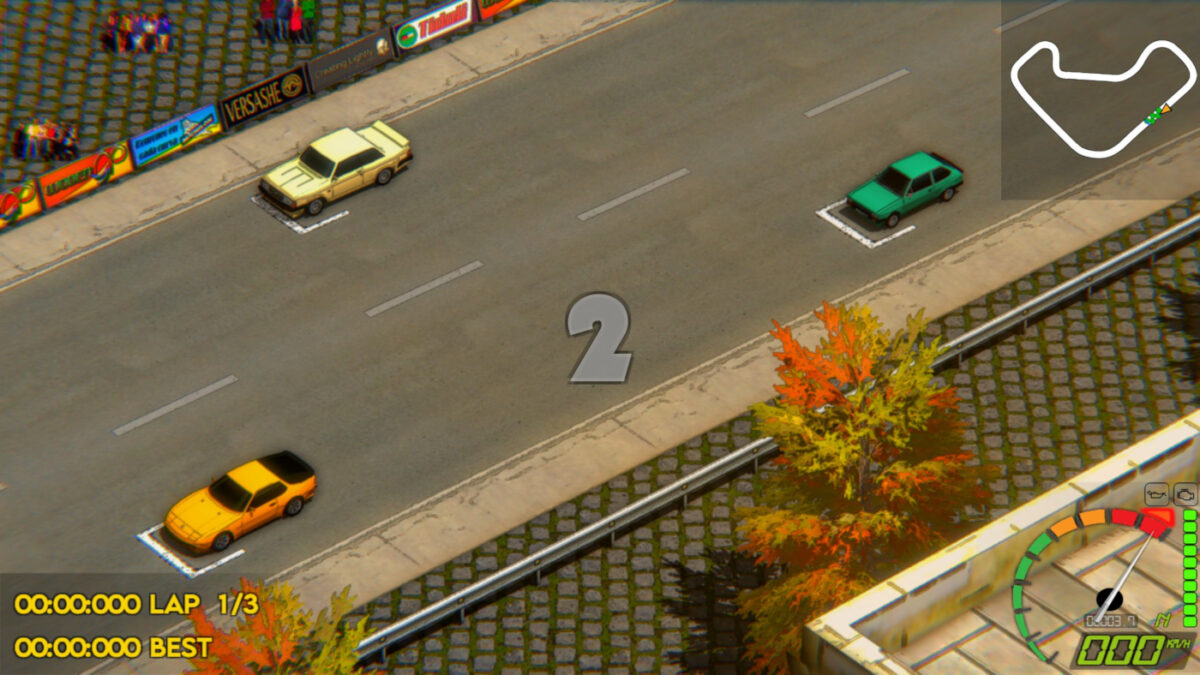 I've only had time for a quick dip into Super Woden GP 2, but like Art of Rally and Circuit Superstars, it does a good job of blending the look and feel of retro overhead racing games with modern graphics and more realistic handling. It gives you the sensation of driving an actual car from an overhead perspective, and I'm already feeling a bit of a soft spot for the Soop Party I bought as my starter vehicle. Especially as I've tuned the engine and brakes to make it more competitive.
Super Woden GP 2 does offer local four player racing, but there's no online multiplayer as yet. Instead, there are global leaderboards, with the fastest lap times popping up each time you cross the line, which is a really nice touch when you might be comfortably leading. Seeing that you're still not the quickest lap gives you a reason to keep pushing.
Other nice touches include the suitable retro sound effects for the loading screen and menus, and an uptempo selection of music which harkens back to the best of the 16-bit era.
Super Woden GP 2 is available for the PC via Steam. And you'll be able to keep up with Super Woden GP2 news, updates and more, here. Including a more in-depth review in the coming days.
Console owners will have to stick with the original for now, which is available for the Xbox One and Xbox Series X|S via the Microsoft store, the PS4 and PS5 via the PlayStation Store, and the Switch via the Nintendo eShop.