Auto Club Revolution, the online racer from Eutechnyx, is on schedule to begin a closed beta test in July, and if you haven't registered yet, you can at the Auto Club Revolution website.
The game itself is a downloadable app with all the normal features you'd expect from a racing game including a HUD, drafting and drifting, and vibration and force feedback support for wheels. It'll have single player modes including Time Trails with a global leaderboard, and some personal challenges to complete – daily, friend, car, series pin, Auto Club and more.
Multiplayer is controlled via the Race Hangout, from which you can create lobbies for initially two-to-eight players. You'll either be able to invite friends or find opponents via match making rankings, and cutting corners, leaving the track, driving backwards or being overly aggressive will result in warnings of penalties. Also mentioned are driver assists, dynamic racing lines, upgrading and tuning.
For launch, Auto Club Revolution will have cars in 8 tiers:
Class E – Hot Hatch
Class D – Cruiser
Class C – Sport
Class B -Performance
Class A – High Performance
SC – Super Car
EX – Exotic
RA – Racer
15 Cars Available in the Closed Beta:
1.  2005 Bugatti EB16/4 Veyron (Exotic)
2. 1993 McLaren F1 (Exotic)
3. 2006 Koenigsegg CCX (Super Car)
4. 2006 Pagani Zonda F (Super Car)
5. 2008 Chevrolet Corvette ZR1 (Super Car)
6. 2008 BMW M3 Coupe (E92) (Performance)
7. 2008 Lotus Elise SC (Cruiser)
8. 2008 Mazda RX-8 Type RS (Cruiser)
9. 2009 Mitsubishi Lancer Evolution X FQ400 (Performance)
10. 2008 Nissan GTR (High Performance)
11. 2008 Mini John Cooper Works (Hot Hatch)
12. 2006 Volkwagen Golf R32 (Hot Hatch)
13. 2008 BMW 135i (Cruiser)
14. 2008 Vauxhall Astra VXR Nürburgring (Hot Hatch)
15. 2009 Volkswagen Scirocco  R (Cruiser)
Cars are ranked with a VPR number for each one, and you'll be able to tweak and tune the set-up of your motor. Each car comes from official CAD data from manufacturers.
Codemasters have confirmed that F1 2011 will be released on September 23, 2011, as the second of the officially-licensed Formula One series. It'll be available for the Xbox, PS3 and PC, and follows the news that F1 2010 was not only the fastest-selling F1 game ever released, but also claimed a BAFTA in the Sports category. Plus two special editions are being produced to take advantage of the features offered by the new Nintendo 3DS and Sony NGP – release dates are yet to be confirmed for the two new platforms.
Advances in the technical and gameplay side are promised along with extending the online competitive and co-op elements. You'll get all the official drivers, teams and also the new Grand Prix of India at the Jaypee International Race Circuit, and the returning Nurburgring.
Codemasters are also running a competition to get questions about the new game answered face-to-face in May, along with getting a hands-on with the game. And if you can make it in person, you could be featured in forthcoming F1 2011 trailers.
We're big fans of the first game, and following some updates to remove some initial bugs, it's evolved into one of the best racing experiences currently available. With the additional time to iron out the issues and add some new features, F1 2011 could well be the best F1 racing game around when it arrives. We're already worried about Tom's ability to focus on anything else before September, judging by what happened when the last game was announced.
The official release of the long-awaited Gran Turismo 5 has now been delayed, as revealed today on both the official US and Japanese Playstation blogs.
Originally scheduled for a worldwide release at the start of November, the reason for the delay is given as:
'creator Kazunori Yamauchi and the team at Polyphony Digital want to make certain they are creating the perfect racing experience'
There's no date set for the launch, although both blog posts promise it will be during 'the holiday season', and you'd certainly expect them to be getting such a big game out before Christmas 2010 to take advantage of the holiday sales period (although missing the start of November will probably cost them slightly,GT5 is probably a big enough title to get away with it).
With work on the game originally starting in around 2004, delaying so close to the launch date seems to indicate something fairly major. GT5 was originally slated to appear in Japan in March 2010.
In Russia, retailers have already halted pre-order sales, with a notice from one referring to 'technical reasons', for the delay. At the time of writing, the usual American and European suppliers are continuing to offer pre-orders:
The various Gran Turismo 5 Packages:
Collector's Edition: Game, Custom-etched keychain, 1:43 scale model of the Nissan GTR Spec-V, 300 page book, voucher for 5 DLC cars, Certificate of Authenticity.
Signature Edition (Exclusive to Europe/Australian): Steel case, book, Gran Turisimo wallet, 1:43 scale Mercedes Benz SLS, voucher for six 'Stealth' cars and more.
The fifth in the Gran Turismo series is late. The game is so delayed in fact, that many fans have stopped caring about it's release and have moved on to other activities such as raising families, learning to speak backwards and teaching monkeys to ride motorbikes.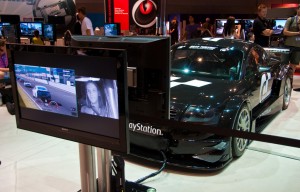 Gran Turismo 5 at GamesCom on Flickr by Sergey Galyonkin (CC Licence)
However, their ears may prick up once again after the President of Sony Worldwide – Shuhei Yoshida – revealed in an official PlayStation blog that GT5 will not only feature "damage, night racing and weather", but also… wait for it…  "stunt arenas", "go-karting" and "creating and sharing your own track".
First things first – it has a track editor! I love track editors! One of my first games was Accolade's Grand Prix Circuit, in which I spent many an hour making tracks that did not fit together and were impossible to complete. What a satisfying feeling it was to create a half-built circuit and watch the whole F1 grid crash when they got to the bit where I had placed a tree in the middle of the track. It was rather like building a half-finished rollercoaster in Theme Park and watching your guests fly to their deaths… although obviously nobody died, they just cried and went for some chips… and then a drink because I had put so much salt in the chips. Anyway, I digress; the point is that no-one has made a proper track editor for a bloody long time. The track editor in ModNation Racers is great fun and very well designed, but MNR isn't a proper racing game – GT5 will be, and a proper GT5 track editor could be worthy of standing as a game in it's own right.
I was tempted to pass over the "stunt arenas" feature because I'm not that interested in the concept, but thinking about it, with the great physics engine that the Gran Turismo series is renowned for it is a very interesting prospect. All 'stunt car' games I have played to date have made me want to gouge my eyes out with my controller, but GT series creator Kazunori Yamauchi doesn't do things by halves (hence the 18-month delay in this game coming out) and it might just be brilliant.
Now then, go-karting mode… many have tried, many have failed, and only Nintendo have ever truly succeeded. Yet it's hard for budding racers to pretend they are a young Senna, Schumacher or Hamilton when they are racing on a track in outer space made from a rainbow when a green dinosaur is firing red shells at them. A proper karting simulation could be brilliant, ideal for a 'pick up and play' party and also for an introduction to a career mode that feels truly realistic. The game already has the Super GT licence. And the NASCAR licence. And the WRC Rally licence. Throw in the rumoured PlayStation Eye camera head-tracking feature, voice chat and the ability to race in teams/clans and this might not just be the best racing game ever made, but one of the best games ever made full-stop.
Best of all, Sony have confirmed that it will definitely be out this year (November 2nd launch in America is already confirmed). President Yoshida, although obviously speaking in irritating highly-edited PR language, sums it up well: "This time around Gran Turismo is likely not just to be the definitive driving experience but a definitive gaming experience full stop". I hope they pull this off. I pray they pull it off. And I'm already pulling myself off in anticipation.